WEC: Dumas Leads Opening Practice Session for 1,000 Miles of Sebring
Glickenhaus Racing driver Romain Dumas turned the fastest lap in the opening Free Practice session for the 1000 Miles of Sebring. The 60-minute session was interrupted by rain showers that forced almost all cars back to their pit boxes with 20 minutes remaining.
Dumas led the way with a time of 1:49.738 which put the No. 708 Glickenhaus half a second clear at the top of the timing leaderboard, beating two other Hypercars from Alpine Elf Team and Toyota Gazoo Racing.
Frenchman Matthieu Vaxiviere posted the second-fastest lap in the No. 36 Alpine A480 Gibson.
The quickest of the two Toyota GR010 Hybrids ranked third, at 1:50.267 from Sebastien Buemi in the No. 8 car.
LMP2 pacesetter Ferdinand Habsburg, who topped last weekend's pre-season Prologue test, took fourth overall ahead of the No. 7 Toyota driven by Jose Maria Lopez.
Habsburg lapped at 1:50.477 behind the wheel of the No. 41 Realteam by WRT Oreca 07 Gibson.
Prema Orlen Team's Louis Deletraz, delivered a 1:51.068 to take sixth overall and 2nd in LMP2.
Deletraz, who won last year's European Le Mans Series title with WRT, finished directly ahead of United Autosports' Paul di Resta, WRT driver Rene Rast and Algarve Pro Racing's James Allen.
The weather eased for a 10-minute blast to the checkered flag; however, no notable improvements were made.
Porsche GT Team claimed a one-two result in GTE-Pro led by Kevin Estre in the No. 92 Porsche 911 RSR-19.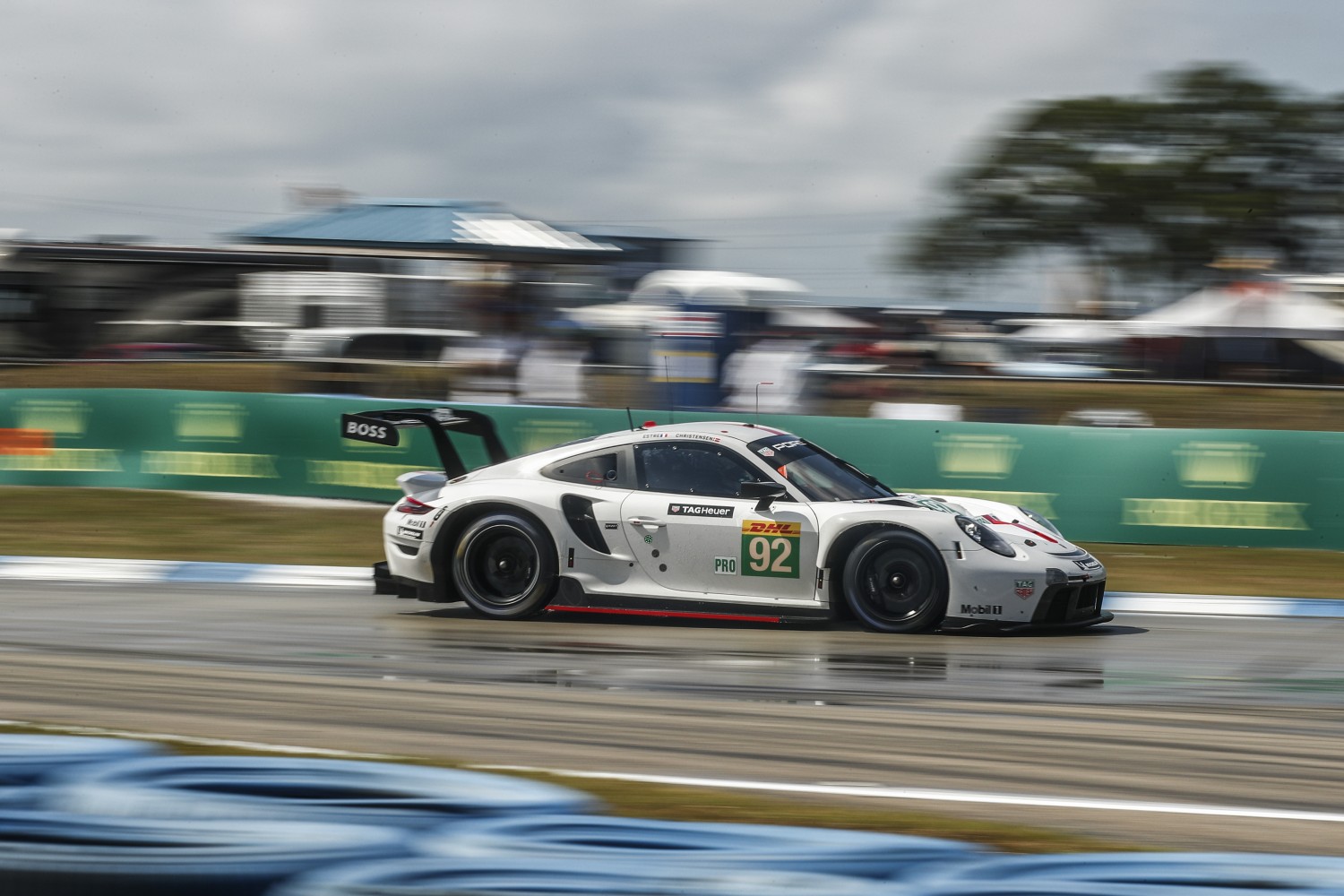 Estre clocked in at 1:58.827 while his teammate Gianmmaria Bruni in the sister No. 91 car came through less than a tenth of a second behind.
The two GTE-Pro Porsches were closely followed by GTE-Am leader Matteo Cairoli who out-paced the Pro entries from Corvette Racing and AF Corse aboard the No. 46 Team Project 1 Porsche.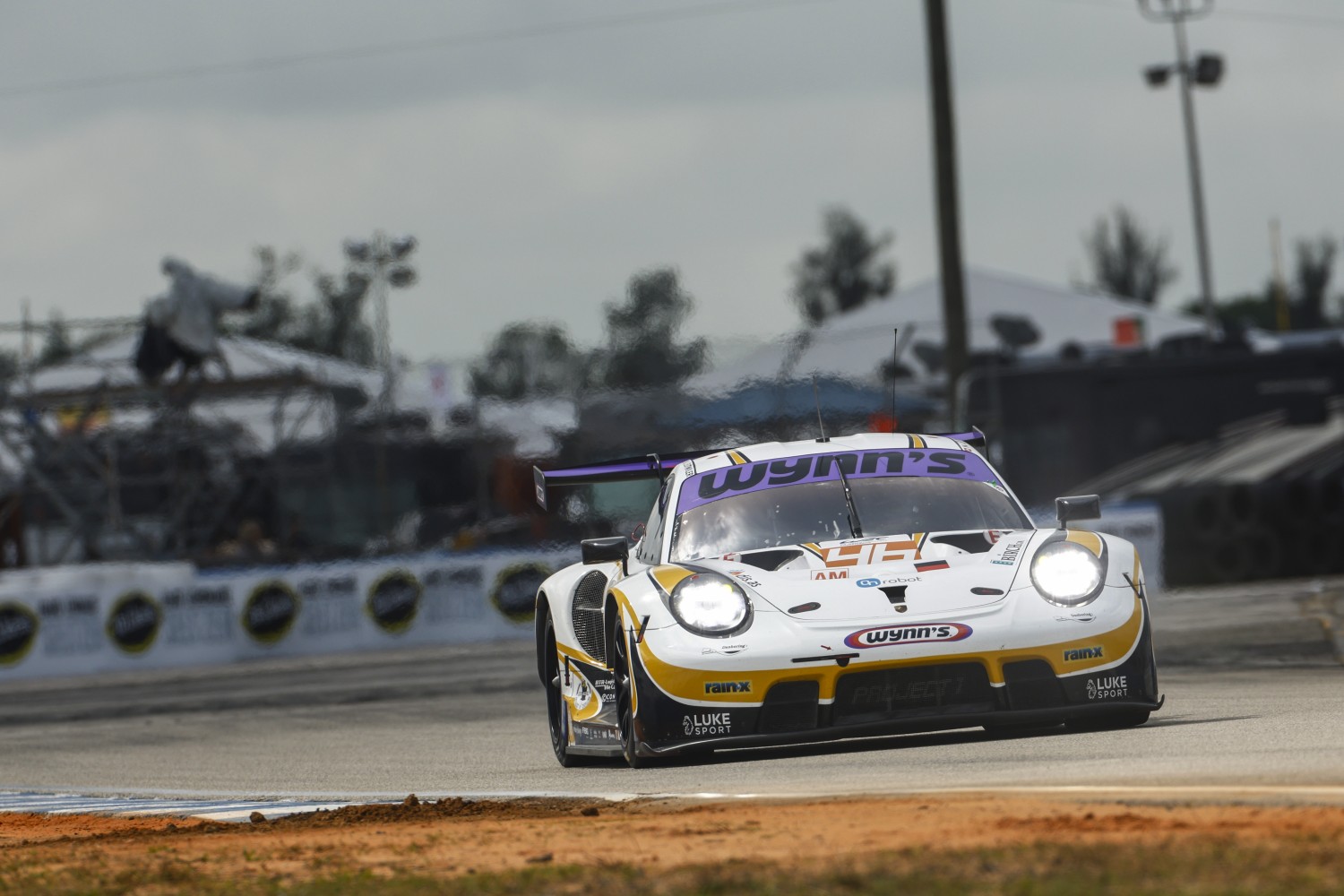 Practice 1 Results
| | | | | | | | |
| --- | --- | --- | --- | --- | --- | --- | --- |
| POS | TEAM | DRIVERS | No. | LAPS | TIME | BEHIND | GAP |
| 1ST | Glickenhaus Racing | Pla O. Dumas R. Briscoe R. | #708 | 16 | 1:49.738 | – | – |
| 2ND | Alpine Elf Team | Negrão A. Lapierre N. Vaxiviere M. | #36 | 8 | 1:50.263 | +0.525 | +0.525 |
| 3RD | Toyota Gazoo Racing | Buemi S. Hartley B. Hirakawa R. | #8 | 25 | 1:50.267 | +0.529 | +0.004 |
| 4TH | Realteam By Wrt | Andrade R. Habsburg F. Nato N. | #41 | 22 | 1:50.477 | +0.739 | +0.210 |
| 5TH | Toyota Gazoo Racing | Conway M. Kobayashi K. Lopez J. | #7 | 22 | 1:50.633 | +0.895 | +0.156 |
| 6TH | Prema Orlen Team | Kubica R. Deletraz L. Colombo L. | #9 | 25 | 1:51.068 | +1.330 | +0.435 |
| 7TH | United Autosports Usa | Di Resta P. Jarvis O. Pierson J. | #23 | 17 | 1:51.218 | +1.480 | +0.150 |
| 8TH | Wrt | Gelael S. Frijns R. Rast R. | #31 | 24 | 1:51.533 | +1.795 | +0.315 |
| 9TH | Algarve Pro Racing | Thomas S. Allen J. Binder R. | #45 | 23 | 1:51.683 | +1.945 | +0.150 |
| 10TH | Richard Mille Racing Team | Wadoux L. Ogier S. Milesi C. | #1 | 6 | 1:52.056 | +2.318 | +0.373 |
| 11TH | United Autosports Usa | Hanson P. Albuquerque F. Owen W. | #22 | 18 | 1:52.070 | +2.332 | +0.014 |
| 12TH | JOTA | Rasmussen O. Jones E. Aberdein J. | #28 | 23 | 1:52.193 | +2.455 | +0.123 |
| 13TH | Ultimate | Lahaye J. Lahaye M. Heriau F. | #35 | 20 | 1:52.360 | +2.622 | +0.167 |
| 14TH | Team Penske | Cameron D. Collard E. Nasr F. | #5 | 16 | 1:52.614 | +2.876 | +0.254 |
| 15TH | Inter Europol Competition | Smiechowski J. Scherer F. Gutierrez E. | #34 | 21 | 1:52.682 | +2.944 | +0.068 |
| 16TH | Arc Bratislava | Konopka M. Beche M. Van Der Helm T. | #44 | 15 | 1:52.772 | +3.034 | +0.090 |
| 17TH | AF Corse | Perrodo F. Nielsen N. Rovera A. | #83 | 16 | 1:52.783 | +3.045 | +0.011 |
| 18TH | JOTA | Gonzalez R. Felix Da Costa A. Stevens W. | #38 | 19 | 1:52.975 | +3.237 | +0.192 |
| 19TH | Vector Sport | Müller N. Cullen R. Rockenfeller M. | #10 | 22 | 1:53.650 | +3.912 | +0.675 |
| 20TH | Porsche Gt Team | Christensen M. Estre K. | #92 | 17 | 1:58.827 | +9.089 | +5.177 |
| 21ST | Porsche Gt Team | Bruni G. Lietz R. | #91 | 20 | 1:58.881 | +9.143 | +0.054 |
| 22ND | Team Project 1 | Cairoli M. Pedersen M. Leutwiler N. | #46 | 18 | 1:58.906 | +9.168 | +0.025 |
| 23RD | Corvette Racing | Milner T. Tandy N. | #64 | 19 | 1:59.839 | +10.101 | +0.933 |
| 24TH | Dempsey – Proton Racing | Poordad F. Lindsey P. Andlauer J. | #88 | 22 | 1:59.871 | +10.133 | +0.032 |
| 25TH | Northwest Amr | Dalla Lana P. Pittard D. Thiim N. | #98 | 17 | 2:00.253 | +10.515 | +0.382 |
| 26TH | Team Project 1 | Iribe B. Millroy O. Barnicoat B. | #56 | 16 | 2:00.283 | +10.545 | +0.030 |
| 27TH | AF Corse | Pier Guidi A. Calado J. | #51 | 20 | 2:00.298 | +10.560 | +0.015 |
| 28TH | Dempsey – Proton Racing | Ried C. Priaulx S. Tincknell H. | #77 | 15 | 2:00.479 | +10.741 | +0.181 |
| 29TH | Spirit Of Race | Dezoteux F. Ragues P. Aubry G. | #71 | 23 | 2:00.563 | +10.825 | +0.084 |
| 30TH | AF Corse | Molina M. Fuoco A. | #52 | 10 | 2:01.037 | +11.299 | +0.474 |
| 31ST | Iron Lynx | Schiavoni C. Cressoni M. Fisichella G. | #60 | 16 | 2:01.557 | +11.819 | +0.520 |
| 32ND | TF Sport | Keating B. Latorre F. Sørensen M. | #33 | 20 | 2:01.683 | +11.945 | +0.126 |
| 33RD | Iron Dames | Frey R. Gatting M. Bovy S. | #85 | 17 | 2:01.942 | +12.204 | +0.259 |
| 34TH | D'station Racing | Hoshino S. Fujii T. Fagg C. | #777 | 22 | 2:02.183 | +12.445 | +0.241 |
| 35TH | AF Corse | Flohr T. Castellacci F. Cassidy N. | #54 | 15 | 2:04.002 | +14.264 | +1.819 |
| 36TH | AF Corse | Mann S. Ulrich C. Vilander T. | #21 | 0 | | | |