IMSA: Bourdais tops practice 3 for 12 Hours of Sebring
Sebastien Bourdais led a Cadillac 1-2-3 sweep in Thursday's night practice session for the Mobil 1 Twelve Hours of Sebring.
The Frenchman turned a lap of 1:46.180 in his No. 01 Chip Ganassi Racing Cadillac to beat teammate Earl Bamber by 0.366 seconds.
Both Bamber and the No. 31 Action Express Racing Cadillac of Pipo Derani made late-session improvements, as well as Tom Blomqvist, who ended up fourth in the No. 60 Meyer Shank Racing Acura ARX-05.
LMP2 was led by the No. 52 PR1/Mathiasen Motorsports Oreca 07 Gibson of Scott Huffaker.
Toni Vilander topped the GTD cars in the No. 21 AF Corse Ferrari 488 GT3 Evo 2020.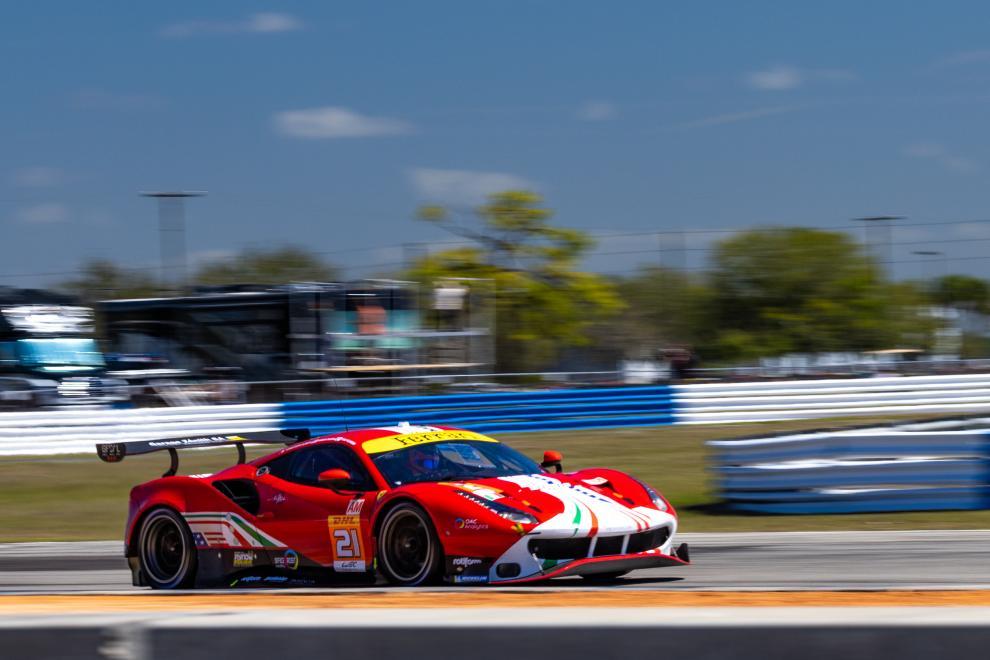 The Finn set a best lap of 2:00.962 to edge out the No. 96 Turner Motorsport BMW M4 GT3 of Bill Auberlen by 0.446 seconds.
Practice 3 Results
| | | | | | | | | | |
| --- | --- | --- | --- | --- | --- | --- | --- | --- | --- |
| Pos | Pic | No. | Class | Drivers* | Team | Car | Time | Behind | Gap/Mph |
| 1 | 1 | 01 | DPi | R. van der Zande / S. Bourdais/R. Hunter-Reay | Cadillac Racing | Cadillac DPi | 1:46.180 | 0.000 | 0.000 126.803 |
| 2 | 2 | 02 | DPi | E. Bamber / A. Lynn / N. Jani | Cadillac Racing | Cadillac DPi | 1:46.546 | 0.366 | 0.366 126.367 |
| 3 | 3 | 31 | DPi | P. Derani / T. Nunez/M. Conway | Whelen Engineering Racing | Cadillac DPi | 1:46.793 | 0.613 | 0.247 126.075 |
| 4 | 4 | 60 | DPi | O. Jarvis / T. Blomqvist/S. Vandorne | Meyer Shank Racing W/Curb-Agajanian | Acura DPi | 1:47.226 | 1.046 | 0.433 125.566 |
| 5 | 5 | 5 | DPi | T. Vautier / R. Westbrook/L. Duval | JDC Miller MotorSports | Cadillac DPi | 1:47.235 | 1.055 | 0.009 125.555 |
| 6 | 6 | 48 | DPi | M. Rockenfeller / K. Kobayashi/J. Lopez | Ally Cadillac | Cadillac DPi | 1:47.462 | 1.282 | 0.227 125.290 |
| 7 | 7 | 10 | DPi | R. Taylor / F. Albuquerque/W. Stevens | Konica Minolta Acura ARX-05 | Acura DPi | 1:47.598 | 1.418 | 0.136 125.132 |
| 8 | 1 | 52 | LMP2 | B. Keating / M. Jensen/S. Huffaker | PR1 Mathiasen Motorsports | ORECA LMP2 07 | 1:48.842 | 2.662 | 1.244 123.701 |
| 9 | 2 | 29 | LMP2 | F. Van Eerd / G. van der Garde/D. Murry | Racing Team Nederland | ORECA LMP2 07 | 1:49.449 | 3.269 | 0.607 123.015 |
| 10 | 3 | 81 | LMP2 | H. Hedman / J. Montoya/S. Montoya | DragonSpeed USA LLC | ORECA LMP2 07 | 1:49.522 | 3.342 | 0.073 122.933 |
| 11 | 4 | 8 | LMP2 | J. Farano / L. Deletraz/R. Pinto de Andrade | Tower Motorsport | ORECA LMP2 07 | 1:49.830 | 3.650 | 0.308 122.589 |
| 12 | 5 | 18 | LMP2 | D. Merriman / K. Tilley/R. Dalziel | Era Motorsport | ORECA LMP2 07 | 1:50.332 | 4.152 | 0.502 122.031 |
| 13 | 6 | 11 | LMP2 | S. Thomas / J. Pierson/J. Bomarito | PR1 Mathiasen Motorsports | ORECA LMP2 07 | 1:50.669 | 4.489 | 0.337 121.659 |
| 14 | 7 | 22 | LMP2 | J. McGuire / G. Smith/D. Tappy | United Autosports | ORECA LMP2 07 | 1:53.022 | 6.842 | 2.353 119.126 |
| 15 | 8 | 20 | LMP2 | D. Andersen / A. Fjordbach/F. Scherer | High Class Racing | ORECA LMP2 07 | 1:53.239 | 7.059 | 0.217 118.898 |
| 16 | 1 | 33 | LMP3 | J. Barbosa / M. Jakobsen/L. Willsey | Sean Creech Motorsport | Ligier JS P320 | 1:56.878 | 10.698 | 3.639 115.196 |
| 17 | 2 | 74 | LMP3 | G. Robinson / F. Fraga/K. van Berlo | Riley Motorsports | Ligier JS P320 | 1:56.971 | 10.791 | 0.093 115.105 |
| 18 | 3 | 54 | LMP3 | J. Bennett / C. Braun / G. Kurtz | CORE Autosport | Ligier JS P320 | 1:57.836 | 11.656 | 0.865 114.260 |
| 19 | 4 | 38 | LMP3 | D. Goldburg / R. Lindh/C. Shields | Performance Tech Motorsports | Ligier JS P320 | 1:58.067 | 11.887 | 0.231 114.036 |
| 20 | 5 | 7 | LMP3 | M. Kvamme / A. Mantella/M. Bell | Forty7 Motorsports | Duqueine D08 | 1:58.096 | 11.916 | 0.029 114.008 |
| 21 | 6 | 36 | LMP3 | J. Andretti / J. Burdon/G. Chaves | Andretti Autosport | Ligier JS P320 | 1:58.519 | 12.339 | 0.423 113.601 |
| 22 | 7 | 30 | LMP3 | A. Balogh / G. Grist/D. Dickerson | Jr III Racing | Ligier JS P320 | 1:58.800 | 12.620 | 0.281 113.333 |
| 23 | 8 | 13 | LMP3 | O. Fidani / K. Wittmer / L. Kern | AWA | Duqueine D08 | 1:59.675 | 13.495 | 0.875 112.504 |
| 24 | 9 | 6 | LMP3 | A. Udell / H. Gottsacker/U. de Wilde | Muehlner Motorsports America | Duqueine D08 | 2:00.157 | 13.977 | 0.482 112.053 |
| 25 | 1 | 21 | GTD | Mann / L. Perez Companc/Vilander | AF CORSE | Ferrari 488 GT3 | 2:00.962 | 14.782 | 0.805 111.307 |
| 26 | 10 | 40 | LMP3 | M. Hanratty / T. Archer/J. Vance | FastMD Racing | Duqueine D08 | 2:01.036 | 14.856 | 0.074 111.239 |
| 27 | 2 | 96 | GTD | R. Foley / B. Auberlen/M. Dinan | Turner Motorsport | BMW M4 GT3 | 2:01.408 | 15.228 | 0.372 110.898 |
| 28 | 3 | 1 | GTD | B. Sellers / M. Snow/E. Johansson | Paul Miller Racing | BMW M4 GT3 | 2:01.444 | 15.264 | 0.036 110.865 |
| 29 | 1 | 62 | GTDPRO | D. Serra / D. Rigon / E. Cheever | Risi Competizione | Ferrari 488 GT3 | 2:01.569 | 15.389 | 0.125 110.751 |
| 30 | 4 | 16 | GTD | R. Hardwick / Z. Robichon/J. Heylen | Wright Motorsports | Porsche 911 GT3R | 2:01.592 | 15.412 | 0.023 110.730 |
| 31 | 2 | 63 | GTDPRO | M. Mapelli / A. Caldarelli/M. Bortolotti | TR3 Racing | Lamborghini Huracan GT3 | 2:01.604 | 15.424 | 0.012 110.719 |
| 32 | 3 | 24 | GTDPRO | P. Eng / M. Wittmann/N. Yelloly | BMW M Team RLL | BMW M4 GT3 | 2:01.655 | 15.475 | 0.051 110.673 |
| 33 | 4 | 25 | GTDPRO | C. De Phillippi / J. Edwards/A. Farfus | BMW M Team RLL | BMW M4 GT3 | 2:01.871 | 15.691 | 0.216 110.477 |
| 34 | 5 | 9 | GTDPRO | M. Campbell / M. Jaminet/F. Nasr | Pfaff Motorsports | Porsche 911 GT3R | 2:01.879 | 15.699 | 0.008 110.469 |
| 35 | 6 | 93 | GTDPRO | A. Harrison-Henry / K. Marcelli/T. Long | Racers Edge Motorsports with WTR | Acura NSX GT3 | 2:01.913 | 15.733 | 0.034 110.439 |
| 36 | 5 | 28 | GTD | M. de Quesada / D. Morad/M. Goetz | Alegra Motorsports | Mercedes-AMG GT3 | 2:02.011 | 15.831 | 0.098 110.350 |
| 37 | 7 | 14 | GTDPRO | J. Hawksworth / B. Barnicoat/A. Telitz | VasserSullivan | Lexus RC F GT3 | 2:02.029 | 15.849 | 0.018 110.334 |
| 38 | 6 | 66 | GTD | K. Simpson / T. Bechtolsheimer/M. Farnbacher | Gradient Racing | Acura NSX GT3 | 2:02.055 | 15.875 | 0.026 110.310 |
| 39 | 7 | 59 | GTD | J. Miller / P. Gallagher/P. Holton | Crucial Motorsports | McLaren 720S GT3 | 2:02.098 | 15.918 | 0.043 110.271 |
| 40 | 8 | 47 | GTD | R. Lacorte / G. Sernagiotto/A. Fuoco | Cetilar Racing | Ferrari 488 GT3 | 2:02.136 | 15.956 | 0.038 110.237 |
| 41 | 9 | 12 | GTD | F. Montecalvo / S. Andrews/R. Heistand | VasserSullivan | Lexus RC F GT3 | 2:02.148 | 15.968 | 0.012 110.226 |
| 42 | 10 | 32 | GTD | M. Skeen / S. McAleer/D. Juncadella | Gilbert Korthoff Motorsports | Mercedes-AMG GT3 | 2:02.200 | 16.020 | 0.052 110.179 |
| 43 | 11 | 70 | GTD | B. Iribe / O. Millroy / J. Pepper | inception racing | McLaren 720S GT3 | 2:02.206 | 16.026 | 0.006 110.174 |
| 44 | 8 | 23 | GTDPRO | R. Gunn / A. Riberas / M. Martin | Heart of Racing Team | Aston Martin Vantage GT3 | 2:02.216 | 16.036 | 0.010 110.165 |
| 45 | 12 | 39 | GTD | R. Megennis / C. Lewis/J. Westphal | CarBahn with Peregrine Racing | Lamborghini Huracan GT3 | 2:02.342 | 16.162 | 0.126 110.051 |
| 46 | 9 | 79 | GTDPRO | C. MacNeil / J. Andlauer/A. Picariello | WeatherTech Racing | Porsche 911 GT3R | 2:02.651 | 16.471 | 0.309 109.774 |
| 47 | 10 | 3 | GTDPRO | A. Garcia / J. Taylor/N. Catsburg | Corvette Racing | Chevrolet Corvette C8.R GTD | 2:02.690 | 16.510 | 0.039 109.739 |
| 48 | 13 | 44 | GTD | J. Potter / A. Lally / S. Pumpelly | Magnus Racing | Aston Martin Vantage GT3 | 2:02.776 | 16.596 | 0.086 109.662 |
| 49 | 14 | 42 | GTD | D. Yount / J. Conwright/M. Llarena | NTE/SSR | Lamborghini Huracan GT3 | 2:03.132 | 16.952 | 0.356 109.345 |
| 50 | 15 | 99 | GTD | R. Ferriol / K. Legge / S. Wilson | Team Hardpoint | Porsche 911 GT3R | 2:03.147 | 16.967 | 0.015 109.332 |
| 51 | 16 | 57 | GTD | R. Ward / P. Ellis / M. Dienst | Winward Racing | Mercedes-AMG GT3 | 2:03.472 | 17.292 | 0.325 109.044 |
| 52 | 17 | 27 | GTD | R. De Angelis / I. James/T. Gamble | Heart of Racing Team | Aston Martin Vantage GT3 | 2:03.504 | 17.324 | 0.032 109.016 |
| 53 | 11 | 97 | GTDPRO | C. MacNeil / J. Gounon/M. Engel | WeatherTech Racing | Mercedes-AMG GT3 |  No Time |  N/A |  N/A |