F1: Leclerc's Ferrari wins pole for Bahrain GP
Charles Leclerc has won the pole position for Ferrari for the Bahrain GP, the opening race of the 2022 F1 season.
Leclerc's lap of 1m30.558s in his #16 Ferrari just beat the Red Bull of Max Verstappen by 0.123s.
"It feels good! The last two years have been incredibly difficult for the team," said Leclerc. "I think we have worked extremely well as a team, very happy with today. I wasn't completely happy with my driving but managed to do that lap in Q3 and we start from pole, so very happy."
"I think it was a bit hit-and-miss, Q2 seemed good, Q3 was more of a struggle to get the balance together," said Verstappen.
"We have a good race car, which overall is the most important. A few things to look into and we'll try to do better for next time. It was nice, a close battle with Carlos and Charles – hopefully it's going to be a good race."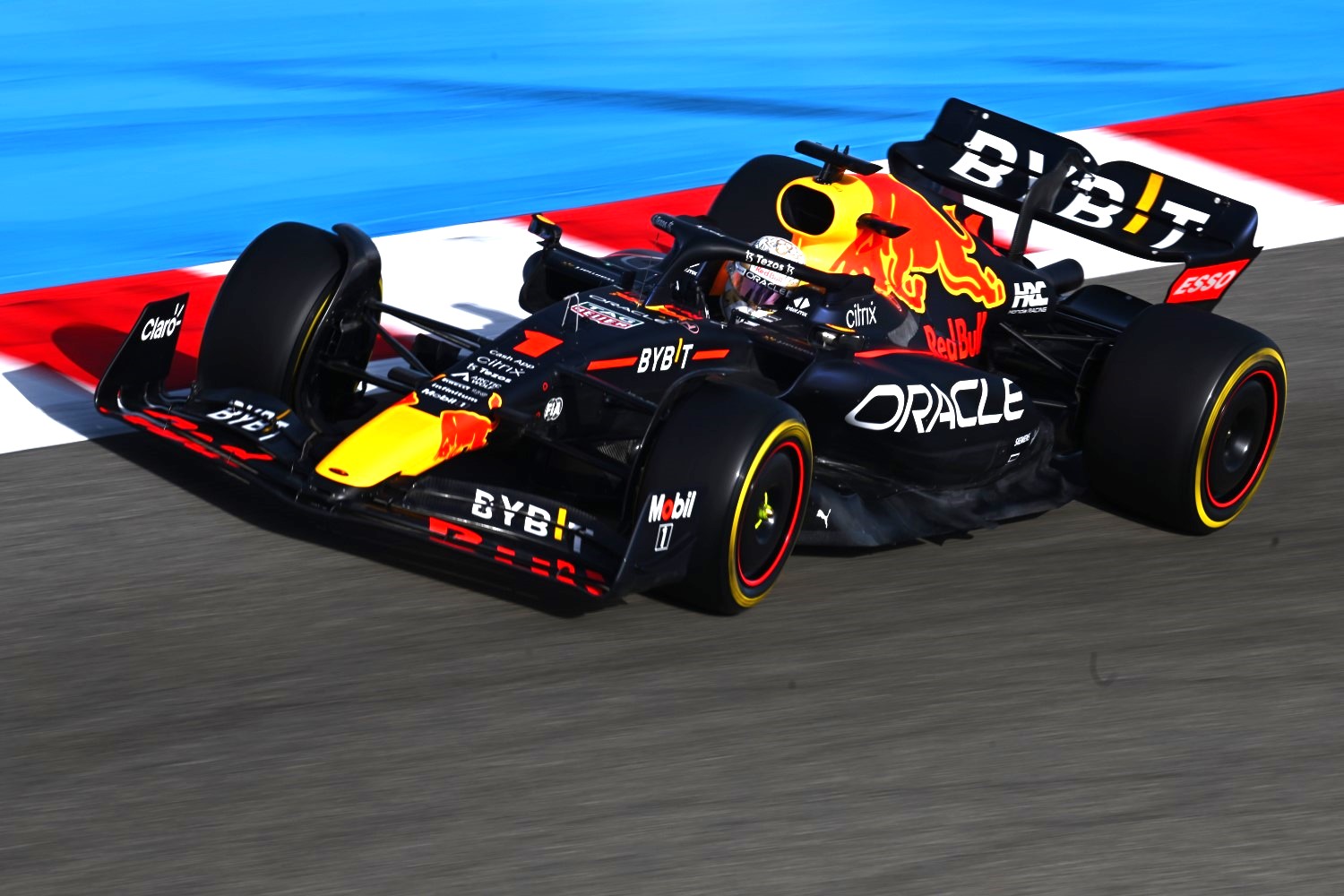 Carlos Sainz put the 2nd Ferrari on the inside of row 2 just 0.129s behind, while Sergio Perez will start 4th in the 2nd Red Bull 0.363s back
"I'm quite happy with the progress I've done through the weekend – I've been very far off, more than half a second behind. So even to be fighting for the pole is good for me. It's deserved, Charles has been ahead all weekend, and he deserves the pole," said Sainz Jr.
Lewis Hamilton rounded out the top-5 for Mercedes, 0.680s back.
Valtteri Bottas is seemingly relishing the role of team leader for Alfa Romeo. Sixth on the grid, next to former teammate Hamilton – that's not a bad.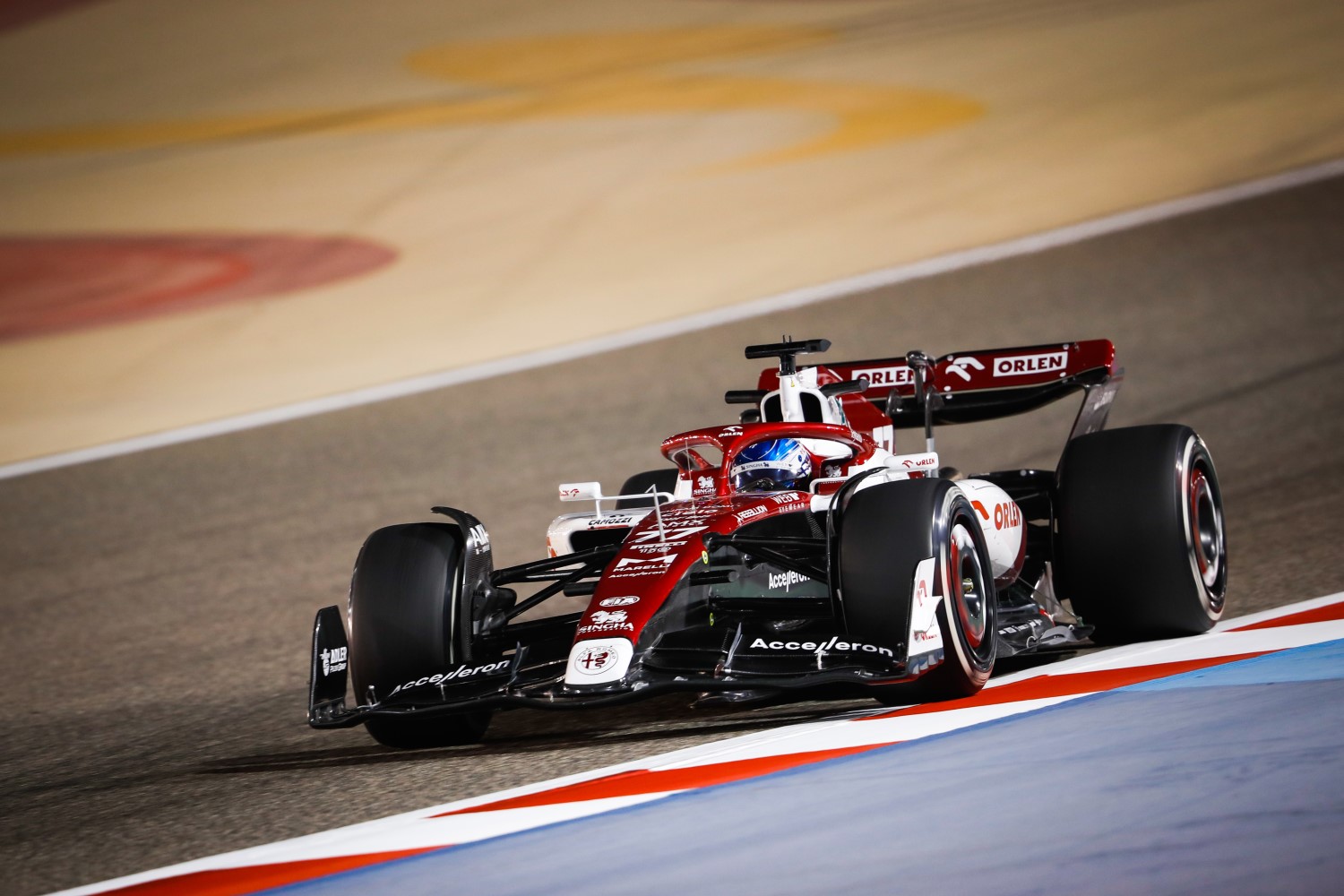 Kevin Magnussen was an incredible seventh for the Haas team, Fernando Alonso eighth. George Russell and Pierre Gasly rounded out the top 10.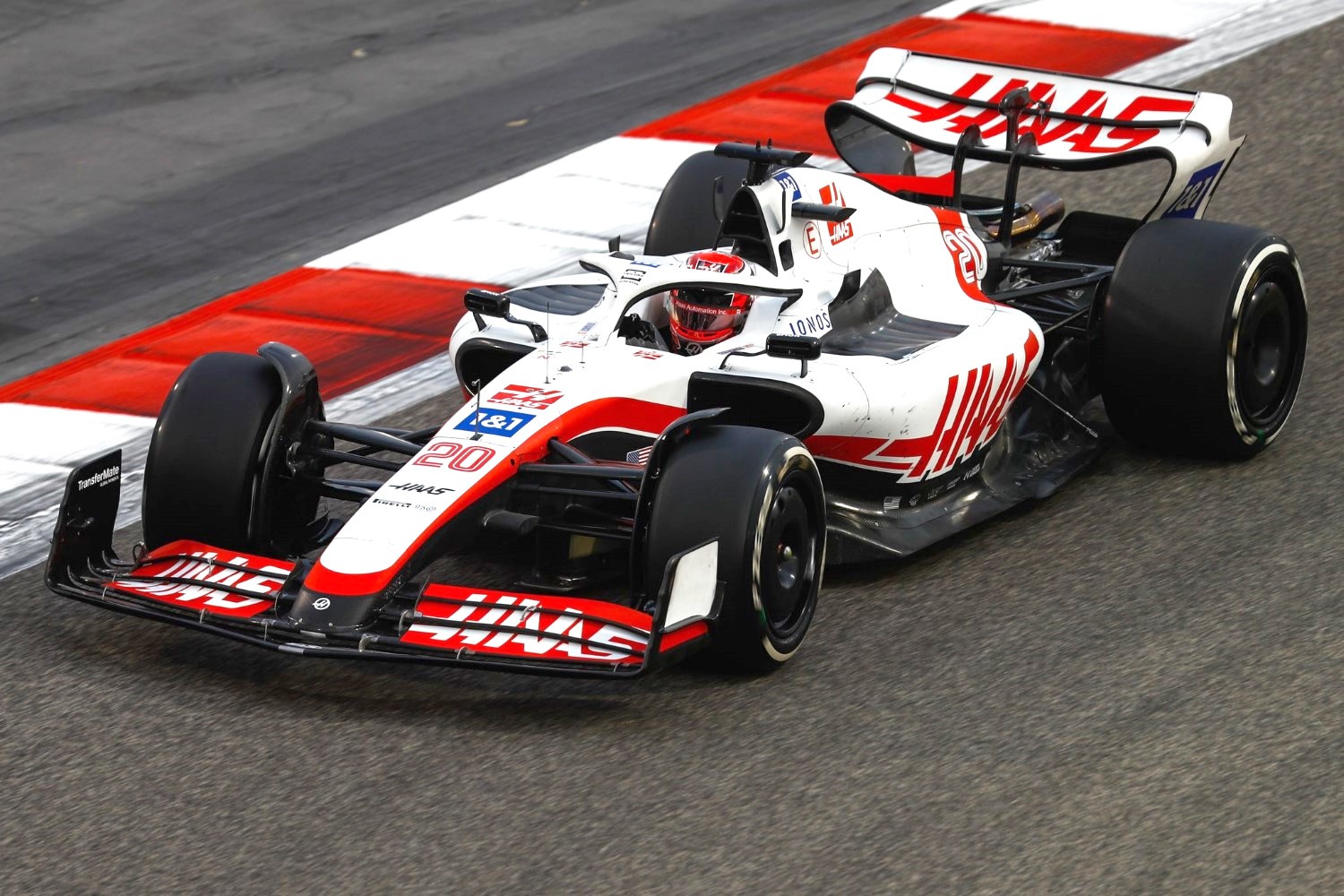 Russell made a mistake into Turn 1 on his final push lap which dropped him down the order, and his reign as 'Mr Saturday' may well be over. The new regulations should make overtaking easier, but if the pace isn't in the car.
"Ferrari have been strong all winter, you could see it was going to be tight between the two teams," said Christian Horner.
"Max had a little wobble in the last corner, and the margins are so fine. Starting on the front row after a big regs change, I'm happy with that."
Toto Wolff had this to say after the first qualifying of 2022. "We have to be realistic of the position, we are the third quickest team on the grid. We are lacking speed on the main straights, we are seven tenths behind with one car, that is where we are. We only had one run, so realistically we are half a second back. We have been in difficult situations in the past, last year we were four tenths behind Max."
Select Quotes
Charles Leclerc (Ferrari)
We knew that it was just a matter of time before we were back in the mix and I'd like to thank our whole team for the hard work that everyone has done to put our car back where it belongs. We are all happy with today's result, but at the same time we are aware that we can't relax and have to keep pushing because our competitors are strong.
We focused on short runs so far in the weekend in preparation for qualifying and did a lot of high fuel laps during testing, so we have gotten to know the car in different situations and it feels good. The trickiest part today was putting the tires in the right window, but at the end I put it all together and it feels really good to be back on pole.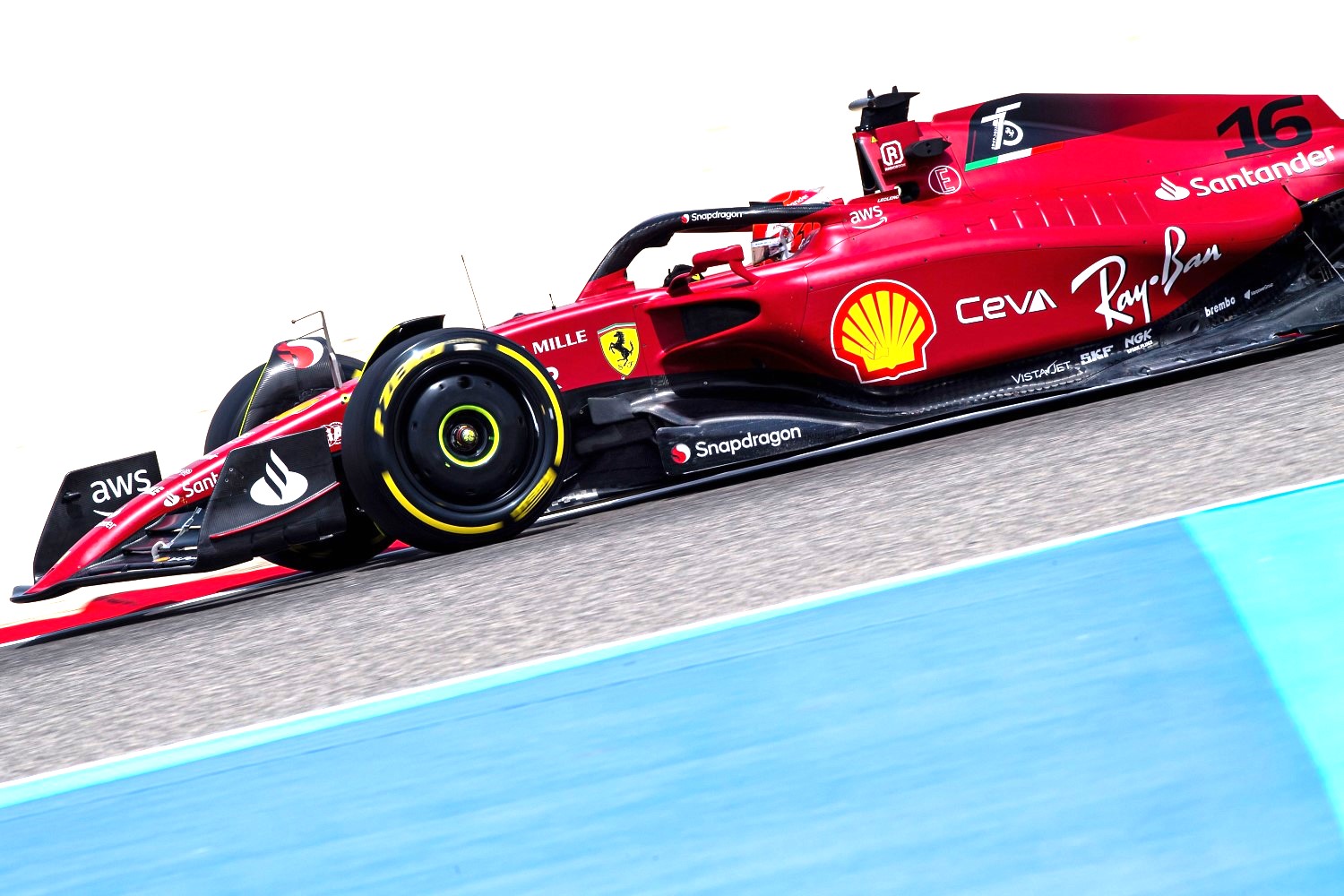 Carlos Sainz (Ferrari)
It's not been an easy weekend for me up until Quali, but we managed to put together a very strong performance this afternoon. Fighting for pole until the very last attempt is good news. The gap at the top has been super narrow all session, so overall I cannot be too disappointed with this first qualifying of the year. Congrats to Charles for this result and to the entire team for giving us such a competitive car. It's a promising start!
Looking ahead to the race, I think there's still a bit of work to do from what we saw during the long runs in practice, but we will definitely give our maximum. I can't wait to race tomorrow.
Mattia Binotto (Ferrari) Team Principal & Managing Director
We are extremely pleased with today's performance: we were convinced the potential was there to do well and the fact that both our drivers were in the fight for pole says a lot about the strength of our package – the car, the drivers and everyone who gives their all every day both at the track and back in Maranello. This pole position is a reward for all the hard work of the entire team and it's even more important when one considers where we were two years ago. We have always said that to excel against such strong opponents we have to be perfect and I think, today, as a team we were very good. I know we have the best driver pairing and I feel that was shown to be the case today.
MAX VERSTAPPEN (Red Bull)
"Overall, it's not a bad position to be in, of course you always want more but this is a positive start to the season. I think we have a good race car which is important and with it being the start of the season, there are still a lot of things to learn. Q2 was good but Q3 was a bit more hit and miss with not really getting the right balance. There was some oversteer and understeer so you can't really attack the corner which makes it quite difficult to put that lap together, so that's something we'll need to look into. The Ferraris are of course very close and it's going to be a tough battle, they have two strong drivers so it's going to be exciting. The weather is meant to be warmer tomorrow so it'll be a bit tougher on the tires. As a Team we just have to see how competitive we are in the race, it's a long season and a lot can happen."
SERGIO PEREZ (Red Bull)
"I am optimistic about tomorrow and in the race anything can happen. I just didn't manage to get one hundred percent out of the car today but we still have a good starting position and I hope we can make up some positions come race day. It is great to have other teams up there to make things more competitive, but it is a long road ahead and what matters is tomorrow. I think P3 was possible if we had put everything together and I was able to do that final corner again, I ran a bit too much curb through it. It would have been good to start on the clean side of the grid but a lot of overtaking can happen here and hopefully we are able to fight the Ferraris and have a good race for the fans. I am looking forward to it, I want a strong lap one and strong pace. My goal is to at least get on the podium and get a one, two for the Team. We are in a good position to fight the Ferraris."
CHRISTIAN HORNER (Red Bull)
"With a completely new car and new regulations, to be on the front row, we are very, very happy with where both cars have qualified. We put a lot of effort into last year, we were late coming onto this car, and I think the team have done a wonderful job. With such a clean sheet of regulations, everything is different, but the times are so close, so it's going to be a great race. We don't really know how strong the long-run pace of Ferrari is, we've also got more to find out about ourselves and it's only going to be when the lights go out tomorrow that we'll see what kind of shape we are in. It's going to be interesting to see how the strategies unfold with these new cars and critically can we follow closer due to the new regulations?"
Lewis Hamilton (Mercedes)
The session was tough but I'm really proud of what we've managed to do, given the issues we've had the past week. Those guys ahead of us are on another level at the moment but there's a lot to play for tomorrow at the start and with strategy so I hope I can at least stay with them and stay in the fight. We're not quick enough to win but I told you that before the weekend. It was looking like we were further behind last week, we've made some improvements and we're closer, so I'm proud of what we've achieved and where we've got to. I hope we'll make another step next week and bit by bit, we'll hunt those guys down. The improvements come from our collective efforts, we're working as hard as we can and I know it's a long, long way to go but I love a challenge.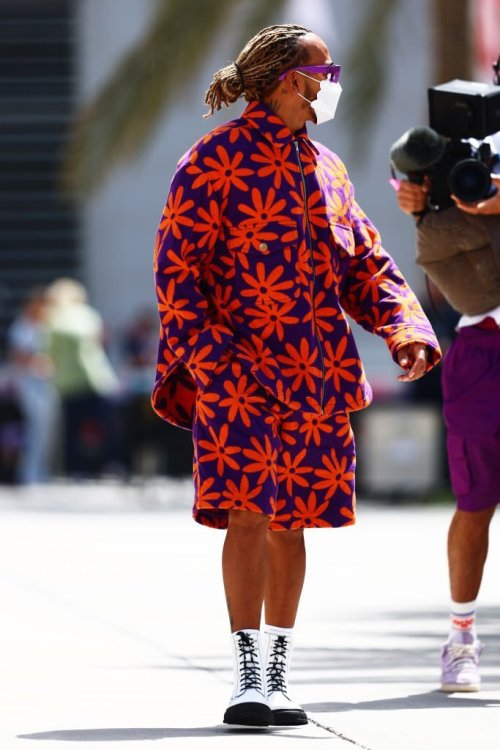 George Russell (Mercedes)
Today wasn't ideal for me, I went one second slower in Q3 than I did in Q2; with only one set of fresh tires for Q3, I tried something different on my out-lap and it didn't work. I'm glad I tried something because we want to be fighting Ferrari and Red Bull. We had one shot, maybe it was too risky but we're here to fight for podiums and victories, not to settle for P5 and P6. The pace of our car is definitely behind Ferrari and Red Bull, and ahead of the rest of the midfield, so my target for tomorrow is to get ahead of that group. We're trying absolutely everything at the moment to solve our global issues with the car. We all knew with the regulation change that anything could happen, the only promising thing is we have major issues and we're still the third-fastest team. If we were in this position and everything felt great, then we'd be a little bit puzzled. It race day tomorrow and I'll be giving it my all.
Toto Wolff (Mercedes)
We have to be realistic about our performance level at the moment and that is the third quickest team on the grid. Lewis put the car there and for George, it was probably us misguiding him in his last outing because we advised him to push the outlap stronger and he had no edge anymore with the new tire. It's very difficult to make a judgement on PU performance at this stage – our data shows we are running more drag than anybody else, and you can see we are losing on the main straight but not so much on all the other areas of the track. So we need to make an assessment after the first couple of races to see if we are lacking power. Realistically, we are missing about half a second on a single lap. Let's see tomorrow – whatever happens, we're gathering valuable learning. We have been in difficult situations in the past against a very strong Ferrari Power Unit and last year we were four tenths off Max at the first race, so we just have to keep our heads down and find the performance.
Andrew Shovlin (Mercedes)
We were realistic with our expectations going into qualifying and anticipated a pretty difficult session, but considering the issues that we're having to manage on the car at the moment we weren't as far off as we might have feared. We only had a single Soft in the final session as we've biased our tire selection towards the race, for Lewis it might have meant he found another tenth or two but probably wouldn't have changed the order. For George, only having the one set in the final session was much more costly; the tires weren't ready and he lost seven or eight tenths, a second down on his Q2 time. We know we have to improve before thinking about fighting for the win so our focus is very much on damage limitation in the championships. We'll see where our race pace is tomorrow, there may be some opportunity for Lewis if either of the Red Bulls or Ferraris are struggling but he should be well placed to race all the cars lining up behind him. With George we have a bit of ground to make up but it's a track where that is possible.
Frédéric Vasseur, Team Principal(Alfa Romeo)
"Starting our season with a car in Q3 and one in Q2 is a really good outcome and it's a big confidence boost for the whole team. Everyone here and in Hinwil worked really hard to get to tonight in the best possible conditions, but then it was a matter of delivering when it counted – and we did it. We looked strong in FP3, then Valtteri and Zhou produced a really good display in the heat of battle. Valtteri's performance was of the first order and it shows his talent is all there; Zhou didn't let the pressure of his first ever F1 qualifying get to him and cleared Q1 to book a place in the top 15. Still, there's a lot of work ahead of us: there are no points on offer tonight and we need to do our job properly tomorrow to bring home the result we want. However, we can be pleased with our Saturday as it set us in a very good position to fight for the points."
Valtteri Bottas (Alfa Romeo)
"To be on the third row in our first qualifying together is a big achievement and we need to be satisfied – both me and the team. My session was really smooth and I improved a little bit in every run, which is what you set out to do in qualifying. It's an important moment for us as it shows we can be up here. I am proud of the job everyone did, here and at the factory: we knew we had a chance to be in Q3 but it was good to actually do it when everyone turned up with everything they had. Now we focus on the race: our long run pace looked even better than on the single lap, so we can be in the fight. The top four are probably out of reach for everyone, but it would be nice to have a battle with Mercedes. In any case, this is the start of our journey and I want us to look forward and not back: the objective is to be up here at the flag and bring home good points."
Zhou Guanyu (Alfa Romeo)
"I am really happy with Q2 on my first race weekend. This was always my initial target and to clear this box in my first race is something that I really wanted after seeing how the car performed in the practice sessions. I was very relaxed this morning as I knew my preparation for tonight had been good, but there was still a bit of pressure as I knew we could have a good result: once I made it to Q2, the pressure was off and I could give everything in the laps I had. Unfortunately, my best attempt was deleted – I saw the replay and it was really close. We lost one place due to that, but we're still in a good position: there are a lot of positives we can take ahead of tomorrow. I am pleased with the progress I have made from one session to the other this weekend: even during qualifying, there was a lot of evolution as the session progressed, so the learning never stops. I don't have a set target for my first race – I want to move forward as I know we were good in race trim during testing, so we have an opportunity to make up places. I know everyone will be watching at home, it's great to have so much support and I want to give everything for them and for the team."
Qualifying Results
| | | | | | | | |
| --- | --- | --- | --- | --- | --- | --- | --- |
| POS. | DRIVER | NAT. | TEAM | Q1 | Q2 | Q3 | BEHIND |
| 1 | Charles Leclerc | MON | Scuderia Ferrari | 1m31.471s | 1m30.932s | 1m30.558s | 0.000s |
| 2 | Max Verstappen | NED | Oracle Red Bull Racing | 1m31.785s | 1m30.757s | 1m30.681s | 0.123s |
| 3 | Carlos Sainz | ESP | Scuderia Ferrari | 1m31.567s | 1m30.787s | 1m30.687s | 0.129s |
| 4 | Sergio Perez | MEX | Oracle Bull Racing | 1m32.311s | 1m31.008s | 1m30.921s | 0.363s |
| 5 | Lewis Hamilton | GBR | Mercedes AMG Petronas | 1m32.285s | 1m31.048s | 1m31.238s | 0.680s |
| 6 | Valtteri Bottas | FIN | Alfa Romeo F1 Team Orlen | 1m31.919s | 1m31.717s | 1m31.560s | 1.002s |
| 7 | Kevin Magnussen | DEN | Uralkali Haas F1 Team | 1m31.955s | 1m31.461s | 1m31.808s | 1.250s |
| 8 | Fernando Alonso | ESP | BWT Alpine F1 Team | 1m32.346s | 1m31.621s | 1m32.195s | 1.637s |
| 9 | George Russell | GBR | Mercedes AMG Petronas | 1m32.269s | 1m31.252s | 1m32.216s | 1.658s |
| 10 | Pierre Gasly | FRA | Scuderia AlphaTauri | 1m32.096s | 1m31.635s | 1m32.338s | 1.780s |
| 11 | Esteban Ocon | FRA | BWT Alpine F1 Team | 1m32.041s | 1m31.782s | – | |
| 12 | Mick Schumacher | GER | Uralkali Haas F1 Team | 1m32.380s | 1m31.998s | – | |
| 13 | Lando Norris | GBR | McLaren F1 Team | 1m32.239s | 1m32.008s | – | |
| 14 | Alexander Albon | THA | Williams Racing | 1m32.726s | 1m32.664s | – | |
| 15 | Guanyu Zhou | CHN | Alfa Romeo F1 Team Orlen | 1m32.493s | 1m33.543s | – | |
| 16 | Yuki Tsunoda | JPN | Scuderia AlphaTauri | 1m32.750s | – | – | |
| 17 | Nico Hulkenberg | GER | Aston Martin Aramco Cognizant | 1m32.777s | – | – | |
| 18 | Daniel Ricciardo | AUS | McLaren F1 Team | 1m32.945s | – | – | |
| 19 | Lance Stroll | CAN | Aston Martin Aramco Cognizant | 1m33.032s | – | – | |
| 20 | Nicholas Latifi | CAN | Williams Racing | 1m33.634s | – | – | |