IndyCar: Rosenqvist holds on to win pole for XPEL 375 at TMS
Arrow McLaren driver Felix Rosenqvist qualified early at an average speed of 221.110 mph (2-lap average) and then had to wait for most of the field to qualify for the XPEL 375 IndyCar race to see if anyone could knock him off pole.
No one did, but Team Penske's Scott McLaughlin (winner in St Petersburg) and Dale Coyne Racing's Takuma Sato came very close and will start 2nd and 3rd.
It was the 2nd career NTT IndyCar Series pole for Rosenqvist and his first on an oval.
Will Power and Scott Dixon rounded out the top-5.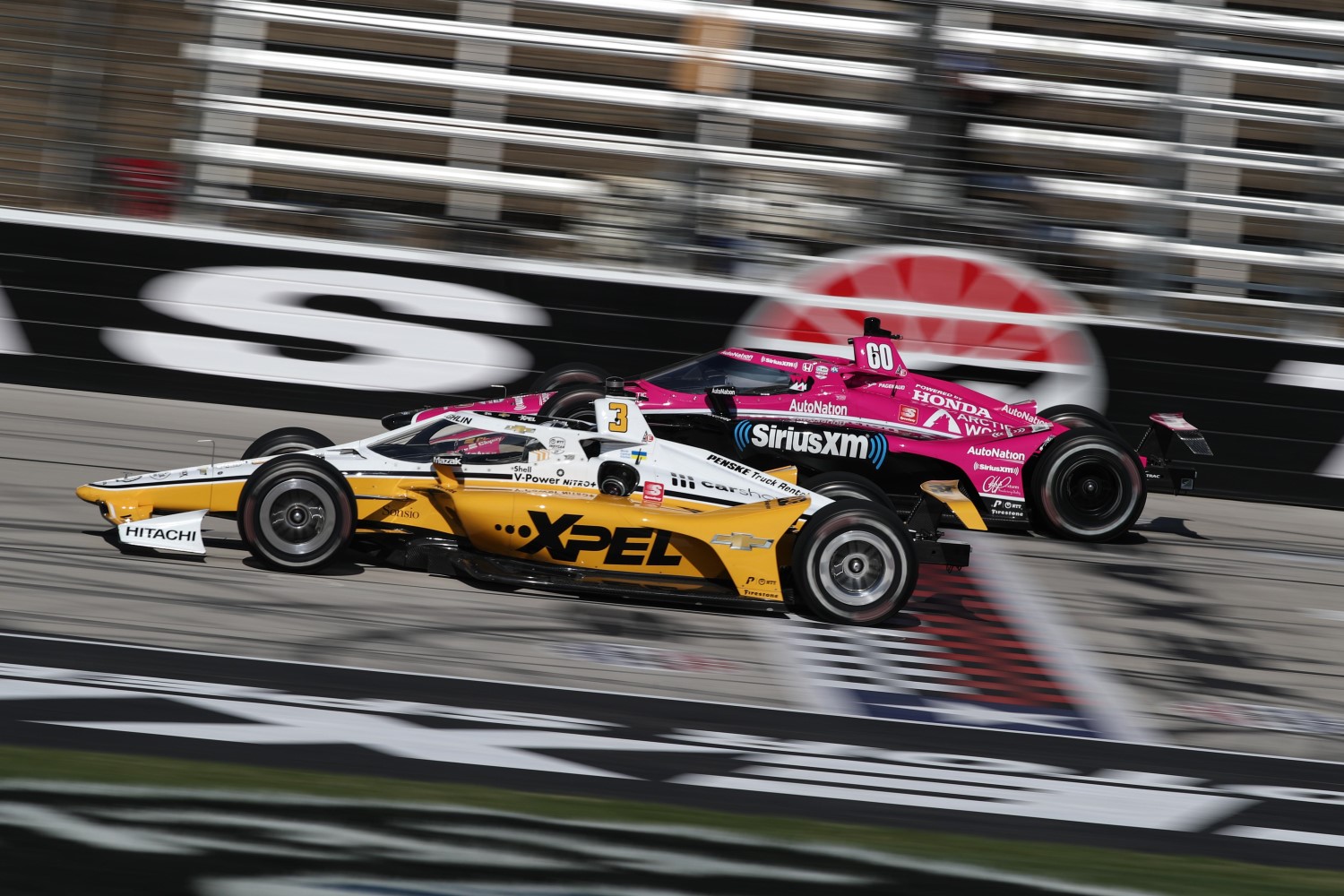 The driver of the No. 7 ARROW McLaren SP Racing Chevrolet completed his two-lap qualifying run at 46.8906 seconds at 221.110 mph, besting No. 2 qualifier Scott McLaughlin (No. 3 Team Penske XPEL Chevrolet) by just 0.003-of-a-second with his run of 46.8936 at 221.096. It was the second series pole for the Swedish native, whose first came in 2019 at the INDYCAR Grand Prix at Indianapolis Motor Speedway.
"Getting that run that early is just killing you," said Rosenqvist. "There are so many guys here close. I had a couple of guys within thousandths.  I just have to thank Arrow McLaren SP, Chevy, and Vuse. The car felt so good, and I knew that lap was pretty much as good as I could have made it.  It was just so hard to wait for so long to get it.
"This is huge for the team and for myself as far as a big confidence boost. Big comeback after some tough times.  I am really pleased for everyone on my team to get this result. It's awesome. So now we will just switch focus to the race and see what we can do."
Scott McLaughlin, winner of the season opener in St Petesburg race added his thoughts. "I certainly felt I had a little bit of scrub off turn one and two on that last lap, and that potentially — it may have cost me a little bit, scrubbed a little bit of speed there. I knew it, so on three and four I was like, oh, I'm making a little bit of a weight jack adjustment and bars, but then I looked at the score and I was, like, 209.9 at the end. That might not be enough, and then sure enough they said P2. Like I said, great job for Team Chevy to have a front row. I think it's three in the top four, so it's leaps and bounds, and we're getting ready for Indy now."
Jimmie Johnson, the seven-time NASCAR Series Champion and seven-time race winner at Texas Motor Speedway who is making his NTT INDYCAR SERIES oval debut in the XPEL 375, put the No. 48 Chip Ganassi Racing Honda 18th on the pylon with a two-lap run of 47.1562 at 219.865. He will line up on the outside of Row 9.
"It was a fun morning.  I feel like we are just learning so much.  I just wish I could have completed our test session that we came here for a week ago.  I am still playing a little bit of catch up to get to this point.  I passed cars. I have been through a qualifying drill now to understand a lower-trim feeling on the car."
Two-time series champion Josef Newgarden led the final practice with a top lap of 223.108 in the No. 2 PPG Team Penske Chevrolet. The 70-minute session for the full field took place after seven drivers turned laps in the high groove of the track for 30 minutes, trying to add Firestone rubber to create even more passing opportunities.
Veteran Jack Harvey was unhurt in the only incident in final practice. Harvey brushed the SAFER Barrier exiting Turn 2 and made hard contact with the inside wall on the backstretch with his No. 45 Hy-Vee Honda, which suffered heavy left-side damage.
Qualifying Results
| | | | | | | | |
| --- | --- | --- | --- | --- | --- | --- | --- |
| Pos | No | Name | Speed | Lap1 | Lap2 | Engine | Team |
| 1 | 7 | Felix Rosenqvist | 221.110 | 221.316 | 220.905 | Chevy | Arrow McLaren SP |
| 2 | 3 | Scott McLaughlin | 221.096 | 221.166 | 221.027 | Chevy | Team Penske |
| 3 | 51 | Takuma Sato | 221.094 | 221.216 | 220.973 | Honda | Dale Coyne Racing w/RWR |
| 4 | 12 | Will Power | 221.016 | 221.024 | 221.009 | Chevy | Team Penske |
| 5 | 9 | Scott Dixon | 221.011 | 221.094 | 220.929 | Honda | Chip Ganassi Racing |
| 6 | 06 | Helio Castroneves | 220.768 | 221.048 | 220.489 | Honda | Meyer Shank Racing |
| 7 | 2 | Josef Newgarden | 220.758 | 220.796 | 220.721 | Chevy | Team Penske |
| 8 | 21 | Rinus VeeKay | 220.748 | 221.028 | 220.468 | Chevy | Ed Carpenter Racing |
| 9 | 26 | Colton Herta | 220.602 | 220.752 | 220.453 | Honda | Andretti Autosport |
| 10 | 5 | Pato O'Ward | 220.579 | 220.908 | 220.252 | Chevy | Arrow McLaren SP |
| 11 | 10 | Alex Palou | 220.571 | 220.599 | 220.544 | Honda | Chip Ganassi Racing |
| 12 | 27 | Alexander Rossi | 220.458 | 220.463 | 220.453 | Honda | Andretti Autosport |
| 13 | 28 | Romain Grosjean | 220.412 | 220.668 | 220.156 | Honda | Andretti Autosport |
| 14 | 8 | Marcus Ericsson | 220.364 | 220.494 | 220.234 | Honda | Chip Ganassi Racing |
| 15 | 60 | Simon Pagenaud | 220.338 | 220.284 | 220.392 | Honda | Meyer Shank Racing |
| 16 | 20 | Conor Daly | 219.987 | 220.104 | 219.871 | Chevy | Ed Carpenter Racing |
| 17 | 29 | Devlin DeFrancesco | 219.888 | 219.681 | 220.096 | Honda | Andretti Steinbrenner Autosport |
| 18 | 48 | Jimmie Johnson | 219.865 | 220.006 | 219.724 | Honda | Chip Ganassi Racing |
| 19 | 18 | David Malukas | 219.864 | 219.927 | 219.802 | Honda | Dale Coyne Racing with HMD |
| 20 | 77 | Callum Ilott | 219.462 | 219.637 | 219.287 | Chevy | Juncos Hollinger Racing |
| 21 | 33 | Ed Carpenter | 219.212 | 219.450 | 218.975 | Chevy | Ed Carpenter Racing |
| 22 | 4 | Dalton Kellett | 219.038 | 219.275 | 218.801 | Chevy | AJ Foyt Enterprises |
| 23 | 14 | Kyle Kirkwood | 219.013 | 219.147 | 218.880 | Chevy | AJ Foyt Enterprises |
| 24 | 45 | Jack Harvey | 218.781 | 218.820 | 218.742 | Honda | Rahal Letterman Lanigan Racing |
| 25 | 30 | Christian Lundgaard | 218.687 | 218.619 | 218.754 | Honda | Rahal Letterman Lanigan Racing |
| 26 | 11 | JR Hildebrand | 218.584 | 218.740 | 218.428 | Chevy | AJ Foyt Enterprises |
| 27 | 15 | Graham Rahal | 218.410 | 218.239 | 218.582 | Honda | Rahal Letterman Lanigan Racing |