IndyCar: Newgarden passes teammate at line to win the XPEL 375 race
Team Penske Kiwi driver Scott McLaughlin could not hold off Penske Chevy teammate Josef Newgarden at the flag as Newgarden won the XPEL 375 NTT IndyCar Series race at Texas Motor Speedway with an outside move around the outside exiting the final turn.
Newgarden beat McLaughlin by just 0.0669s – less than a car length.
It was Team Penske's 600th race win, a record.
"Unbelievable," Newgarden said. "I think Scott led 95 percent of the laps. I hate doing that to a teammate, but I was going for it, just like he was.
"Man, I was loose; I was driving the thing sideways off (Turns) 3 and 4. I was trying to get a win. I'm just so pleased for everybody. Last lap, last corner – that's what it's all about at Texas."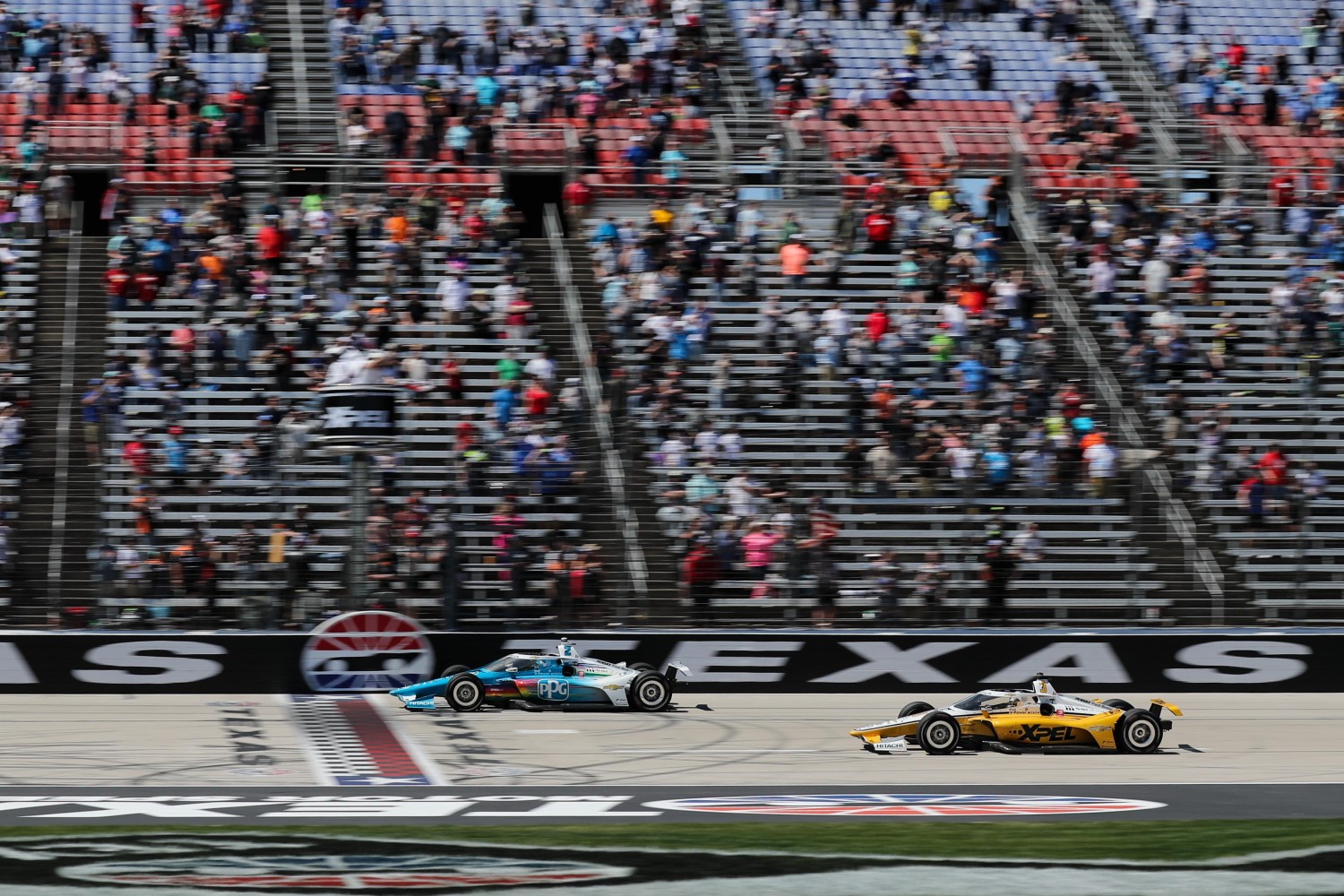 A dejected McLaughlin said: "Second is a great day, but unfortunately, we made a little lapse and at the end of the day lost. If you're going to lose to anyone, your teammate is the guy you want to lose it to. Gutted I couldn't get it done for XPEL and Chevy. But at the end of the day, we're there, and I learned a lot in the race that going to help us going in May to the Speedway.
"But I'm gutted. It still hurt. It's how it is. But I'm pretty proud of how we're running. My car wasn't probably as good as it had been in traffic as it had been the whole race. I knew I was building push, I was building tightness. Once he (Newgarden) got on the outside there, I couldn't come up above the line. I was stuck. I thought about going outside on Malukas there, but I was worried I would push up into the gray and into the fence. You're damned if you do, damned if you don't."
Marcus Ericsson was close behind in 3rd for Ganassi Racing while veterans Will Power and Scott Dixon rounded out the top-5.
The top six finishers were comprised of a seven-time NASCAR Cup Champion (Jimmie Johnson),  a six-time INDYCAR Champion (Scott Dixon), a one-time INDYCAR Champion, (Will Power), a former Formula One driver  (Marcus Ericcson), a former three-time Supercars champion  (Scott McLaughlin) and a two-time INDYCAR champion (Josef Newgarden).
It was exciting for Scott McLaughlin to battle his idol and countryman, Scott Dixon, for third place during the middle of the race.  Dixon had to back off and let McLaughlin get by him after a few laps.
The younger New Zealander commented on his race.  "The first stint went for a long time. I actually battled with the vibration on the run. We still had pretty good speed. I managed to pull away. But definitely, the wind, the conditions, changed towards the end of the race. Very gusty off turn two, which made it quite loose. A lot of push, quite tight through 3-4. Maybe my car wasn't quite set up for the gustier conditions, but all in all I think we had a really solid race car today."
"We were right there, thereabouts, throughout the whole race. I passed Dixon into one, a few others into one, able to demand track position when we needed to, that's what we
needed to do: get the right track positions at the right time."
Jimmie Johnson was also ecstatic about passing  his teammate, Scott Dixon, towards the end of the race.  "I passed Scott Dixon. Probably to his disappointment, to my excitement. He did get a better hand when it was all said and done. When I caught that group and caught the 9 car, I had to look two or three times to make sure really it was the 9 car, not
another car with a blue back half. Yeah, I have caught Scott Dixon, this is good."
There were three crashes in the race, all caused by Andretti Autosport rookie Devlin DeFrancesco.
First DeFrancesco forced Takuma Sato up into the wall. Then he caused Kyle Kirkwood to crash when he wiggled under Kirkwood who had to go high, hit the marbles and crashed, then he crashed out himself out when he hit Graham Rahal and Helio Castroneves when he tried to go three-wide down the inside on a single groove track.
Andretti Autosport also lost two cars for mechanical issues with Alexander Rossi's no 27 NAPA car and Romain Grosjean's no 28 DHL car.  Rossi lost power on the track on lap 11 and never made it out of the pits.  Grosjean had smoke coming out of his yellow colored car and parked it on lap 103.
Newgarden averaged 165.467 mph in a race slowed by four cautions for 52 laps.
Select Quotes
Josef Newgarden – 1st Place
HOW DID YOU PULL OFF THAT PASS FOR THE WIN?
"Oh my gosh! That was, I was fuming in the car. We had all this traffic, and it wasn't helping me and then right when I needed it to help me. And then right when I needed it to help me, literally last corner, last lap traffic helped me out. Unbelievable PPG car in victory lane. Also, our XPEL car. How about Scott (McLaughlin)? I think he led like 95 percent of the laps. I hate doing that to a teammate, but I was going for it just like he was. We were driving hard. Man, I was loose. I was driving things sideways off of three and four every lap. I was trying to get a run, but Team Chevy, what an unbelievable job right? We showed up, got the pole, got the win for Team Chevy's camp, and just so pleased for everybody. It was so good to drive this PPG car again with Team Chevy."
YOU MENTIONED THE BATTLE WITH A TEAMMATE. YOU ARE DRIVING FOR YOUR OWN TEAM, BUT HOW DO YOU HANDLE THAT CONVERSATION WITH SCOTT (MCLAUGHLIN)?
"I don't know what he is going to say."
(At this point Scott McLaughlin came into victory lane so Josef talked with him and then came back to the interview with NBC.)
YOU EVER HAD A MORE DRAMATIC WIN AND PASS FOR THE WIN THAN THAT?
"Never. Last lap, last corner that's what it's all about at Texas. I hope we come back. Let's come back."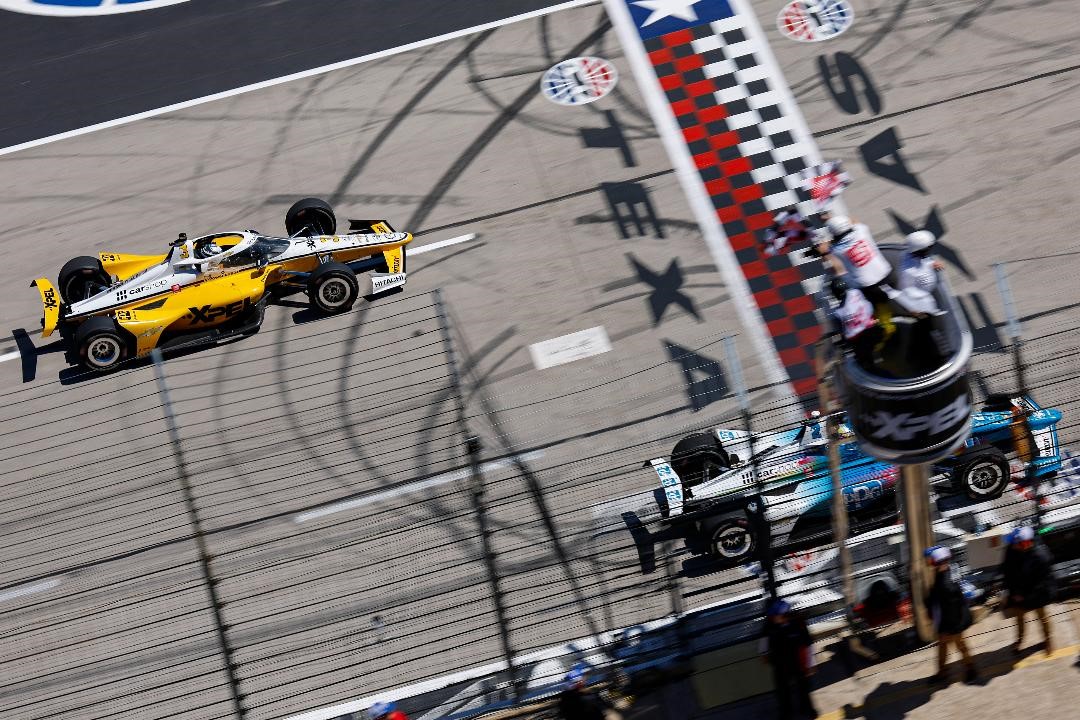 Race Results
| | | | | | | | | | | |
| --- | --- | --- | --- | --- | --- | --- | --- | --- | --- | --- |
| Pos | No | Name | Laps | Behind | Gap | Led | ST | Engine | Points | Team |
| 1 | 2 | Josef Newgarden | 248 | 0.000s | 0.000s | 3 | 7 | Chevy | 65 | Team Penske |
| 2 | 3 | Scott McLaughlin | 248 | 0.0669 | 0.0669 | 186 | 2 | Chevy | 97 | Team Penske |
| 3 | 8 | Marcus Ericsson | 248 | 1.3537 | 1.2868 | 10 | 14 | Honda | 58 | Chip Ganassi Racing |
| 4 | 12 | Will Power | 248 | 15.2230 | 13.8693 | 20 | 4 | Chevy | 69 | Team Penske |
| 5 | 9 | Scott Dixon | 248 | 15.6736 | 0.4506 | 0 | 5 | Honda | 55 | Chip Ganassi Racing |
| 6 | 48 | Jimmie Johnson | 248 | 18.0939 | 2.4203 | 0 | 18 | Honda | 35 | Chip Ganassi Racing |
| 7 | 10 | Alex Palou | 248 | 19.1937 | 1.0998 | 0 | 11 | Honda | 67 | Chip Ganassi Racing |
| 8 | 60 | Simon Pagenaud | 248 | 22.4649 | 3.2712 | 0 | 15 | Honda | 39 | Meyer Shank Racing |
| 9 | 45 | Santino Ferrucci | 248 | 24.4149 | 1.9500 | 0 | 27 | Honda | 22 | Rahal Letterman Lanigan Racing |
| 10 | 21 | Rinus VeeKay | 248 | 25.4840 | 1.0691 | 5 | 8 | Chevy | 50 | Ed Carpenter Racing |
| 11 | 18 | David Malukas | 248 | 26.0503 | 0.5663 | 3 | 19 | Honda | 25 | Dale Coyne Racing with HMD |
| 12 | 26 | Colton Herta | 247 | 1 LAPS | 0.9182 | 0 | 9 | Honda | 50 | Andretti Autosport |
| 13 | 33 | Ed Carpenter | 247 | 1 LAPS | 2.2730 | 4 | 21 | Chevy | 18 | Ed Carpenter Racing |
| 14 | 11 | JR Hildebrand | 247 | 1 LAPS | 9.2432 | 1 | 25 | Chevy | 17 | AJ Foyt Enterprises |
| 15 | 5 | Pato O'Ward | 247 | 1 LAPS | 4.2084 | 0 | 10 | Chevy | 33 | Arrow McLaren SP |
| 16 | 77 | Callum Ilott | 247 | 1 LAPS | 9.4584 | 5 | 20 | Chevy | 26 | Juncos Hollinger Racing |
| 17 | 4 | Dalton Kellett | 246 | 2 LAPS | 15.4478 | 0 | 22 | Chevy | 18 | AJ Foyt Enterprises |
| 18 | 20 | Conor Daly | 245 | 3 LAPS | 1 LAPS | 0 | 16 | Chevy | 21 | Ed Carpenter Racing |
| 19 | 30 | Christian Lundgaard | 233 | Contact | 19.7959 | 0 | 24 | Honda | 30 | Rahal Letterman Lanigan Racing |
| 20 | 51 | Takuma Sato | 140 | Contact | 13 LAPS | 5 | 3 | Honda | 31 | Dale Coyne Racing w/RWR |
| 21 | 7 | Felix Rosenqvist | 138 | Mechanical | 0.7071 | 0 | 1 | Chevy | 23 | Arrow McLaren SP |
| 22 | 15 | Graham Rahal | 128 | Contact | 0.0814 | 0 | 26 | Honda | 34 | Rahal Letterman Lanigan Racing |
| 23 | 06 | Helio Castroneves | 128 | Contact | 0.0861 | 1 | 6 | Honda | 24 | Meyer Shank Racing |
| 24 | 29 | Devlin DeFrancesco | 128 | Contact | 0.1760 | 0 | 17 | Honda | 14 | Andretti Steinbrenner Autosport |
| 25 | 14 | Kyle Kirkwood | 113 | Contact | 0.1542 | 5 | 23 | Chevy | 18 | AJ Foyt Enterprises |
| 26 | 28 | Romain Grosjean | 103 | Mechanical | 1.1166 | 0 | 13 | Honda | 35 | Andretti Autosport |
| 27 | 27 | Alexander Rossi | 11 | Mechanical | 52 LAPS | 0 | 12 | Honda | 16 | Andretti Autosport |