F2: Drugovich fastest in Red Flag-affected first session at Jeddah
Felipe Drugovich set the pace in a red-flagged interrupted Free Practice session at Jeddah. The Brazilian posted 1:44.100 before two Red Flags to beat Carlin's Liam Lawson and Hitech Grand Prix's Marcus Armstrong.
Making their first appearance at the Jeddah Corniche Circuit, Van Amersfoort Racing were the first team to test the water around the ultra-fast 6.174km street track, with Jake Hughes and Amaury Cordeel notching the maiden lap times.
As the representative times began to come in, Campos Racing's Ralph Boschung set the benchmark, the Swiss driver pumping in 1:45.404. Only Drugovich managed to better him on the next lot of runs, with the MP driver finding an extra 0.418s.
There was a lengthy stoppage as Charouz Racing System rookie Cem Bölükbaşı – making his first appearance at a street track – went into the barriers. Once his car had been cleared, the session resumed but with just 13 minutes on the clock.
Lawson came closest to dislodging Drugovich in what time remained, but the New Zealander was still 0.150s off the benchmark. Armstrong and Ayumu Iwasa missed out as well, slotting into third and fourth, just 0.052s apart.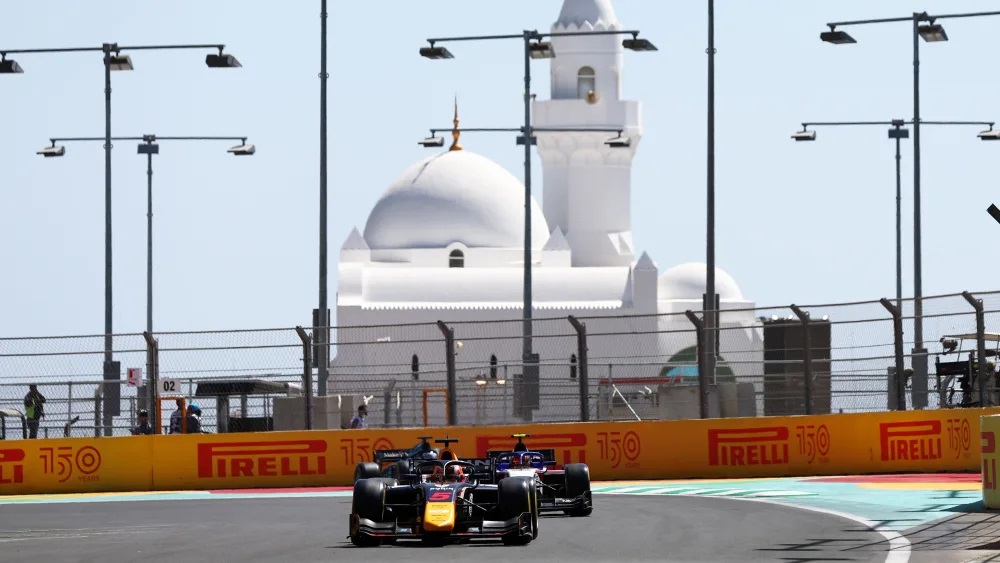 Campos pairing Boschung and Olli Caldwell were fifth and sixth having set their times earlier on in practice.
The second Red Flag of the session ended the running with eight minutes to go, as Théo Pourchaire lost control of his ART Grand Prix at the exit of 22 and collided with the wall. The Frenchman finished in seventh, six tenths off Drugovich.
Clément Novalak and Roy Nissany were eighth and ninth, with Enzo Fittipaldi completing the top 10, one second off the fastest time.
The field will be able to get back out onto the track when Qualifying begins at 6.30pm local time.
Practice Results
| | | | | |
| --- | --- | --- | --- | --- |
| POS | NO. | NAME | TIME | BEHIND |
| 1 | 11 | F.Drugovich | 1:44.100 | +0.0 |
| 2 | 5 | L.Lawson | 1:44.250 | +0.1 |
| 3 | 7 | M.Armstrong | 1:44.434 | +0.3 |
| 4 | 17 | A.Iwasa | 1:44.486 | +0.3 |
| 5 | 15 | R.Boschung | 1:44.581 | +0.4 |
| 6 | 14 | O.Caldwell | 1:44.758 | +0.6 |
| 7 | 10 | T.Pourchaire | 1:44.772 | +0.6 |
| 8 | 12 | C.Novalak | 1:45.016 | +0.9 |
| 9 | 16 | R.Nissany | 1:45.080 | +0.9 |
| 10 | 22 | E.Fittipaldi | 1:45.147 | +1.0 |
| 11 | 24 | J.Hughes | 1:45.159 | +1.0 |
| 12 | 8 | J.Vips | 1:45.236 | +1.1 |
| 13 | 1 | D.Hauger | 1:45.425 | +1.3 |
| 14 | 20 | R.Verschoor | 1:45.474 | +1.3 |
| 15 | 4 | M.Sato | 1:45.951 | +1.8 |
| 16 | 6 | L.Sargeant | 1:46.093 | +1.9 |
| 17 | 21 | C.Williams | 1:46.107 | +2.0 |
| 18 | 2 | J.Daruvala | 1:46.726 | +2.6 |
| 19 | 9 | F.Vesti | 1:47.444 | +3.3 |
| 20 | 23 | C.Bolukbasi | 1:47.881 | +3.7 |
| 21 | 3 | J.Doohan | 2:02.410 | +18.3 |
| 22 | 25 | A.Cordeel | 2:12.204 | +28.1 |