F1: Saudi Arabian GP Qualifying Quotes
Ferrari
Charles Leclerc
"It is disappointing to miss pole position today because I know that I put in a great lap. The risk Checo (Perez) took in the last sector paid off and his lap was exceptional. Congratulations to him for a job well done. On our side, there is plenty to learn from this qualifying. We were quicker on used tires than we were on new ones, and we have to understand why that was, so that we can put them in a better window next time.
We were quick in our race simulation this morning and I feel confident for tomorrow. A race in warm conditions, taking place at night, on a very fast and narrow street circuit – it should be an exciting one."
Carlos Sainz Jr.
"It was a good quali overall, putting good laps together every time we went out. Interestingly enough, I've been fast and more comfortable on a used set of softs than on the new set, so maybe I should have also done my second push on Q3 on used tires. We'll look into that for sure. In any case, the feeling with the car has been better so far this weekend and we'll keep digging into the data to extract the maximum out of the car.
Now we have to focus on tomorrow. Of course, the target will be to bring the pace of today's quali into the race. We have saved several sets to give us different strategic options in case the race gets tricky as it did last year, so we'll try to make everything work. Let's race."
Mattia Binotto, Team Principal & Managing Director
"The most important thing today is that Mick is okay after his terrible accident.
As for qualifying, our gap to pole is really small, a few thousandths, so I think being fastest was within reach today, but never mind because starting second and third is still a great result and even more important is the fact we are competitive. We proved to be quick on a track with different characteristics to the previous ones, which is what we wanted to see. Everything could happen in tomorrow's race – safety cars, red flags – therefore it will be important not to make any mistakes on the pit wall and to try and make the most of every opportunity and react quickly to whatever situations arise. To sum up, we need to be quick to react, keep on our toes and concentrate."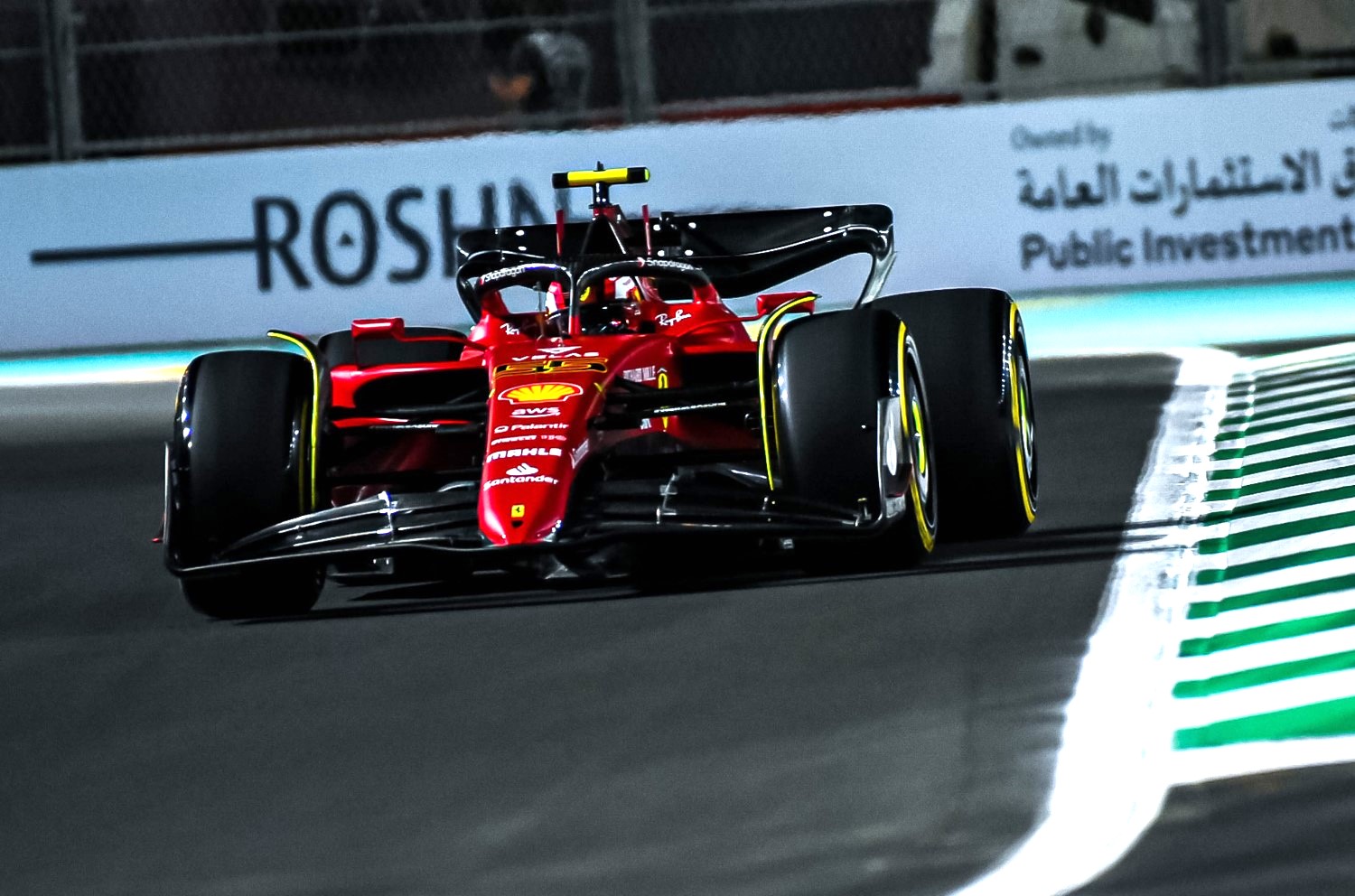 Red Bull
SERGIO PEREZ
"Today was very special to me, I achieved the best lap of my life. I feel like I could do another thousand laps and there is no chance I can get the same lap, with the amount of perfection and risk. This is probably the most difficult track for qualifying all season, you know if you're on pole here then you nailed the lap. You have to be very precise, you must take all the risks and the risk to reward is extremely high, but the positions you have to take around this place to get the perfect lap are so hard. We came to Jeddah from a very difficult weekend in Bahrain and the Team have been pushing so hard out here and back in Milton Keynes, so I am extremely happy for them all. If anything, we were focusing more on the race pace so we felt Ferrari had the upper hand on us in qualifying. We will see if we have the pace to beat them in the race tomorrow. I need a good start, and then I will try to control the race from there, it is going to be difficult because the Ferraris are quick and Max will be in the mix too. We have a long race ahead of us, but I am confident we can come out on top again."
MAX VERSTAPPEN
"Checo did a great job today, he put the car on pole and I'm really happy for him! From my side, qualifying didn't go the way I had hoped, in Q1 and Q2 everything felt normal but in Q3 the grip was terrible, I couldn't extract what I needed to from the tires and I was just sliding everywhere. In the faster corners I couldn't push as hard as I would have liked and when you don't feel comfortable on a street circuit you cannot attack the corners. Of course, I'm not happy with fourth and we'll analyze what happened, but we have a competitive car, and we have a lot to fight for tomorrow as a Team. I am looking forward to it, hopefully we can have a good race."
CHRISTIAN HORNER, Team Principal and CEO:
"I am just so pleased for Checo, it is 11 years tomorrow after his F1 debut and 215 starts is simply incredible, he's working harder than ever and that lap was fantastic. The Ferraris put down such a competitive marker and for Checo to put in a lap like that at this circuit was unbelievable. Max struggled with grip in Q3 and could not attack the corners as much as he wanted, but starting from fourth he's still very much in contention. Ferrari are impressive and their car is so competitive, they started early on this project last year, so for us to have Checo on pole and Max up there on the second row in race two, after such an enormous effort last season, is a real testament to the hard work of the entire team."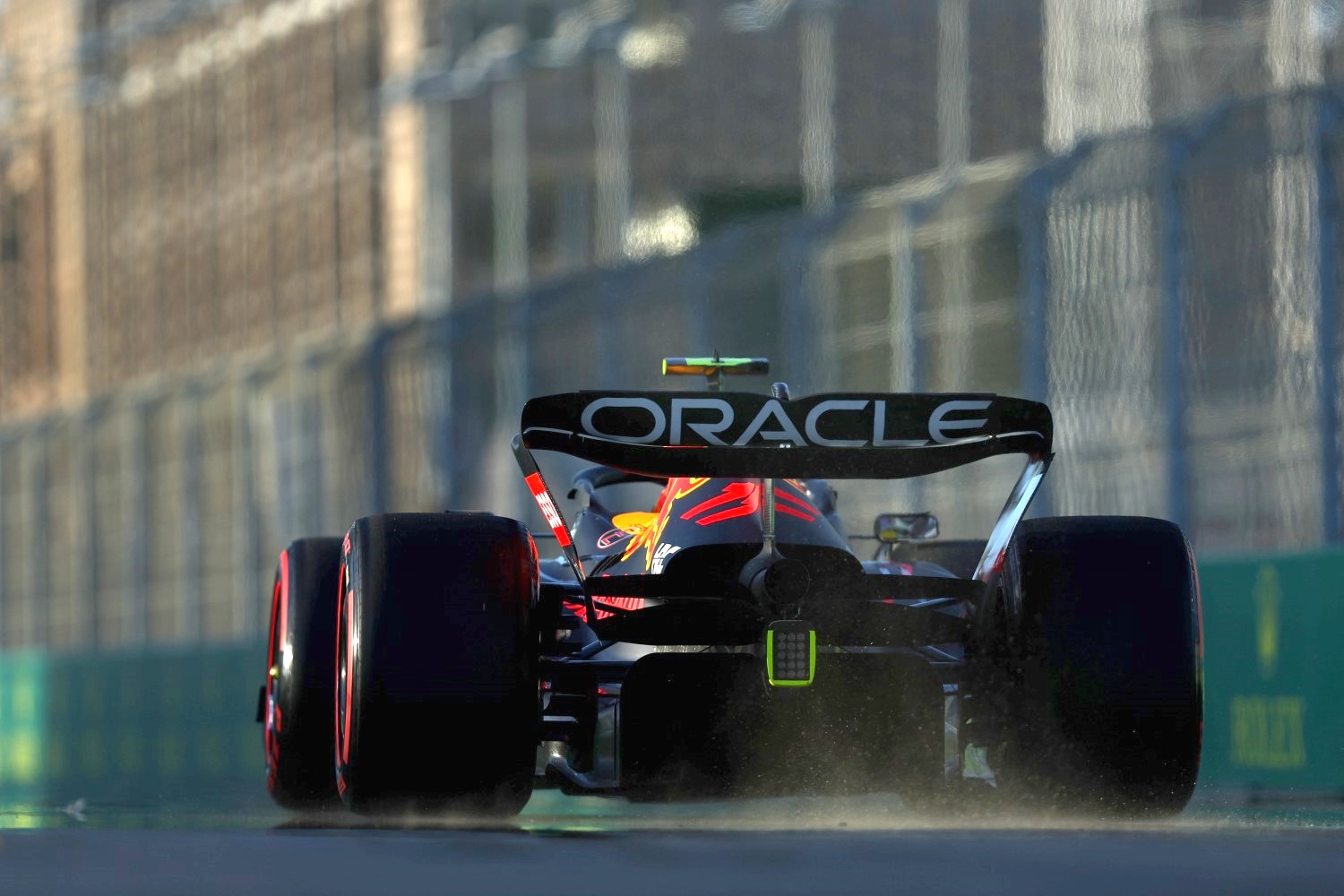 Alfa Romeo
Frédéric Vasseur, Team Principal: "First and foremost, the important news from the evening are about Mick Schumacher being ok after a very big accident. Full credit to the FIA for making these the safest cars in F1 history. As for us, we delivered a good performance that confirms our Bahrain result was not a fluke: both Valtteri and Zhou did well and we can see progress already compared to last week, which means we can expect to be in the fight to bring home points with both cars tomorrow. It's going to be a long race and we've seen tonight that this track doesn't forgive any mistake: there are a lot of challenges, but also a lot of potential opportunities to take and it will be up to us to bring home a good result."
Valtteri Bottas (car number 77):
"I am pleased to be in Q3, especially with our performance: we were very consistent, made good progress in each session and got a good spot on the grid for the race. The main thing today, though, is that Mick is ok after the heavy shunt. We hope to see him back in a race car as soon as possible. Coming into the weekend, we weren't sure whether the track layout would suit us, so to have a solid qualifying as a team is positive. I was perhaps hoping to be a couple of places higher, but everyone was so close: we stuck to our plan, which was to only use one set of tires for Q3, and by the end there was nothing left. Still, we delivered some good laps and I feel we are definitely in the fight that will be outside the top two teams. We can take the challenge to everyone around us tomorrow and I am looking forward to what will be an interesting race. We need a good start – we have been working a lot on them here and they feel better already – we need to keep position on lap one and then take any opportunity that may come from there on."
Zhou Guanyu (car number 24):
"Before I look at my performance, I am relieved to see both Nicholas and Mick being fine after their crashes: this is the most important thing. I am very happy with my performance this evening, especially as my expectations coming here were quite conservative: this is a relatively new track for me, it's so quick and it was the first time I drove an F1 car on a street circuit, so to go to Q2 and have a realistic shot at Q3 is a very positive feeling. I improved from session to session throughout the weekend and that's the important thing: the red flag in Q2 compromised our plans and, in the end, I was left with one set of tires, but I am happy with 13th. This is a challenging track, you need to push to the limit and you're on a very thin edge between a great lap and a mistake: to have a clean qualifying session here as a rookie is really good, and to be closer to my team-mate and the top guys is even better. As for tomorrow, let's see: the race could be chaotic, if last year's is anything to go by. I'll need to keep out of trouble and see how much progress I can make, but I think points are realistic."
Mercedes
George Russell
We are one team, and as a team it was not a good day. We don't have a handle on the car at the moment, it's been inconsistent and we're fighting to get it into this very small window. On our side of the garage, we managed to get it just inside that window – I don't really know why or how – and unfortunately on Lewis's side they didn't manage to. When that happens on a circuit like this on a knife-edge, you just don't have the confidence to push it to the limit. As a team, we're not here to fight for P5 / P6, we want more and we were nine tenths behind Checo today, so we've got work to do.
We know what our issue is and everyone's working day and night trying to solve it. We know there's so much lap time on the table, we just can't tap into it. We will get there, I've no doubt. But we've got to be patient. We can be grateful that we've got such a serious issue, but we are still the third fastest team and that offers so much optimism. If we are still the third fastest and we have so many issues, when we solve them, we should be in a really good spot.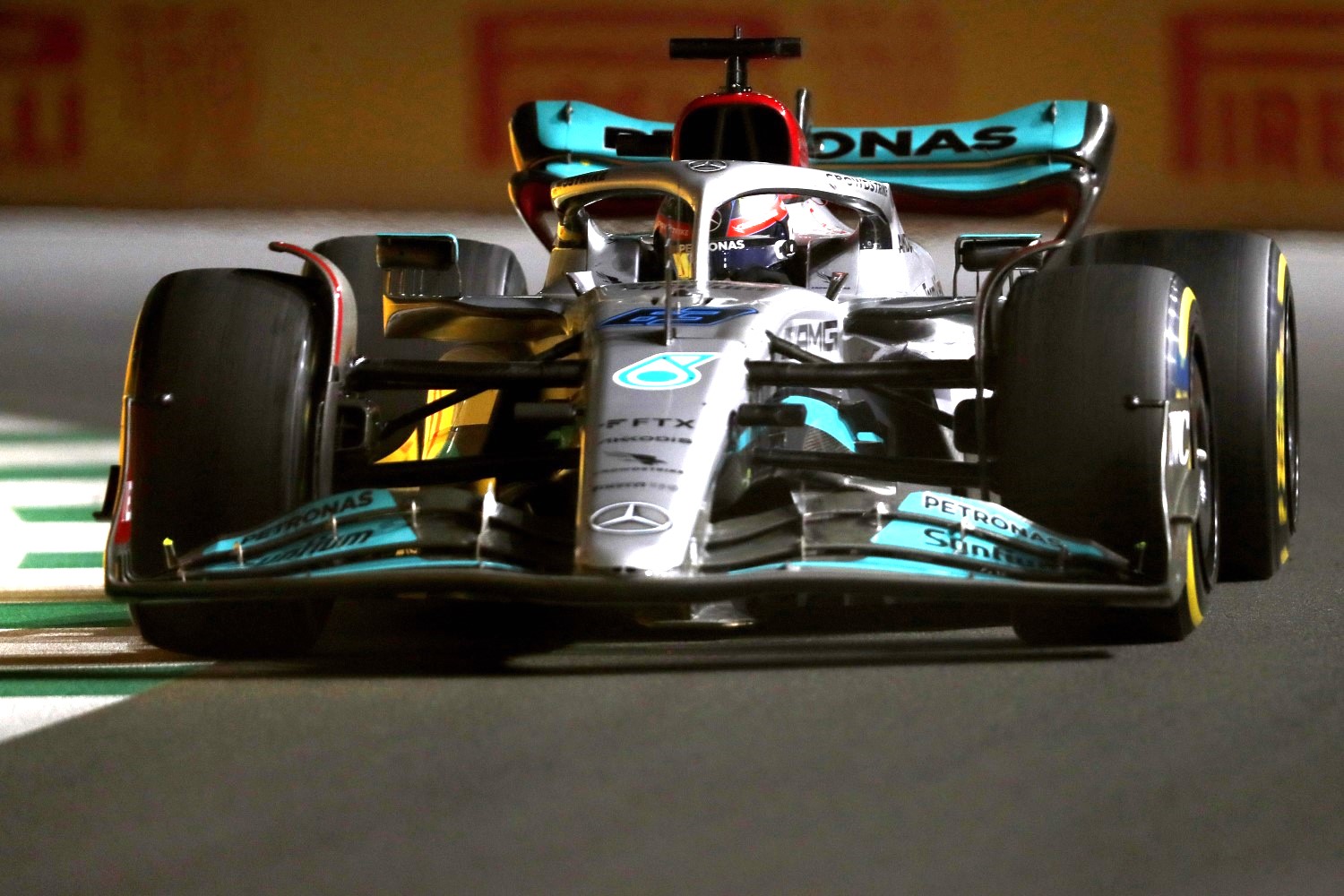 Lewis Hamilton
I hope Mick is OK, that corner is 170mph and it's terrifying to see what's happened – that's the biggest crash we've seen at this track. For me, I struggled with the balance of the car today, the rear end was snapping out and this isn't where we want to be. We went the wrong way with the set-up tonight and the car just wasn't underneath me for this session. It's strange because the car was feeling good in FP3 but in qualifying, it was difficult to drive all of a sudden and felt nervous. Everyone is working as hard as they can and trying to stay positive. I'll try my best tomorrow and see what we can do.
Toto Wolff
That's the second race of the season and another confirmation that we are not where we want to be, and need to be. On Lewis's side we experimented with a setup that was worse, and the consequence was there was no rear grip and the car became undrivable. For George, I think today was a good effort considering we only had one soft tire for Q3, so a solid job from him. Nevertheless, the optimum scenario for us today was the no-man's-land between the Red Bull and Alpine, and that's certainly not acceptable.
Andrew Shovlin
We know we aren't quick enough at the moment and Lewis exiting in Q1 is just a symptom of that. We struggled here on single lap pace, it was more of a challenge than Bahrain and we weren't fast enough in Bahrain. However, the car did look better in race spec yesterday than on single runs, so we're hopeful we'll have a better package tomorrow. We know the races here don't normally run to plan, so there's lots of opportunity to move forward, and we'll no doubt gain some useful knowledge along the way. George drove strong sessions and didn't leave much in the car today.
The porpoising is priority number one because it's preventing us from running the car where we want it. We've got some avenues which are giving us good direction, but it's taking us time to get those as parts on the car. We're leaving no stone unturned and every day we run, we're learning.
AlphaTauri
Pierre Gasly (AT03-01, Car 10)
"I'm really happy to make it through to Q3 again today. It wasn't that easy, as we suffered some damage to the floor during Q1, we managed to tape this during the session and get through to the top 10, but we'll need to go away to analyze the data and see how much this impacted our performance. It was a really tight Quali today, with only a few tenths separating P5-P10, so I'm pleased with where we are. We'll fight for everything we can tomorrow but it's going to be a long race and considering the tire degradation we've already seen in the practice session I think there will be a lot of different strategies tomorrow; we'll be working hard tonight to decide what will work best for us."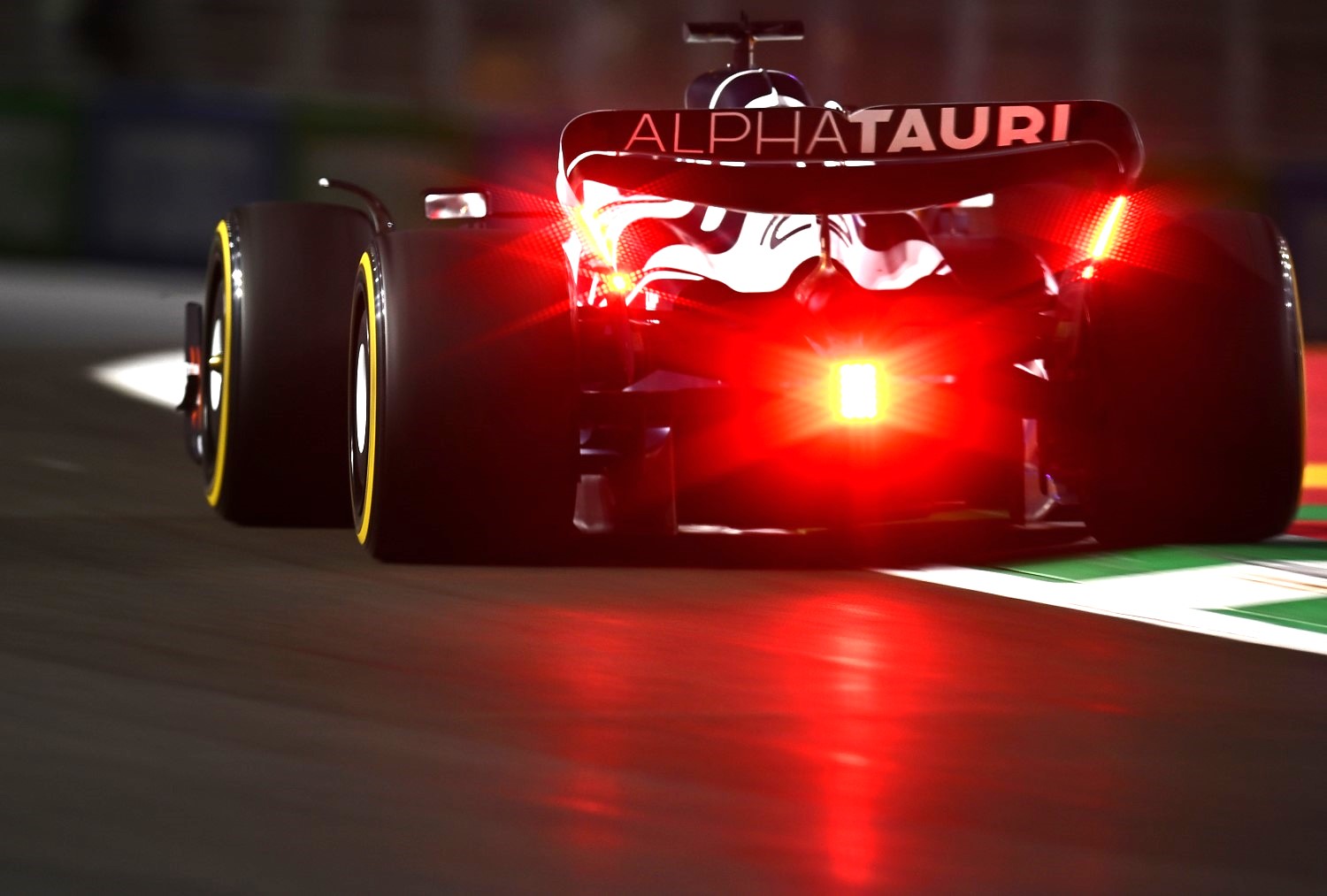 Yuki Tsunoda (AT03-02, Car 22)
"It's been a disappointing day, with the issue in Qualifying meaning we couldn't set a time. I didn't feel anything in the car, but the team told me there was a problem and I had to come in. It's such a shame I wasn't able to run, as I was feeling quite confident in the car this weekend and our aim was to get through to Q3. It won't be as easy to overtake here as it was in Bahrain, with most corners being high-speed, but I'll try my best to make my way forward."
Jody Egginton (Technical Director)
"Although we have been reasonably quick here in every session, we have not had a very smooth event so far with both drivers. This has meant the progress has been very disjointed on both sides of the garage and the workload has been higher than ideal. Frustratingly for everyone, Yuki had a suspected water system issue during Q1, meaning he was unable to capitalize on the good form he has shown so far here. Pierre suffered a disrupted FP3 but recovered well and navigated Q1 without any fuss. In Q2, when the session resumed, he put in a very clean lap, allowing him to progress to Q3 without too much trouble. The Q3 strategy was based around two runs, but unfortunately the second run was not perfect, and we have ended up P9 in what was a very tight Qualifying battle for fifth to 10th. In summary, although the AT03 has shown some reasonable pace so far in this event, as a team, we have not managed to maximize the grid position with one car, so achieving this remains a key point to address for the next event. The focus now shifts to the race and the strategy group are flat out preparing for tomorrow's race, seeing how we can try to get both drivers moving forward."
Williams
Dave Robson, Head of Vehicle Performance: We made some progress overnight with the setup and used the running in FP3 to determine the best run plan for Qualifying. Unfortunately, Nicholas touched the wall at the end of FP3 causing some minor damage to the front wing, which meant that he missed the grid start at the end of the session. Alex had a smoother session and confirmed that he was reasonably happy with the car.
As we typically see on street circuits, qualifying can be very busy with a range of approaches to tires and a constant risk of flag interruptions. With the lap being so long here in Jeddah, the run plans get squeezed and there is little slack. We had a program to get both drivers a good shot at the tire preparation, but this went awry when Nicholas crashed at T13 causing a red flag. We will need to inspect the damage tonight and understand what needs replacing before the race tomorrow. We moved Alex to a backup strategy and again gave him an opportunity to prepare the tires, which was getting more difficult in the cooler conditions. He pushed hard and had a clean lap, but we were lacking the pace and the tire grip to progress. We will now look to tomorrow and see if we can make some places as this is likely to be a race of attrition.
Alex Albon: It was a tricky day. I felt we were capable of getting to Q2, but getting the tires to work, especially at night-time when the temperature drops, becomes a little more difficult. We don't have a bad car, but the tires are very sensitive and we just missed the operating window. We have a bit of work to do but otherwise, in the race we should have good pace, so we can be positive on that side. Overtaking is going to be tricky but hopefully we have a pace advantage.
Nicholas Latifi: It just seemed like I lost the rear under braking into Turn 13, so we need to look at the data to understand exactly why as it was the first time I became rear limited in that corner all weekend. It caught me by surprise quite a bit. I feel really sorry for the team because it was a costly mistake. It's difficult to say at the moment about tomorrow; the car is feeling a bit better than it did in Bahrain, but we still have a lot of work to do. It will be a long race so we just have to be there.
Aston Martin
Lance Stroll
"The most important thing after qualifying is that it appears that Mick is generally OK after his big accident. It was not easy to sit in the car waiting for things to resume, so it was good to have an update on his condition before we went out again. I think P15 was probably the maximum we could achieve today. The balance of the car is decent, but we just lack that extra bit of grip to jump up the order. Last year it was a really eventful race here, so you would expect similar opportunities tomorrow. We will be ready to react quickly and can hopefully make progress."
Nico Hülkenberg
"I think qualifying could have gone a little bit better – I made mistakes in Turns One and 13, which probably cost me three-tenths and it did not help my push to make Q2. This circuit is so intense and fast, with a lot happening to the car in each corner, and that has been the hardest thing for me to get used to after a spell away from racing. Purely in a physical sense, this could be one of the hardest races of my career, but my goal tomorrow is to keep it clean, make progress, complete the race and provide as much info as possible for the team as we keep developing the car."
Mike Krack, Team Principal
"Lance and the team did a good job in qualifying today, making it through to Q2. He ended up 15th, which is not what we are aiming for of course but which represents progress compared with our performance in Bahrain just one week ago. Nico was not quite able to progress through to Q2, owing to small mistakes at Turn One and 13, but, considering his lack of testing mileage, he did a solid job to bag the 18th-best quali time. He may be able to move up the field to some extent tomorrow."
Pirelli Tires
Mario Isola
"Pole was just seven-tenths off last year's best time here in Jeddah, which is a great achievement in only the second race for these brand new cars. The teams focused on the soft compound from free practice this morning in preparation for using it in qualifying this evening. This also means that the majority of drivers have kept two sets of medium and one set of hard, which probably indicates that they will prefer to use these two compounds. But all the runs today, both in free practice and qualifying, were relatively short, so it's hard to know exactly how the levels of graining have evolved. As a result, the strategy is open tomorrow between a one-stopper and a two-stopper, depending on the actual levels of degradation experienced during the race, which of course depends on a number of different factors. Our best wishes to Mick Schumacher for a speedy recovery after the accident he sustained during qualifying: it's good to see that the new generation of cars are fast as well as safe."