F1: Las Vegas race will draw 170,000 to city for 3 days
Las Vegas, it was announced Wednesday, will be home to a Saturday night Formula One race in November 2023. It will be called the Las Vegas Grand Prix.
The Las Vegas Grand Prix is slated to occur at night on a yet-to-be-named Saturday in November 2023, Formula One and Las Vegas Convention and Visitors Authority officials announced Wednesday at a new conference at the Cosmopolitan.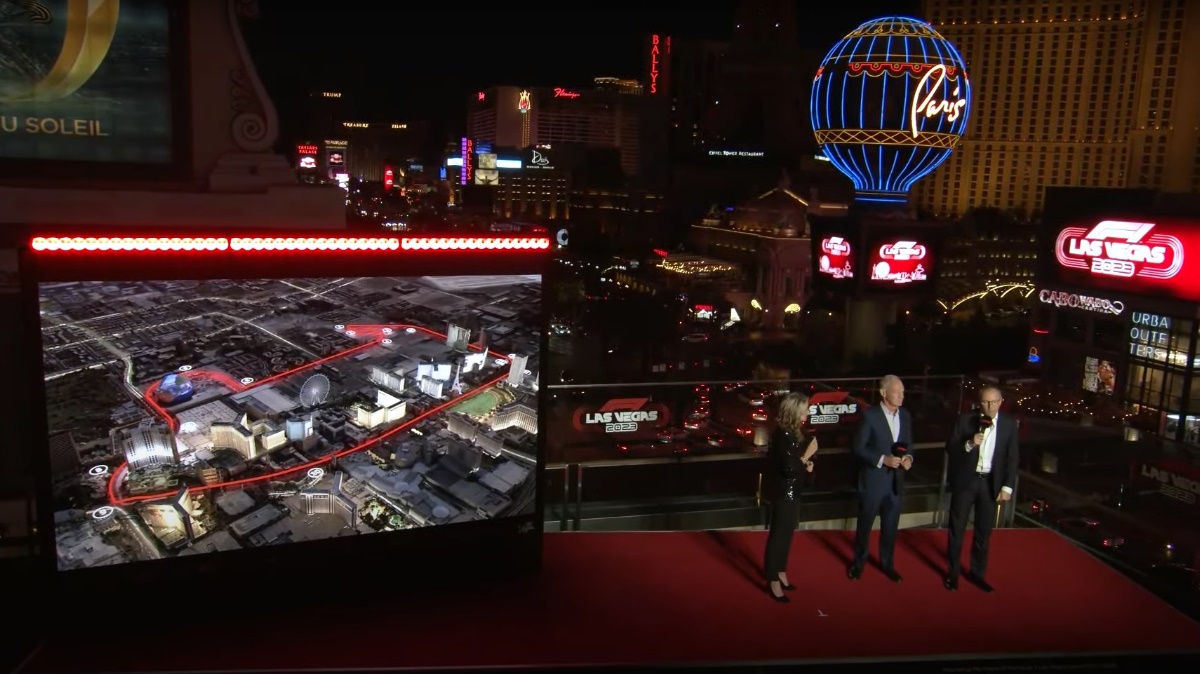 Nevada Gov. Steve Sisolak, along with a host of Las Vegas business leaders, including MGM Resorts International CEO Bill Hornbuckle and Caesars Entertainment CEO Tom Reeg took part in Wednesday night's announcement at the Cosmopolitan's outdoor Boulevard Pool deck.
Both companies, along with Wynn Resorts, are "founding" sponsors for the race, which will be the third Formula One event to take place in the United States. Other sponsors include Resorts World Las Vegas, the Venetian, and MSG Sphere.
"There's nowhere better to be than here," said Stefano Domenicali, president and CEO of the popular international race car circuit, with a backdrop of a bustling stretch of Las Vegas Boulevard behind him. "The best racing on the planet will be in Las Vegas under these lights. It will be amazing."
Designers produced 31 different layout variations before agreeing on the final version – a spectacular 14-turn high-speed design that will have a high average speed and require teams to bring their low downforce Monza/Spa-spec aerodynamic packages. It's going to be fast and furious.
The 14-turn track will run for 3.8 miles (6.12km) with top speeds expected to hit around 212mph (342km/h).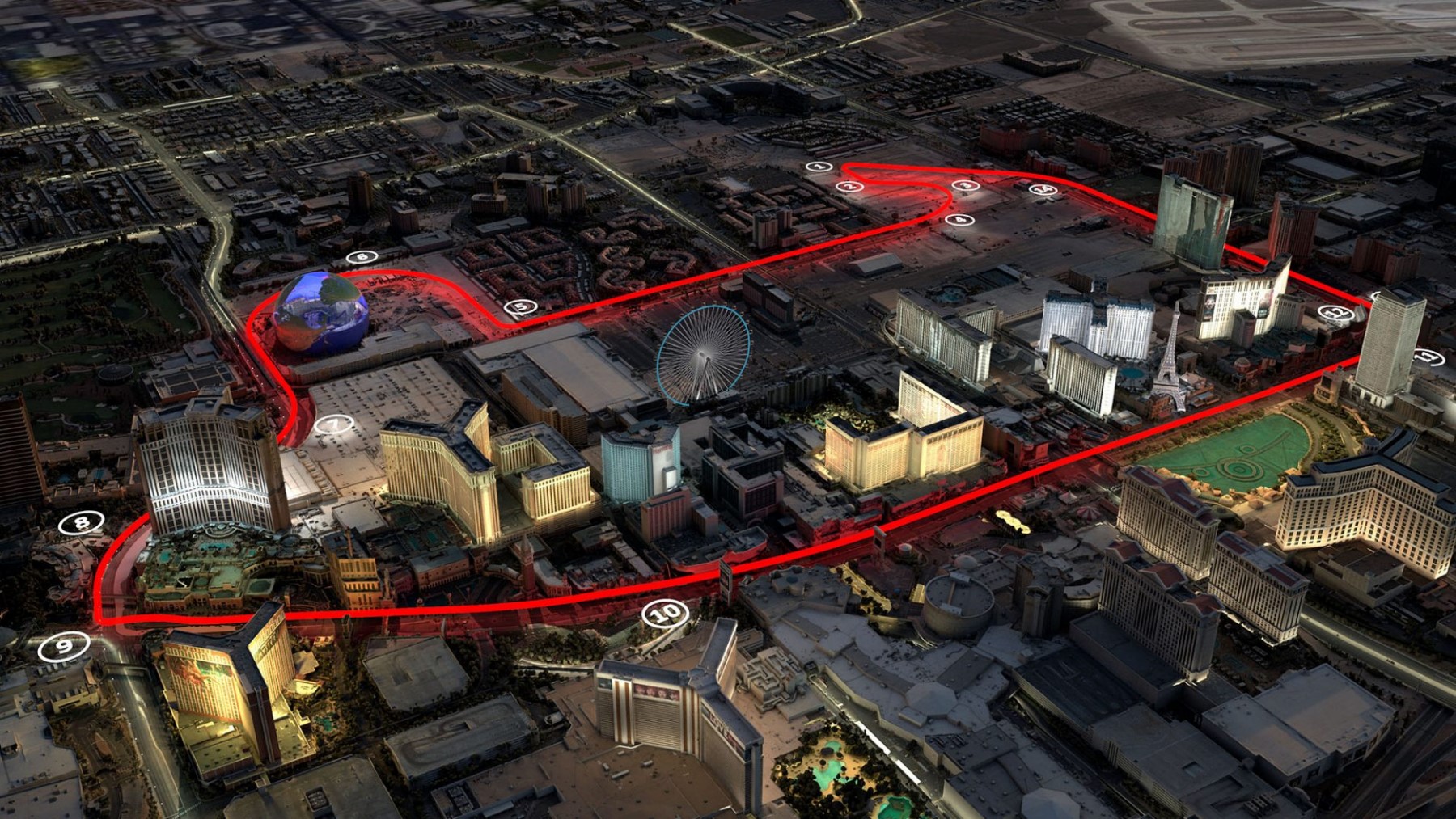 Plans are for a 3.8-mile racetrack to be constructed along a stretch Las Vegas Boulevard and some adjacent streets. The track will start near Top Golf and MGM Grand  before heading north on Koval Lane. It's planned for a 50-lap race.
It will then wind around the under-construction MSG Sphere facility before it connects with Sands Avenue and, eventually, Las Vegas Boulevard to go south until turning to the east on Harmon Avenue.
"It won't be easy to turn the Strip into a circuit for a grand prix, but this is a community and a state that knows how to host unbelievable events," said Steve Hill, president and CEO of the Las Vegas Convention and Visitors Authority.
The race will be an assault on the drivers' senses, as they blast directly by famous hotels like the Venetian, Caesars Palace and the Bellagio – with its iconic fountain – along the Strip.
At the end of the 1.6-mile straight on 'The Strip' you'll find the best overtaking opportunity for drivers, braking hard into a left-hander. There are two other straights, a high-speed corner sequence and a chicane to spice things up.
The sport has gained popularity in the U.S. recently in part because of the popular Netflix show "Drive to Survive." Adding another race in America is a way for the circuit to capitalize on that growing popularity, Formula One leaders said. The cars travels at speeds of more than 200 mph.
"Adding Formula One, a global sport, to Las Vegas underscores that this is the sports and entertainment capital of the world," Sisolak said. "We're looking down at one of the most famous streets in the world. I can't wait to see this street with cars traveling 200 miles per hour."
Sisolak said the race will have an "enormous" economic impact on the Southern Nevada region, possibly as much as $500 million when all is considered.
"Visitors will accommodate 400,000 hotel room nights, which is absolutely amazing," Sisolak said. "The indirect impact will be over $1 billion. Nobody puts on a party like Las Vegas. I predict this will be the flagship race for F1 in a couple of years."
The contract for the race is for three years, though Domenicali hinted that he hopes it's eventually extended for much longer.
The news was announced at a glittering event in Las Vegas on Wednesday evening, with Liberty Media President and CEO Greg Maffei and F1 President and CEO Stefano Domenicali in attendance.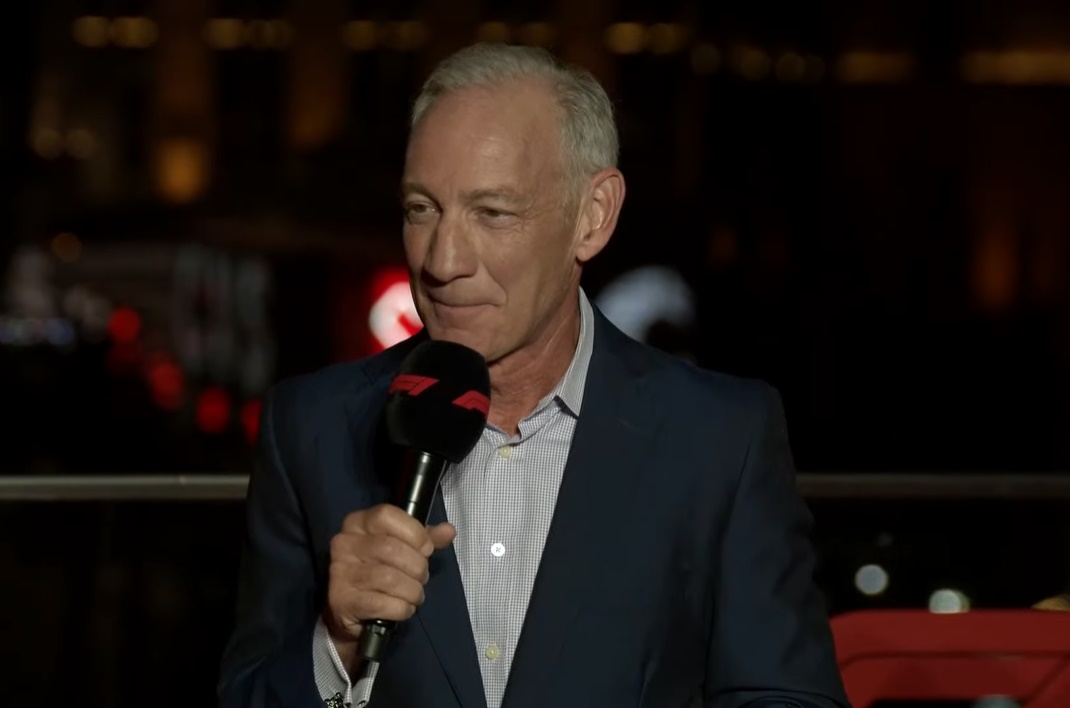 They were joined by local stakeholders including Nevada Governor, Steve Sisolak, CEO and President of the LVCVA, Steve Hill and President and CEO of Live Nation Entertainment, Michael Rapino.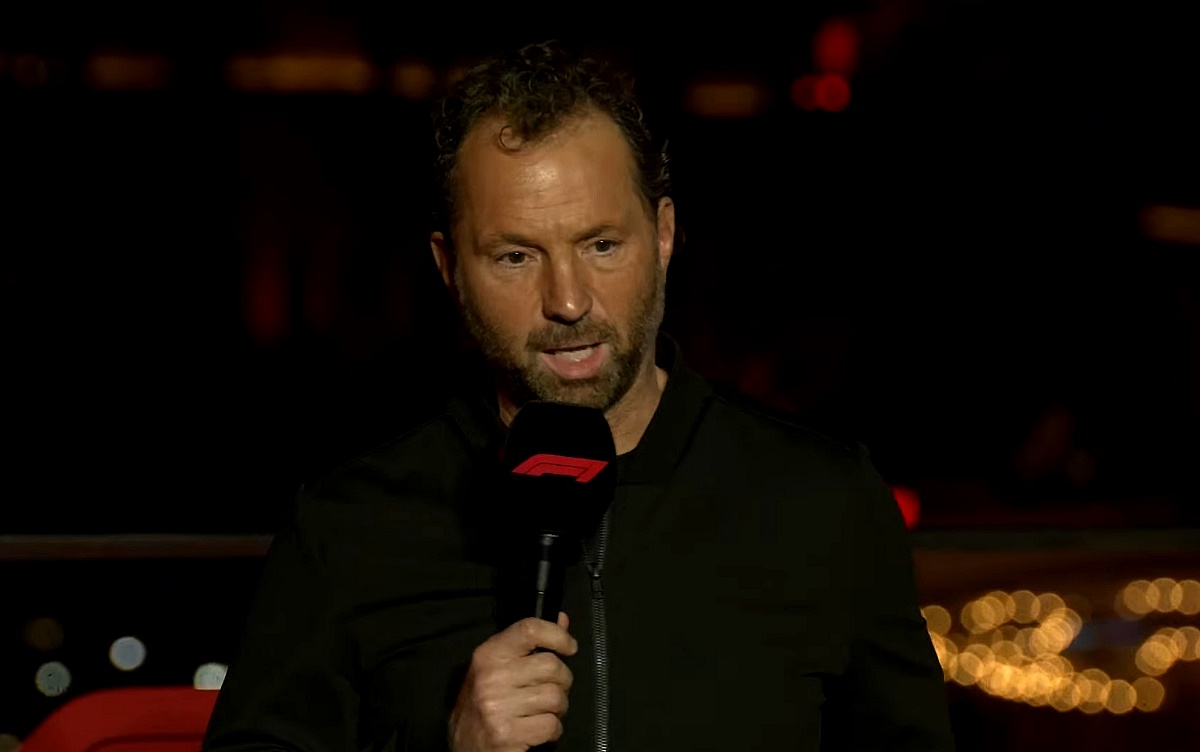 Sisolak made the bold prediction that the Las Vegas GP will be the iconic race on the F1 calendar within several years. He expects the race will bring in 170,000 people from outside Las Vegas to attend the race.
"Iconic Las Vegas and Formula 1, the pinnacle of motorsport, is the perfect marriage of speed and glamour," said Maffei. "Our confidence in this unique opportunity is evident in our decision to assume the promoter role for the Las Vegas Grand Prix in partnership with Live Nation.
"We could not be more excited to work with our local partners to create a marquee event. The potential of Formula 1 has been well demonstrated over the last several seasons and the Las Vegas GP will only take it to the next level."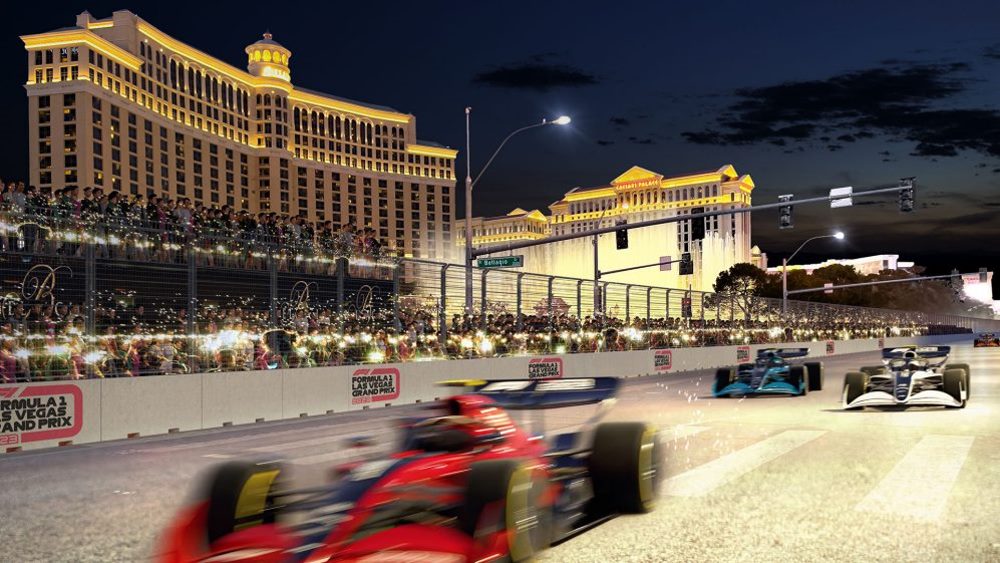 Domenicali added: "This is an incredible moment for Formula 1 that demonstrates the huge appeal and growth of our sport with a third race in the US. Las Vegas is a destination known around the world for its excitement, hospitality, thrills, and of course, the famous Strip.
"There is no better place for Formula 1 to race than in the global entertainment capital of the world and we cannot wait to be here next year. I want to thank everyone who helped deliver this event, especially Governor Sisolak, the Clark County Commission, Steve Hill at the LVCVA, and our local partners."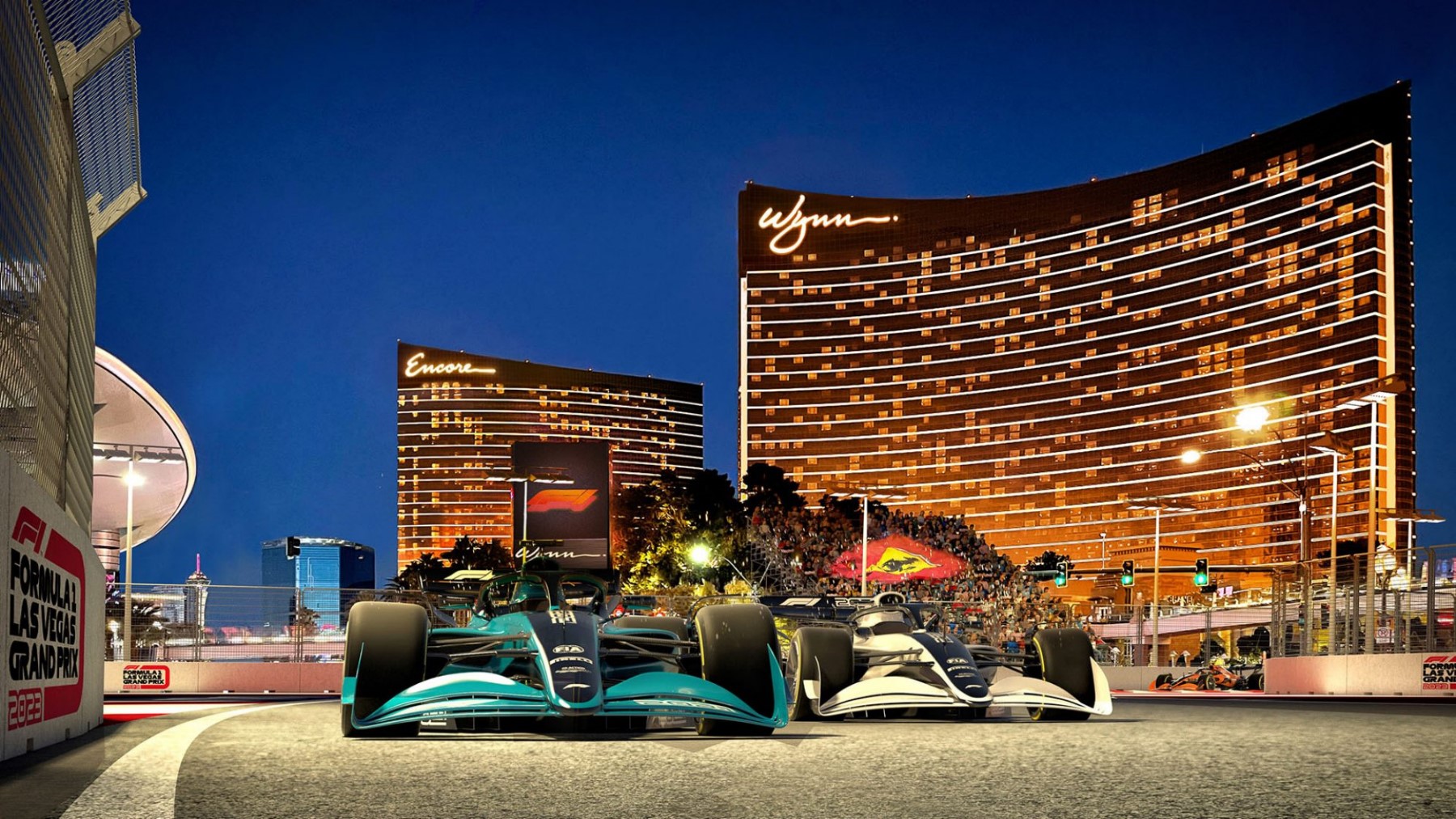 Hill added: "We eagerly anticipate the moment when the history, energy and momentum of Formula 1 will culminate in an unforgettable Saturday night on the Las Vegas Strip. Spectators will experience the unrivalled thrill of watching these world-class drivers race through what is sure to become one of the most iconic racetracks in the world.
"Formula 1 and Liberty Media have been incredible partners, and we look forward to November 2023 when we once again showcase that Las Vegas is 'The Greatest Arena on Earth'."
Hill said the LVCVA has agreed to pay more than $6 million per year for various costs associated with the event.
He said organizers have a specific Saturday date in mind for the race, but that additional details still need to be worked out before that's announced publicly.
"We've been working hard at this (deal) for about seven months," Hill said. "It's been a lot of what we've been doing over that time."
Ready to up the ante in 2023 🤩#F1 @Vegas @WynnLasVegas @MGMResortsIntl @CaesarsEnt pic.twitter.com/rRbxJvPsgu

— Formula 1 (@F1) March 31, 2022
VEGASSSS BABY! 🤩 We're heading back down the Strip in 2023 🇺🇸 #LasVegasGP pic.twitter.com/IhlbyzcdD5

— Oracle Red Bull Racing (@redbullracing) March 31, 2022