F1: Leclerc tops wet Imola practice ahead of qualifying
On a very wet Imola circuit in Italy, Ferrari driver Charles Leclerc turned the fastest lap of 1m29.402s in his #16 Ferrari.
Despite a couple of spins on the slick track, Leclerc set his fast lap after switching to Intermediate Pirelli tires and beat his teammate Carlos Sainz Jr. by 0.877s in the #55 Ferrari.
Max Verstappen was third, a whopping 1.465s behind Leclerc in his Red Bull.
Kevin Magnussen was 4th quick for Haas using Ferrari power, while Sergio Perez rounded out the top-5 in the 2nd Red Bull.
The biggest surprise of the session were the Mercedes. As expected, George Russell again was faster than his teammate Lewis Hamilton. Russell 4.860s back and Hamilton 7.062s back – slow and out to lunch when he does not have a superior car like he has had for the past 7 years.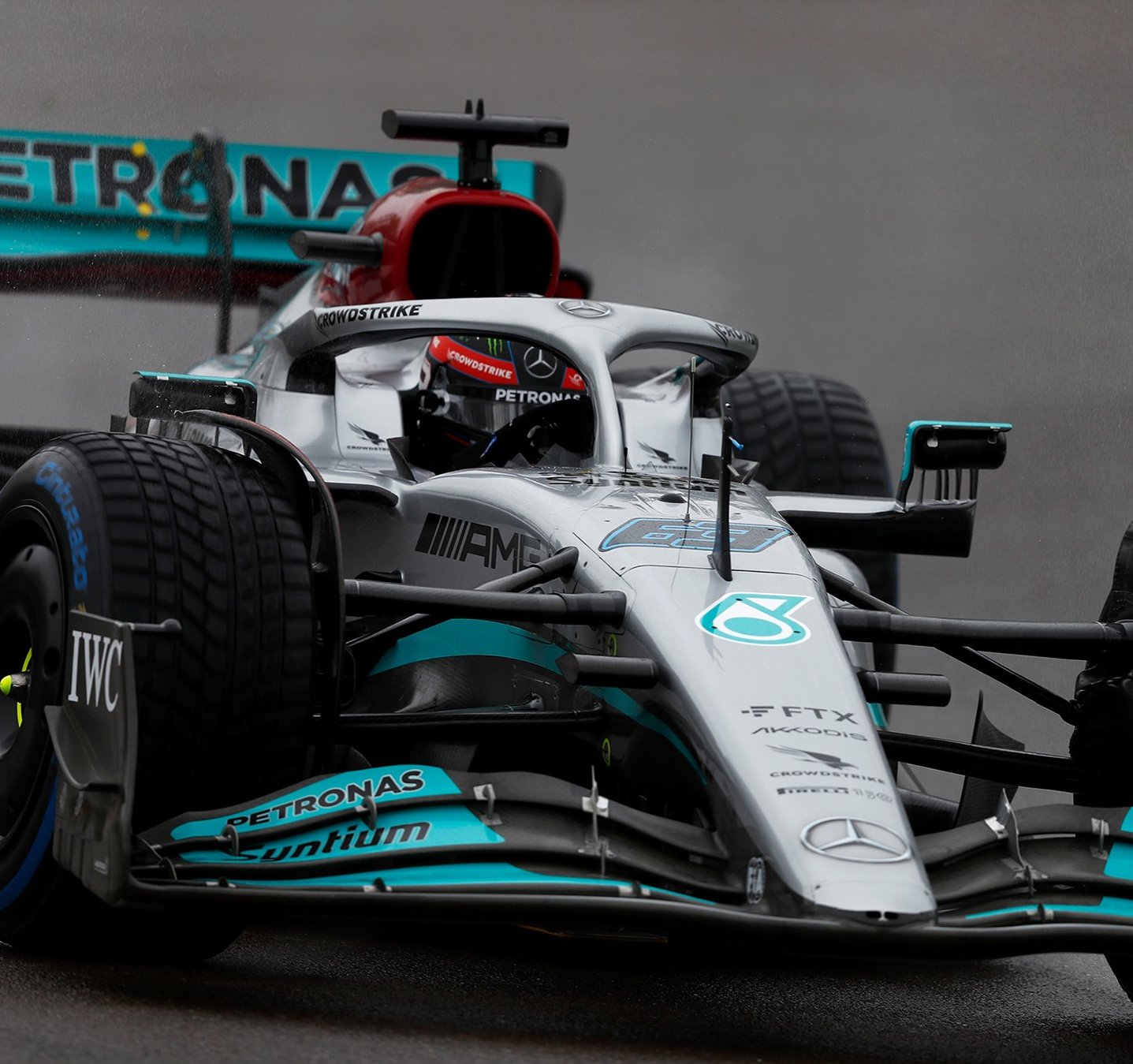 "This is all about getting grip in the tire temperature, Ferrari seem to be able to unlock this and everyone else is all over the place. The feedback we are getting from Lewis and George is there is zero grip. If we can unlock that issue, we will get a jump forwards,"  said Toto Wolff, Mercedes Team Principal
The fastest Mercedes-powered driver was Sebastian Vettel in 8th
The session ended with Valtteri Bottas in the barriers at the exit of Acque Minerali!
"I'm just trying to reverse," he tells the team, sounding incredibly downbeat… And in reversing, he beached his back wheels in the gravel.
There is some good news for the Finn – replays show that he too took a touch of the white line, spinning around and, in the end, stopping millimeters from the barrier. No mechanical damage then, as the team breathed a huge sigh of relief.
Qualifying takes place at 11:00AM ET. It follows the same format as usual – Q1, Q2 and Q3 determining the grid. But that is the grid for tomorrow's Sprint, where there are points on offer for the first eight over the line.
The finishing order tomorrow determines the grid for Sunday's race.
Practice 1 Results
| | | | | | | |
| --- | --- | --- | --- | --- | --- | --- |
| POS | NO | DRIVER | CAR | TIME | GAP | LAPS |
| 1 | 16 | Charles Leclerc | Ferrari | 1:29.402 | +0.000s | 23 |
| 2 | 55 | Carlos Sainz Jr. | Ferrari | 1:30.279 | +0.877s | 25 |
| 3 | 1 | Max Verstappen | Red Bull Racing RBPT | 1:30.867 | +1.465s | 20 |
| 4 | 20 | Kevin Magnussen | Haas Ferrari | 1:32.439 | +3.037s | 22 |
| 5 | 47 | Mick Schumacher | Haas Ferrari | 1:32.988 | +3.586s | 22 |
| 6 | 11 | Sergio Perez | Red Bull Racing RBPT | 1:33.012 | +3.610s | 17 |
| 7 | 14 | Fernando Alonso | Alpine Renault | 1:33.160 | +3.758s | 13 |
| 8 | 5 | Sebastian Vettel | Aston Martin Mercedes | 1:33.365 | +3.963s | 21 |
| 9 | 22 | Yuki Tsunoda | AlphaTauri RBPT | 1:33.611 | +4.209s | 18 |
| 10 | 63 | George Russell | Mercedes | 1:34.262 | +4.860s | 20 |
| 11 | 77 | Valtteri Bottas | Alfa Romeo Ferrari | 1:34.615 | +5.213s | 19 |
| 12 | 10 | Pierre Gasly | AlphaTauri RBPT | 1:35.104 | +5.702s | 19 |
| 13 | 31 | Esteban Ocon | Alpine Renault | 1:35.420 | +6.018s | 14 |
| 14 | 4 | Lando Norris | McLaren Mercedes | 1:35.502 | +6.100s | 12 |
| 15 | 3 | Daniel Ricciardo | McLaren Mercedes | 1:35.625 | +6.223s | 14 |
| 16 | 18 | Lance Stroll | Aston Martin Mercedes | 1:36.033 | +6.631s | 22 |
| 17 | 23 | Alexander Albon | Williams Mercedes | 1:36.461 | +7.059s | 16 |
| 18 | 44 | Lewis Hamilton | Mercedes | 1:36.464 | +7.062s | 16 |
| 19 | 24 | Zhou Guanyu | Alfa Romeo Ferrari | 1:37.450 | +8.048s | 21 |
| 20 | 6 | Nicholas Latifi | Williams Mercedes | 1:39.698 | +10.296s | 14 |