F1: Into the Chaotic World of the American F1 Boom
"This weekend had some of the most chaotic, frenetic energy I've ever experienced at a sporting event, and I'm an Orlando Magic fan," writes Kevin Clark/The Ringer.
Here are some key excerpts from his article on the Miami GP
"Almost everyone who was important in their realm was here: Michael Jordan, Tom Brady, Serena Williams. There were so many celebrities that it became a fun parlor game to see who would get swarmed by fans and who wouldn't. You could guess after a while: DJ Khaled couldn't walk 2 feet without someone asking him to shout them out for an Instagram story. George Lucas walked through the paddock almost unbothered. Ferrari's Carlos Sainz Jr., who finished third, said there were too many people in the paddock, where the teams and cars are housed. That was sort of the point."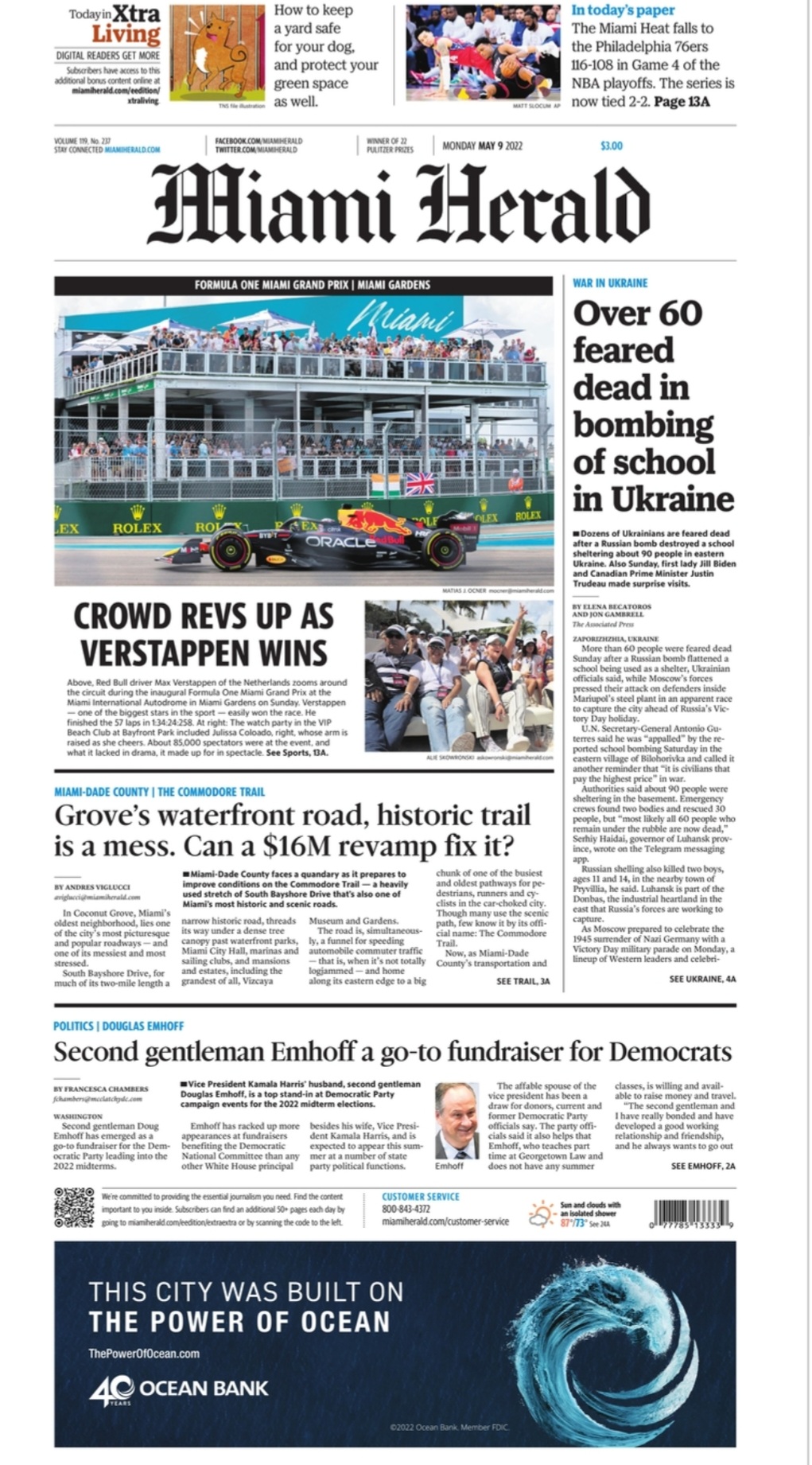 Formula One is an American sport. I do not mean it belongs to Americans: The heartbeat of the schedule will always be races at the crown jewel European tracks. The drivers will always be majority European. The guys who work at Ferrari will always look unbelievably Italian and take long smoke breaks. F1 is an American sport because it dovetails so well with what Americans value: superstars, fast cars, bingeable streaming shows, hot people, the ability to change a tire, and drinking outdoors. In the past four years, Netflix has delivered most of these things to millions of young Americans, and young Americans have, in turn, learned the difference between soft and medium tyres. (Yes, tyres.) In doing so, they have made overnight American stars of middle-aged team principals who say "wanker" and an Australian who never buttons his top buttons. The United States and F1 were waiting for each other.
F1 in America is on the brink of either peaking or exploding. After Sunday, I'm betting on the latter. I'm also not ruling out the former.
So, there were three types of folks at the track this weekend: New American fans who started watching in the past few years or past few weeks; old American fans who've been watching since the Speed Channel days; and those who traveled internationally for the race (which was a not-small portion, by the way). The U.S. will need a coalition of all three in order for F1 to have a viable long-term future here. For the Miami Grand Prix or the 2023 Las Vegas Grand Prix to grow, they'll need a steady stream of American fans and international travelers who see the U.S. as a destination to see a race. These circuits need to be shrines of the sport to keep the track full. Or, you know, just have good champagne. Is there a risk this is a fad? Sure. Any ascending organization can get arrogant, change their approach, and start to slip. But F1 seems to understand why people currently like it and have been given a tremendous gift in superstar creation. Baseball gets much higher ratings, NASCAR gets higher ratings (though F1 nearly matches them in young viewers), but neither have been the epicenter of the sports world in recent memory the way Miami was on Sunday.
New American fans got to see everything they had anticipated this weekend: Red Bull's car had reliability issues on Friday as it had all season. Mercedes was porpoising (bouncing) down the track as usual. Ferrari's Carlos Sainz crashed in practice, something he's struggled with all year. To see all of these things in person is like seeing Pearl Jam and the first five songs played are all from Ten. F1 was playing the hits. The race itself was less thrilling, and that's part of the growth, too. Not every F1 race is heart-thumping, but that's the nature of F1: Sometimes it sucks, and you gotta learn to enjoy battles for P9.
We will look back on the Miami Grand Prix as either the end or beginning of something. Either it marks the peak of Formula One fandom, or the start of a steady stream of packed, lucrative, celebrity-filled races in this country. There are at least rumblings there could one day be a fourth race in the United States. This was the Netflix era of Formula One playing out in dozens of hospitality suites and expensively priced grandstands.
These are minor quibbles in comparison to the hype generated this weekend, and likely the money. Steve Matchett, the former race mechanic turned author, wrote that the first rule of F1 is don't be late. The second rule is to not, under any circumstance, be late. Every step of the American F1 journey has been right on time. Every step seems perfect, and Miami was another one of those.
All week, drivers were peppered with questions about the potential for more American drivers and more American teams. Most of the drivers delivered pleasantries about how it would be great to get more Americans in F1. What F1 needs is not a charity case; they need a winner. NASCAR has, for more than 20 years, been plagued with the problem of their most marketable drivers not being winners. Verstappen and Lewis Hamilton are sensations because of what they do at the front of the pack and their ludicrously entertaining title race last year. That's what sells: winners. That's what Americans like. The next step is important: growth without dilution or pandering. Mario Andretti said if everything seems under control, you're not going fast enough. American growth in F1 seems fast enough, because there's a little chaos. Andretti's family might soon launch another American F1 team. This is Formula One: American Style, as Ecclestone said. Maybe it always was.