IndyCar: Palou tops opening practice for GMR Grand Prix
Alex Palou turned the fastest lap at 1m10.4555s to top opening practice for the NTT Data GMR Grand Prix on the Indianapolis Road Course.
Palou beat rookie Callum Ilott by just 0.0038s and Will Power by 0.0722s.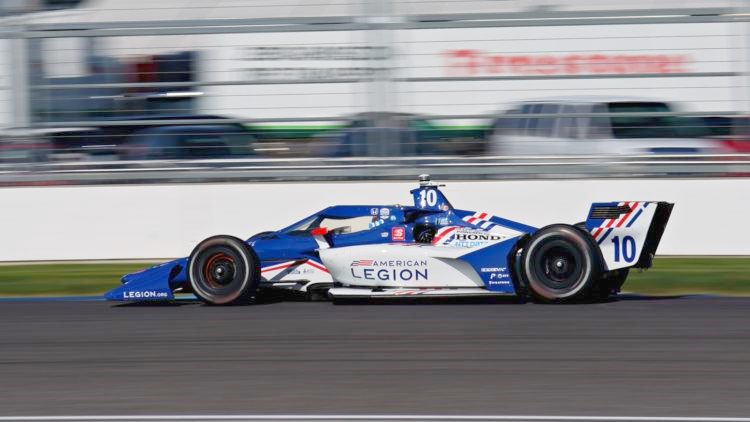 Graham Rahal and Felix Rosenqvist rounded out the top-5 in the near incident free 45-minute session.
Scott Dixon had a momentary scare at the start of the session when his Chip Ganassi Racing Honda was seen smoking on pit lane. It ended up just being some fluid burning off the exhaust, however, and he was able to head out on track shortly after.
The session went green until there was one minute left on the clock, when Helio Castroneves spun at pit in and required assistance to get his car started again.
.@AlexPalou was fastest in Practice 1.

Right behind him? The No. 77 of @callum_ilott. #INDYCAR // #INDYGP // @juncosracing pic.twitter.com/ujkV98rg4H

— NTT INDYCAR SERIES (@IndyCar) May 13, 2022
Packed Grandstands?
While last weekend's Miami GP Formula 1 race had over 50,000 in attendance for Friday practice, you can see from this video how man so-called IndyCar fans showed up for Friday practice at IMS today. Maybe we will see more in the 2nd practice coming up at 12:45pm ET. Qualifying is at 4:00pm ET
Good morning from @IMS busy day today starting with practice 1. #IndyCar pic.twitter.com/x6jeoTx8lk

— Dale Coyne Racing (@DaleCoyneRacing) May 13, 2022
Practice Results
| | | | | | | | | | |
| --- | --- | --- | --- | --- | --- | --- | --- | --- | --- |
| Pos | No | Name | Time | Diff | Gap | Laps | Speed | Engine | Team |
| 1 | 10 | Alex Palou | 1:10.4555 | 0.000s | 0.000s | 18 | 124.623 | Honda | Chip Ganassi Racing |
| 2 | 77 | Callum Ilott | 1:10.4593 | 0.0038 | 0.0038 | 19 | 124.617 | Chevy | Juncos Hollinger Racing |
| 3 | 12 | Will Power | 1:10.5277 | 0.0722 | 0.0684 | 17 | 124.496 | Chevy | Team Penske |
| 4 | 15 | Graham Rahal | 1:10.6125 | 0.1570 | 0.0848 | 16 | 124.346 | Honda | Rahal Letterman Lanigan Racing |
| 5 | 7 | Felix Rosenqvist | 1:10.7108 | 0.2553 | 0.0983 | 15 | 124.173 | Chevy | Arrow McLaren SP |
| 6 | 8 | Marcus Ericsson | 1:10.7123 | 0.2568 | 0.0015 | 18 | 124.171 | Honda | Chip Ganassi Racing |
| 7 | 60 | Simon Pagenaud | 1:10.7459 | 0.2904 | 0.0336 | 13 | 124.112 | Honda | Meyer Shank Racing |
| 8 | 45 | Jack Harvey | 1:10.7817 | 0.3262 | 0.0358 | 15 | 124.049 | Honda | Rahal Letterman Lanigan Racing |
| 9 | 06 | Helio Castroneves | 1:10.7911 | 0.3356 | 0.0094 | 13 | 124.033 | Honda | Meyer Shank Racing |
| 10 | 26 | Colton Herta | 1:10.8352 | 0.3797 | 0.0441 | 15 | 123.955 | Honda | Andretti Autosport |
| 11 | 5 | Pato O'Ward | 1:10.8584 | 0.4029 | 0.0232 | 12 | 123.915 | Chevy | Arrow McLaren SP |
| 12 | 28 | Romain Grosjean | 1:10.8597 | 0.4042 | 0.0013 | 17 | 123.912 | Honda | Andretti Autosport |
| 13 | 9 | Scott Dixon | 1:10.8632 | 0.4077 | 0.0035 | 18 | 123.906 | Honda | Chip Ganassi Racing |
| 14 | 30 | Christian Lundgaard | 1:10.8853 | 0.4298 | 0.0221 | 17 | 123.868 | Honda | Rahal Letterman Lanigan Racing |
| 15 | 27 | Alexander Rossi | 1:10.8906 | 0.4351 | 0.0053 | 17 | 123.858 | Honda | Andretti Autosport |
| 16 | 2 | Josef Newgarden | 1:10.9343 | 0.4788 | 0.0437 | 17 | 123.782 | Chevy | Team Penske |
| 17 | 3 | Scott McLaughlin | 1:10.9543 | 0.4988 | 0.0200 | 15 | 123.747 | Chevy | Team Penske |
| 18 | 18 | David Malukas | 1:10.9703 | 0.5148 | 0.0160 | 20 | 123.719 | Honda | Dale Coyne Racing with HMD |
| 19 | 20 | Conor Daly | 1:11.0008 | 0.5453 | 0.0305 | 15 | 123.666 | Chevy | Ed Carpenter Racing |
| 20 | 29 | Devlin DeFrancesco | 1:11.0064 | 0.5509 | 0.0056 | 18 | 123.656 | Honda | Andretti Steinbrenner Autosport |
| 21 | 21 | Rinus VeeKay | 1:11.0720 | 0.6165 | 0.0656 | 13 | 123.542 | Chevy | Ed Carpenter Racing |
| 22 | 51 | Takuma Sato | 1:11.1887 | 0.7332 | 0.1167 | 15 | 123.340 | Honda | Dale Coyne Racing w/RWR |
| 23 | 14 | Kyle Kirkwood | 1:11.5867 | 1.1312 | 0.3980 | 16 | 122.654 | Chevy | AJ Foyt Enterprises |
| 24 | 48 | Jimmie Johnson | 1:11.6603 | 1.2048 | 0.0736 | 22 | 122.528 | Honda | Chip Ganassi Racing |
| 25 | 6 | Juan Pablo Montoya | 1:12.0074 | 1.5519 | 0.3471 | 14 | 121.937 | Chevy | Arrow McLaren SP |
| 26 | 4 | Dalton Kellett | 1:12.2094 | 1.7539 | 0.2020 | 18 | 121.596 | Chevy | AJ Foyt Enterprises |
| 27 | 11 | Tatiana Calderon | 1:12.4361 | 1.9806 | 0.2267 | 11 | 121.216 | Chevy | AJ Foyt Enterprises |