Indy 500: Saturday Morning Report on PPG Presents Armed Forces Qualifying at IMS
Good morning from the famous Indianapolis Motor Speedway.  Today is going to be cooler than yesterday by about ten degrees. It is currently very cloudy and rain is threatening the Indy 500 qualifying today.  Thunderstorms are predicted for this morning and for the early afternoon.

Fast Friday did not entirely live up to its name yesterday.   Yes, we had the extra 90 horsepower but most drivers were cautious with the 39 miles per hour wind gusts, and only a handful of laps were run all day as teams sat in pit lane at the start of the practice session but the drivers did not get out on the track.  As the wind picked up, the cars were rolled back to the garage.
Teams waited until the traditional Happy Hour at 5 pm before attempting to make some four-lap runs to simulate the qualifying format for tomorrow.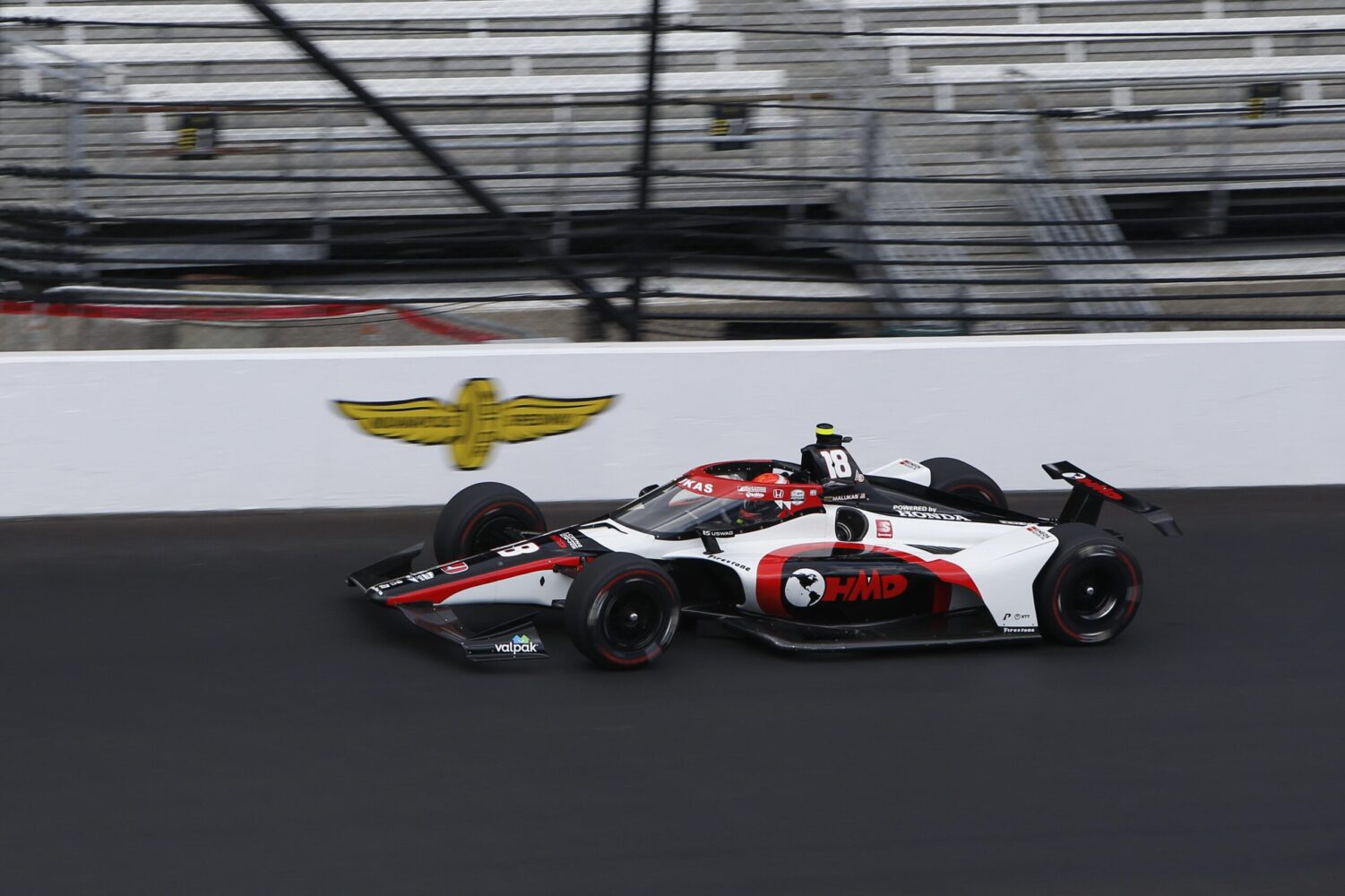 David Malukas, the driver of the no 18 HMD Dale Coyne with HMD entry, was one of those drivers that  impressed the crowds with his impressive four-lap run during happy hour.
The rookie teammate to Takuma Sato, winner of two Indy 500s with two different teams, the latest in 2020 with Rahal Letterman Lanigan. The only Japanese driver to win the Indy 500 has worked with his young teammate regarding how to get around the 2.5-mile oval.
AR1 asked Malukas, who only raced here once in the Freedom 100 in Indy Lights in 2019, how he felt when he went out in the strong winds.  "My foot was shaking as I approached turn 1.  My brain wanted me to lift but I just kept it down on the throttle and kept going.  I had some good advice from Sato before I went out and everything he told me happened today."

Qualifying Rules
Qualifying today might be interrupted by storms.  What happens if we start to qualify and not all 33 cars are able to make a run before we are rained out?  All times go away and Sunday will become qualifying day.  All cars will be able to take at least one qualifying attempt on Sunday.
Now if it does not rain out today, then Sunday we will start qualifying for the top 12 positions at Noon local time.  Positions 13-33 will be set as of Saturday.  The following document shows the top 12 and top 6 qualifying  formats for Sunday.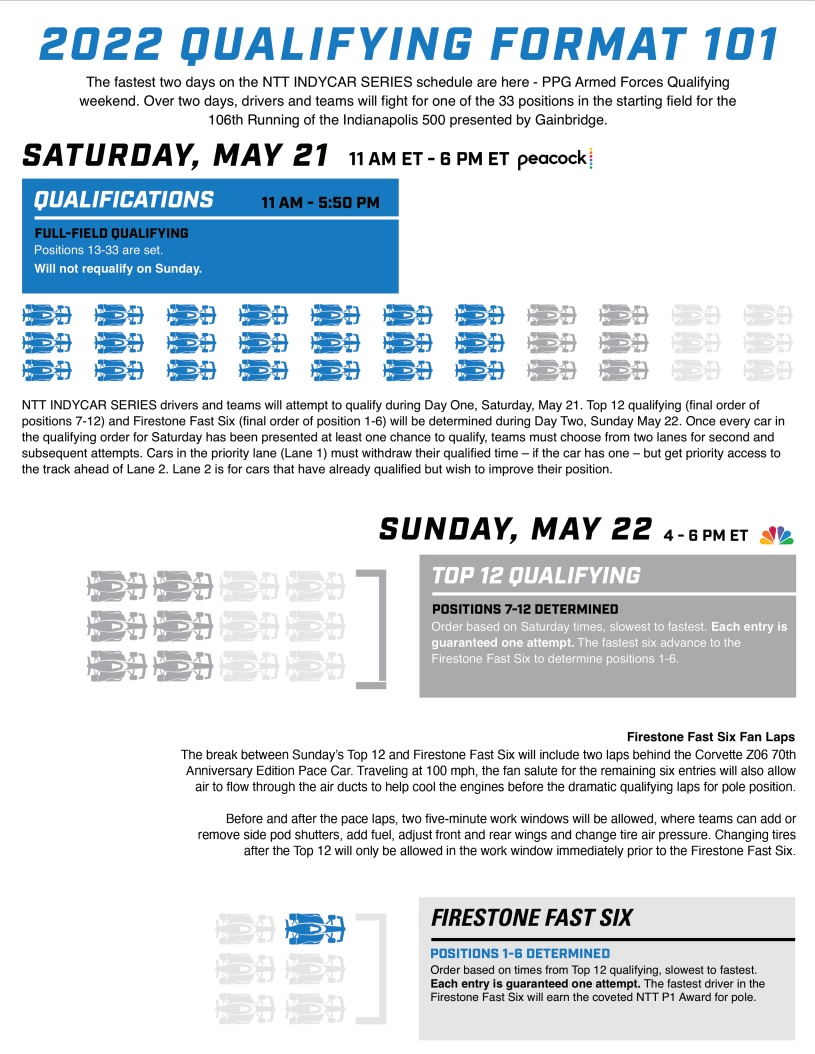 O'Ward will be at the head of the line at 11 a.m. (ET) Saturday (live on Peacock Premium and the INDYCAR Radio Network), when the first round of qualifications starts, as Arrow McLaren SP pulled the No. 1 coin in the qualifying draw Friday evening.
Qualifying Order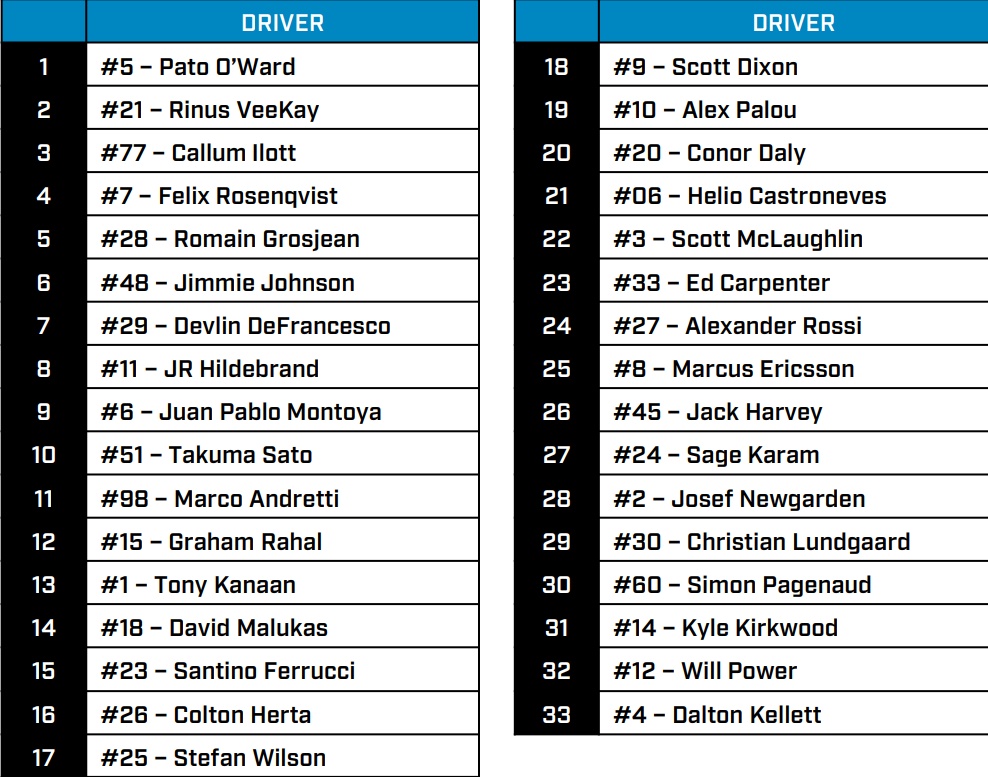 Lucille Dust reporting live from the Indianapolis Motor Speedway