NASCAR: Blaney wins All-Star Race as exploding Goodyears take out favorites
Ryan Blaney drove to his first victory in the NASCAR All-Star Race on Sunday night at Texas Motor Speedway.
Blaney pocketed a $1 million payday, starting second and leading 84 of the 140 laps in the No. 12 Team Penske Ford. The triumph came in his sixth start in the annual All-Star exhibition, which was held for just the second time at the 1.5-mile Fort Worth track.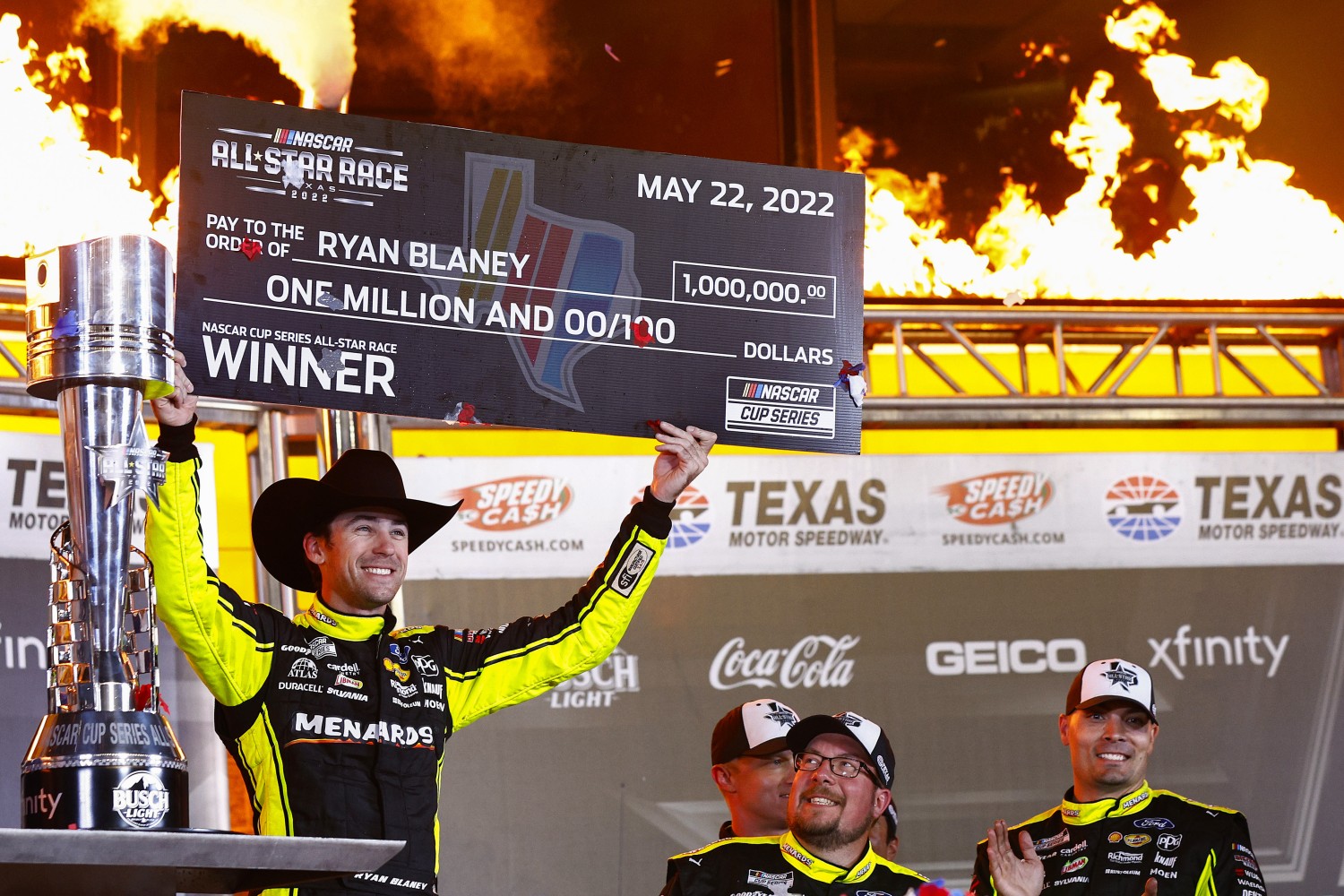 Blaney had to outlast the field in an overtime session, forced by Ricky Stenhouse Jr.'s crash with Blaney just a short distance from the checkered flag. The caution lights illuminated to force the extra laps, but Blaney — thinking he had won — had lowered his window net on what he thought was the cool-down lap. After struggling to get it fastened, he held on in the final two-lap dash to the end.
"I do want to thank NASCAR for letting me kind of fix it and not make us come down pit road, but yeah, that was really tough," Blaney said. "Then having to do it all over again after trying to get that window net back up there. … This is cool. I know it's not a points-winning race, but it's going to be a lot of fun. The Party will be pretty big."
Denny Hamlin finished second in the Joe Gibbs Racing No. 11 Toyota, just 0.266 seconds back at the checkered flag. Rookie Austin Cindric claimed third place with teammate Joey Logano fourth and Daniel Suárez fifth.
The annual event featured a multi-segment format, with incentives for both drivers and pit crews at each break. Team Penske teammates Cindric and Blaney won stages, earning them front-row starting spots for the final 50-lap segment. The No. 22 Team Penske Ford over-the-wall crew collected a $100,000 bonus for the quickest time on pit road during a mandatory four-tire stop for all teams after Stage 2. That perk also placed No. 22 driver Logano third for the final-stage start.
Four pre-race favorites exited early during a chaotic second stage. Kyle Larson, winner of last year's All-Star Race, was the event's first retiree after his No. 5 Hendrick Motorsports Chevrolet clocked the Turn 4 wall on Lap 37 when his right front Goodyear tire exploded.
Three more contenders were sidelined 12 laps later after a chain-reaction crash. Pole-starter Kyle Busch led the first 47 laps until his No. 18 Joe Gibbs Racing Toyota slowed with a flat Goodyear tire off Turn 4.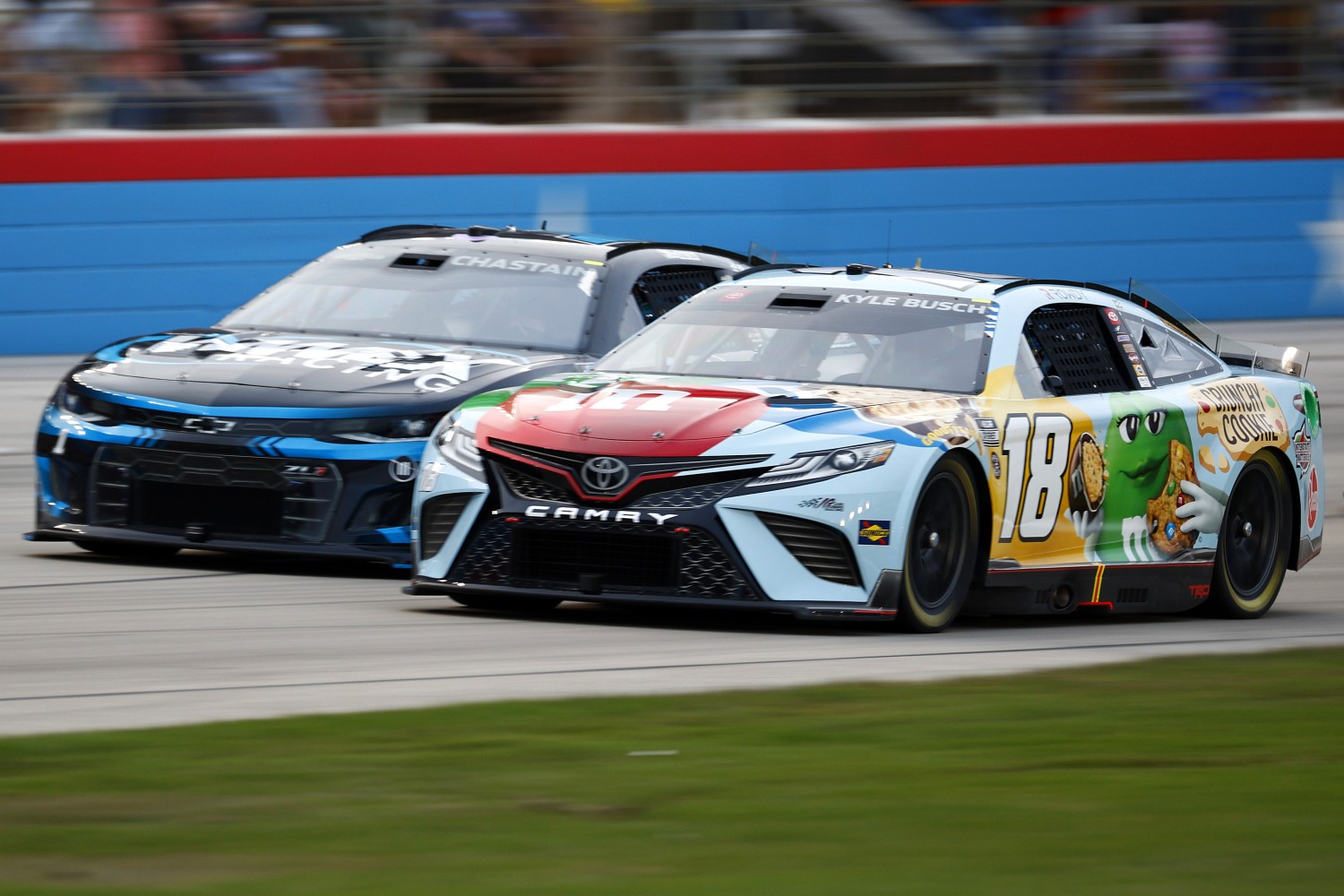 Ross Chastain's No. 1 Trackhouse Racing Chevy slammed into Busch's car then skidded into Chase Elliott's No. 9 Hendrick Motorsports Chevrolet. All three were unhurt, but done for the night.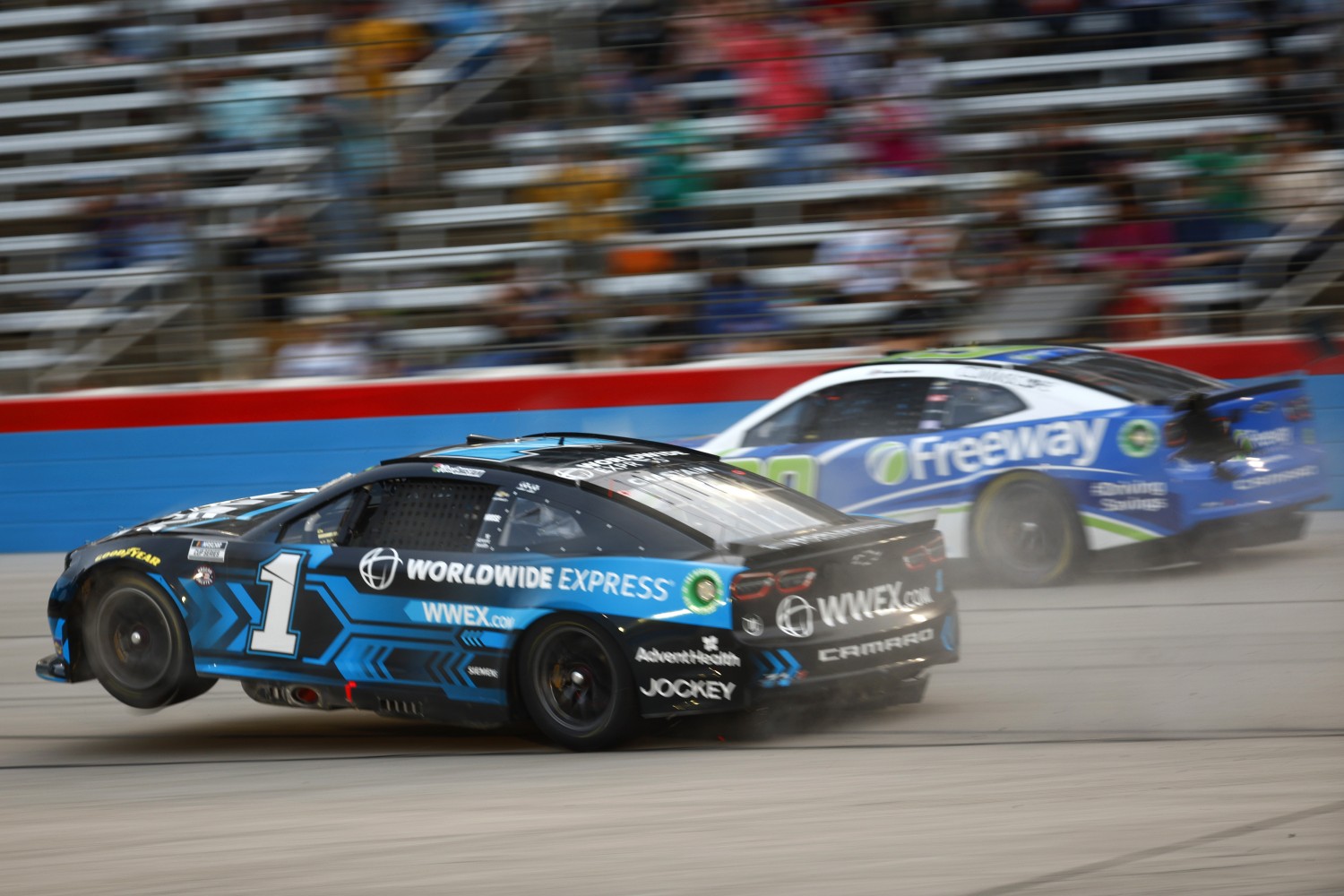 Suárez was the best finisher from the three drivers who advanced from the 50-lap All-Star Open preliminary, with Chris Buescher and Stenhouse finishing eighth and 19th, respectively. Petty GMS Motorsports' Erik Jones secured an All-Star berth through an online vote by fans; he crashed in the final stage and finished 20th.
The NASCAR Cup Series' next event is also its longest, with the Coca-Cola 600 scheduled next Sunday (6 p.m. ET, FOX, PRN, SiriusXM) at Charlotte Motor Speedway.
Results
| | | | | | | | |
| --- | --- | --- | --- | --- | --- | --- | --- |
| Fin | Str | No. | Driver | Team | Laps | Led | Status |
| 1 | 2 | 12 | Ryan Blaney | Menards/Wrangler Ford | 140 | 84 | Running |
| 2 | 16 | 11 | Denny Hamlin | FedEx Express Toyota | 140 | 0 | Running |
| 3 | 12 | 2 | Austin Cindric # | Keystone Light Ford | 140 | 7 | Running |
| 4 | 9 | 22 | Joey Logano | Shell Pennzoil Ford | 140 | 0 | Running |
| 5 | 23 | 99 | Daniel Suarez | Freeway Insurance Chevrolet | 140 | 0 | Running |
| 6 | 20 | 48 | Alex Bowman | Ally Chevrolet | 140 | 0 | Running |
| 7 | 10 | 16 | AJ Allmendinger(i) | Andy's Frozen Custard Chevrolet | 140 | 0 | Running |
| 8 | 22 | 17 | Chris Buescher | Fastenal Ford | 140 | 0 | Running |
| 9 | 18 | 6 | Brad Keselowski | Kohler Generators Ford | 140 | 0 | Running |
| 10 | 14 | 20 | Christopher Bell | DeWalt Toyota | 140 | 0 | Running |
| 11 | 3 | 24 | William Byron | Liberty University Chevrolet | 140 | 2 | Running |
| 12 | 8 | 10 | Aric Almirola | Smithfield #BuschBacon Ford | 140 | 0 | Running |
| 13 | 5 | 45 | Kurt Busch | Monster Energy Toyota | 140 | 0 | Running |
| 14 | 7 | 19 | Martin Truex Jr. | Bass Pro Shops Toyota | 140 | 0 | Running |
| 15 | 19 | 34 | Michael McDowell | WISE-EV Ford | 140 | 0 | Running |
| 16 | 17 | 23 | Bubba Wallace | Dr. Pepper Dark Berry Toyota | 140 | 0 | Running |
| 17 | 15 | 4 | Kevin Harvick | #BuschBacon Ford | 140 | 0 | Running |
| 18 | 11 | 14 | Chase Briscoe | Magical Vacation Planner Ford | 140 | 0 | Running |
| 19 | 21 | 47 | Ricky Stenhouse Jr. | Kroger/Viva Towels Chevrolet | 139 | 0 | Running |
| 20 | 24 | 43 | Erik Jones | FOCUSfactor Chevrolet | 103 | 0 | Accident |
| 21 | 1 | 18 | Kyle Busch | M&M's Crunchy Cookie Toyota | 47 | 47 | Accident |
| 22 | 6 | 1 | Ross Chastain | Worldwide Express Chevrolet | 47 | 0 | Accident |
| 23 | 13 | 9 | Chase Elliott | NAPA Auto Parts Chevrolet | 47 | 0 | Accident |
| 24 | 4 | 5 | Kyle Larson | HendrickCars.com Chevrolet | 36 | 0 | Accident |