Rumor: Ricciardo's days at McLaren numbered?
(4th Update)
(GMM) It is possible that Daniel Ricciardo will be shown the exit door at McLaren after the 2022 season.
In Monaco, there has been some confusion about the duration of the Australian's fixed contract, after he appeared to accidentally admit that the term ends this year.
"It's clear – I've got a contract until the end of '23," Ricciardo said before crashing in Monaco practice. "Covid messed me up so I just get confused with the years."
However, paddock rumblings suggest McLaren CEO Zak Brown is seriously considering replacing the 32-year-old for 2023.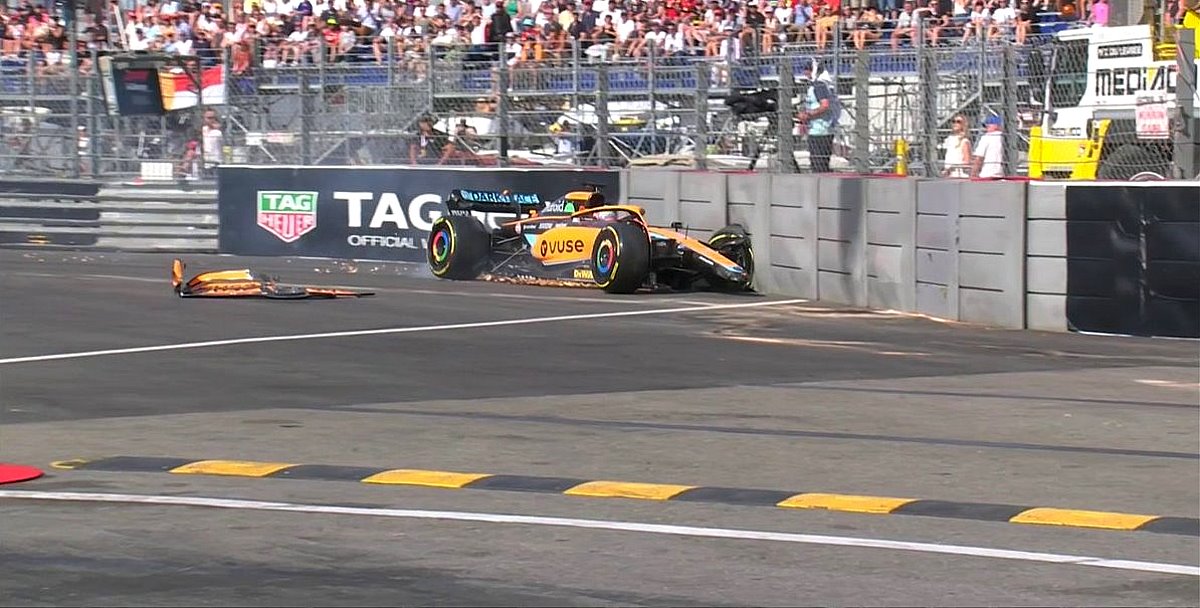 "Paper is more patient than reality," former F1 driver Ralf Schumacher told Sky Deutschland.
"If it stays the way it is not, I don't see him at McLaren next year. The rumors and the statements from the team are getting louder.
"He's just too far away from his teammate."
Indeed, whilst not wanting to talk about the current contract, Brown revealed that certain "mechanisms" would allow McLaren to part with Ricciardo.
"We'll keep watching for now, not any single race in particular but we'll see how it develops and what Daniel himself wants to do next," the American said.
Ricciardo told Sport1 that he doesn't take any criticism from Brown "personally".
"The truth is yes – I haven't had a great time this year," said the former Red Bull and Renault driver. "So it's normal for people to look at me critically.
"Obviously, I'd prefer that he says nice things about me, but on the other hand, McLaren's expectations of me are clearly high, and that's actually a positive."
He admits his entire McLaren tenure so far has been "more difficult than ever".
"I didn't even have problems like this at HRT or Toro Rosso," said Ricciardo. "Even if I had a bad race, the consistency and speed were still there.
"So it's hard for me to understand, and I rarely have a black and white answer as to why I couldn't find the three tenths that weekend.
"The important thing is that I stay clear-headed and don't lose my confidence. But I'm convinced that I'm not too old or have lost my skills or my drive.
"The fire is still burning; otherwise I wouldn't be here anymore."
---
May 27, 2022
Italian-Australian Daniel Ricciardo commented on McLaren boss Zak Brown's criticism of him after the Spanish GP.
"It's not false, it's pretty true," he said. "Firstly comments, I don't take them personal. My skin is tanned, beautiful and also thick. No one's going to be harder on me than myself.
"I don't want to be racing around in 10th or 12th places. It's been a little bit more certainly testing at times in terms of trying to get up and maximize myself in this car. But we're working together hard at it. The team wants it, I want it, and we are just working through it."
Ricciardo signed a three-year contract with the team that keeps him there until the end of 2023, but caused intrigue after the Spanish GP when he suggested that talks about his future would begin in the summer.
Asked by Autosport to clarify whether it was definite he would see out his deal, Ricciardo insisted that his remarks were triggered by confusion about the year.
"Yes, it's clear," he said. "I got a contract until the end of 2023. COVID messed me up, so I just got confused with the years."
---
May 27, 2022
(GMM) Daniel Ricciardo looks likely to lose his McLaren seat at the end of 2022.
In February of last year, the Australian revealed that he actually inked a three year deal for 2021, 2022 and 2023.
However, ahead of the Monaco GP the 32-year-old indicated that he intends to negotiate with McLaren about a new deal "before the summer break".
It followed McLaren supremo Zak Brown this week admitting that Ricciardo has not met the team's "expectations" since joining the Woking based team last year.
But when a journalist in Monaco queried Ricciardo as to why he would hold "negotiations" with McLaren when he still has a contract for 2023, he admitted his current deal is actually only for two years.
"It's true," he is quoted by German specialist media, before smiling: "You made me answer a question that didn't need to be answered.
"Maybe I meant the summer of 2023."
If Ricciardo's contract is ending, the names of two potential replacements are already circulating, including McLaren's 23-year-old IndyCar driver Pato O'Ward.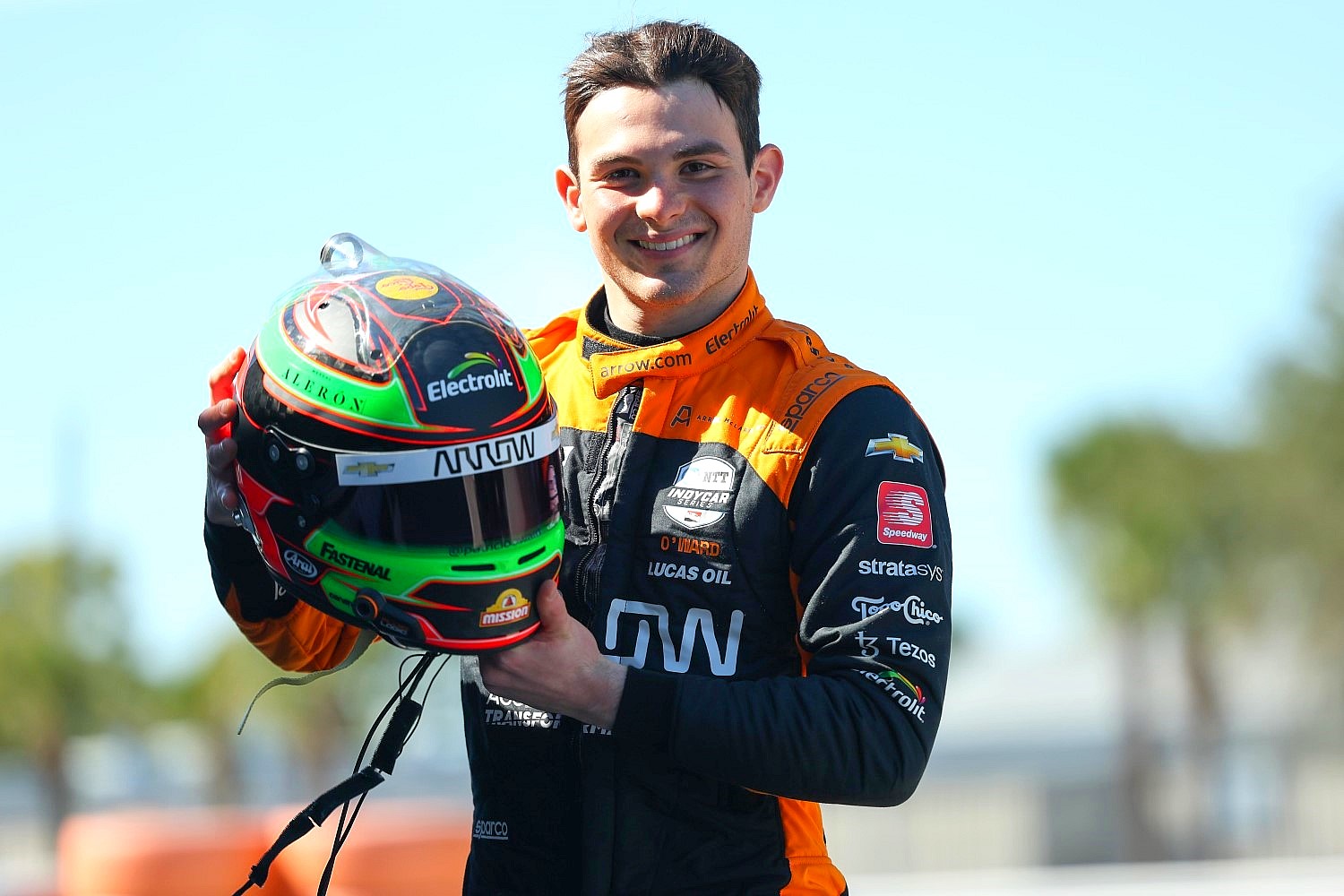 Another is American Colton Herta, whose name has been linked with Andretti's 2024 F1 bid.
McLaren CEO Brown, meanwhile, said McLaren is still trying to bring Ricciardo up to full speed.
"He is struggling to find the performances that he and we would like," he told La Gazzetta dello Sport. "We're working hard so that he can return to normal and show us what he showed us all in Monza last year."
When asked how long McLaren is prepared to wait for Ricciardo's top form, Brown added: "That is a matter for Andreas Seidl.
"Lando has a long-term deal, Daniel a shorter one. I believe that we will start looking towards the future soon."
Russian F1 commentator Match TV expects Ricciardo to be ousted.
"Lando had tonsillitis in Barcelona but he still beat Ricciardo," said the Match TV pundit. "I don't know if it will be Pato O'Ward next year and Herta might be an option too.
"Frankly, the option of extending with Ricciardo looks unlikely."
---
May 25, 2022
(GMM) Daniel Ricciardo has fallen short of McLaren's "expectations", team supremo Zak Brown admits.
The 32-year-old Australian driver's Formula 1 career has been on the decline since he left Red Bull for Renault at the end of 2018. He switched to McLaren where he has been paired with the decade-younger Briton Lando Norris.
"Lando definitely has an edge," Brown told the Any Driven Monday program on Sky.
Ricciardo's contract expires at the end of this season.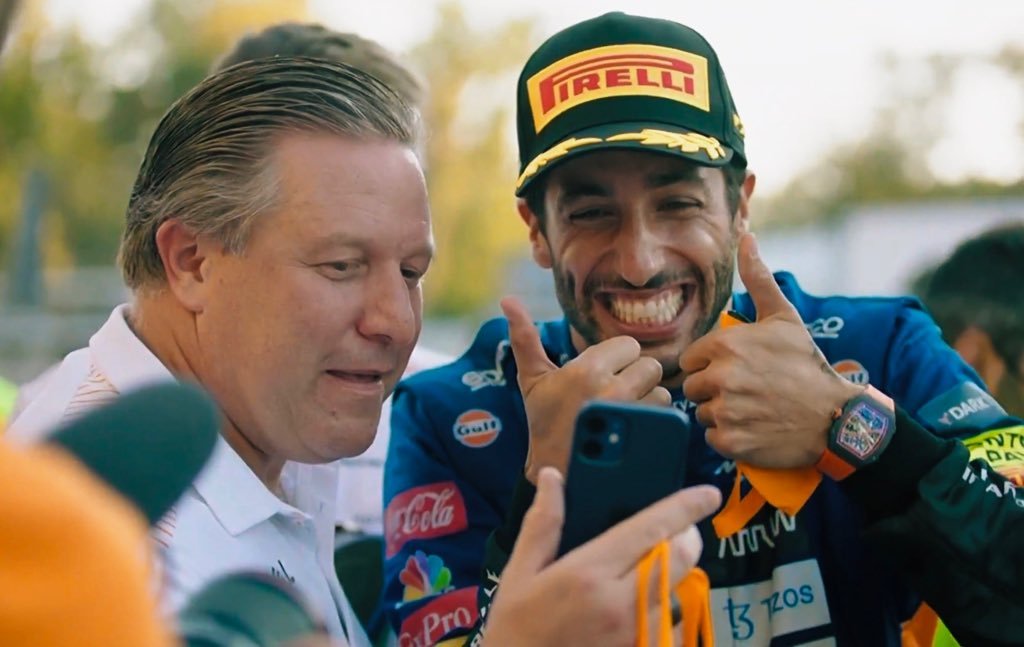 "We would obviously like to see Daniel much closer to Lando and have a good inter-team battle," Brown continued. "Short of (winning at) Monza and a few races, it's generally not kind of met his or our expectations, as far as what we were expecting.
"And I think all you can do is keep working hard as a team, keep communications going, keep pushing and hope that whatever is not kind of clicking at the moment clicks shortly."
While McLaren has been waiting for Ricciardo's earlier race-winning pace to 'click', the Woking based team has extended Norris' contract for several more years.
"I think it also points to how good Lando is," Brown said.
"When you look at the gap between Charles (Leclerc) and Carlos (Sainz), the gap between Max (Verstappen) and Sergio (Perez), there are gaps between teammates.
"And I think Lando is one of the best drivers in the world at the moment and it also is kind of a compliment to how good Lando is when you see the gap that exists," he added.
Ricciardo admitted to being "so slow" last time out in Barcelona, where he finished four places behind Norris despite the young Briton suffering from an illness.
"It's sad to say," said the Australian, "but we hope that something was wrong because it's more worrying if that's not the case.
"Like I said, I wasn't a tenth or two tenths away, sometimes it was over a second."
---
May 24, 2022
McLaren boss Zak Brown has given the latest indication yet Daniel Ricciardo may be on his way out at McLaren.
Ricciardo finished 12th at the Spanish Grand Prix after qualifying ninth fastest and behind teammate Lando Norris, even though Norris was extremely unwell and suffering with tonsillitis during the race.
"Lando definitely has an edge," the McLaren CEO told Sky Sports. "We obviously would like to see Daniel much closer to Lando and have a good inter-team battle.
"Daniel is just not comfortable yet with the car.
"We are trying everything we can, again it was a disappointing weekend."
"Short of Monza and a few races, it has not met his or our expectations of what we were expecting," he said.
"I think all you can do is keep working hard as a team, keep communications going, keep pushing and hope that whatever is not clicking at the moment, clicks shortly."
Ricciardo was gutted after his disappointing outing in Spain.
"It wasn't a good race today," he said. "I'd love to find something positive, but it was just a struggle from the start.
"I was slow, and I simply had a lot less grip than everyone else around me.
See our 2023 F1 Silly Season Page.