F1: Leclerc wins pole for Monaco GP
Charles Leclerc has won pole for the Monaco GP, which will be especially important with the forecast of rain for the race on Sunday.
Leclerc's lap of 1m11.376s was 0.225s faster than Ferrari teammate Carlos Sainz Jr.  to give Ferrari a front-row lockout.
"It is very special, I'm incredibly happy," said Leclerc. "It's been a smooth weekend so far, that last lap before the red flag was really good. I was so on the limit."
The Red Bulls will line up on row 2, Sergio Perez just ahead of his teammate Max Verstappen, but not before Perez hit the barriers on his final lap at the entrance to the tunnel, and Sainz arriving on the scene slammed the brakes on too late, also losing the rear and hitting Perez's car with the rear of his F1-75.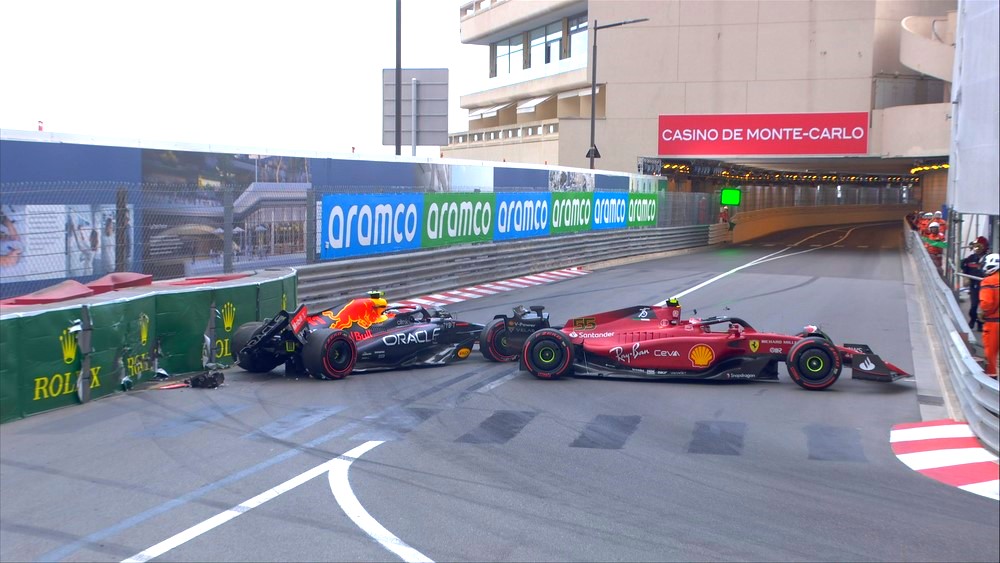 All of which meant no one on a lap could improve. That left Leclerc on pole from his teammate, Perez third and Verstappen fourth.
"Perez crashed in front of me, I was on my flying lap, I saw the yellow flag and hit the brakes and had to avoid him as best I could," said Sainz.  "It's a shame, another year I couldn't go for pole position, but it's Monaco. We will never know but I was feeling good with the car today."
"I don't think the pole was on today, Charles was mighty," said Red Bull boss Christian Horner.
"It was a shame because I think both of our drivers could have improved a little. It's still P3 and 4, maybe some weather around. We'll fight from there."
Lando Norris rounded out the top-5 for McLaren, 0.473s back.
George Russell again easily beat his Mercedes teammate Lewis Hamilton, Russell in 6th and Hamilton in 8th, separated by 0.4s
Of note – Mercedes F1 boss Toto Wolff missed qualifying at the Monaco Grand Prix after reports suggest he has lost his voice. The Mercedes boss skipped his media duties this morning, with trackside engineer Andrew Shovlin taking his place in the team principal's press conference.
Fernando Alonso just managed to get a lap time set before the reds came out, so he starts ahead of former teammate Hamilton, with Sebastian Vettel and Esteban Ocon rounding out the top 10.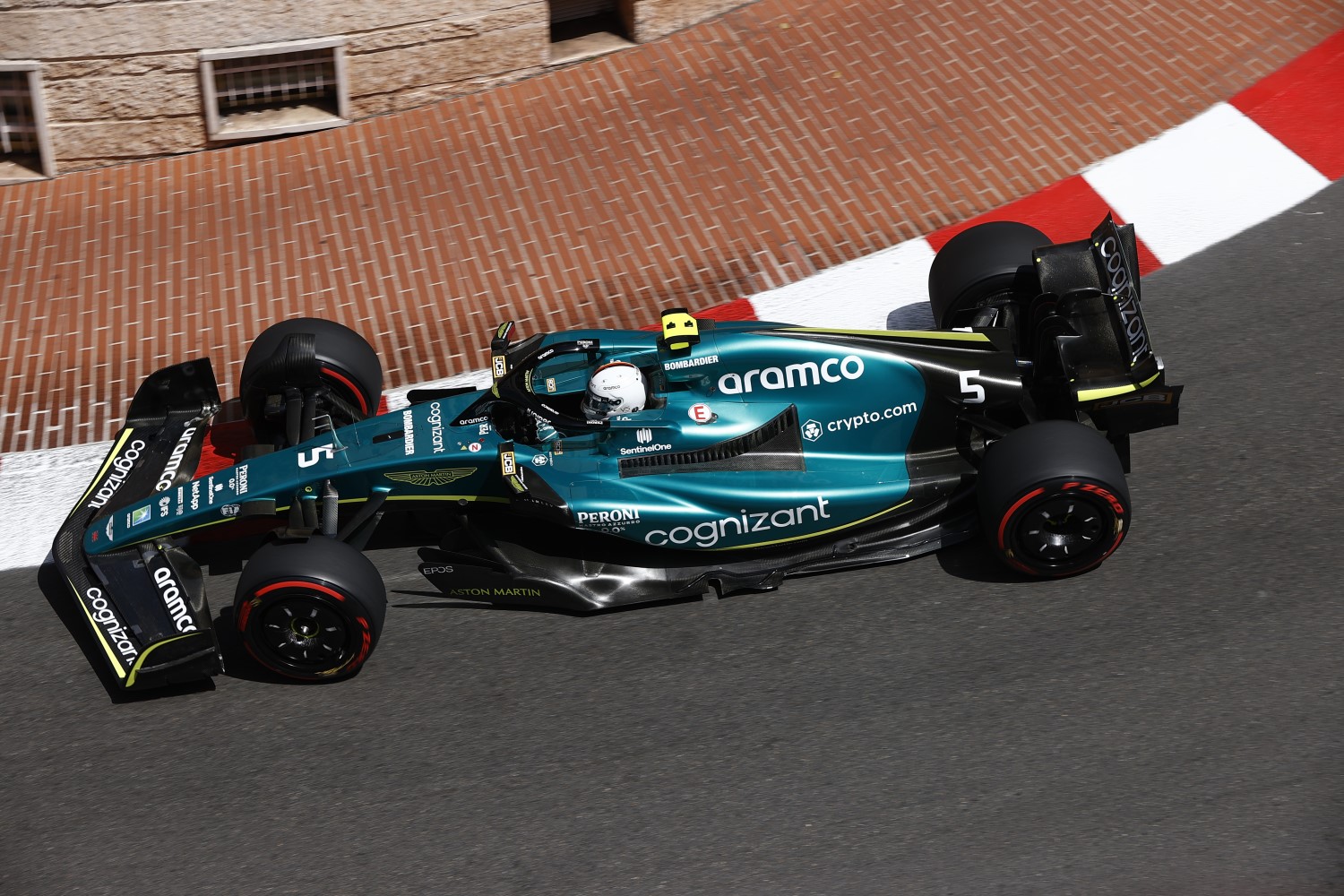 With the potential of rain on the way tomorrow, there is still so much to play for. With pole position and his wingman Sainz set to share the front row, can Leclerc ace his home race on Sunday, and see the checkered flag for the first time in his career in Monaco?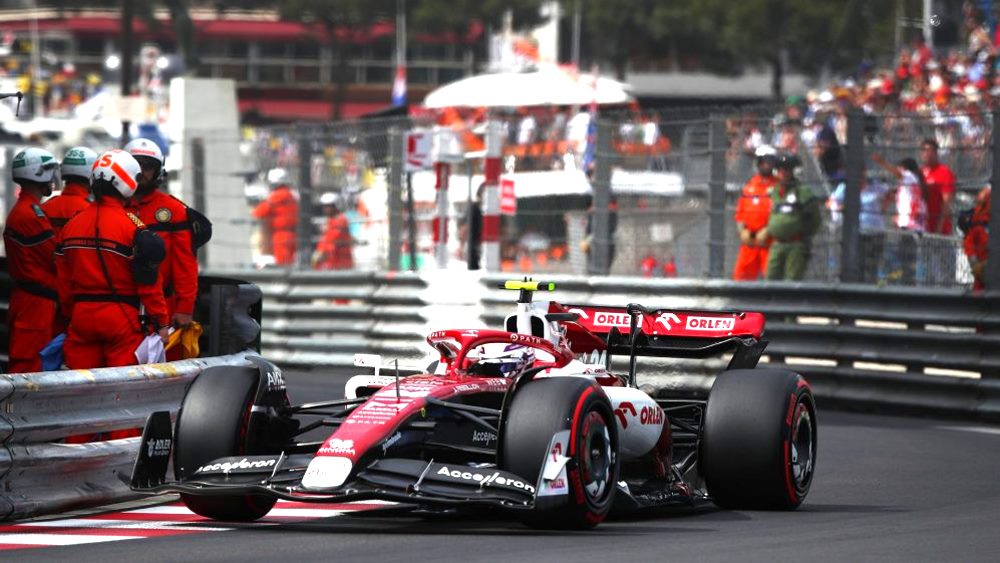 Qualifying Results
| | | | | | | | |
| --- | --- | --- | --- | --- | --- | --- | --- |
| POS | NO | DRIVER | CAR | Q1 | Q2 | Q3 | LAPS |
| 1 | 16 | Charles Leclerc | Ferrari | 1:12.569 | 1:11.864 | 1:11.376 | 24 |
| 2 | 55 | Carlos Sainz | Ferrari | 1:12.616 | 1:12.074 | 1:11.601 | 25 |
| 3 | 11 | Sergio Perez | Red Bull Racing | 1:13.004 | 1:11.954 | 1:11.629 | 25 |
| 4 | 1 | Max Verstappen | Red Bull Racing | 1:12.993 | 1:12.117 | 1:11.666 | 25 |
| 5 | 4 | Lando Norris | McLaren Mercedes | 1:12.927 | 1:12.266 | 1:11.849 | 27 |
| 6 | 63 | George Russell | Mercedes | 1:12.787 | 1:12.617 | 1:12.112 | 27 |
| 7 | 14 | Fernando Alonso | Alpine Renault | 1:13.394 | 1:12.688 | 1:12.247 | 22 |
| 8 | 44 | Lewis Hamilton | Mercedes | 1:13.444 | 1:12.595 | 1:12.560 | 29 |
| 9 | 5 | Sebastian Vettel | Aston Martin Aramco Mercedes | 1:13.313 | 1:12.613 | 1:12.732 | 28 |
| 10 | 31 | Esteban Ocon | Alpine Renault | 1:12.848 | 1:12.528 | 1:13.047 | 22 |
| 11 | 22 | Yuki Tsunoda | AlphaTauri | 1:13.110 | 1:12.797 | – | 20 |
| 12 | 77 | Valtteri Bottas | Alfa Romeo Ferrari | 1:13.541 | 1:12.909 | – | 17 |
| 13 | 20 | Kevin Magnussen | Haas Ferrari | 1:13.069 | 1:12.921 | – | 20 |
| 14 | 3 | Daniel Ricciardo | McLaren Mercedes | 1:13.338 | 1:12.964 | – | 21 |
| 15 | 47 | Mick Schumacher | Haas Ferrari | 1:13.469 | 1:13.081 | – | 17 |
| 16 | 23 | Alexander Albon | Williams Mercedes | 1:13.611 | – | – | 14 |
| 17 | 10 | Pierre Gasly | AlphaTauri | 1:13.660 | – | – | 10 |
| 18 | 18 | Lance Stroll | Aston Martin Aramco Mercedes | 1:13.678 | – | – | 11 |
| 19 | 6 | Nicholas Latifi | Williams Mercedes | 1:14.403 | – | – | 13 |
| 20 | 24 | Zhou Guanyu | Alfa Romeo Ferrari | 1:15.606 | – | – | 9 |