IndyCar: Newgarden Grabs Pole for Chevrolet Detroit Grand Prix
Team Penske ace Josef Newgarden, driver of the no 2 Hitachi Chevy, grabbed the pole for the Chevrolet Detroit GP with a time of 1m15.2153s
It was career pole #16 for Newgarden.
The elated American commented on his qualifying effort.  "I mean, our car was very, very good. I thought the team did an incredible job. It's just a little bit too loose. I think everybody is dealing with that this weekend. It seems the grip level is not coming up quite as quickly as you would anticipate around here. Normally this place builds, builds, builds, gets easier to drive. I find you're pretty on the edge this weekend. Track grip is lower than I would anticipate."
Takuma Sato will start second for Dale Coyne Racing, 0.1337s behind Newgarden.
Sato and his teammate Malukas were pushing each other in the Fast Six.  Sato commented about their qualifying effort.  "We both feel really proud of the team, Dale Coyne Racing, the 51 car, did a fantastic job.  Obviously, David, he did a phenomenal job in the Q1, Q2.  He pushed me so hard."
"We always knew that we had a speed, but just wasn't be able to put everything together. This is the weekend we feel like quite positive, so we are really happy. It is absolutely a team effort. "
Simon Pagenaud will start third in the no 60 AutoNation/SiriusXM  Meyer Shank Racing entry and  Helio Castroneves will start fourth alongside his teammate in the no 06 AutoNation/SiriusXM  Meyer Shank Racing entry.
Pagenaud spoke to the media about his qualifying run.
"It's a fantastic day for the team, starting on the second row with [teammate] Helio [Castroneves], who did such a great job as well.  We've had great cars here all weekend.  I really thought we had the pole lap, but I hit traffic right at the end of my first fast lap and had to bail out of it, and that messed up our second lap [on the softer Firestone "Red" [tires] as well.  So I'm actually a little disappointed with third, to be honest.  But that's racing.  We'll get them next time!"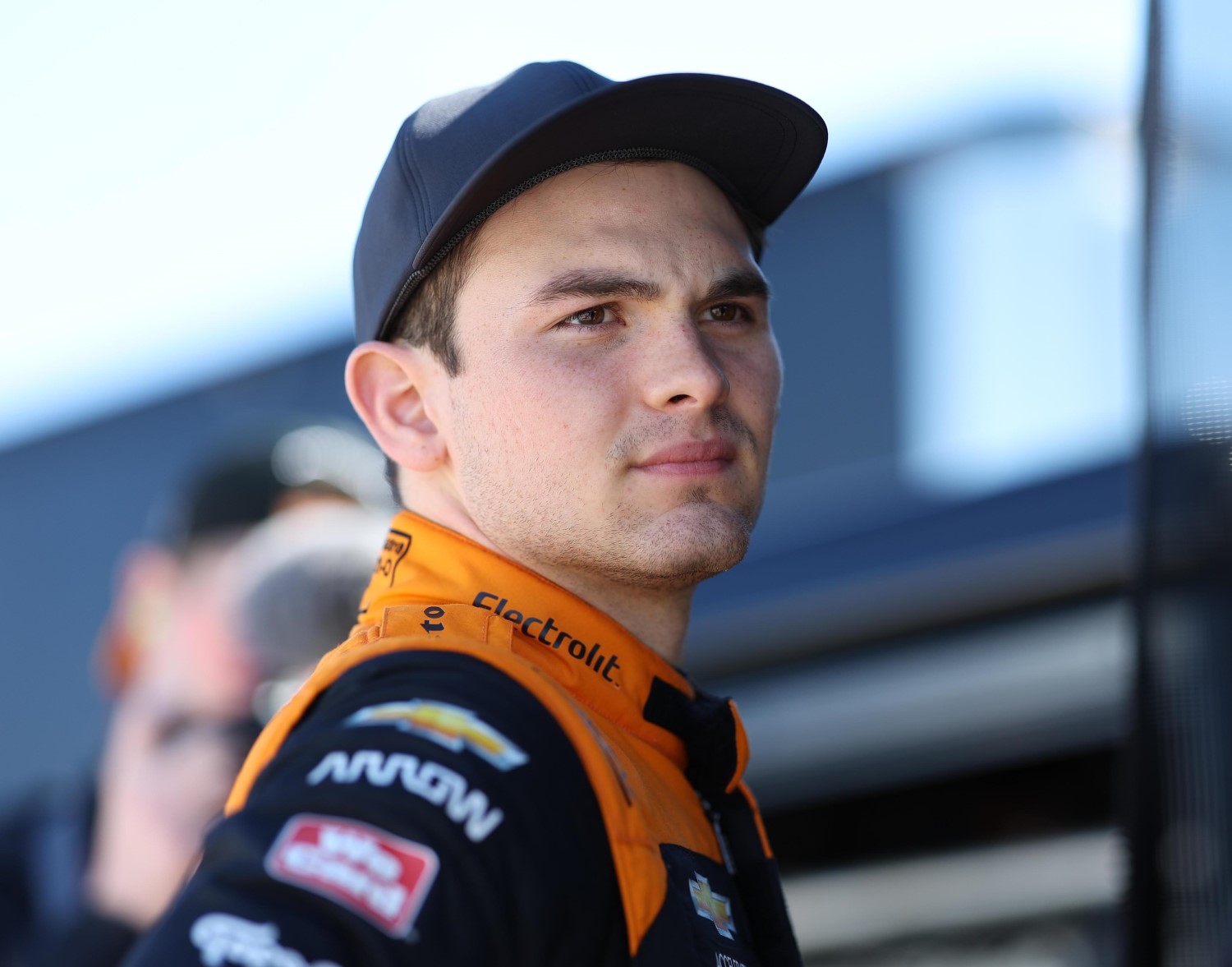 Pato O'Ward will start fifth in the no 5 Arrow McLaren SP entry.
"We had a really solid day. The car was really good on one lap, but we slightly missed the window. I don't think we made the right call on the tire choice and which red to take for Q3, so we hit a cliff and the tires never really went into the peak. Fifth is good around here, we can work a lot from there. The car is good so tomorrow will be important to see what we can do on a long stint for us to basically help ourselves during the race.
"I love this place. It's a long race, it's a physical race. A lot can happen because there's usually a lot of people making mistakes, so I think the first priority is 'don't make a mistake' and second priority is just 'try to make your way forward as you can and get a good solid points day.' "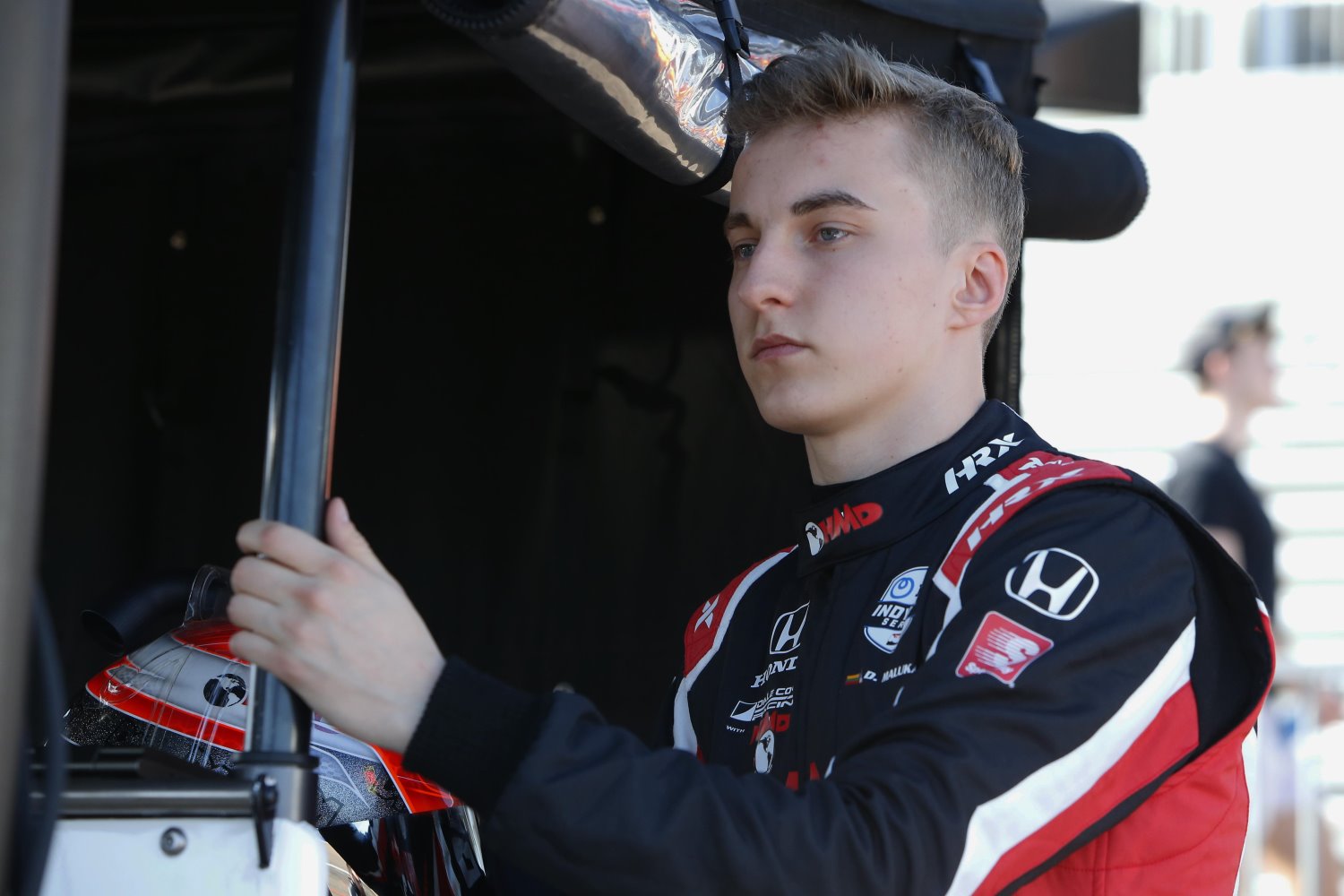 David Malukas. Penske Entertainment: Chris Owens
Rookie David Malukas, teammate to Sato, will start sixth.
Malukas has been the talk of social media this past week after not being named Rookie of the Indy 500.  The young American has put this issue behind him and continues to improve and show his talent.
Malukas commented, "I feel like this whole start of the season we've always been really close to finding the car before qualifying, but always would miss it in the last second.
For the first time now we finally put it all together. I remember just doing the first two laps and saying, wow, the car is spot on."
'The team asked me if I wanted to make any changes and I told them no, do not touch it.  This is good.  I am so happy."
" I've gotten used to the way the team works and how Takuma is, how we can intermesh our data together, at the end and come out the other side with going the right direction and picking up the best pieces."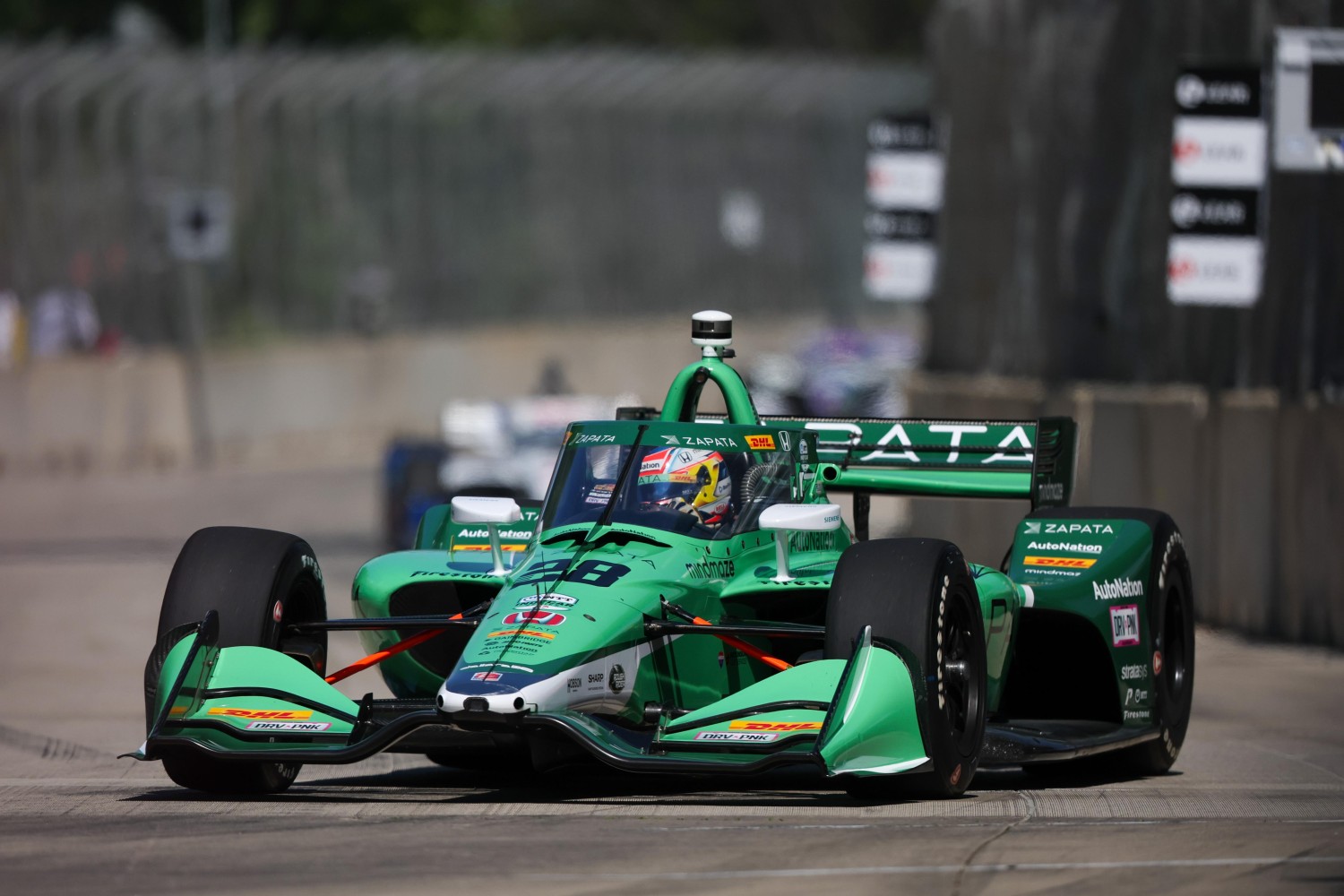 Six-time series champion Scott Dixon, 2022 race winner Colton Herta and 2016 Indy 500 winner Alexander Rossi were prevented from their final attempt to advance to the Firestone Fast Six when Romain Grosjean crashed in the final seconds of the second round of qualifying.
Grosjean's No. 28 Zapata/DHL Honda clipped the barrier inside Turn 12, breaking a toe link in the suspension and causing the car to spin and make contact with the barrier on the outside of the corner. Grosjean was unhurt, but the car suffered heavy damage.
"It was a decent hit," Grosjean said. "We sucked. I don't know why. We were really good in FP1 (Friday), really good this morning, and the car let go. I don't know why."
Qualifying Results
| | | | | | | |
| --- | --- | --- | --- | --- | --- | --- |
| Rank | Car | Driver Name | Engine | Time | Speed | Session |
| 1 | 2 | Newgarden, Josef | Chevy | 01:15.2153 | 112.477 | Round 3 / Firestone Fast Six |
| 2 | 51 | Sato, Takuma | Honda | 01:15.3490 | 112.278 | Round 3 / Firestone Fast Six |
| 3 | 60 | Pagenaud, Simon | Honda | 01:15.3951 | 112.209 | Round 3 / Firestone Fast Six |
| 4 | 06 | Castroneves, Helio | Honda | 01:15.4538 | 112.122 | Round 3 / Firestone Fast Six |
| 5 | 5 | O'Ward, Pato | Chevy | 01:16.3301 | 110.834 | Round 3 / Firestone Fast Six |
| 6 | 18 | Malukas, David (R) | Honda | 01:16.6104 | 110.429 | Round 3 / Firestone Fast Six |
| 7 | 26 | Herta, Colton | Honda | 01:15.1043 | 112.643 | Elimination Round 2 / Top 12 |
| 8 | 8 | Ericsson, Marcus | Honda | 01:15.2279 | 112.458 | Elimination Round 2 / Top 12 |
| 9 | 9 | Dixon, Scott | Honda | 01:15.4057 | 112.193 | Elimination Round 2 / Top 12 |
| 10 | 3 | McLaughlin, Scott | Chevy | 01:15.8670 | 111.511 | Elimination Round 2 / Top 12 |
| 11 | 27 | Rossi, Alexander | Honda | 01:16.2179 | 110.998 | Elimination Round 2 / Top 12 |
| 12 | 28 | Grosjean, Romain | Honda | 01:16.9740 | 109.907 | Elimination Round 2 / Top 12 |
| 13 | 20 | Daly, Conor | Chevy | 01:16.0154 | 111.293 | Elimination Round 1 / Group 1 |
| 14 | 21 | VeeKay, Rinus | Chevy | 01:15.5482 | 111.981 | Elimination Round 1 / Group 2 |
| 15 | 14 | Kirkwood, Kyle (R) | Chevy | 01:16.1255 | 111.132 | Elimination Round 1 / Group 1 |
| 16 | 12 | Power, Will | Chevy | 01:15.5731 | 111.945 | Elimination Round 1 / Group 2 |
| 17 | 77 | Ferrucci, Santino | Chevy | 01:16.1390 | 111.113 | Elimination Round 1 / Group 1 |
| 18 | 10 | Palou, Alex | Honda | 01:15.6121 | 111.887 | Elimination Round 1 / Group 2 |
| 19 | 30 | Lundgaard, Christian (R) | Honda | 01:16.3068 | 110.868 | Elimination Round 1 / Group 1 |
| 20 | 45 | Harvey, Jack | Honda | 01:16.8347 | 110.107 | Elimination Round 1 / Group 2 |
| 21 | 29 | DeFrancesco, Devlin (R) | Honda | 01:16.3374 | 110.824 | Elimination Round 1 / Group 1 |
| 22 | 48 | Johnson, Jimmie | Honda | 01:17.5499 | 109.091 | Elimination Round 1 / Group 2 |
| 23 | 15 | Rahal, Graham | Honda | 01:16.4265 | 110.695 | Elimination Round 1 / Group 1 |
| 24 | 11 | Calderon, Tatiana (R) | Chevy | 01:18.3657 | 107.955 | Elimination Round 1 / Group 2 |
| 25 | 4 | Kellett, Dalton | Chevy | No Time | No Speed | Elimination Round 1 / Group 1 |
| 26 | 7 | Rosenqvist, Felix | Chevy | 01:18.6291 | 107.594 | Elimination Round 1 / Group 2 |
Lucille Dust reporting live from the Chevrolet Detroit Grand Prix