IMSA: Bourdais and van der Zande win from pole in Detroit
Sebastien Bourdais and Renger van der Zande claimed a controlling win in Saturday's Chevrolet Sports Car Classic at Belle Isle, taking Chip Ganassi Racing back to victory lane in IMSA WeatherTech SportsCar Championship competition.
Van der Zande drove the No. 01 Cadillac DPi-V.R to a narrow 0.398-second win over the No. 60 Meyer Shank Racing Acura ARX-05 of Oliver Jarvis in the 100-minute contest that ran caution-free.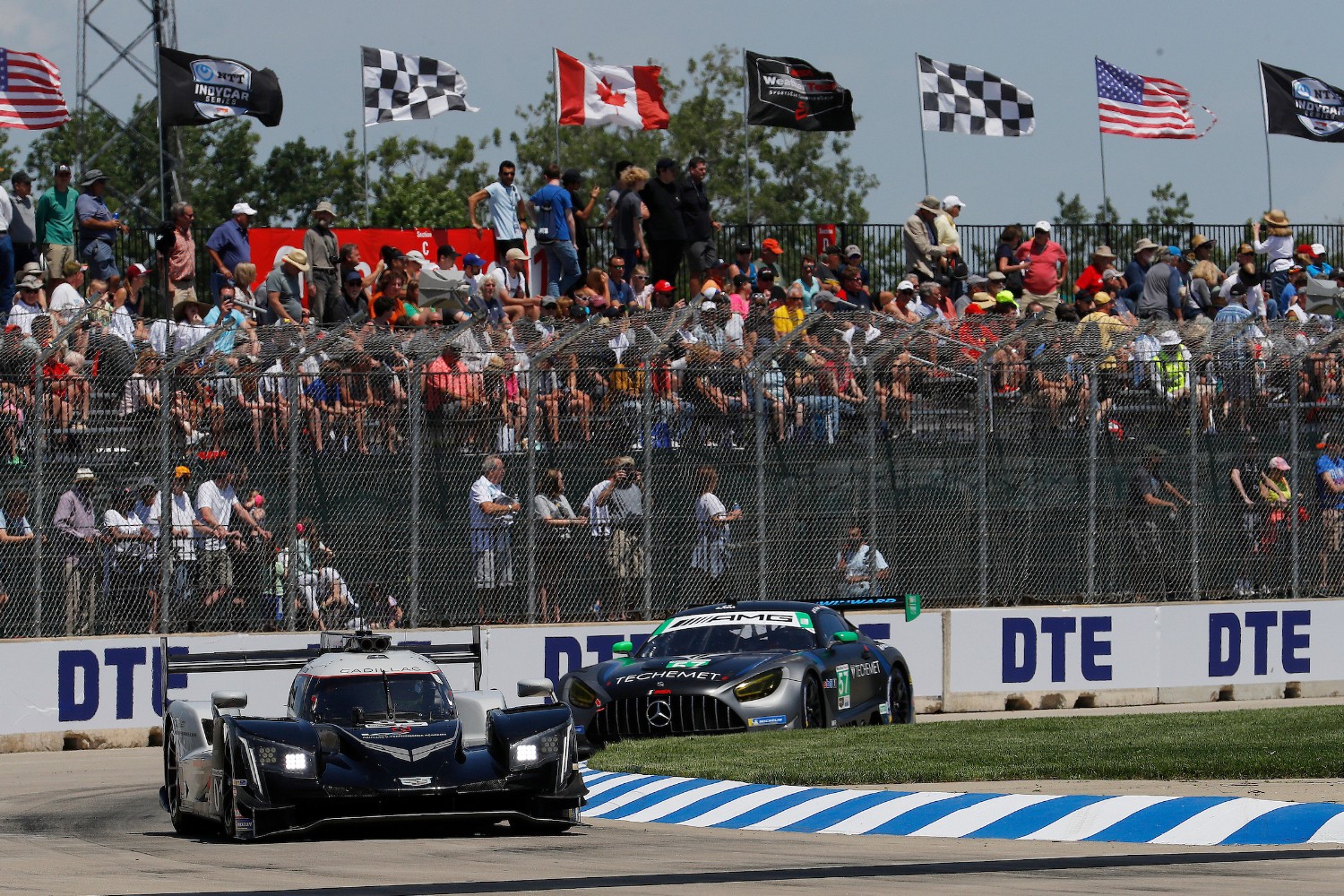 A soak in the James Scott Memorial Fountain was a refreshing reward after a grueling, fast-paced 100-minute race for Sebastien Bourdais and Renger van der Zande.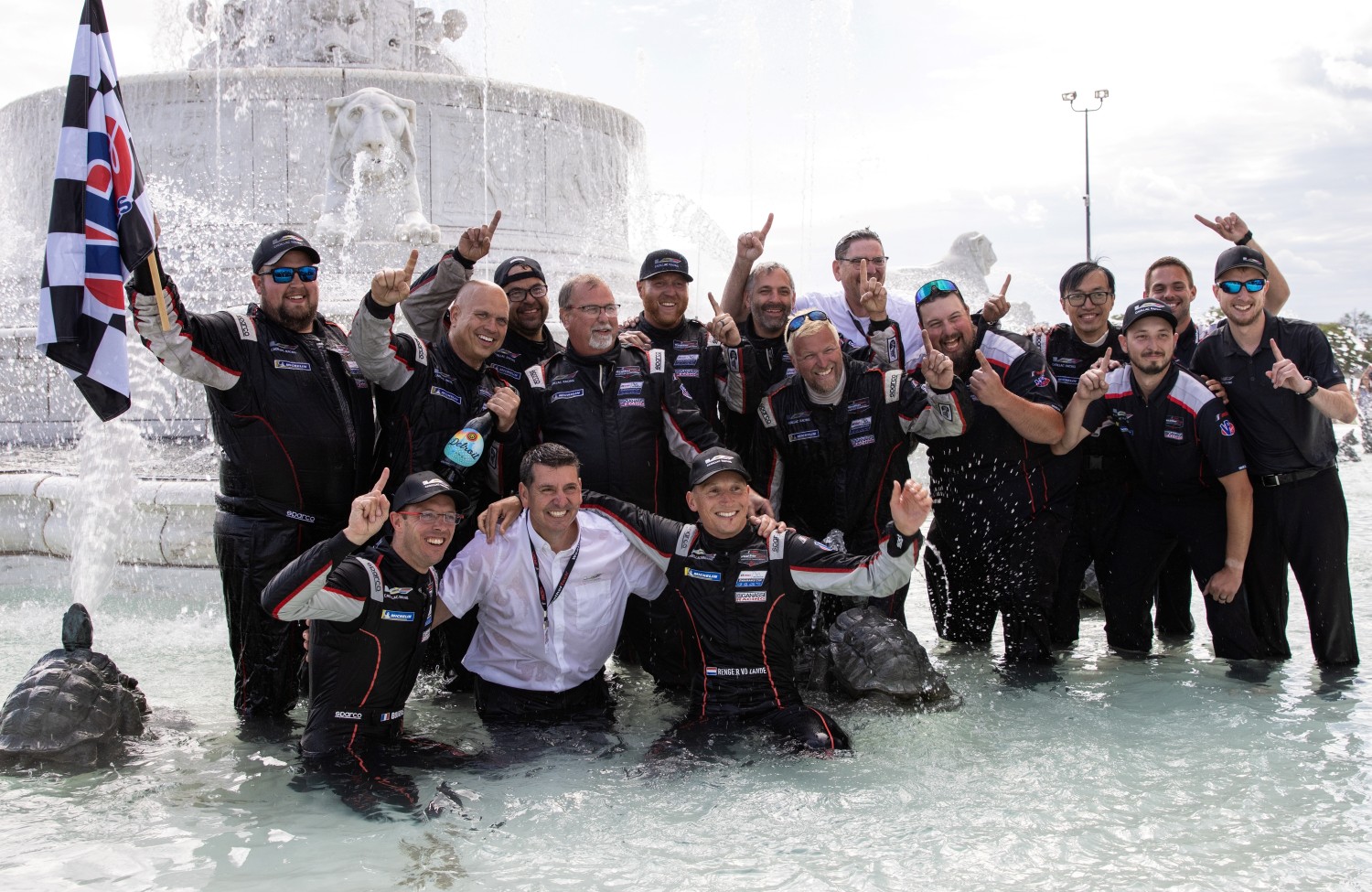 It was the second consecutive victory for the No. 01 Cadillac on the 2.3-mile, 14-turn street circuit, and the fourth in five races in the DPi era for Cadillac. Bourdais and van der Zande also won on the Long Beach street circuit in April.
"It was definitely not the easiest race we have ever won, but I am super proud of everyone on the 01 Cadillac team," said Bourdais, who set the track qualifying lap record a day earlier in earning his fourth pole of the season. "Renger brought it home. It was a hard fight, but it is that much sweeter when you win it."
The No. 02 Cadillac Accessories Cadillac DPi-V.R, co-driven by Alex Lynn and Earl Bamber, claimed third place, while the hard-charging No. 31 Whelen Engineering DPi-V.R driven by Olivier Pla and Pipo Derani finished fourth. In post-race inspection, the Action Express Racing entry was penalized for being underweight and was relegated to sixth in the order. Tristan Vautier and Richard Westbrook drove the No. 5 Mustang Sampling DPi-V.R to a fifth-place finish, and took the No. 31 entry's fourth place following inspection.
"A very spirited race. Congratulations to all the Cadillac teams today. It's awesome to be back on the podium and to be taking two places including the top spot," said Rory Harvey, Cadillac Global Vice President.
A Cadillac led all 73 laps in the first caution-free race at Belle Isle. The No. 01 V-Performance Academy DPi-V.R made up 65 points in the championship race this weekend and sits fourth through six rounds.
"We got it done. We've had some trouble this year. It is good to get it behind us so we can look forward and win some more races hopefully," added van der Zande, who recorded his 17th IMSA race victory.
Going off-strategy, Derani took the wheel from Pla on a Lap 10 service stop and proceeded to go on a tear, re-setting the race lap record four times between Laps 21 and 27. He pitted on Lap 40 with 44 minutes left and continued his march to the front, recovering 29 seconds and lowering the race lap record to 1 minute, 18.877 seconds.
A spirited battle with the No. 02 Cadillac Accessories Cadillac DPi-V.R through the final 18 minutes added more drama to podium speculation.
"The car was on rails," said Derani, the reigning DPi champion. "We were pushing, pushing and the Cadillac was running really well. Thanks to the team."
Vasser Sullivan Lexus Wins GTD
Ben Barnicoat and Kyle Kirkwood drove the SealMaster liveried No. 17 Vasser Sullivan Lexus RC F GT3 to victory in the Detroit Sports Car Classic on the 2.35-mile, 14-turn Belle Isle temporary street circuit in Detroit, Michigan.
Kirkwood qualified on the pole, his second career IMSA WeatherTech SportsCar pole, and started the race. He was passed at the start and remained in second until just before his first pit stop.
In a strategy move that proved to be a winning one, Kirkwood pitted one lap later than the lead car. He pitted 40 minutes into the 100-minute contest in second position with the lead cut significantly due strategy play.
Barnicoat took over the driving duties and after a flawless pit stop by the Vasser Sullivan crew, rejoined the race in first.
Throughout the final hour of the race, Barnicoat was under constant attack, however never put a wheel wrong and emerged with the win having led 43 laps of the 73-lap race.
This is the first win of the 2022 IMSA WeatherTech SportsCar Championship season and second at Belle Isle for Vasser Sullivan. It is Barnicoat's first career IMSA victory in his first appearance at Bell Isle. It was also Kirkwood's first career IMSA win. He, also won back-to-back Indy Lights races at Belle Isle in 2021.here last season.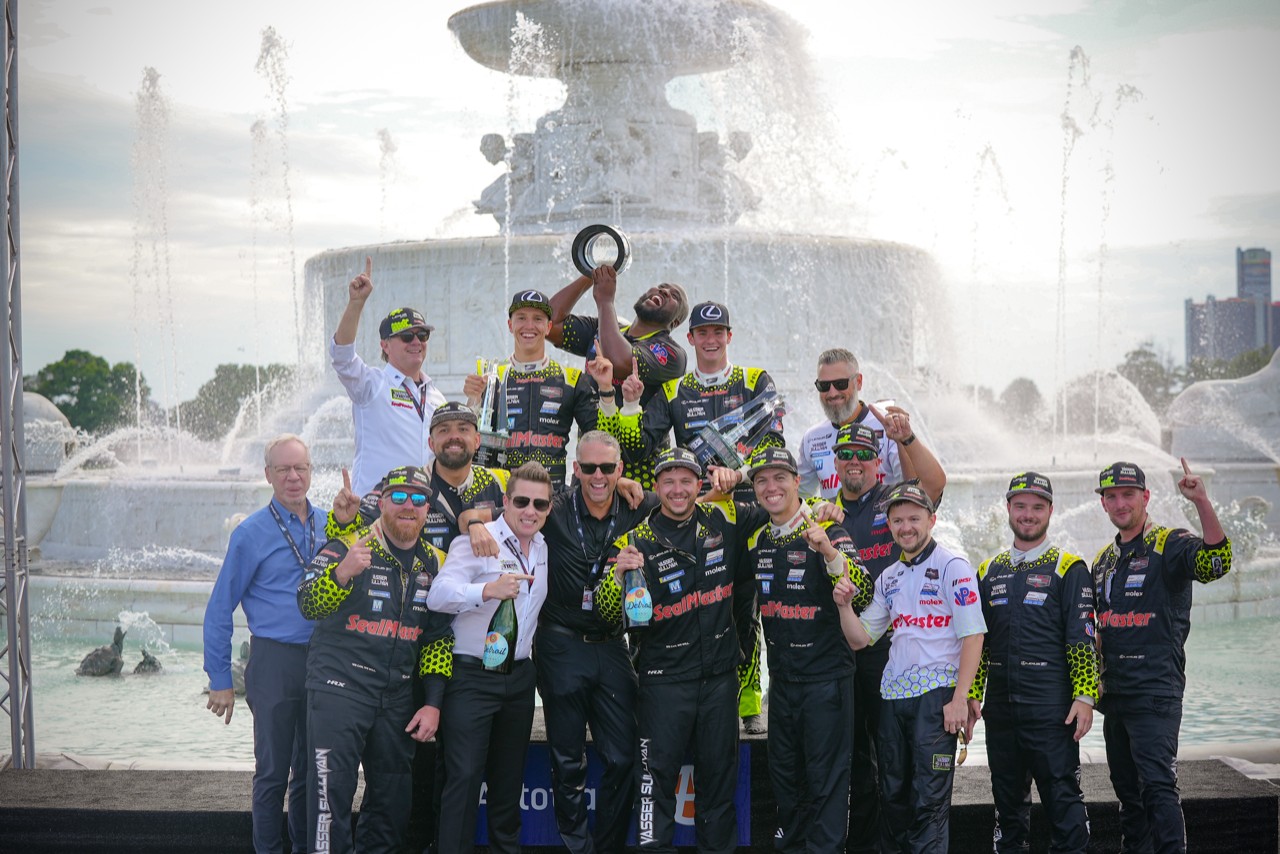 Ben Barnicoat:
"It was an awesome day! What can I say? I'm stoked to get my first win with Lexus and Vasser Sullivan. We fell to second early in the race so this one is on the Vasser Sullivan team. They did an amazing pit stop, called a great strategy and got us back out front. It was tough out there. We only took two tires, so it was pretty loose for a while until the fuel burned off. Then at the end, we had it under control. This one is for the Vasser Sullivan boys and for Jack (Hawksworth) who's at home recovering. I send him all the best and can't wait to have him back in the car with me soon."
Kyle Kirkwood:
"It feels amazing. Track position is super crucial around this place. We fell back to second early in the race and I ran in second the entire stint. The Vasser Sullivan boys won on strategy today. They put it in the lead and Ben Barnicoat did a fantastic job just controlling the pace of the race, didn't make any mistakes and were able to drive to that victory which was awesome for the Vasser Sullivan team. The first win of the season. Hats off to the boys. We won this one on pit strategy and on that pit stop. They had a mega pit stop. We got out about four seconds sooner than anyone else and we just led the race from there. This place is all about track position. We needed that track position, we got it and we were able to control the race until the end. It's so good to come back with the Vasser Sullivan team and get their first win of the year with Ben and I. I couldn't ask for a better outcome."
RESULTS: Chevrolet Sports Car Classic