WEC: Toyota overall fastest at Le Mans test
Following several days of hot weather and thunderstorms, the official test day at the Circuit de la Sarthe began at 9am on Sunday in cooler temperatures under a gray sky.
The 13.626km circuit consists partly of public roads which were only closed on Sunday morning, so track conditions evolved significantly during the day as debris was cleared off the surface. This was gradually replaced by fresh tire rubber that offered more grip.
TOYOTA GAZOO Racing's challenge for the 2022 Le Mans 24 Hours got under way with a productive official test day at the Circuit de la Sarthe.
With only one chance to evaluate the GR010 HYBRID Hypercar at Le Mans before race week, the test day is critical to preparations as the team aims for a fifth successive victory and it made efficient use of the two four-hour sessions.
Gathering data on car and tire behavior was the top priority, meaning single lap times were not a consideration. Nevertheless, last year's winners Mike Conway, Kamui Kobayashi and José María López set the fastest lap time of the day, 3mins 29.896secs, in their #7 GR010 HYBRID. Sébastien Buemi, Brendon Hartley and Ryo Hirakawa, in the #8 car, were third quickest, just 0.594secs behind.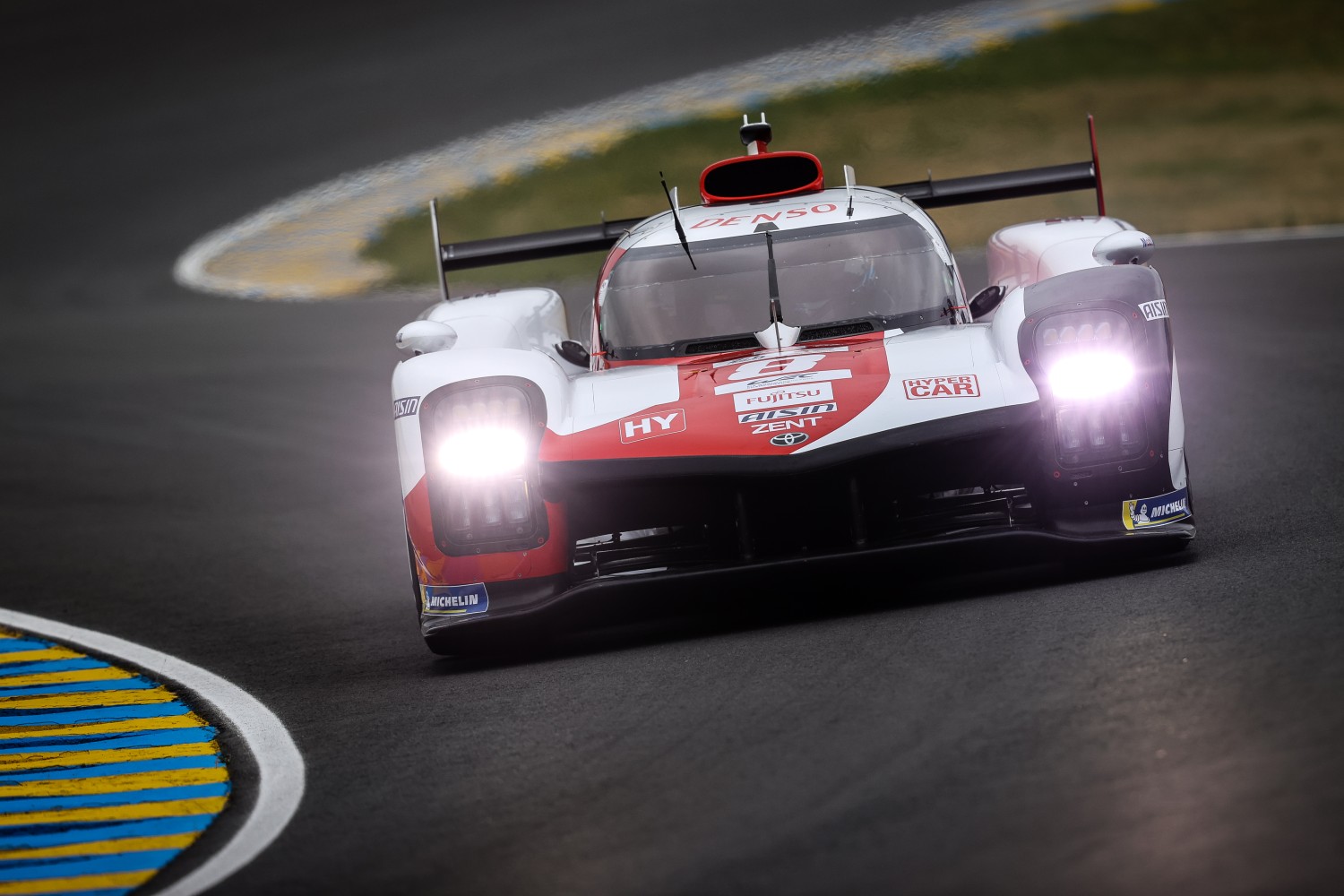 Morning Session:
| | | | |
| --- | --- | --- | --- |
| 1st | #7 TOYOTA GAZOO Racing | 3mins 31.626secs | 50 laps |
| 2nd | #708 Glickenhaus Racing (Pla/Dumas/Derani) | +0.109secs | 26 laps |
| 3rd | #8 TOYOTA GAZOO Racing | +0.351secs | 53 laps |
| 4th | #709 Glickenhaus Racing (Briscoe/Westbrook/Mailleux) | +0.996secs | 39 laps |
| 5th | #36 Alpine Elf Team (Negaro/Lapierre/Vaxiviere) | +1.167secs | 41 laps |
| 6th | #38 JOTA (Gonzalez/Da Costa/Stevens) | +2.338secs | 49 laps |
Afternoon Session:
| | | | |
| --- | --- | --- | --- |
| 1st | #7 TOYOTA GAZOO Racing | 3min 29.896secs | 54 laps |
| 2nd | #708 Glickenhaus Racing (Pla/Dumas/Derani) | +0.208secs | 51 laps |
| 3rd | #8 TOYOTA GAZOO Racing | +0.594secs | 53 laps |
| 4th | #709 Glickenhaus Racing (Briscoe/Westbrook/Mailleux) | +0.926secs | 40 laps |
| 5th | #22 United Autosports USA (Hanson/Albuquerque/Owen) | +2.203secs | 48 laps |
| 6th | #38 JOTA (Gonzalez/Da Costa/Stevens) | +2.486secs | 45 laps |