WEC: Corvette team happy to see big crowds return to Le Mans
For the first time since 2019, the 24 Hours of Le Mans is fully open to spectators with popular activities such as public scrutineering, pit walks, autograph sessions and the parade of drivers returning to the event.
With these and other fan engagements returning, Le Mans is bound to attract a significant number of new spectators – many of whom will go into the event wide-eyed and somewhat overwhelmed by the scope and amount of things to do.
The six drivers from Corvette Racing can help, however. Each has their own perspective on the reopening of the event and recommendations for newcomers to the 24 Hours…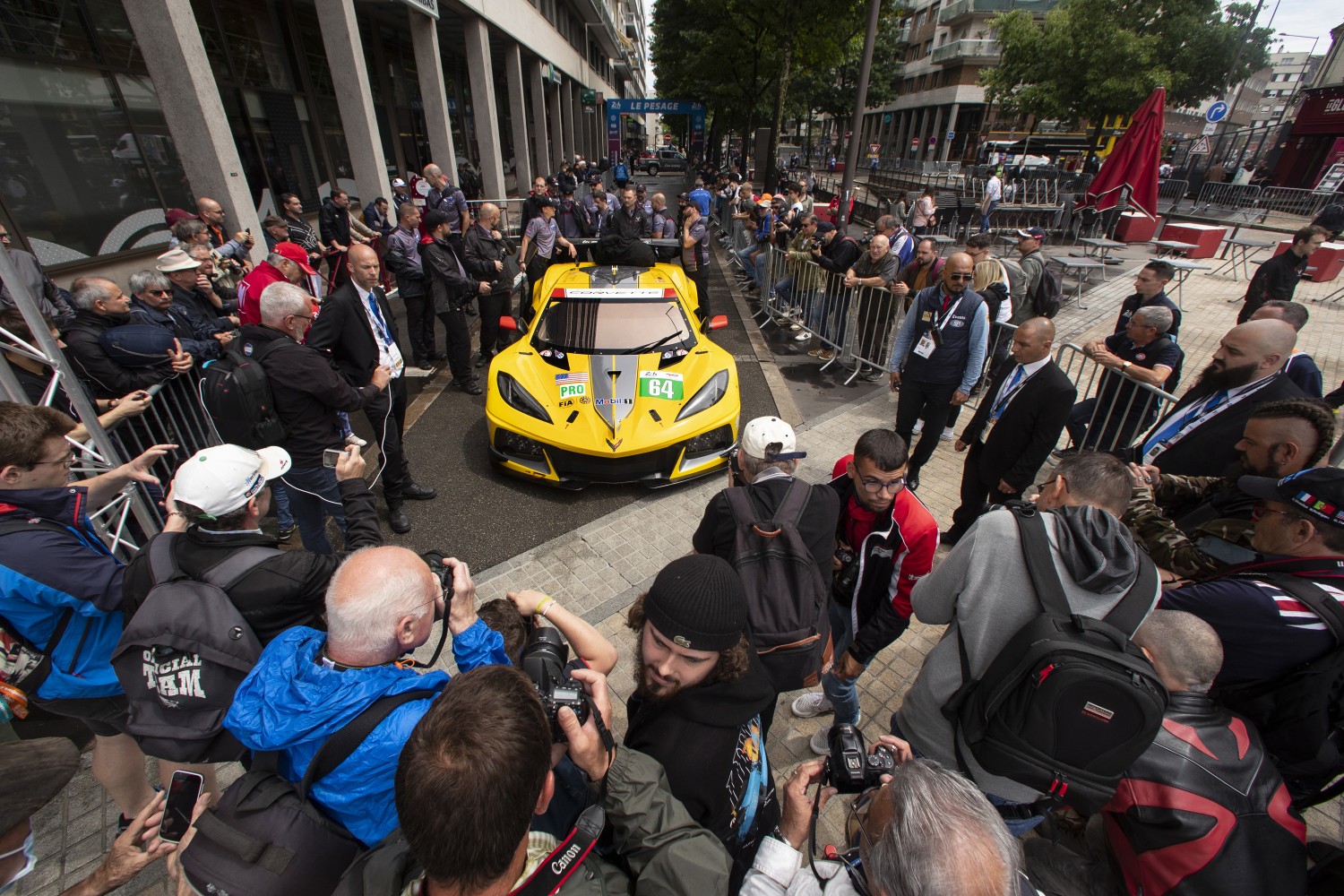 ANTONIO GARCIA, NO. 63 MOBIL 1/SiriusXM CHEVROLET CORVETTE C8.R: "Going back to Le Mans with fans being here this year is something we all wanted. Obviously it's one of the biggest races of the year. Missing a large portion of the fans last year was very unusual for everybody. So it's great to see them all back at Le Mans."
Recommendations for first-time fans at Le Mans: "I only have the driver's view of Le Mans, other than 2015 (the No. 63 Corvette didn't start). I walked around the track a little bit on Saturday but that was it. The amount of opportunities where you see interactions between fans and drivers are huge. I've never seen longer autograph sessions than what you have at Le Mans. That's on top of scrutineering where you are signing all the time and seeing people everywhere. Those are two of the good things. So scrutineering downtown and the autograph session before practice… then there are the pit walks where you can see the whole team working on the cars. This year is back to normal, which will be great. As a race fan, I will definitely do the experience more than once after I retire in some years!"
JORDAN TAYLOR, NO. 63 MOBIL 1/SiriusXM CHEVROLET CORVETTE C8.R: "My first time going, events like the autograph session, scrutineering and the parade were huge events around the race itself. As a kid watching from America, you'd get online and look at the pictures from those things and wonder what it would be like in person. When you're there, you understand the magnitude of the event and how special it is… not just for motorsport but for the city and how everyone embraces it. Not being able to connect with fans as much as we have in the past was tough. But it's nice to get back to that normal and makes all the traditions come full-circle.
Recommendations for first-time fans at Le Mans: "I think you have to do the parade. That's where you get the energy of the whole city that embraces the event. You see how massive it is and all the traditions that go with it. At the race itself, somehow getting around most of the track gives the perspective of how big the circuit is in itself. It reminds you of the history of the event and guys going around with tiny seatbelts, basically no headlights and things like that. You can get an idea of how crazy it is when you go down Mulsanne and there are no lights or anything. Think about what those guys in the 60s and 70s were doing at 220 mph and old-style headlights. You feel so alone out there. It's something you don't see anywhere else in the world."
NICKY CATSBURG, NO. 63 MOBIL 1/SiriusXM CHEVROLET CORVETTE C8.R: "Having the parade and public scrutineering back is big. Drivers always joke that there are some sides of it which give us more work and more time to be away from where we want to be on track. But I think we all love it. The Le Mans parade is a parade unlike anything else. You go through the city with so much history and so many great fans. Of course Jordan will steal the show so I can't wait to be next to him and watching him do what he does with the fans. And what would our sport and Le Mans be without fans? So I'm super happy that Le Mans is going to be back to normal in a way and we can all enjoy the massive amount of fans that are down there. Le Mans and Nürburgring 24 are events that driven by the fans being there, and we've missed that the last couple of years. I can't wait."
Recommendations for first-time fans at Le Mans: "I'd do the parade. You also have these little streets around Arnage and in some of the small towns that are just full of fans eating food and drinking beer. The atmosphere is so, so cool even though you are half-a-kilometer from the track. That is something I really like about Le Mans. You can see the whole area is breathing the event for that week. So I would soak up some of that. At the track, I would recommend that my friends just go walk. Go for a huge hike and leave for a couple of hours. Go around the track and to spots where it might not be so crowded. You can really see the crazy speed differences and approaching speeds into the corners. You get to see the event from a different point of view than just sitting around in a hospitality room looking at a TV screen. That's definitely something I would do."
TOMMY MILNER, NO. 64 MOBIL 1/SiriusXM CHEVROLET CORVETTE C8.R: "It's a big deal for the race and all the fans, sponsors and competitors to get back to normal. While the last two years with the world situation as it is, the bare-bones required people have been there to make the event happen. What makes the event special, as we see with any marquee sporting event, is the atmosphere and ambiance. It's all the extra stuff and energies that come together and make these events as special as they are. When you don't have all those ingredients, there definitely is a different feel to the race. We had some fans last year, which was great. It adds to the event and makes it feel as special as the race always has been. We're all looking forward to getting to back to a normal Le Mans."
Recommendations for first-time fans at Le Mans: "I've never experienced things from the fan side, but there are some awesome things around the event. The parade is always great. The fans look like they're always having a great time. Some may enjoy just sitting back, having a beer and enjoying the atmosphere that way. The best thing I'd tell someone is to find another fan who has been there multiple times and ask their opinion on what their favorite thing to do on the weekend, where to go, where to watch the race. You'll definitely get different opinions the more you talk to people. When I do have friends that come to the track, I can show them the cars up close and talk to them what we experience as drivers. But the best advice I can give anyone is to find and talk with other fans. I've always found sports car fans to be super approachable. They're all obviously knowledgeable and very much fans of the race. Even at big events like Le Mans, you have people there that understand what's happening in the race and have a good perspective on how best to enjoy themselves."
NICK TANDY, NO. 64 MOBIL 1/SiriusXM CHEVROLET CORVETTE C8.R: "Even comparing Le Mans to other sporting events I've been to, Le Mans is one of the top ones in the world. It's been different the last couple of years. Yes, we are a racing team and we go to concentrate on our racing. That's what we've focused on the last couple of years. When I first went to Le Mans, I wasn't prepared for the scale and amount of people that watch and follow it. People make a holiday out of it. It's just incredible. For our sport as a whole, it's great that we have our showpiece back in its normal slot, back open and back where people can see the cars during scrutineering in the city. I've not seen a lot of friends and family that are always in the same spots for the driver parade each year. That's part of the week. It's great for everyone that we're back to how it should be. I hope it goes smoothly so everyone can enjoy what we're doing."
Recommendations for first-time fans at Le Mans: "Learning from other people's experiences from the times they've been there is helpful. When you're open to moving around, that's ideal. I know people who have made friends in France that are now life-long friends back in the UK. They don't live near each other but they meet at places like this and have similar vested interests. People go there for the social side of it, meeting and talking and sharing the same passions is just as much of a draw as seeing the cars, the drivers and action on-track. One of the draws of a 24-hour race is that you don't have to sit there for an hour-and-a-half to follow it. You can dip in and out. You can go around to different parts of the track. You can go and have dinner in one village and then have breakfast in another to meet other people to get involved with what's going on. I've always said that if I wasn't driving at Le Mans, I'd definitely go there with friends to have a good time and enjoy the event."
ALEXANDER SIMS, NO. 64 MOBIL 1/SiriusXM CHEVROLET CORVETTE C8.R: "To me, this is what Le Mans is about. The size of the event is enormous. I'll always remember the first Le Mans I did, I had been in single-seaters to that point and was around Formula One. I knew of Le Mans but it wasn't until I went there and realized the scale of the event and how it completely surpassed any F1 weekend I had been to. It's still the same with the times I've been to Le Mans. Even last year with limited fans, you still had the sensation of it being an awesome event with loads of people that are coming from around Europe and across the world. Having done the drivers' parade, it's just madness! Fans are standing five- and six-people deep during the parade and well before it! It's bonkers and you realize how big an event this is. To be a part of that is really cool and an amazing experience of life, much less in motorsport. It's unrivaled."
Recommendations for first-time fans at Le Mans: "The things that stand out are the driver parade in town… and I've never done it, but my wife has ridden the Ferris wheel. She went up at night and said it was really cool seeing the cars buzz around underneath you. It really gives you a sense of the enormity of the occasion. Those are two really cool things to do to soak up some of the atmosphere of Le Mans."