F1: Azerbaijan (Baku) Grand Prix Preview
After the last round in Monaco, the F1 series heads to another temporary circuit in the streets of a city – but the track awaiting them this weekend cannot be further from that of the Principality. Racing in Baku is a whole different kettle of fish – it's high-speed, high-drama excitement that rarely fails to deliver superb racing.
Azerbaijan joined Formula 1's calendar in 2016 with a city-based event navigating the markedly different districts of capital Baku, where West and East meet adjacent to the Caspian Sea.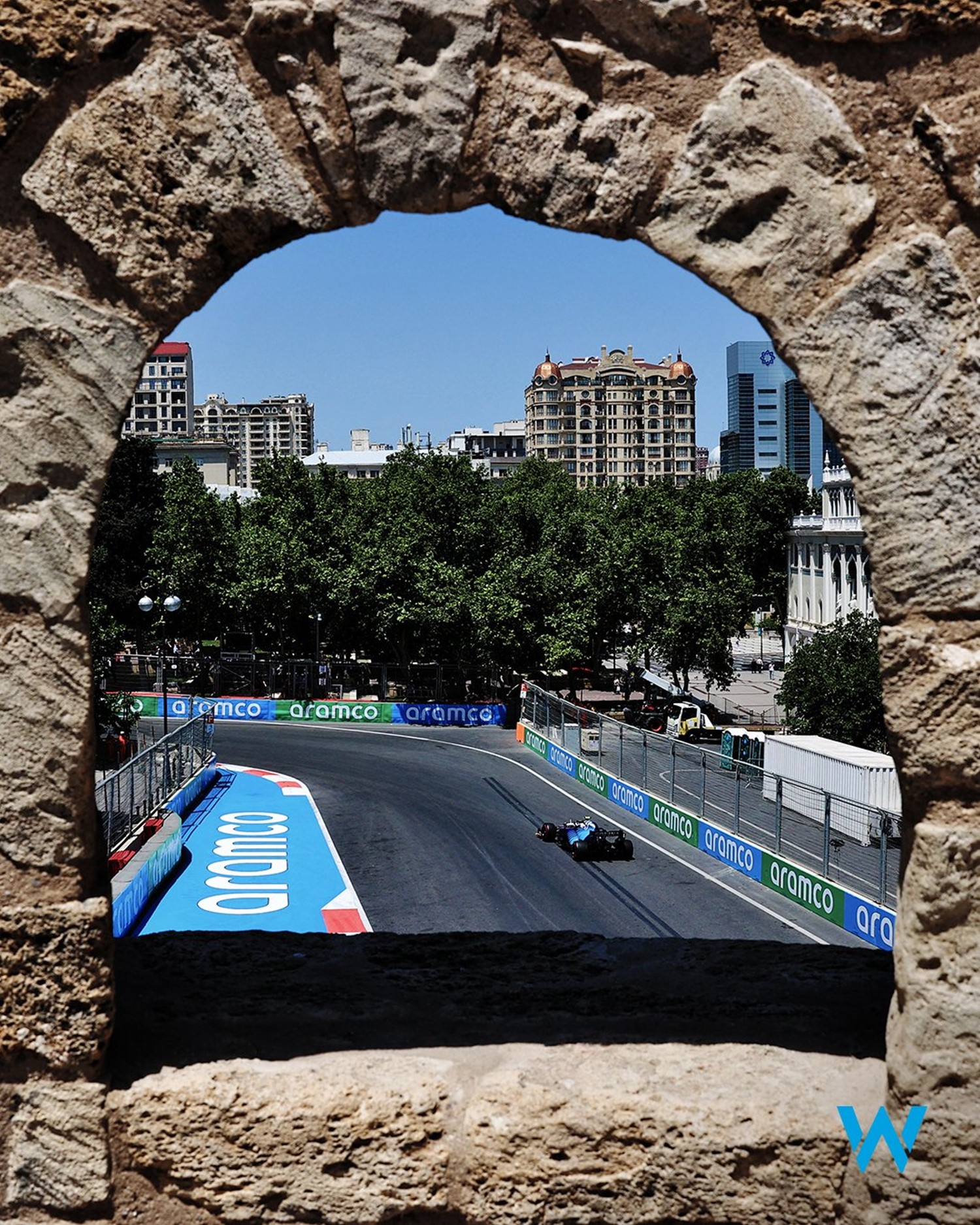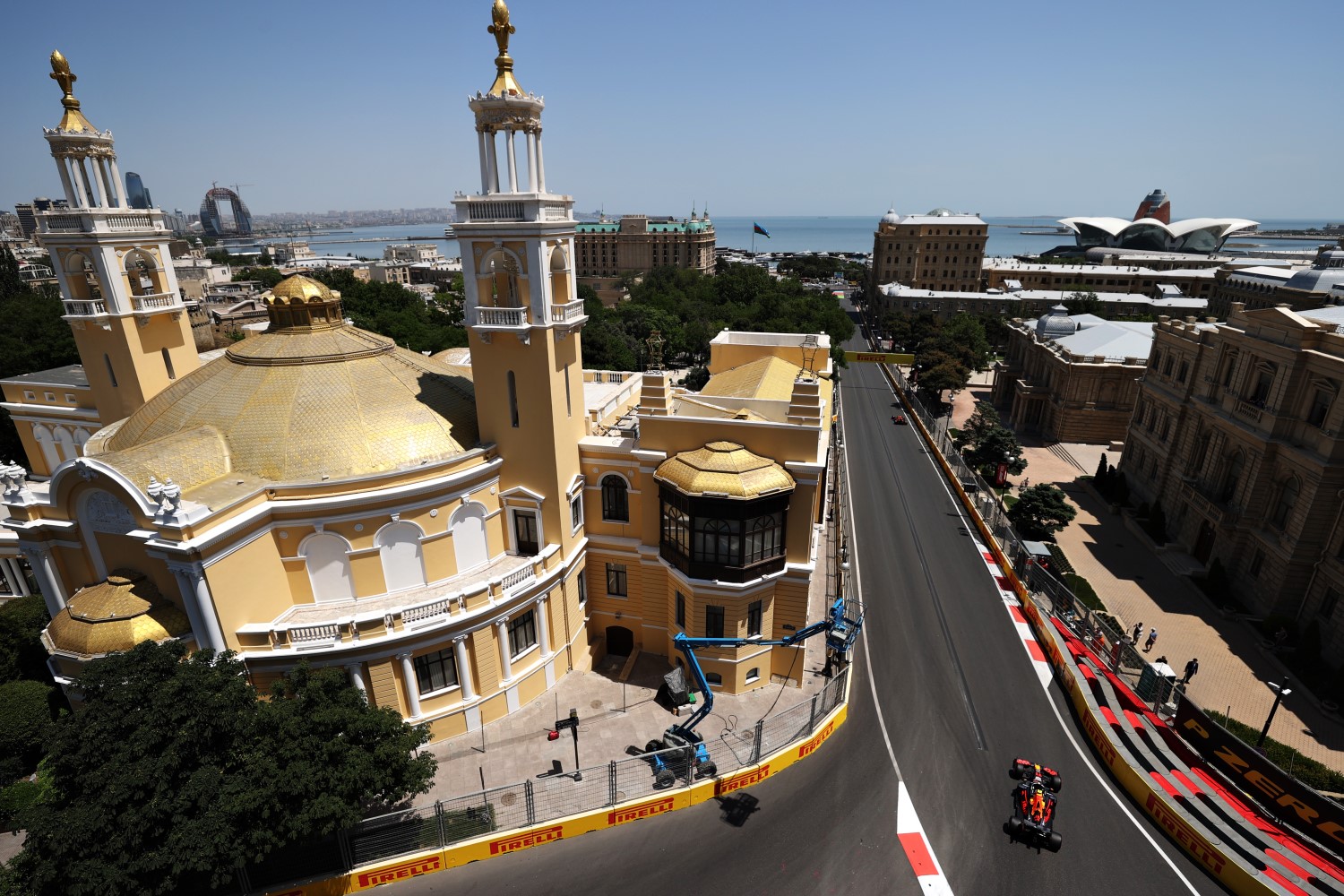 Baku sits as the lowest capital city in the world, at 28 meters below sea level, and has a history that stretches back a thousand years. That is reflected in the layout of its Formula 1 circuit, which winds its way alongside preserved ruins of the Old City, glass-fronted skyscrapers, and architecture from various periods that reflects Baku's cultural legacy.
The one thing Baku never disappoints for is an exciting race, as we've seen many over the past years. The long straight and DRS zones really aid that.
The first sector of Baku City Circuit comprises lengthy straights punctuated by heavy braking zones and 90-degree corners, before a second sector that incorporates tight and twisty turns mixed with blind high-speed segments. That includes the notorious turn 8, at just 7.6 meters wide, where part of the fortress walls doubles up as an apex.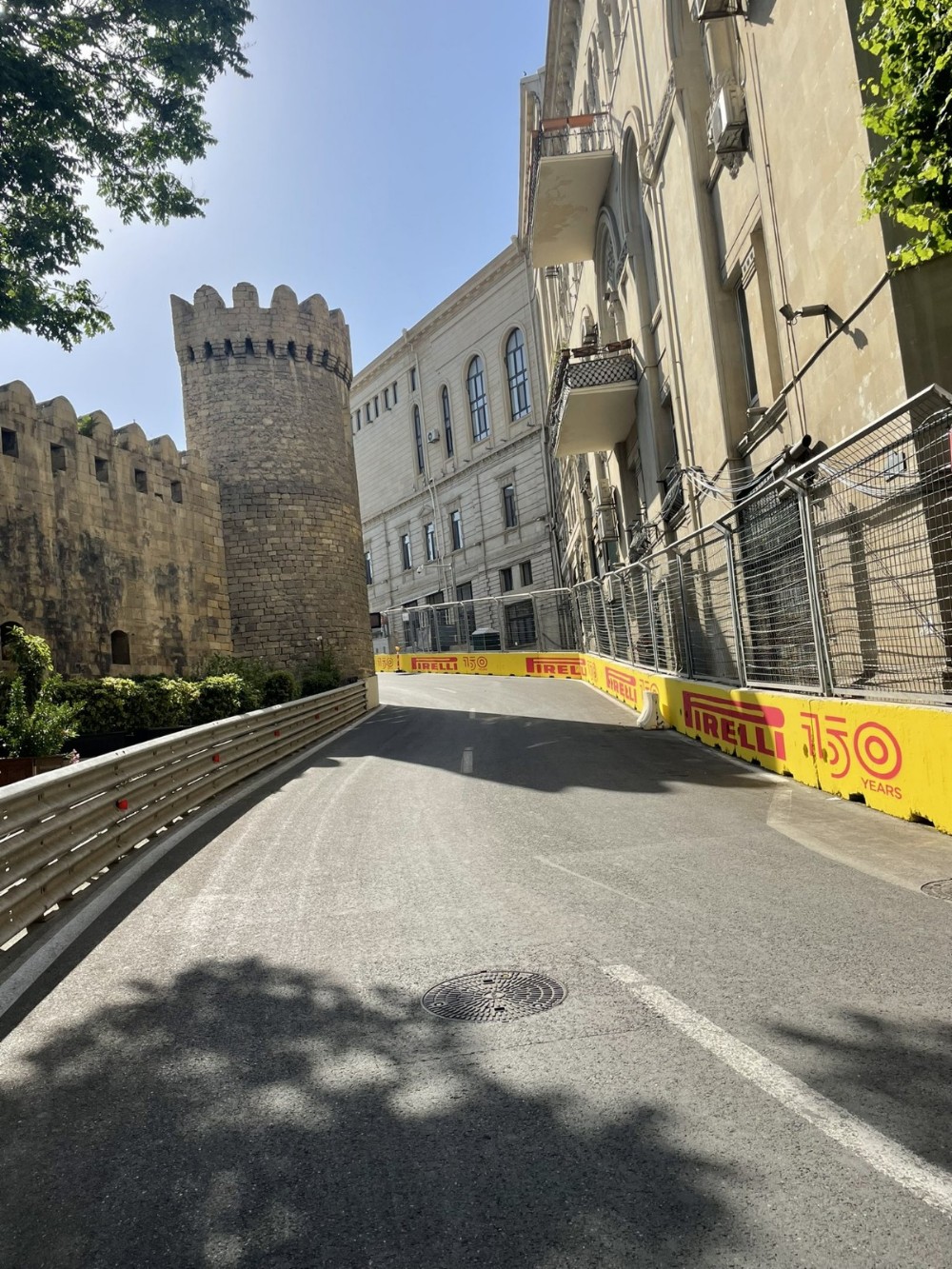 The final sector is almost entirely full throttle as drivers hurtle along one of Baku's main thoroughfares at speeds approaching 360km/h, where the effect of a slipstream can be very profitable. Baku's varying demands means a compromised set-up is required, as teams strive to maximize both aerodynamic prowess and straight-line speed, while ensuring tires and brakes are kept in their optimum operating windows.
With the Azerbaijan and Canadian events running on back-to-back weekends in June – it highlights the need for a regional calendar, as being proposed currently by F1 for 2023 onwards.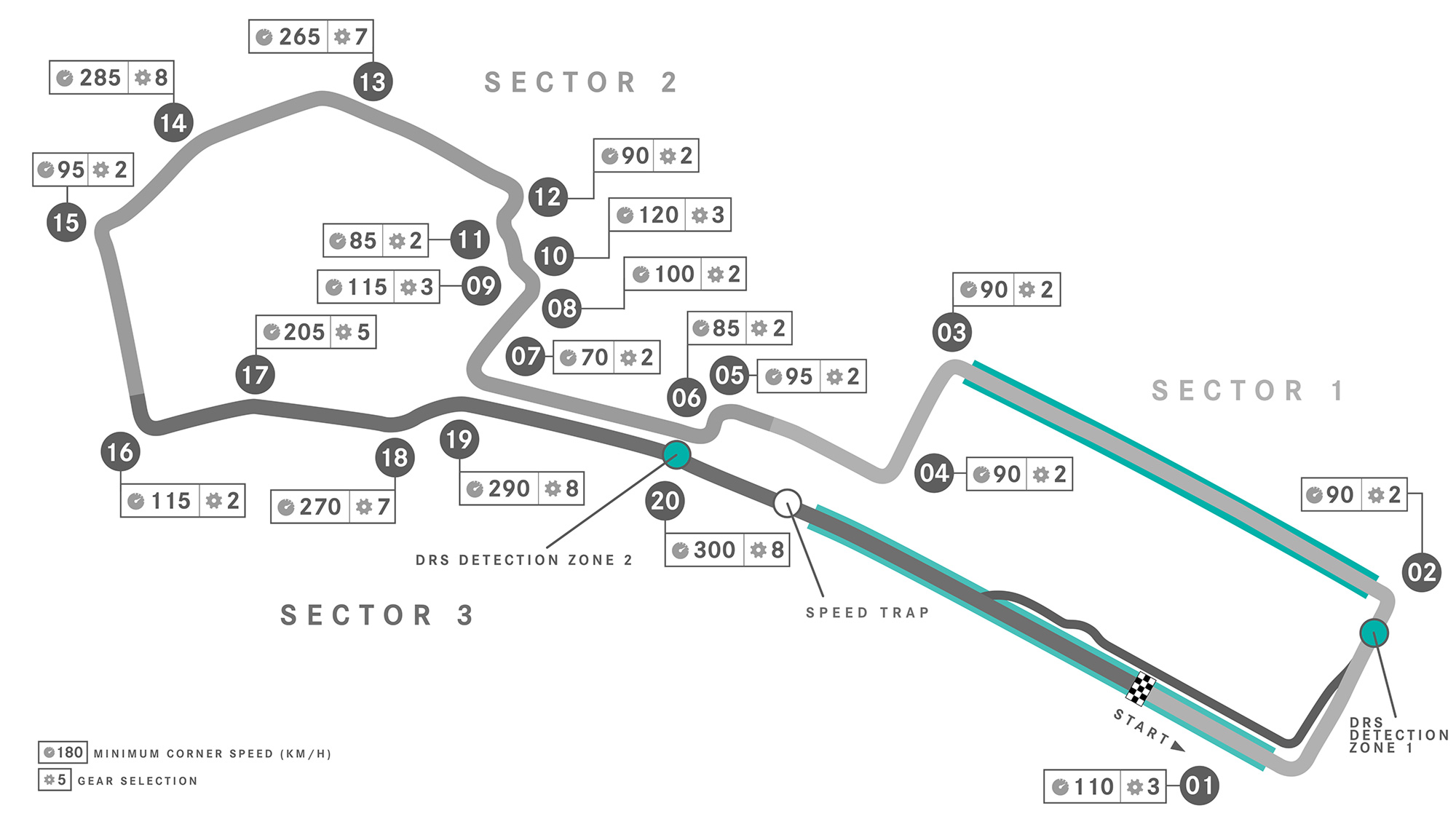 Circuit Insight
Overtaking: Despite being a street circuit, Baku offers plenty of overtaking opportunities, with an average of 40 overtakes per race, not including the opening lap. Around 66% of those make use of DRS. It's clearly not all about qualifying in Azerbaijan.
Strategy: Nevertheless, strategy is key in Baku, partly because the track has a lower-than-average pit-loss time of just 21 seconds. Despite higher speeds and hard braking at various points on the track, Pirelli brings its softest C3, C4 and C5 compounds.
Safety Car: Four of the five races so far at Baku have involved either a Safety Car or a Virtual Safety Car; most have seen multiple disruptions. In both 2017 and 2021, the race was halted by a red flag, creating strategic variance. There has been an average of five DNFs each year.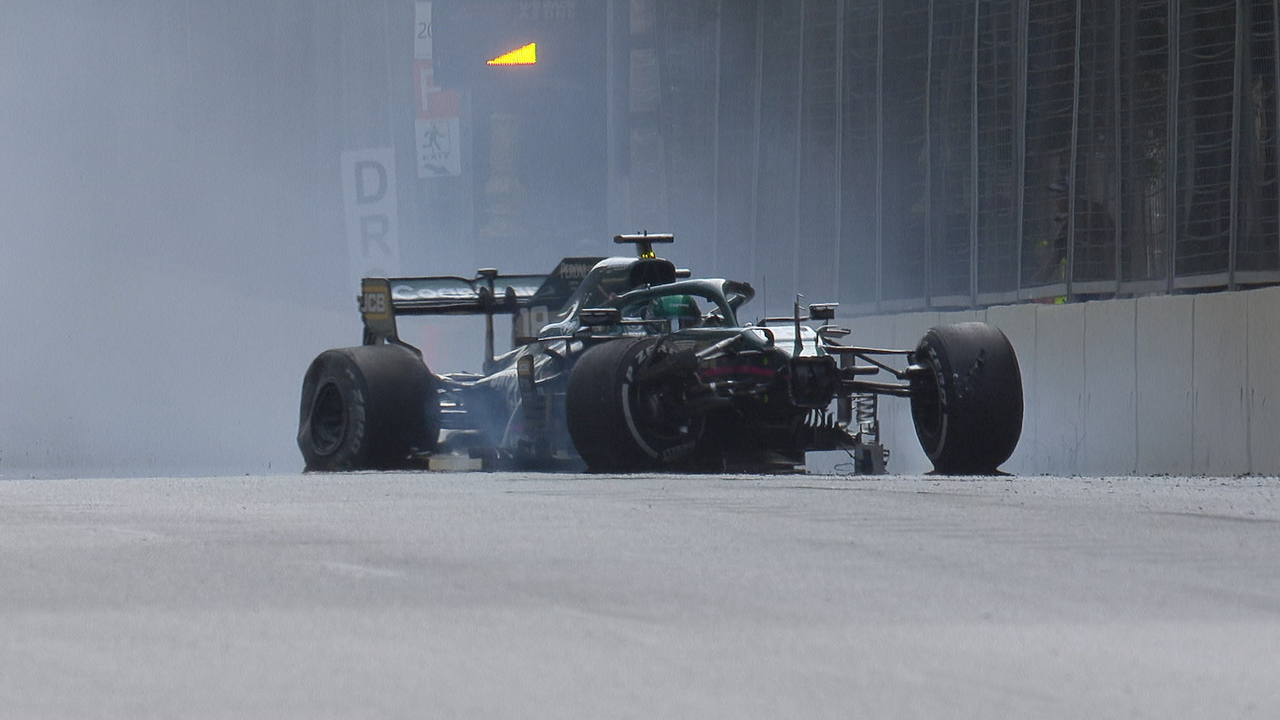 Unlocking the Lap
The Baku City Circuit is one of the longest tracks of the season, with some of the most technical corners in Formula One. Both high-speed straights and tight, low-speed corners create a balancing act for car set-up.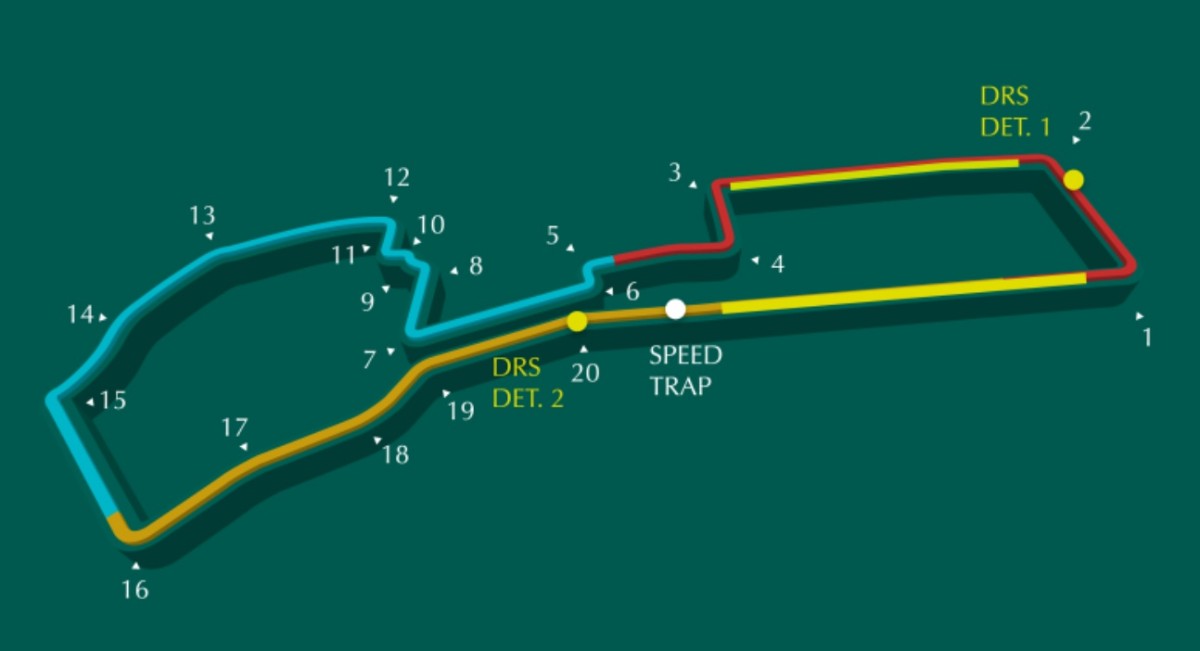 Despite being another street circuit, Baku couldn't be more different to Monaco. There are plenty of opportunities to overtake, with Turn One and Turn Three being the most popular spots to gain advantage.
The opening straight from pole to Turn One is just 170m – the second shortest of the year after Monaco, meaning plenty of skill is needed to prevent getting caught out at the start.
From Turn 16 onwards, the next 1.5-miles is a fast, flat-out section, effectively becoming the longest straight of the calendar. It's here that the claimed the fastest speed in F1 history was recorded, at 378km/h (234.9mph) in 2016.
Fact File: Azerbaijan Grand Prix
There have been five races and five different winners at the Baku City Circuit since F1's debut in Baku during the 2016 season; no driver has been able to win this Grand Prix more than once so far. That also applies to pole positions, as a different driver has headed the starting grid in all five races staged to date.
At 6.003 km, the Baku City Circuit is the third-longest on the calendar – only the Circuit de Spa-Francorchamps (7.004 km) and the Jeddah Corniche Circuit (6.174 km) are longer.
The track itself can be described as a mix of Monaco and Monza, because the section of track in the old town's narrow maze of streets reminds us of the Principality, while the long straights and heavy braking zones rather resemble the Temple of Speed in Monza's Royal Park.
Drivers have to change gear 68 times over the course of a lap – the same number of times as at the Bahrain International Circuit and more than at any other circuit on the current Formula One calendar.
The track at Baku is quite narrow in places but does not require drivers to make big steering inputs unlike last time out in Monaco. Turn 8 in Baku, for example, is tighter than the hairpin (Turn 6) in Monaco, but with it only being through 90 degrees as opposed to 180 in the Principality, it doesn't require special suspension to navigate.
Setting up an F1 car for Baku is a tricky task due to its extraordinary mix of tight corners and long straights with heavy braking zones. Teams like to dial in as much downforce as possible for the many slow corners while at the same time achieving a minimal amount of drag down the long straights. This calls for a compromise in the setup, similar to Spa-Francorchamps, where reducing drag without losing too much downforce is a key consideration.
The tarmac on the Baku City Circuit is very smooth, and some sections of it are re-laid annually to completely cover the old town's cobblestones. Getting tires up to temperature can be tough due to the very low average steer angle, which results in very little energy being put into the tires. Teams have to rely more on the heat from braking to keep tires warm since not as much energy is generated in the corners as at other circuits.
There has been at least one safety car deployment in three of the five races held so far in Baku. In all, there have been seven SC periods spread over these three Grands Prix, which corresponds to a SC probability rating of 60%. The reason for that is obvious. As the run-off zones are not particularly generous, an incident or technical problem can soon lead to Bernd Mayländer being called out.
Any safety car deployment is inevitably followed by one of the toughest restarts of the season on the 2.2 km start/finish straight, with a strong risk of another safety car having to be sent out. Overtaking is only allowed from the control line, which comes quite late.
There are two ways in which the leader can accelerate at the wrong time. On the one hand, if he overtakes the safety car before the control line, this will lead to an instant penalty, but on the other hand, he runs the risk of being outbraked by his pursuer in Turn 1. At the same time, however, the man behind cannot afford to get too close and pick up the slipstream too early before the control line, as this increases the likelihood of another incident and the safety car being sent out again.
The section from the exit at Turn 16 leading to the braking zone for Turn 1 is the longest full-throttle passage of the year and is around 200 meters longer than the segment from Turns 1 to 5 at Spa-Francorchamps. Overall, 76% of the lap distance is taken at full throttle in Baku.
Baku has the highest braking energy figures recorded at any time during the entire season, well ahead of the circuit in second place in terms of braking, Bahrain. There are ten braking 'events' out on track, tying with Monaco for most of the season, five of which can be counted as 'heavy' braking events, leading to forces of more than 4g being generated for more than 0.4 seconds.
Most street circuits are not necessarily known for top speed, but Baku is different because of its long straights. Topping out at 322 km/h, cars can reach the second highest speed of the season so far – only in Miami have we seen a higher top speed of 324 km/h so far.
Tires
Like Monaco, Pirelli have provided the softest of their compound range, which should be suited to Baku providing that they don't grain. The smooth track surface can make warm-up difficult, but this is compensated by the long lap.
The camber of the roads, large gradient changes, and the varying track width all add to the challenge at this circuit and ensure that setting the car up to be strong over the full 6km lap is very tricky. However, the same circuit characteristics that provide the setup challenge also lead to good racing and exciting on-track battles in Azerbaijan. Taming the streets of Baku is not easy, but it can be enjoyable and rewarding when done well.
Points Leader Max Verstappen:
"I'm looking forward to returning to Baku, we have some unfinished business there after last year. It's a tricky track with big braking zones and a tight run-off, finding the best set up for the car will be difficult in terms of making sure we get the correct wing level. It will also be interesting to see if we can make our one lap performance better for qualifying, as we've been lacking a little. It's great that Checo has signed a contract extension with the Team, it's nice to have the continuity and I get on really well with him."
Note: Not showing his hand. Max has won four Grands Prix (Saudi Arabia, Emilia Romagna, Miami, Spain) since he last led a free practice session (Bahrain).
2021 Baku Race
Sergio Perez won his 2nd F1 race, and first for Red Bull Honda, holding off a resurging Sebastian Vettel, and Pierre Gasly in a 2 lap sprint to the finish.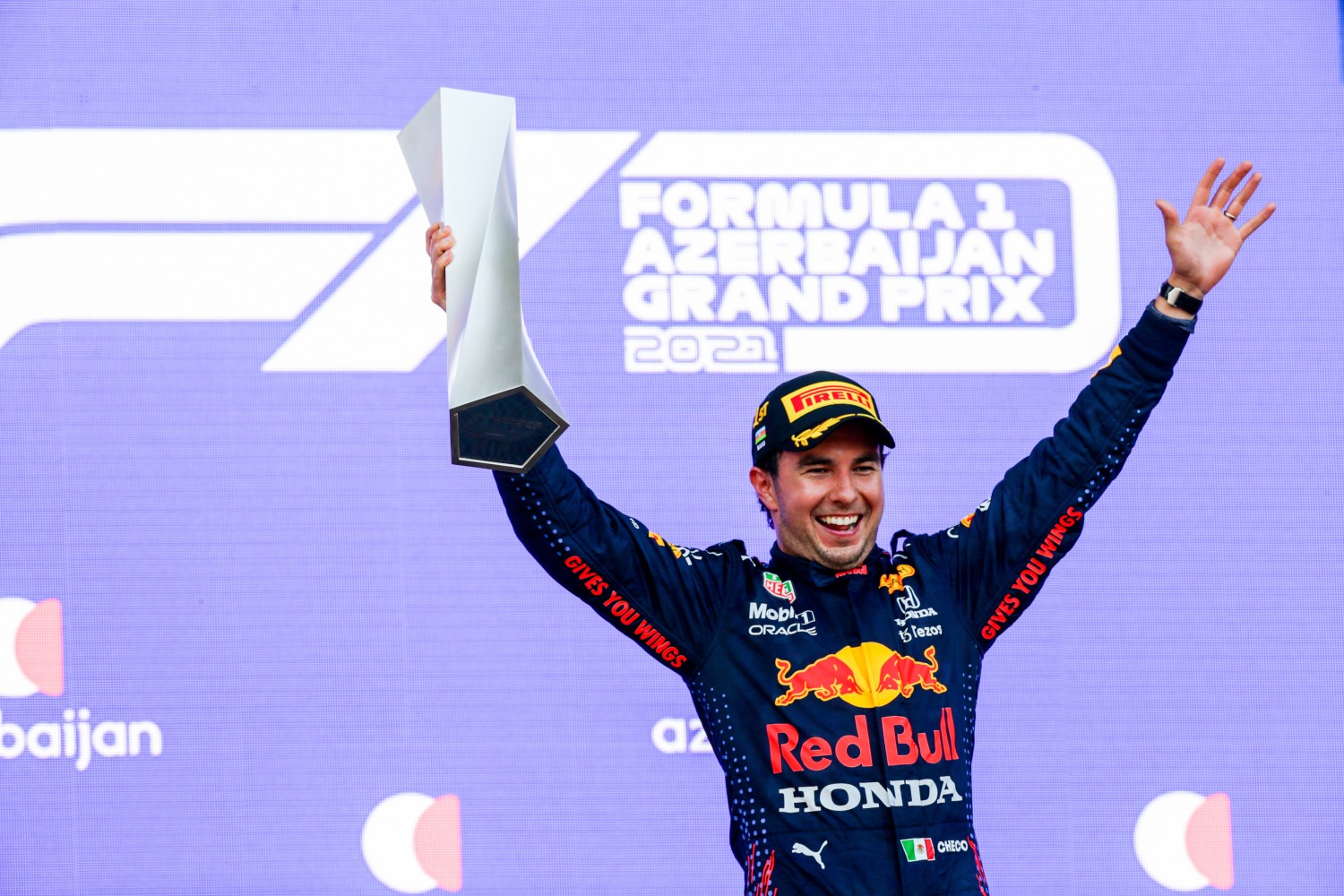 Max Verstappen was cruising to an easy win in his #33 Red Bull Honda in the Azerbaijan GP when his hard Pirelli tire blew in spectacular fashion on the long pit straight, sending him hard into the wall, and out of the race. A similar tire failure happened to Lance Stroll's Aston Martin earlier.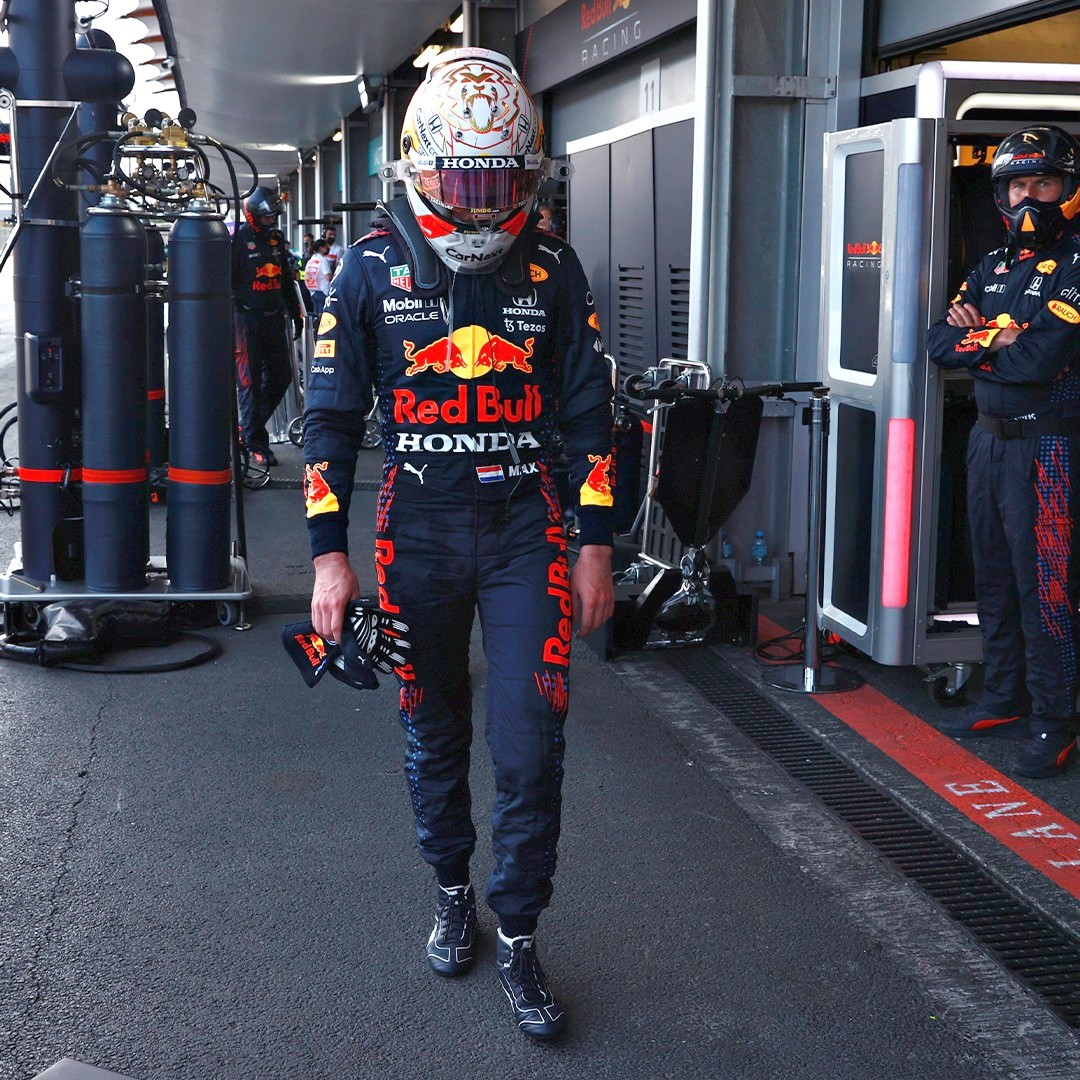 The race was then red-flagged with three laps to go to clean up the debris.
With Verstappen, and Perez having jumped early leader Hamilton in the pit stops, Verstappen's retirement then promoted Perez, and Hamilton into P1, and P2 from the Aston Martin of Sebastian Vettel.
As for Vettel, the German had played the race beautifully, starting on softs from P11, and staying out until Lap 18. The Aston Martin driver was up to P6 when the race restarted after the Lance Stroll-induced Safety Car, with Vettel then moving passed polesitter Charles Leclerc, and Pierre Gasly in quick succession to claim fourth – climbing into the podium positions when Verstappen retired.