LeMans: Kobayashi fastest for Toyota; No.92 Porsche Top in LMGTE Pro
A dramatic weather affected qualifying practice session saw Kamui Kobayashi set the pace in the hour-long session at Le Mans this evening.
The #7 Toyota Gazoo Racing GR010 Hybrid driven by Kamui Kobayashi set the fastest lap time in today's qualifying session (3:27.247). The #708 Glickenhaus Racing 007 LMH shared by Olivier Pla, Romain Dumas and Pipo Derani ended less than two tenths behind the Japanese car (3:27.355) and some 6 tenths ahead of the #709 sister car driven by Ryan Briscoe, Richard Westbrook and Franck Mailleux (3:27.978). André Negrao, Nicolas Lapierre and Mathieu Vaxivière ended fourth in the #36 Alpine Elf Team A480 Gibson, nearly two and a half seconds behind the fastest hypercar (3:29.656).
Olivier Pla in the #708 Glickenhaus Racing 007 LMH was the first to set a representative lap time (3:28.052) in the Hypercar category. He was soon followed by Kamui Kobayashi in the #7 Toyota Gazoo Racing GR010 Hybrid (3:27.247) and Ryan Briscoe in the #709 Glickenhaus Racing 007 LMH.
Pla further improved the #708's fastest lap time moments later thanks to a quick first sector (3:27.355).
Further down in the ranks, the #8 Toyota Gazoo Racing GR010 Hybrid had a difficult session: the Japanese car driven by Brendon Hartley only left the pits some 30 minutes in the session and then went off at Mulsanne on its out lap. The car did not suffer any damage.
Once the session returned to green, rain poured down. The #8 Toyota only managed a fastest lap of 3:40.842 while the other Hypercars did not improve.
The five Hypercars will compete in tomorrow's Hyperpole session.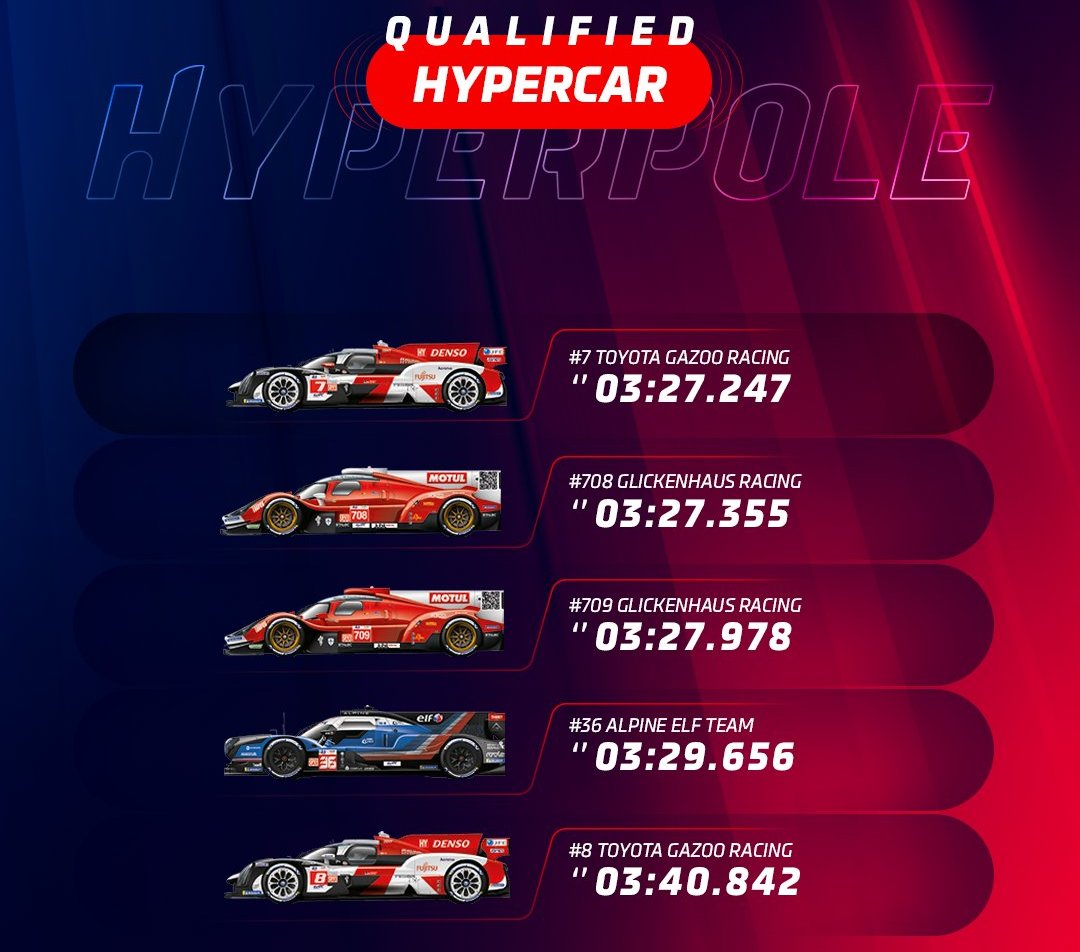 LMGTE Pro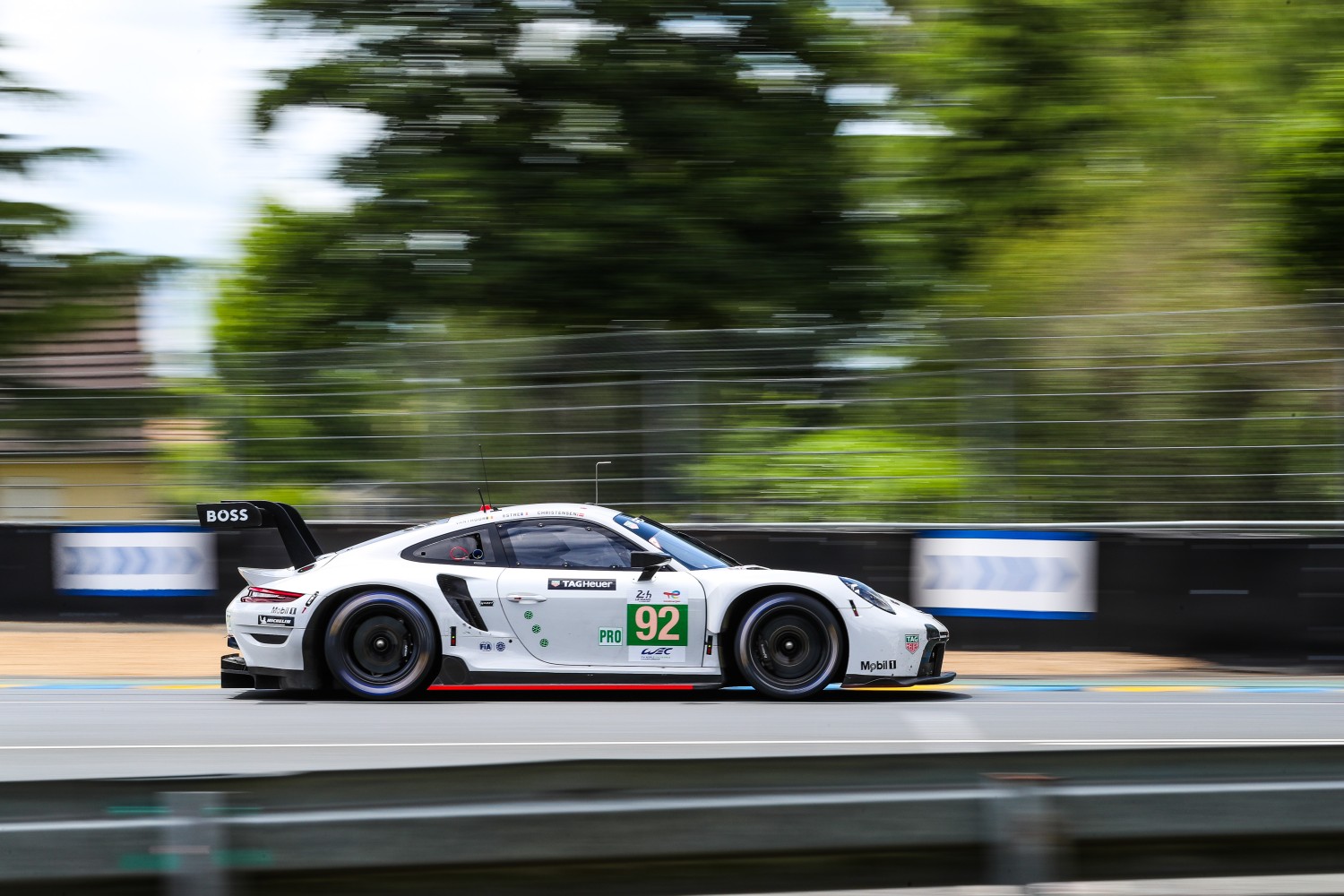 With rain threatened from the start there was an urgency to get things done, a rapid fight emerging between Nick Tandy's #64 Corvette and Antonio Fuoco's #52 AF Corse Ferrari 488 GTE Evo. Tandy's best was 3:51.599, as the Corvette driver traded blows with the #52 Ferrari, Fuoco's 3:51.420 slicing down the lap times.  Fred Makowiecki showed Porsche's hand ten minutes in, a 3:51.400 the new and brief benchmark.
Back at the pits, Riley Motorsport's Ferrari 488 GTE Evo had waited 15 minutes before Felipe Fraga set a 3:54.116 to pitch the car into fifth and potentially the Hyperpole shoot-out. This was short lived however, as the #51 AF Corse Ferrari that had sat out most of the preceding Free Practice session having an engine change made its way onto the circuit for the first time with purpose. James Calado had a quick lap deleted for a track limit infringement, but the reigning GTE-Pro champion responded with a 3:51.502 that would place the Ferrari fifth in class.
Porsche came back, Laurens Vanthoor delivering the first time in the 3:50's. 3:50.999 led Garcia's Corvette on 3:51.132, and Makowiecki's improvement to 3:51.382 for Porsche in third. Tandy now set fourth for Corvette, Calado and Fuoco looming behind to make the Hyperpole session tomorrow evening for AF Corse and Ferrari.
Both Corvette Racing entries advanced Wednesday to the Hyperpole final qualifying session for the 24 Hours of Le Mans with the pair of mid-engine Chevrolet Corvette C8.Rs continuing their strong showing from Sunday's Test Day.
Antonio Garcia, driving the No. 63 Mobil 1/SiriusXM Chevrolet Corvette C8.R, was the second-fastest driver in an ultra-competitive GTE Pro category with a lap of 3:51.132 (131.855 mph). A three-time Le Mans winner, Garcia was only 0.133 seconds off the class-leading pace of Laurens Vanthoor.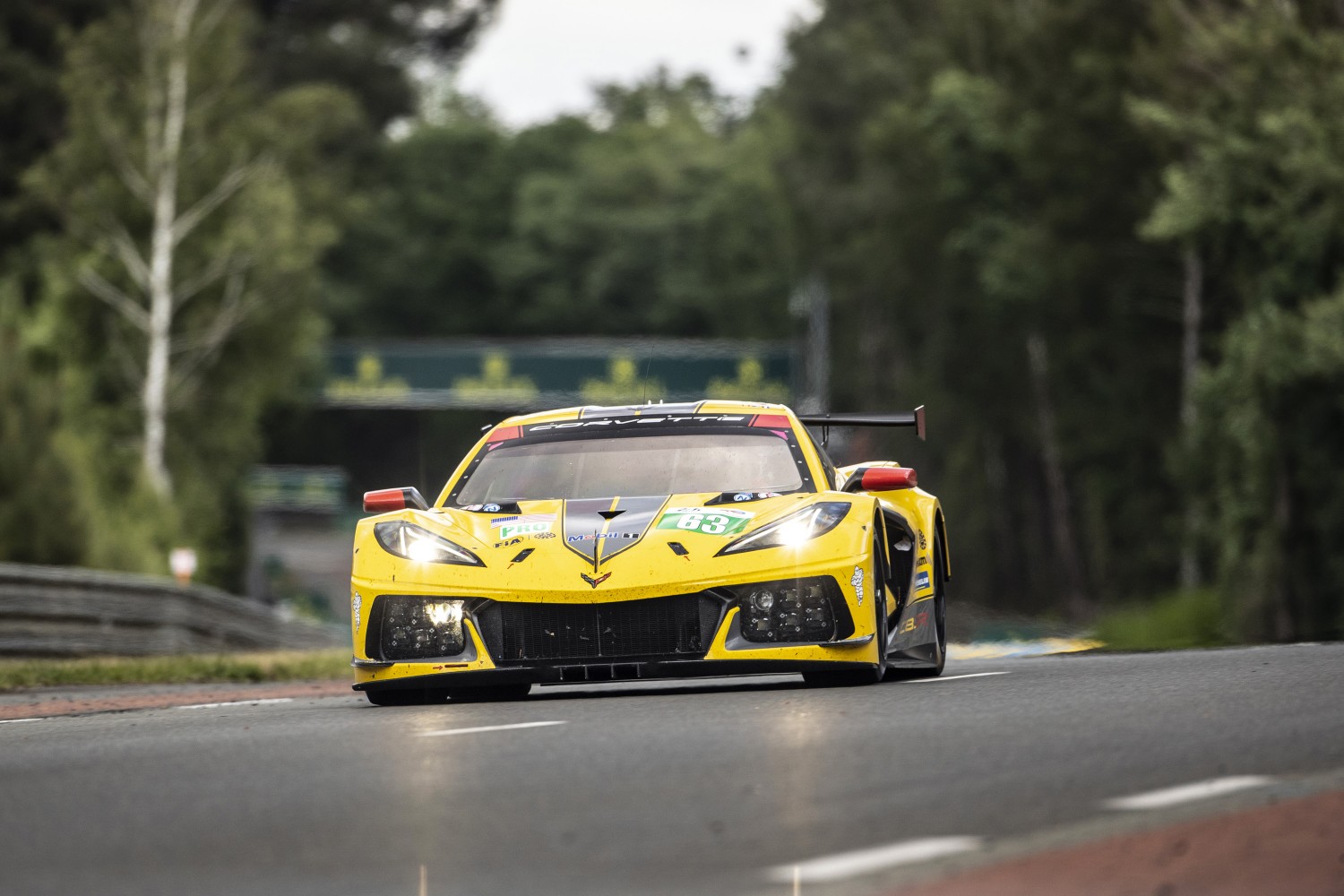 Nick Tandy wasn't far behind in the No. 64 Mobil 1/SiriusXM Corvette. His best lap of 3:51.491 (131.669 mph) put him comfortably inside the top-six, as the six fastest cars in each class from Wednesday qualifying advance to Thursday's 30-minute Hyperpole session.
LMP2
Filipe Albuquerque snatched a 3:31.468 in the #22 United Autosport Oreca 07 Gibson and bettered LMP2 test day's fastest lap times. Less than 15 minutes later, Robin Frijns in the #31 Team WRT Oreca 07 Gibson snatched a 3:29.898. No other cars bettered his lap time. He was followed at the top of the LMP2 time sheets by Antonio Felix Da Costa in the #38 Jota Oreca 07 Gibson (3:30.124) and Norman Nato in the # #41 Realteam by WRT Oreca 07 Gibson (3:30.440).
The other three cars making the cut for tomorrow night's Hyperpole session are the #23 (3:30.568) and the #22 (3:30.639) United Autosport Oreca 07 Gibsons and the #09 Prema Orlen Team (3:30.651)
LMGTE Am  
·       Nikki Thiim's 3m52.559s ensures that the Northwest AMR squad continue momentum from free practice and head the 23-car LMGTE Am field
·       No.57 Kessel Racing Ferrari place second as future Peugeot Hypercar driver Mikkel Jensen laps just under a second away from the Aston Martin
·       No.54 AF Corse Ferrari is third with Nick Cassidy setting quickest lap, ahead of Iron Dames Ferrari
·       Final two Hyperpole qualifiers are No.77 Dempsey Proton Porsche and No.61 AF Corse Ferrari
·       Michael Fassbender emerges unhurt from large accident on Mulsanne straight
Preliminary Qualifications