Le Mans: Hartley Takes Sensational Pole for Toyota; Corvette Fastest in LMGTE Pro
Brendon Hartley is the king of Le Mans qualifying with a brilliant 3m24.408s lap in a thrilling finale to clinch the Hyperpole.
Toyota is 1-2 after the final shootout sees the New Zealander beat teammate Kamui Kobayashi in No.7 Toyota by just 0.177s
Alpine ELF Team ends up third after 3m24.850s lap by Nicolas Lapierre is lauded by a large fanbase for the "Les Bleues" squad. But the French ace loses his fastest tour for track limits.
Glickenhaus is fourth and fifth as all Hypercars are covered by just 1.9s. Four of the five Hypercars tops times during the 30-minute session.
LMGTE Pro category
Nick Tandy led a 1-2 result for Corvette Racing in the Hyperpole session Thursday night ahead of the 24 Hours of Le Mans. Tandy set a lap of 3:49.985 (132.538 mph) the No. 64 Mobil 1/SiriusXM Chevrolet Corvette C8.R to give the team its first pole since 2010.
That also was the last time Corvette Racing started Le Mans with two cars on the front row. Antonio Garcia sealed the effort in the No. 63 Mobil 1/SiriusXM Corvette C8.R with a time of 3:50.177 (132.414 mph). It continued a solid pre-race program for the mid-engine Corvettes, which are at Le Mans for the second time.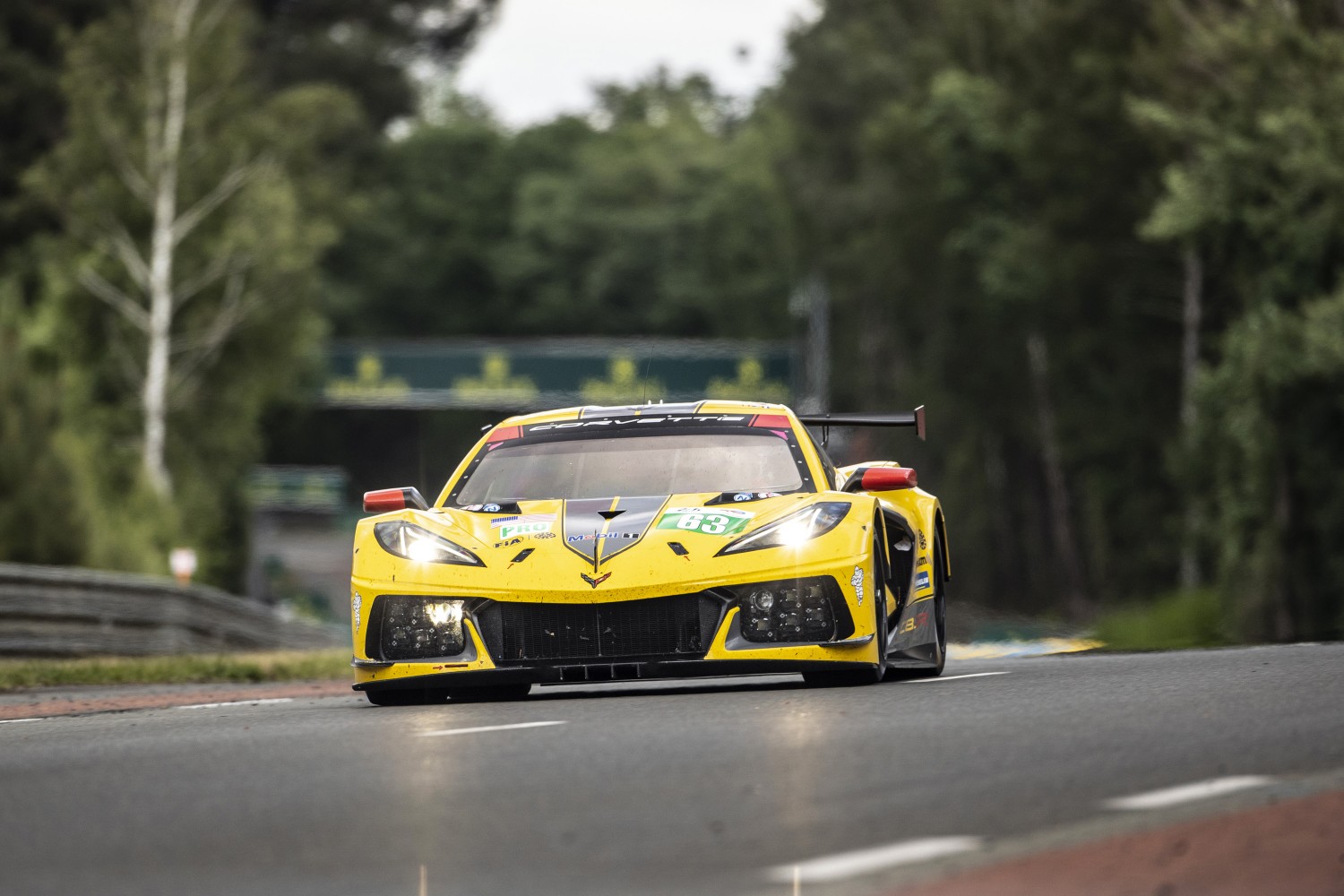 Tandy, driving with FIA WEC full-season teammate Tommy Milner and Alexander Sims, claimed his first pole position at Le Mans. He was only 0.192 seconds clear of Garcia, who is driving with IMSA WeatherTech SportsCar Championship teammate Jordan Taylor and Nicky Catsburg.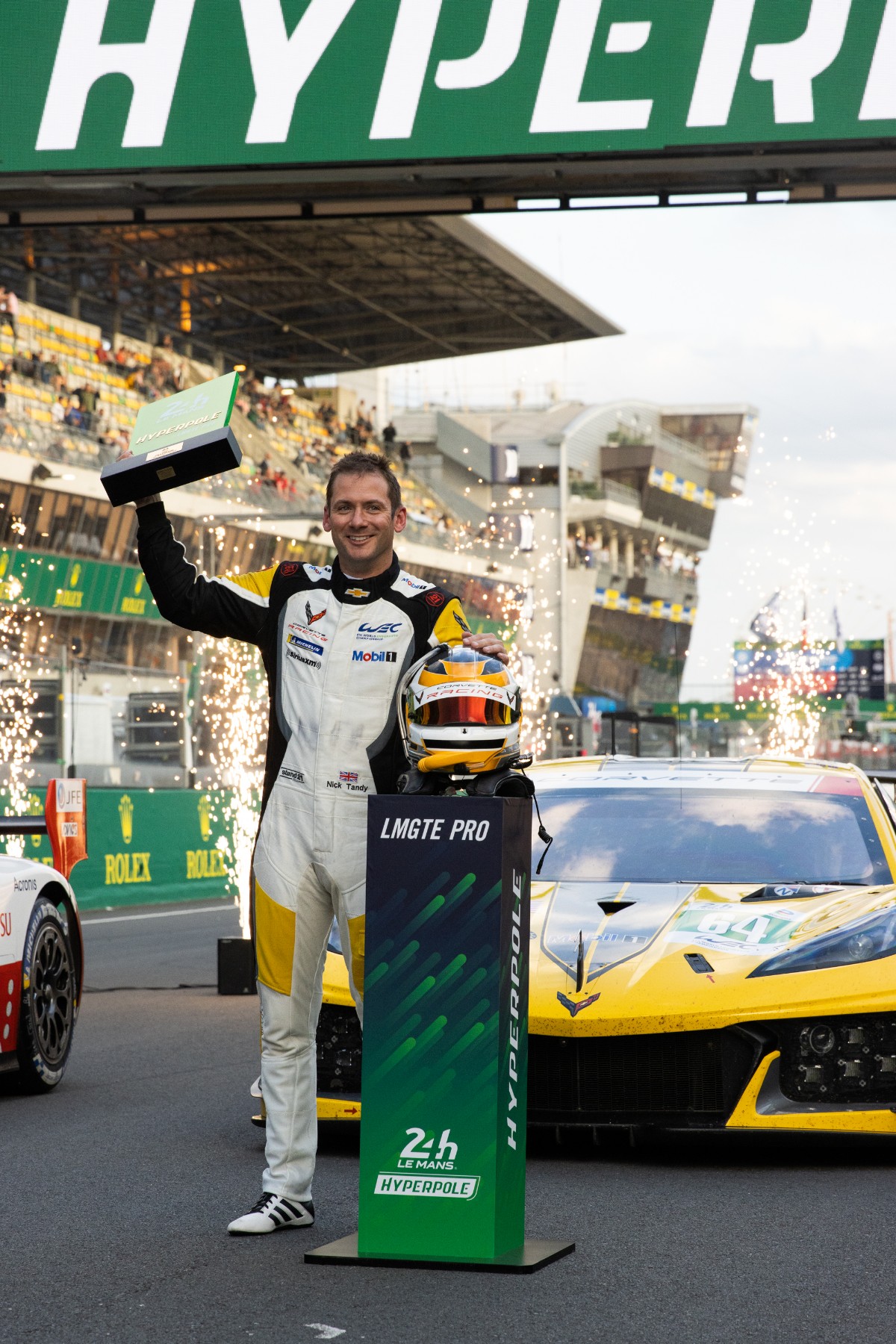 The two Corvettes have shown impressive form since Sunday's Test Day with the full benefit of running the WEC with the N. 64 Corvette being realized. The next goal is add another 1-2 finish… this time Sunday afternoon for the team's ninth class win and first since 2015.
Porsche GT Team start from the second row of the grid as No.91 leads No.92 Porsche 911 RSR-19 as Frederic Makowiecki and Laurens Vanthoor set times.
AF Corse Ferrari fifth and sixth with No.52 of Antonio Fuoco just beating No.51 Spa winning car driven by James Calado
LMP2
In LMP2 the No.31 Le Mans LMP2 title defending car driven by Robin Frijns holds off challengers after a scintillating 3m28.394s lap.
This beats the No.41 Realteam by WRT car driven by Norman Nato by a huge 1.3s, while the No.22 United Autosports Oreca-Gibson is third with Filipe Albuquerque at the wheel.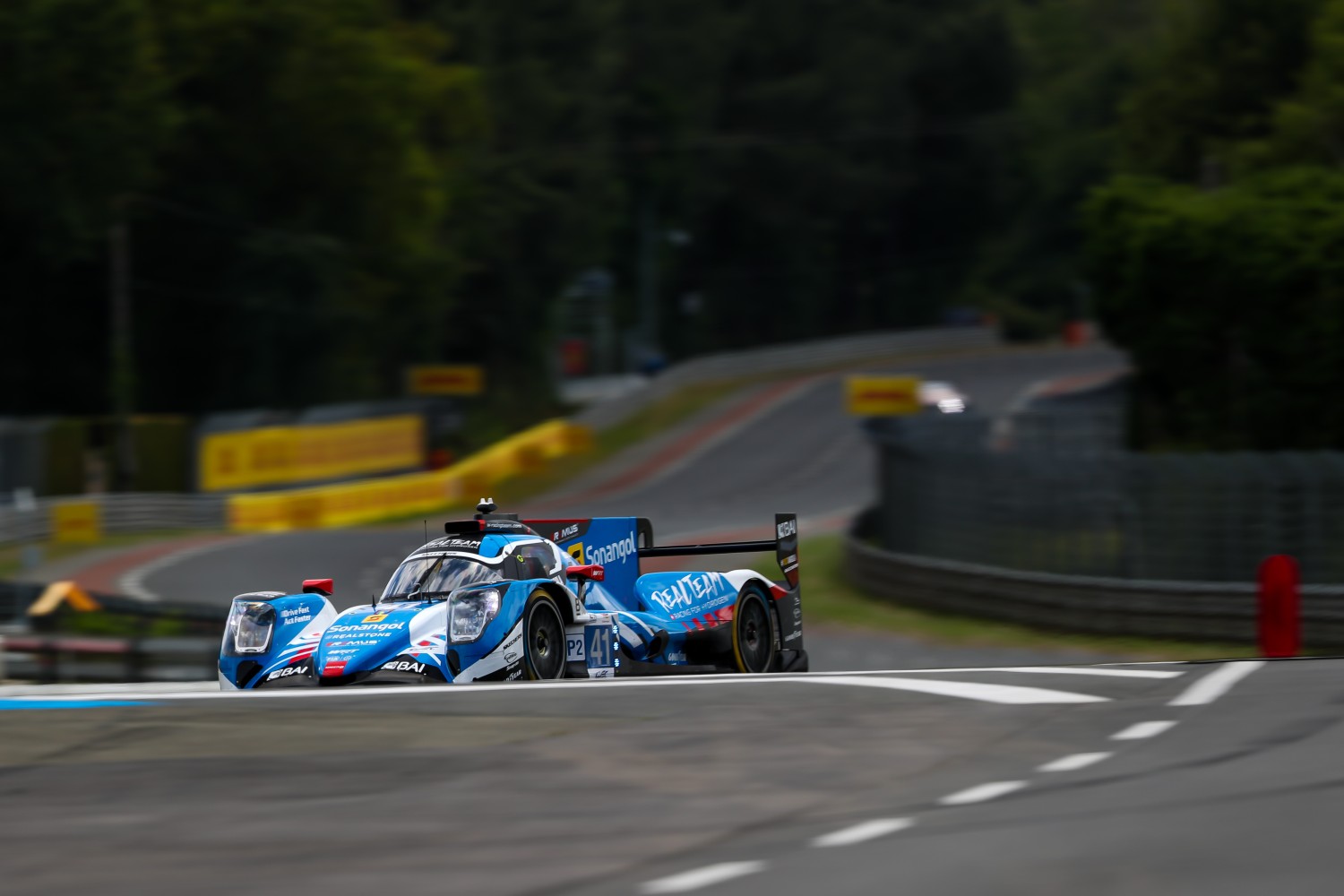 No.38 JOTA entry places fourth ahead of Prema Orlen Team of Louis Deletraz and No.23 United Autosports car of Alex Lynn.
LMGTE Am
In the LMGTE Am class, the No.61 AF Corse Ferrari driven by Vincent Abril shades the Kessel Racing car of Mikkel Jensen to make it a Prancing Horse front-row lock-out.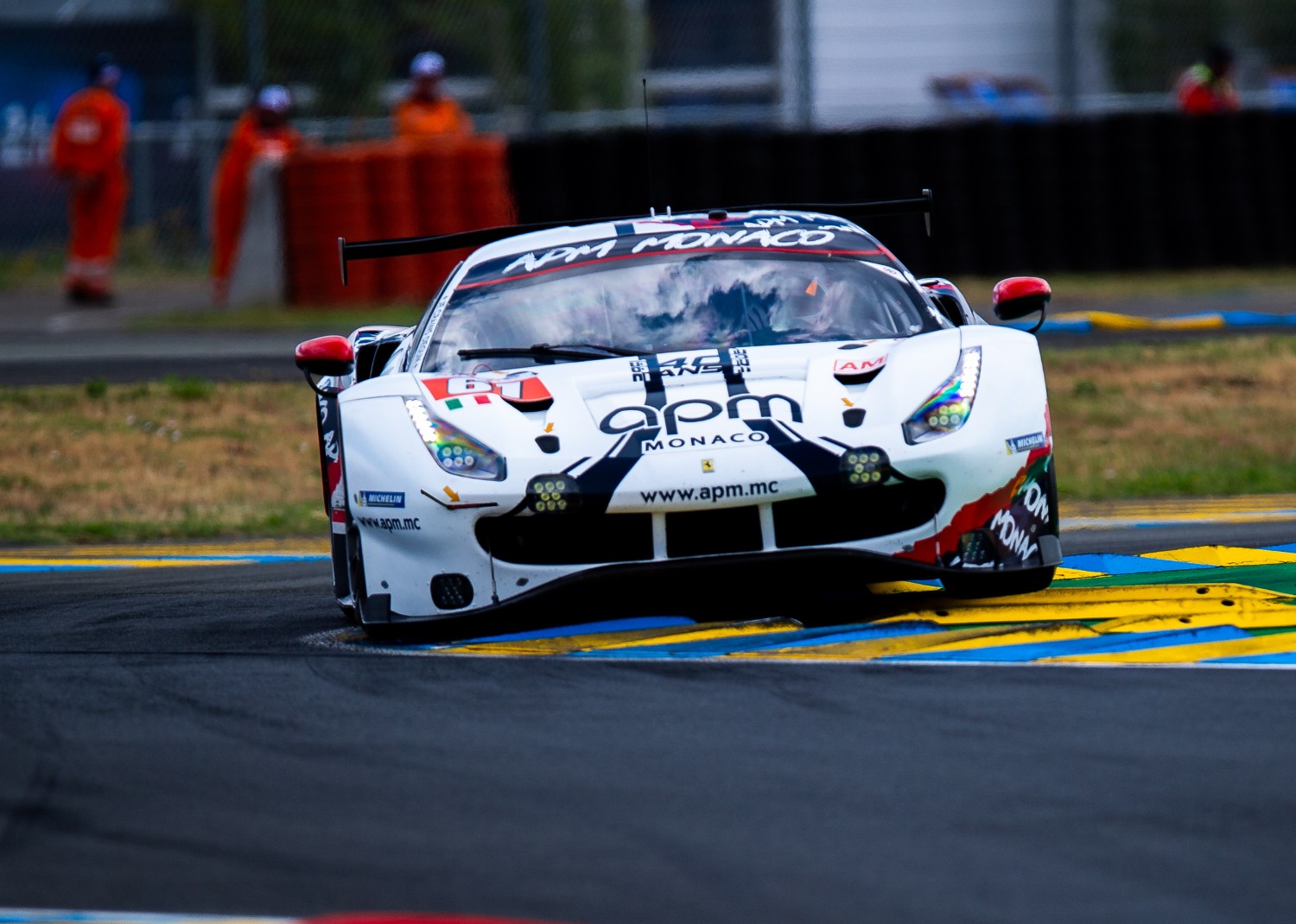 Harry Tincknell secures third for Dempsey Proton Porsche heading Nicki Thiim in No.98 Northwest AMR Vantage.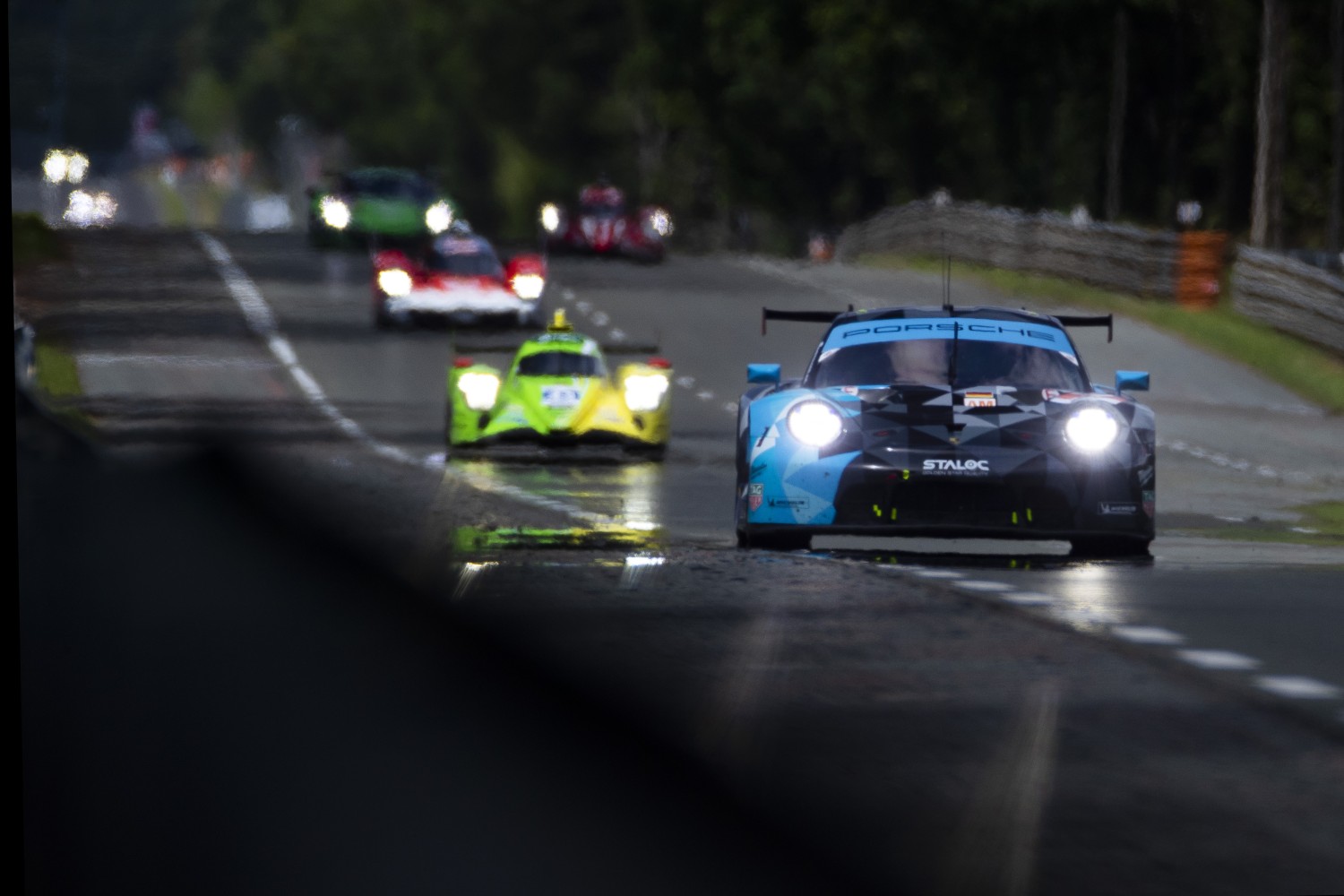 No.54 AF Corse places fifth with Nick Cassidy at wheel, while Iron Dames take sixth thanks to Rahel Frey.
Q2: Hyperpole Qualifying Results
Pos
No.
Drivers
Car
Class
Time
Behind
Gap
1
8
Sébastien Buemi
Brendon Hartley
Ryo Hirakawa
Toyota GR010 – Hybrid
HYPERCAR
3'24.408
0.000s
0.000s
2
7
Mike Conway
Kamui Kobayashi
Jose Maria Lopez
Toyota GR010 – Hybrid
HYPERCAR
3'24.828
0.420
0.420
3
36
Andre Negrao
Nicolas Lapierre
Matthieu Vaxiviere
Alpine A480
HYPERCAR
3'24.850
0.442
0.022
4
709
Ryan Briscoe
Richard Westbrook
Franck Mailleux
Glickenhaus 007 LMH
HYPERCAR
3'25.841
1.433
0.991
5
708
Olivier Pla
Romain Dumas
Pipo Derani
Glickenhaus 007 LMH
HYPERCAR
3'26.359
1.951
0.518
6
31
Sean Gelael
Robin Frijns
René Rast
Oreca 07
LMP2
3'28.394
3.986
2.035
7
41
Rui Andrade
Ferdinand Habsburg
Norman Nato
Oreca 07
LMP2
3'29.697
5.289
1.303
8
22
Philip Hanson
Filipe Albuquerque
Will Owen
Oreca 07
LMP2
3'30.070
5.662
0.373
9
38
Roberto Gonzalez
Antonio Felix da Costa
Will Stevens
Oreca 07
LMP2
3'30.373
5.965
0.303
10
9
Robert Kubica
Louis Deletraz
Lorenzo Colombo
Oreca 07
LMP2
3'31.115
6.707
0.742
11
23
Alex Lynn
Oliver Jarvis
Josh Pierson
Oreca 07
LMP2
3'31.596
7.188
0.481
12
64
Tommy Milner
Nick Tandy
Alexander Sims
Chevrolet Corvette C8.R
LMGTE PRO
3'49.985
25.577
18.389
13
63
Antonio Garcia
Jordan Taylor
Nick Catsburg
Chevrolet Corvette C8.R
LMGTE PRO
3'50.177
25.769
0.192
14
91
Gianmaria Bruni
Richard Lietz
Frédéric Makowiecki
Porsche 911 RSR
LMGTE PRO
3'50.377
25.969
0.200
15
92
Michael Christensen
Kevin Estre
Laurens Vanthoor
Porsche 911 RSR
LMGTE PRO
3'50.522
26.114
0.145
16
52
Miguel Molina
Antonio Fuoco
Davide Rigon
Ferrari 488 GTE EVO
LMGTE PRO
3'51.779
27.371
1.257
17
51
Alessandro Pier Guidi
James Calado
Daniel Serra
Ferrari 488 GTE EVO
LMGTE PRO
3'51.816
27.408
0.037
18
61
Louis Prette
Conrad Grunewald
Vincent Abril
Ferrari 488 GTE EVO
LMGTE AM
3'52.594
28.186
0.778
19
57
Takeshi Kimura
Frederik Schandorff
Mikkel Jensen
Ferrari 488 GTE EVO
LMGTE AM
3'52.751
28.343
0.157
20
77
Christian Ried
Sebastian Priaulx
Harry Tincknell
Porsche 911 RSR
LMGTE AM
3'53.006
28.598
0.255
21
98
Paul Dalla Lana
David Pittard
Nicki Thiim
Aston Martin Vantage AMR
LMGTE AM
3'53.578
29.170
0.572
22
54
Thomas Flohr
Francesco Castellacci
Nick Cassidy
Ferrari 488 GTE EVO
LMGTE AM
3'53.757
29.349
0.179
23
85
Rahel Frey
Michelle Gatting
Sarah Bovy
Ferrari 488 GTE EVO
LMGTE AM
3'53.869
29.461
0.112
Q1 Qualifying
Pos
No.
Drivers
Car
Class
Time
Behind
Gap
1
7
Mike Conway
Kamui Kobayashi
Jose Maria Lopez
Toyota GR010 – Hybrid
HYPERCAR
3'27.247
0.000
0.000
2
708
Olivier Pla
Romain Dumas
Pipo Derani
Glickenhaus 007 LMH
HYPERCAR
3'27.355
0.108
0.108
3
709
Ryan Briscoe
Richard Westbrook
Franck Mailleux
Glickenhaus 007 LMH
HYPERCAR
3'27.978
0.731
0.623
4
36
Andre Negrao
Nicolas Lapierre
Matthieu Vaxiviere
Alpine A480
HYPERCAR
3'29.656
2.409
1.678
5
31
Sean Gelael
Robin Frijns
René Rast
Oreca 07
LMP2
3'29.898
2.651
0.242
6
38
Roberto Gonzalez
Antonio Felix da Costa
Will Stevens
Oreca 07
LMP2
3'30.124
2.877
0.226
7
41
Rui Andrade
Ferdinand Habsburg
Norman Nato
Oreca 07
LMP2
3'30.440
3.193
0.316
8
23
Alex Lynn
Oliver Jarvis
Josh Pierson
Oreca 07
LMP2
3'30.568
3.321
0.128
9
22
Philip Hanson
Filipe Albuquerque
Will Owen
Oreca 07
LMP2
3'30.639
3.392
0.071
10
9
Robert Kubica
Louis Deletraz
Lorenzo Colombo
Oreca 07
LMP2
3'30.651
3.404
0.012
11
1
Lilou Wadoux
Sébastien Ogier
Charles Milesi
Oreca 07
LMP2
3'31.368
4.121
0.717
12
65
Julien Canal
Nico Jamin
Job Van Uitert
Oreca 07
LMP2
3'31.382
4.135
0.014
13
5
Dane Cameron
Emmanuel Collard
Felipe Nasr
Oreca 07
LMP2
3'31.462
4.215
0.080
14
32
Rolf Ineichen
Mirko Bortolotti
Dries Vanthoor
Oreca 07
LMP2
3'31.808
4.561
0.346
15
30
Richard Bradley
Guillermo Rojas
Reshad de Gerus
Oreca 07
LMP2
3'32.000
4.753
0.192
16
37
Ye Yifei
Ricky Taylor
Niklas Krütten
Oreca 07
LMP2
3'32.008
4.761
0.008
17
28
Oliver Rasmussen
Edward Jones
Jonathan Aberdein
Oreca 07
LMP2
3'32.138
4.891
0.130
18
48
Paul Lafargue
Paul-Loup Chatin
Patrick Pilet
Oreca 07
LMP2
3'32.285
5.038
0.147
19
34
Jakub Smiechowski
Alex Brundle
Esteban Gutierrez
Oreca 07
LMP2
3'32.549
5.302
0.264
20
24
Rodrigo Sales
Matthew Bell
Ben Hanley
Oreca 07
LMP2
3'32.956
5.709
0.407
21
35
Jean Baptiste Lahaye
Matthieu Lahaye
François Heriau
Oreca 07
LMP2
3'33.463
6.216
0.507
22
44
Miro Konopka
Bent Viscaal
Tristan Vautier
Oreca 07
LMP2
3'33.480
6.233
0.017
23
39
Eric Trouillet
Sébastien Page
David Droux
Oreca 07
LMP2
3'33.483
6.236
0.003
24
3
Laurents Hörr
Jean Glorieux
Alexandre Cougnaud
Oreca 07
LMP2
3'34.524
7.277
1.041
25
47
Sophia Flörsch
John Falb
Jack Aitken
Oreca 07
LMP2
3'36.371
9.124
1.847
26
83
François Perrodo
Nicklas Nielsen
Alessio Rovera
Oreca 07
LMP2
3'36.548
9.301
0.177
27
27
Cresp Christophe
Michael Jensen
Steven Palette
Ligier JSP 217
LMP2
3'38.136
10.889
1.588
28
43
David Heinemeier Hansson
Fabio Scherer
Pietro Fittipaldi
Oreca 07
LMP2
3'38.491
11.244
0.355
29
8
Sébastien Buemi
Brendon Hartley
Ryo Hirakawa
Toyota GR010 – Hybrid
HYPERCAR
3'40.842
13.595
2.351
30
92
Michael Christensen
Kevin Estre
Laurens Vanthoor
Porsche 911 RSR
LMGTE PRO
3'50.999
23.752
10.157
31
63
Antonio Garcia
Jordan Taylor
Nick Catsburg
Chevrolet Corvette C8.R
LMGTE PRO
3'51.132
23.885
0.133
32
91
Gianmaria Bruni
Richard Lietz
Frédéric Makowiecki
Porsche 911 RSR
LMGTE PRO
3'51.382
24.135
0.250
33
64
Tommy Milner
Nick Tandy
Alexander Sims
Chevrolet Corvette C8.R
LMGTE PRO
3'51.491
24.244
0.109
34
51
Alessandro Pier Guidi
James Calado
Daniel Serra
Ferrari 488 GTE EVO
LMGTE PRO
3'51.502
24.255
0.011
35
52
Miguel Molina
Antonio Fuoco
Davide Rigon
Ferrari 488 GTE EVO
LMGTE PRO
3'51.614
24.367
0.112
36
98
Paul Dalla Lana
David Pittard
Nicki Thiim
Aston Martin Vantage AMR
LMGTE AM
3'52.559
25.312
0.945
37
57
Takeshi Kimura
Frederik Schandorff
Mikkel Jensen
Ferrari 488 GTE EVO
LMGTE AM
3'53.489
26.242
0.930
38
54
Thomas Flohr
Francesco Castellacci
Nick Cassidy
Ferrari 488 GTE EVO
LMGTE AM
3'53.690
26.443
0.201
39
85
Rahel Frey
Michelle Gatting
Sarah Bovy
Ferrari 488 GTE EVO
LMGTE AM
3'54.081
26.834
0.391
40
74
Felipe Fraga
Sam Bird
Shane van Gisbergen
Ferrari 488 GTE EVO
LMGTE PRO
3'54.116
26.869
0.035
41
77
Christian Ried
Sebastian Priaulx
Harry Tincknell
Porsche 911 RSR
LMGTE AM
3'54.224
26.977
0.108
42
61
Louis Prette
Conrad Grunewald
Vincent Abril
Ferrari 488 GTE EVO
LMGTE AM
3'54.316
27.069
0.092
43
86
Michael Wainwright
Riccardo Pera
Benjamin Barker
Porsche 911 RSR
LMGTE AM
3'54.323
27.076
0.007
44
56
Brendan Iribe
Ollie Millroy
Ben Barnicoat
Porsche 911 RSR
LMGTE AM
3'54.510
27.263
0.187
45
46
Matteo Cairoli
Mikkel Pedersen
Nicolas Leutwiler
Porsche 911 RSR
LMGTE AM
3'54.533
27.286
0.023
46
79
Cooper MacNeil
Julien Andlauer
Thomas Merrill
Porsche 911 RSR
LMGTE AM
3'54.912
27.665
0.379
47
99
Andrew Haryanto
Alessio Picariello
Martin Rump
Porsche 911 RSR
LMGTE AM
3'55.076
27.829
0.164
48
59
Alexander West
Côme Ledogar
Marvin Klein
Ferrari 488 GTE EVO
LMGTE AM
3'55.162
27.915
0.086
49
21
Simon Mann
Christoph Ulrich
Toni Vilander
Ferrari 488 GTE EVO
LMGTE AM
3'55.308
28.061
0.146
50
55
Duncan Cameron
Matthew Griffin
David Perel
Ferrari 488 GTE EVO
LMGTE AM
3'55.617
28.370
0.309
51
75
Pierre Ehret
Christian Hook
Nicolas Varrone
Ferrari 488 GTE EVO
LMGTE AM
3'55.672
28.425
0.055
52
66
Renger van der Zande
Mark Kvamme
Jason Hart
Ferrari 488 GTE EVO
LMGTE AM
3'56.008
28.761
0.336
53
777
Satoshi Hoshino
Tomonobu Fujii
Charlie Fagg
Aston Martin Vantage AMR
LMGTE AM
3'56.437
29.190
0.429
54
88
Fred Poordad
Maxwell Root
Jan Heylen
Porsche 911 RSR
LMGTE AM
3'56.516
29.269
0.079
55
33
Ben Keating
Henrique Chaves Jr.
Marco Sorensen
Aston Martin Vantage AMR
LMGTE AM
3'57.044
29.797
0.528
56
60
Claudio Schiavoni
Alessandro Balzan
Raffaele Giammaria
Ferrari 488 GTE EVO
LMGTE AM
4'05.633
38.386
8.589
57
93
Michael Fassbender
Matt Campbell
Zacharie Robichon
Porsche 911 RSR
LMGTE AM
4'07.907
40.660
2.274
58
80
Matteo Cressoni
Giancarlo Fisichella
Richard Heistand
Ferrari 488 GTE EVO
LMGTE AM
4'23.223
55.976
15.316
59
10
Nico Müller
Ryan Cullen
Sébastien Bourdais
Oreca 07
LMP2
60
13
Philippe Cimadomo
Mathias Beche
Tijmen van der Helm
Oreca 07
LMP2
3'30.905
3.658
61
45
Thomas Steven
James Allen
Rene Binder
Oreca 07
LMP2
62
71
Franck Dezoteux
Pierre Ragues
Gabriel Aubry
Ferrari 488 GTE EVO
LMGTE AM
3'54.139
26.892
23.234