F1: Perez tops opening practice for the Azerbaijan GP
Picking up where he left off in Monaco two weeks ago, a confident Sergio Perez turned a lap of 1m45.476s to top opening practice for the Azerbaijan GP on the streets of Baku in his #11 Red Bull.
Charles Leclerc was 2nd quick for Ferrari, 0.127s back in his #16 car.
Max Verstappen was third in his #1 Red Bull, 0.334s behind his teammate.  It should be noted that Verstappen does not try hard in the early practice sessions, but he did spin in Turn 14 late, but did not hit anything.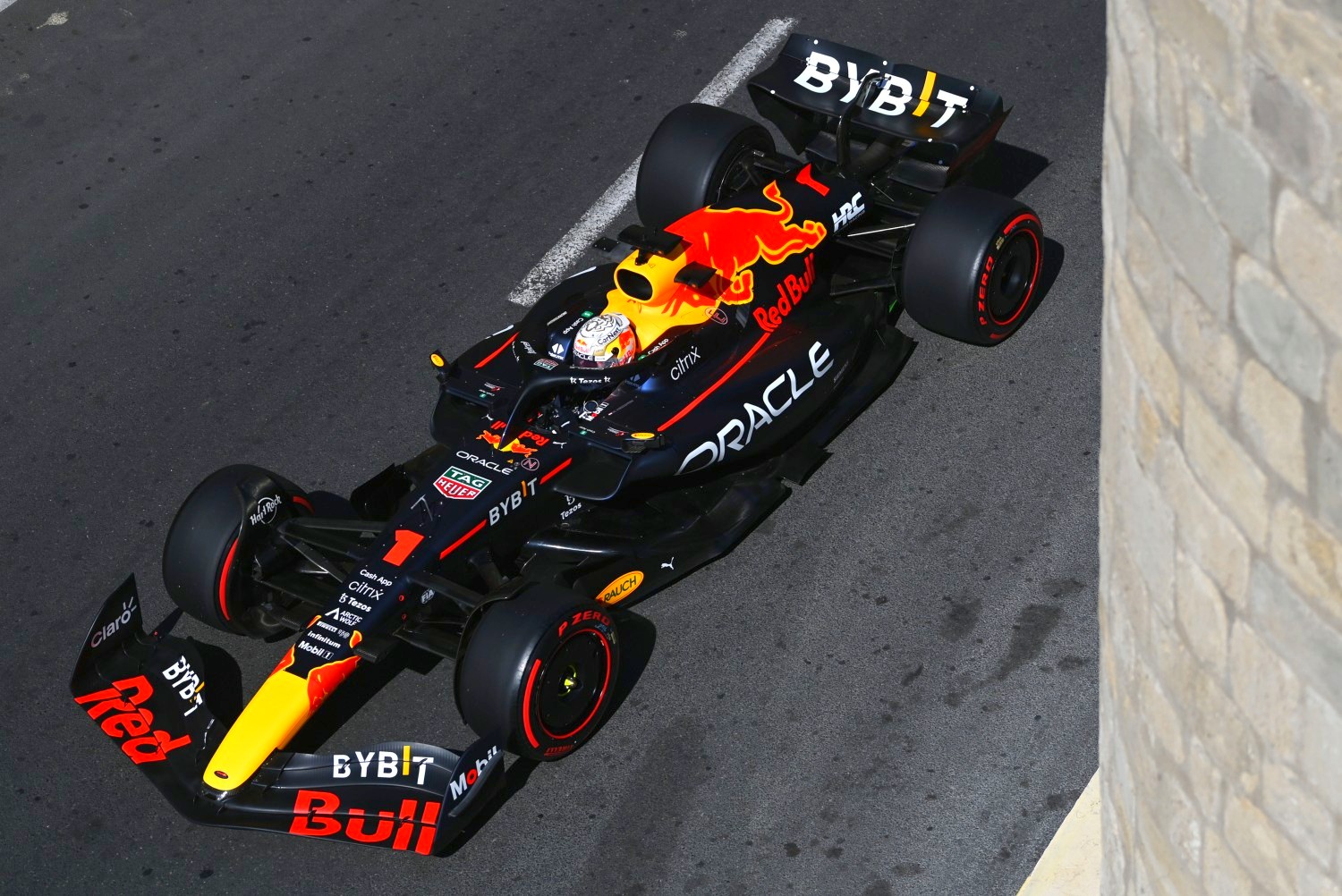 Carlos Sainz Jr. was 0.536s back in his #55 Ferrari while Fernando Alonso, sporting a new low downforce rear wing,  rounded out the top-5 for Alpine, 1.095s behind Perez in his #14 machine.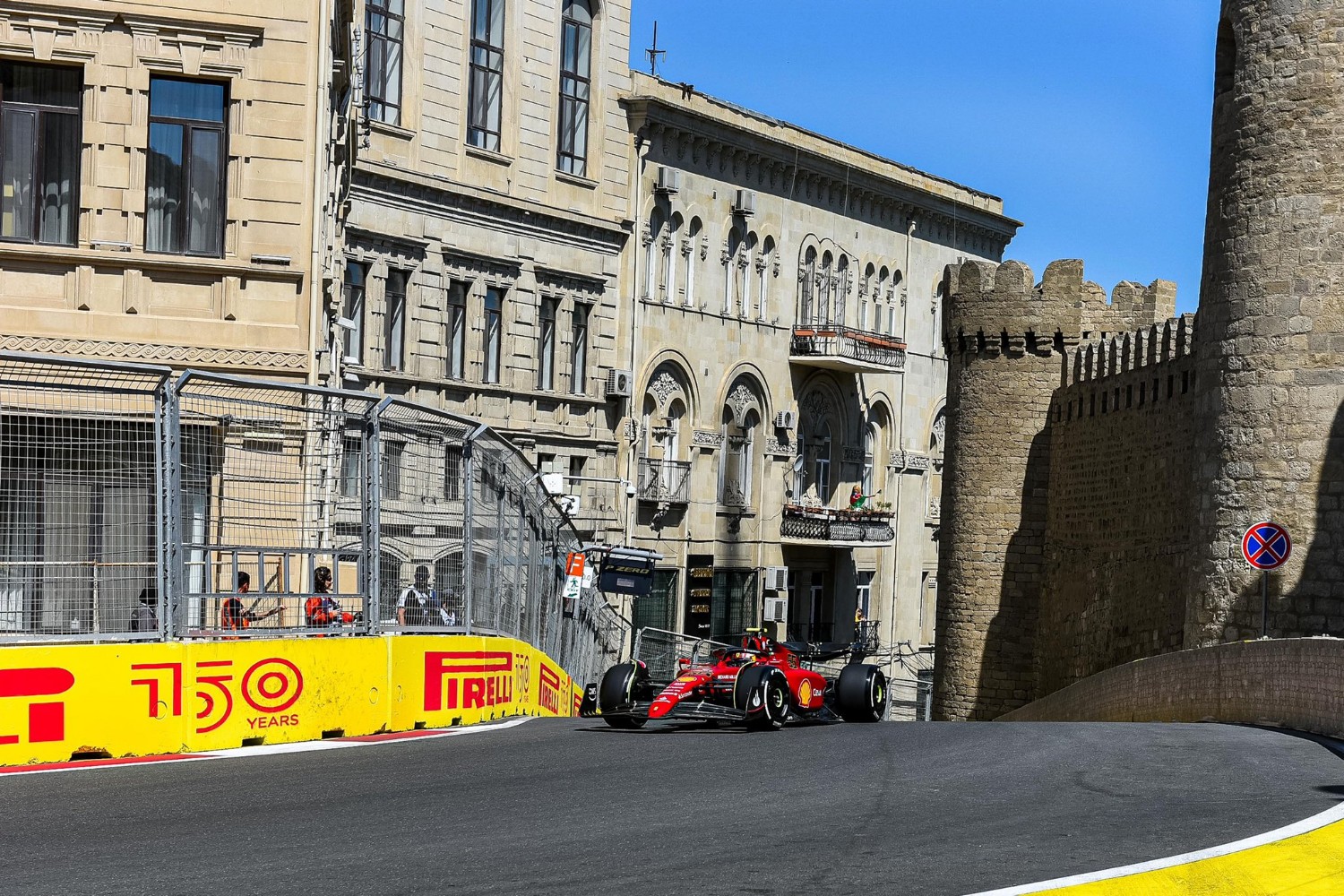 The two to miss most of the session were Schumacher and Latifi, both due to mechanical woes.
This is Formula 1's sixth visit to the coastal city since it's debut in 2016 where it quickly became a fan-favorite for its narrow sections, tight corners and high-speed straight set to a stunning historic backdrop of the city's old and new landmarks.
Since its debut race it has earned a reputation for providing some of the most dramatic moments of each F1 season.
Who can forget Max Verstappen's race ending tire failure or Lewis Hamilton's costly mistake at the 2021 restart? Or Daniel Ricciardo's incredible triple overtake into turn one in 2017? One thing is for sure: this weekend will be filled with exciting racing action!
Practice 1 Results
| | | | | | | |
| --- | --- | --- | --- | --- | --- | --- |
| POS | NO | DRIVER | CAR | TIME | GAP | LAPS |
| 1 | 11 | Sergio Perez | RED BULL RACING RBPT | 1:45.476 | +0.000s | 20 |
| 2 | 16 | Charles Leclerc | FERRARI | 1:45.603 | +0.127s | 20 |
| 3 | 1 | Max Verstappen | RED BULL RACING RBPT | 1:45.810 | +0.334s | 24 |
| 4 | 55 | Carlos Sainz | FERRARI | 1:46.012 | +0.536s | 21 |
| 5 | 14 | Fernando Alonso | ALPINE RENAULT | 1:46.571 | +1.095s | 21 |
| 6 | 44 | Lewis Hamilton | MERCEDES | 1:46.667 | +1.191s | 20 |
| 7 | 22 | Yuki Tsunoda | ALPHATAURI RBPT | 1:46.696 | +1.220s | 24 |
| 8 | 63 | George Russell | MERCEDES | 1:46.705 | +1.229s | 23 |
| 9 | 10 | Pierre Gasly | ALPHATAURI RBPT | 1:46.830 | +1.354s | 24 |
| 10 | 31 | Esteban Ocon | ALPINE RENAULT | 1:46.917 | +1.441s | 20 |
| 11 | 4 | Lando Norris | MCLAREN MERCEDES | 1:47.691 | +2.215s | 18 |
| 12 | 18 | Lance Stroll | ASTON MARTIN ARAMCO MERCEDES | 1:47.847 | +2.371s | 23 |
| 13 | 20 | Kevin Magnussen | HAAS FERRARI | 1:47.946 | +2.470s | 23 |
| 14 | 5 | Sebastian Vettel | ASTON MARTIN ARAMCO MERCEDES | 1:47.970 | +2.494s | 21 |
| 15 | 77 | Valtteri Bottas | ALFA ROMEO FERRARI | 1:48.078 | +2.602s | 21 |
| 16 | 24 | Zhou Guanyu | ALFA ROMEO FERRARI | 1:48.222 | +2.746s | 23 |
| 17 | 23 | Alexander Albon | WILLIAMS MERCEDES | 1:48.419 | +2.943s | 21 |
| 18 | 3 | Daniel Ricciardo | MCLAREN MERCEDES | 1:48.810 | +3.334s | 21 |
| 19 | 6 | Nicholas Latifi | WILLIAMS MERCEDES | 1:50.921 | +5.445s | 7 |
| 20 | 47 | Mick Schumacher | HAAS FERRARI | 1:58.332 | +12.856s | 3 |