IndyCar: Saturday Morning Report from Road America
Good morning on a partly cloudy day so far.  The forecast is predicting temperatures in the low 60s for the first NTT INDYCAR Series practice at 9:45 am.  Qualifying might be a bit wet with rain predicted early this afternoon for the scheduled Firestone Fast Six at 12:45 pm.   A final 30 minutes practice is scheduled for this afternoon at 4:20 pm
Yesterday in the first 75-minute practice, we saw a lot of cars in the pit lane with back brake issues.  Seems they were overheating and most teams were using the usual leaf blowers and other devices to cool them before going out for another run.  We will have to keep an eye on this issue this morning.
The series announced that all drivers had to run a set of the alternative (red) tires during the Friday afternoon practice.  Alexander Rossi, driver of the no 27 NAPA Auto Parts/AutoNation Andretti Autosport entry, was feeling pretty happy after being fastest the entire practice session.  The 30-year-old was asked about using the red tires so early in the weekend.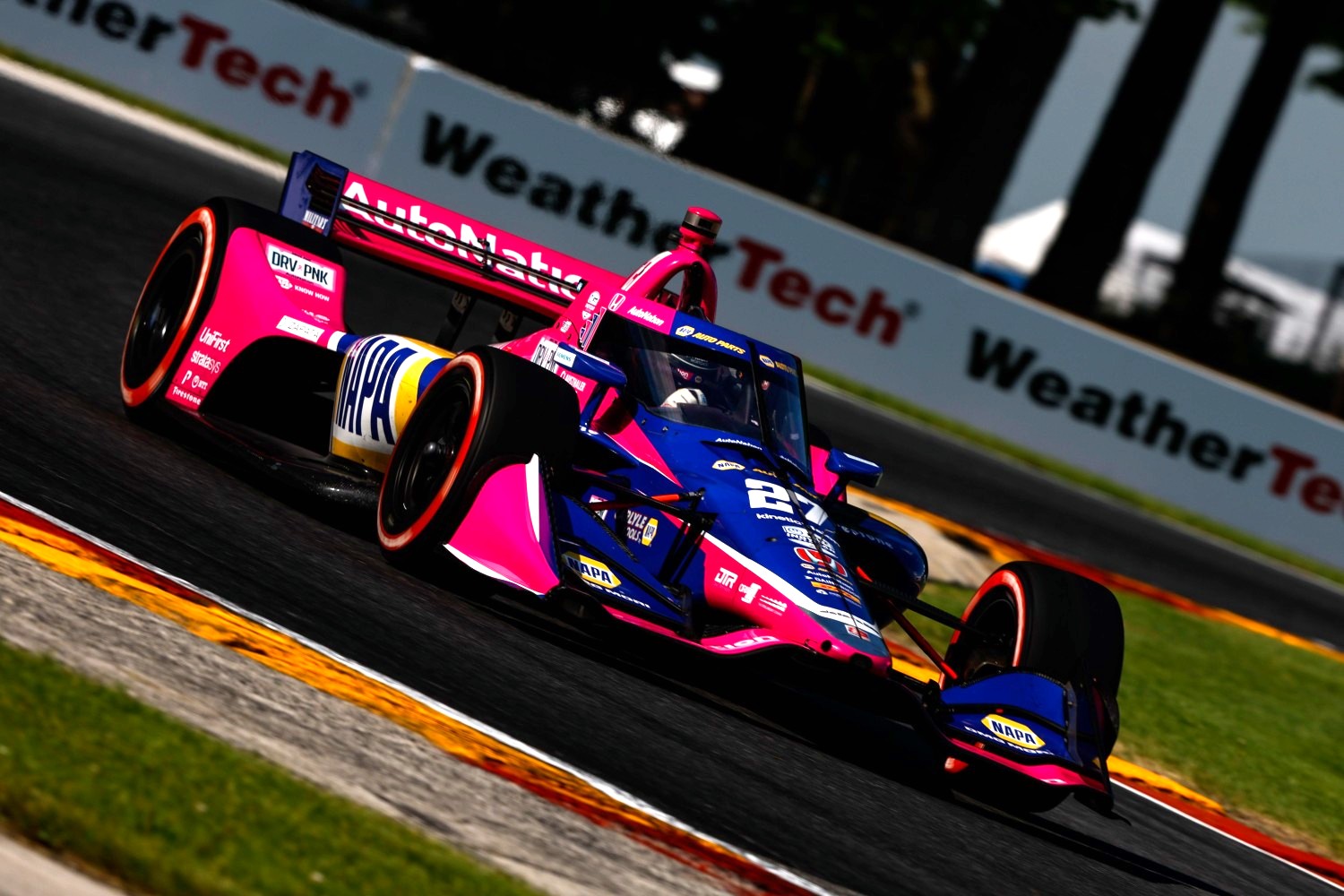 ' I guess there's a pro and a con, right? The pro is you have more time, if you're off on the reds, to adapt to it with the way that it is now. However, the swing, like the track evolution usually from practice one to practice two is like over a second, then it takes another small step to qualifying."
"Now what you have to do is see, okay, the reds were good when the track was average, and then kind of guesstimate based on how good the track, in theory, is going to go in practice two, right? You don't actually have an understanding of what the alternates are going to do on the better track."
"It's certainly something we're going to have to make the offset adjustments going into the qualifying. You got to make those a little bit bigger than we have had in the past couple weekends."
Simona De Silvestro, driver of the no 16 Paretta Autosport entry, was happy with her first run yesterday.  I noticed that Ed Carpenter, her strategist, had to explain where the wires went for her helmet before she was strapped into her car.
The Swiss driver was asked how her first day went.  "I think going out today, to be honest, it was like everything was new. Even like pit limiter, how to do that. Just going and driving. When you turn, the car really turns."
"In the beginning it kind of surprises you because it's so agile. Also the braking is really powerful. It took me a few laps just to get that sorted. "
"I feel like now that's kind of, okay, I figured that out, I'm feeling the car well. What could be better, what could we be doing better. In the high-speed stuff, it's a lot of commitment."
"For sure, just sleeping over it, usually the next day is always better."
Lucille Dust reporting live from Road America