Le Mans Hour 1: Toyotas run 1-2
The 90th running of the Le Mans 24 Hours is underway with one hour of racing completed in front of large crowds and perfect warm and sunny conditions.
Toyota run 1-2 but the No.7 car driven by Mike Conway overtakes No.8 car of Sebastien Buemi after 45-minutes of racing.
Corvette Racing similarly run in formation at front of the LMGTE Pro category as Porsche and Ferrari give chase.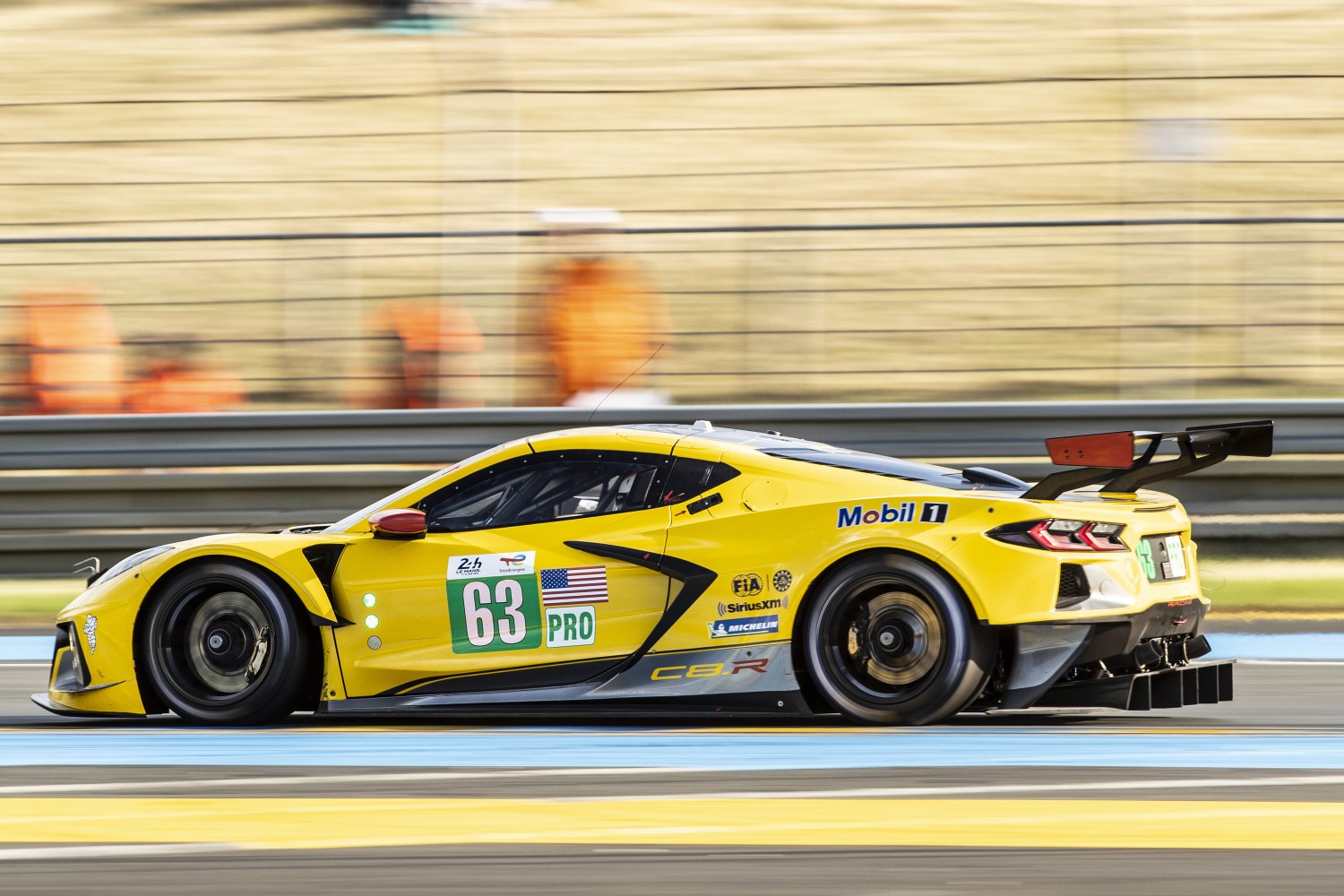 LMP2 sees the most drama with a first corner incident compromising two front runners – the No.31 WRT and No.22 United Autosports USA entries.
Hardpoint Motorsport lead LMGTE Am from Team Project 1 Porsche.
Hour 1 Standings
| | | | | | | | |
| --- | --- | --- | --- | --- | --- | --- | --- |
| Pos | No./Team | Drivers | Car | Class | Laps | Behind | Gap |
| 1 | 7 Toyota Gazoo Racing | M. CONWAY / K. KOBAYASHI / J. LOPEZ | Toyota GR010 HYBRID | HYPERCAR H | 17 | 0.000 | 0.0000 |
| 2 | 8 Toyota Gazoo Racing | S. BUEMI / B. HARTLEY / R. HIRAKAWA | Toyota GR010 HYBRID | HYPERCAR H | 17 | 4.202 | 4.202 |
| 3 | 708 Glickenhaus Racing | O. PLA / R. DUMAS / L. DERANI | Glickenhaus 007 LMH | HYPERCAR | 17 | 24.841 | 20.639 |
| 4  | 709 Glickenhaus Racing R.  | BRISCOE / R. WESTBROOK / F. MAILLEUX | Glickenhaus 007 LMH | HYPERCAR | 17 | 1:02:18.614 29.548 | 4.707 |
|  5 |  36 Alpine Elf Team | A. NEGRÃO / N. LAPIERRE / M. VAXIVIERE | Alpine A480 – Gibson | HYPERCAR | 17 | 1:02:20.098 31.032 | 1.484 |
| 6 | 38 JOTA | R. GONZALEZ / A. DA COSTA / W. STEVENS | Oreca 07 – Gibson | LMP2 | 17 | 1:07.813 | 36.781 |
| 7 | 9 Prema Orlen Team | R. KUBICA / L. DELETRAZ / L. COLOMBO | Oreca 07 – Gibson | LMP2 | 17 | 1:13.435 | 5.622 |
| 8 | 5 Team Penske | D. CAMERON / E. COLLARD / F. NASR | Oreca 07 – Gibson | LMP2 | 17 | 1:23.894 | 10.459 |
| 9 | 32 Team WRT | R. INEICHEN / M. BORTOLOTTI / D. VANTHOOR | Oreca 07 – Gibson | LMP2 | 17 | 1:24.484 | 0.590 |
| 10 | 1 Richard Mille Racing | L. WADOUX / S. OGIER / C. MILESI | Oreca 07 – Gibson | LMP2 | 17 | 1:30.032 | 5.548 |
| 11 | 65 Panis Racing | J. CANAL / N. JAMIN / J. VAN UITERT | Oreca 07 – Gibson | LMP2 | 17 | 1:32.741 | 2.709 |
| 12 | 37 COOL Racing | Y. YE / R. TAYLOR / N. KRUETTEN | Oreca 07 – Gibson | LMP2 | 17 | 1:34.279 | 1.538 |
| 13 | 43 Inter Europol Competition | D. HEINEMEIER-HANSSON / F. SCHERER / P. FITTIPALDI | Oreca 07 – Gibson | LMP2 | 17 | 1:37.281 | 3.002 |
| 14 | 34 Inter Europol Competition | J. SMIECHOWSKI / A. BRUNDLE / E. GUTIERREZ | Oreca 07 – Gibson | LMP2 | 17 | 1:45.170 | 7.889 |
| 15 | 24 Nielsen Racing | R. SALES / M. BELL / B. HANLEY | Oreca 07 – Gibson | LMP2 P/A | 17 | 1:55.485 | 10.315 |
| 16 | 83 AF Corse | F. PERRODO / N. NIELSEN / A. ROVERA | Oreca 07 – Gibson | LMP2 P/A | 17 | 1:59.087 | 3.602 |
| 17 | 30 Duqueine Team | R. BRADLEY / G. ROJAS / R. DE GERUS | Oreca 07 – Gibson | LMP2 | 17 | 2:05.187 | 6.100 |
| 18 | 48 IDEC Sport | P. LAFARGUE / P. CHATIN / P. PILET | Oreca 07 – Gibson | LMP2 | 17 | 2:06.586 | 1.399 |
| 19 | 45 Algarve Pro Racing | S. THOMAS / J. ALLEN / R. BINDER | Oreca 07 – Gibson | LMP2 P/A | 17 | 2:08.586 | 2.000 |
| 20 | 10 Vector Sport | N. MÜLLER / R. CULLEN / S. BOURDAIS | Oreca 07 – Gibson | LMP2 | 17 | 2:15.804 | 7.218 |
| 21 | 23 United Autosports USA | A. LYNN / O. JARVIS / J. PIERSON | Oreca 07 – Gibson | LMP2 | 17 | 2:17.724 | 1.920 |
| 22 | 28 JOTA | O. RASMUSSEN / E. JONES / J. ABERDEIN | Oreca 07 – Gibson | LMP2 | 17 | 2:26.586 | 8.862 |
| 23 | 44 ARC Bratislava | M. KONOPKA / B. VISCAAL / T. VAUTIER | Oreca 07 – Gibson | LMP2 P/A | 17 | 2:41.244 | 14.658 |
| 24 | 3 DKR Engineering | L. HORR / J. GLORIEUX / A. COUGNAUD | Oreca 07 – Gibson | LMP2 P/A | 17 | 2:44.162 | 2.918 |
| 25 | 13 TDS Racing x Vaillante | N. DE VRIES / M. BECHE / T. VAN DER HELM | Oreca 07 – Gibson | LMP2 | 17 | 3:04.298 | 20.136 |
| 26 | 31 WRT | S. GELAEL / R. FRIJNS / R. RAST | Oreca 07 – Gibson | LMP2 | 16 | 1 Lap | 1 Lap |
| 27 | 39 Graff Racing | E. TROUILLET / S. PAGE / D. DROUX | Oreca 07 – Gibson | LMP2 P/A | 16 | 1 Lap | 41.724 |
| 28 | 27 CD Sport | C. CRESP / M. JENSEN / S. PALETTE | Ligier JSP217 – Gibson | LMP2 P/A | 16 | 1 Lap | 4.738 |
| 29 | 35 Ultimate | J. LAHAYE / M. LAHAYE / F. HERIAU | Oreca 07 – Gibson | LMP2 P/A | 16 | 1 Lap | 1.299 |
| 30 | 64 Corvette Racing | T. MILNER / N. TANDY / A. SIMS | Chevrolet Corvette C8.R | LMGTE Pro | 16 | 1 Lap | 1:59.639 |
| 31 | 63 Corvette Racing | A. GARCIA / J. TAYLOR / N. CATSBURG | Chevrolet Corvette C8.R | LMGTE Pro | 16 | 1 Lap | 4.192 |
| 32 | 92 Porsche GT Team | M. CHRISTENSEN / K. ESTRE / L. VANTHOOR | Porsche 911 RSR – 19 | LMGTE Pro | 16 | 1 Lap | 4.352 |
| 33 | 91 Porsche GT Team | G. BRUNI / R. LIETZ / F. MAKOWIECKI | Porsche 911 RSR – 19 | LMGTE Pro | 16 | 1 Lap | 20.162 |
| 34 | 51 AF Corse | A. PIER GUIDI / J. CALADO / D. SERRA | Ferrari 488 GTE Evo | LMGTE Pro | 16 | 1 Lap | 7.777 |
| 35 | 52 AF Corse | M. MOLINA / A. FUOCO / D. RIGON | Ferrari 488 GTE Evo | LMGTE Pro | 16 | 1 Lap | 7.366 |
| 36 | 74 Riley Motorsports | F. FRAGA / S. BIRD / S. VAN GISBERGEN | Ferrari 488 GTE Evo | LMGTE Pro | 16 | 1 Lap | 7.977 |
| 37 | 99 Hardpoint Motorsport | A. HARYANTO / A. PICARIELLO / M. RUMP | Porsche 911 RSR – 19 | LMGTE Am | 16 | 1 Lap | 3.265 |
| 38 | 46 Team Project 1 | M. CAIROLI / M. PEDERSEN / N. LEUTWILER | Porsche 911 RSR – 19 | LMGTE Am | 16 | 1 Lap | 0.431 |
| 39 | 79 WeatherTech Racing | C. MACNEIL / J. ANDLAUER / T. MERRILL | Porsche 911 RSR – 19 | LMGTE Am | 16 | 1 Lap | 8.653 |
| 40 | 77 Dempsey – Proton Racing | C. RIED / S. PRIAULX / H. TINCKNELL | Porsche 911 RSR – 19 | LMGTE Am | 16 | 1 Lap | 6.971 |
| 41 | 41 Realteam by WRT | R. ANDRADE / F. HABSBURG / N. NATO | Oreca 07 – Gibson | LMP2 | 16 | 1 Lap | 1.195 |
| 42 | 98 Northwest AMR | P. DALLA LANA / D. PITTARD / N. THIIM | Aston Martin VANTAGE AMR | LMGTE Am | 16 | 1 Lap | 9.731 |
| 43 | 88 Dempsey – Proton Racing | F. POORDAD / M. ROOT / J. HEYLEN | Porsche 911 RSR – 19 | LMGTE Am | 16 | 1 Lap | 1.917 |
| 44 | 61 AF Corse | L. PRETTE / C. GRUNEWALD / V. ABRIL | Ferrari 488 GTE Evo | LMGTE Am | 16 | 1 Lap | 6.734 |
| 45 | 57 Kessel Racing | T. KIMURA / F. SCHANDORFF / M. JENSEN | Ferrari 488 GTE Evo | LMGTE Am | 16 | 1 Lap | 2.711 |
| 46 | 33 TF Sport | B. KEATING / H. CHAVES / M. SØRENSEN | Aston Martin VANTAGE AMR | LMGTE Am | 15 | 2 Laps | 1 Lap |
| 47 | 59 Inception Racing | A. WEST / C. LEDOGAR / M. KLEIN | Ferrari 488 GTE Evo | LMGTE Am | 15 | 2 Laps | 0.476 |
| 48 | 56 Team Project 1 | B. IRIBE / O. MILLROY / B. BARNICOAT | Porsche 911 RSR – 19 | LMGTE Am | 15 | 2 Laps | 1.832 |
| 49 | 21 AF Corse | S. MANN / C. ULRICH / T. VILANDER | Ferrari 488 GTE Evo | LMGTE Am | 15 | 2 Laps | 3.029 |
| 50 | 55 Spirit of Race | D. CAMERON / M. GRIFFIN / D. PEREL | Ferrari 488 GTE Evo | LMGTE Am | 15 | 2 Laps | 3.879 |
| 51 | 86 GR Racing | M. WAINWRIGHT / R. PERA / B. BARKER | Porsche 911 RSR – 19 | LMGTE Am | 15 | 2 Laps | 0.844 |
| 52 | 777 D'Station Racing | S. HOSHINO / T. FUJII / C. FAGG | Aston Martin VANTAGE AMR | LMGTE Am | 15 | 2 Laps | 3.160 |
| 53 | 54 AF Corse | T. FLOHR / F. CASTELLACCI / N. CASSIDY | Ferrari 488 GTE Evo | LMGTE Am | 15 | 2 Laps | 2.883 |
| 54 | 80 Iron Lynx | M. CRESSONI / G. FISICHELLA / R. HEISTAND | Ferrari 488 GTE Evo | LMGTE Am | 15 | 2 Laps | 1.437 |
| 55 | 75 Iron Lynx | P. EHRET / C. HOOK / N. VARRONE | Ferrari 488 GTE Evo | LMGTE Am | 15 | 2 Laps | 1.426 |
| 56 | 93 Proton Competition | M. FASSBENDER / M. CAMPBELL / Z. ROBICHON | Porsche 911 RSR – 19 | LMGTE Am | 15 | 2 Laps | 20.562 |
| 57 | 71 Spirit of Race | F. DEZOTEUX / P. RAGUES / G. AUBRY | Ferrari 488 GTE Evo | LMGTE Am | 15 | 2 Laps | 2.688 |
| 58 | 85 Iron Dames | R. FREY / M. GATTING / S. BOVY | Ferrari 488 GTE Evo | LMGTE Am | 15 | 2 Laps | 26.359 |
| 59 | 22 United Autosports USA | P. HANSON / F. ALBUQUERQUE / W. OWEN | Oreca 07 – Gibson | LMP2 | 15 | 2 Laps | 27.353 |
| 60 | 66 JMW Motorsport | R. VAN DER ZANDE / M. KVAMME / J. HART | Ferrari 488 GTE Evo | LMGTE Am | 15 | 2 Laps | 45.884 |
| 61 | 60 Iron Lynx | C. SCHIAVONI / A. BALZAN / R. GIAMMARIA | Ferrari 488 GTE Evo | LMGTE Am | 15 | 2 Laps | 24.454 |
| 62 | 47 Algarve Pro Racing | S. FLOERSCH / J. FALB / J. AITKEN | Oreca 07 – Gibson | LMP2 P/A | 12 | 5 Laps | 3 Laps |