Le Mans: Toyota and Corvette lead with 8 hours to go
It's daybreak in Le Mans now and at the 2/3rds mark the Toyota Gazoo Racing continues its stranglehold at the 24 Hours of Le Mans, now with the #8 GR010 leading from the sister car. The Hirakawa, Hartley, and Buemi now lead after the #7, which had taken the lead just after the 13 hour mark, but the #8 is back in front by almost a lap now, after the #7 was delayed with a minor issue.
Don't count the #7 out yet, they are charging.
Lopez was holding a comfortable lead of 15 seconds when his #7 Toyota GR010 crawled to a halt at Arnage, with Hartley passing him for the lead by the time the Argentine was able to perform a reset and get going again.
The #7 Toyota lost further time when Lopez brought the car into the pits at the end of the lap, leaving him more than a lap behind the sister car with eight hours remaining in the race.
The #7 sits comfortably in second, with Jose Maria Lopez enjoying a 3 lap gap to the third placed #709 Glickenhaus Racing SCG007, with Richard Westbrook behind the wheel. The 708 Glickenhaus is currently in 8th place overall.
LMP2 is still being lead by the #38 JOTA Oreca 07, now with Will Stevens behind the wheel.
There has been a change in GTE Pro, with the #92 Porsche of Michael Christensen, Kevin Estre, and Laurens Vanthoor now a couple laps behind the #64 Chevrolet Corvette and the #51 AF Corse Ferrari. The #91 has now taken up the charge for Porsche in 3rd but almost a lap back.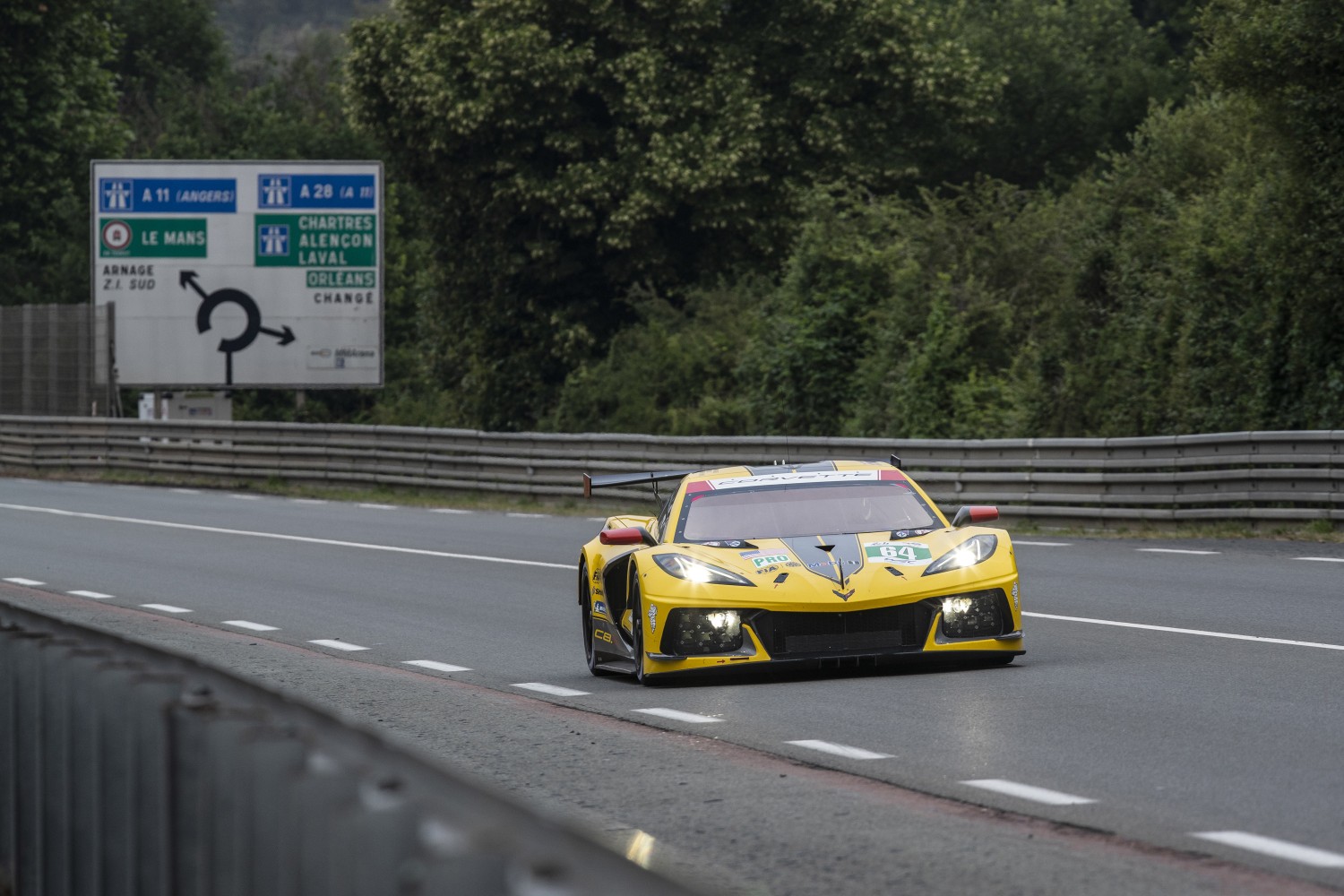 The #99 Hardpoint Porsche leads in LM GTE Am by 26s over the #33 Aston Martin.
Hour 16 of 24 Standings
| | | | | | | | | | |
| --- | --- | --- | --- | --- | --- | --- | --- | --- | --- |
| POS | NO. | STATUS | CLASS | TEAM | CURRENT DRIVER | CAR | LAPS | BEHINDS | GAP |
| 1 | 8 | RUN | Hypercar H | Toyota Gazoo Racing | HARTLEY Brendon | Toyota GR010 HYBRID | 260 | – | – |
| 2 | 7 | RUN | Hypercar H | Toyota Gazoo Racing | LOPEZ Jose Maria | Toyota GR010 HYBRID | 259 | 1 lap | 1 lap |
| 3 | 709 | RUN | Hypercar | Glickenhaus Racing | WESTBROOK Richard | Glickenhaus 007 LMH | 256 | 4 laps | 3 laps |
| 4 | 38 | RUN | LM P2 | JOTA | STEVENS William | Oreca 07 – Gibson | 252 | 8 laps | 4 laps |
| 5 | 9 | IN | LM P2 | Prema Orlen Team | KUBICA Robert | Oreca 07 – Gibson | 252 | 8 laps | 1:37.755 |
| 6 | 28 | RUN | LM P2 | JOTA | JONES Edward | Oreca 07 – Gibson | 251 | 2:18.302 | 2:18.302 |
| 7 | 37 | RUN | LM P2 | Cool Racing | TAYLOR Ricky | Oreca 07 – Gibson | 251 | 2:38.995 | 20.629 |
| 8 | 708 | OUT | Hypercar | Glickenhaus Racing | PLA Olivier | Glickenhaus 007 LMH | 251 | 2:54.547 | 15.405 |
| 9 | 23 | RUN | LM P2 | United Autosports USA | JARVIS Oliver | Oreca 07 – Gibson | 251 | 9 laps | 1:00.451 |
| 10 | 13 | OUT | LM P2 | TDS Racing X Vaillante | VAN DER HELM Tijmen | Oreca 07 – Gibson | 251 | 1.640 | 1.640 |
| 11 | 5 | RUN | LM P2 | Team Penske | CAMERON Dane | Oreca 07 – Gibson | 251 | 8.888 | 7.248 |
| 12 | 31 | RUN | LM P2 | WRT | GELAEL Sean | Oreca 07 – Gibson | 251 | 18.100 | 9.223 |
| 13 | 32 | RUN | LM P2 | Team WRT | VANTHOOR Dries | Oreca 07 – Gibson | 250 | 1:44.098 | 1 lap |
| 14 | 1 | RUN | LM P2 | Richard Mille Racing | MILESI Charles | Oreca 07 – Gibson | 250 | 10 laps | 1:56.322 |
| 15 | 34 | RUN | LM P2 | Inter Europol Competition | BRUNDLE Alex | Oreca 07 – Gibson | 250 | 9.594 | 9.594 |
| 16 | 22 | RUN | LM P2 | United Autosports Usa | ALBUQUERQUE Filipe | Oreca 07 – Gibson | 249 | 1:25.652 | 1 lap |
| 17 | 36 | RUN | Hypercar | Alpine Elf Team | VAXIVIERE Matthieu | Alpine A480 – Gibson | 249 | 11 laps | 1:38.721 |
| 18 | 48 | IN | LM P2 | Idec Sport | LAFARGUE Paul | Oreca 07 – Gibson | 249 | 11 laps | 20.709 |
| 19 | 65 | OUT | LM P2 | Panis Racing | CANAL Julien | Oreca 07 – Gibson | 248 | 2:04.500 | 1:50.993 |
| 20 | 43 | RUN | LM P2 | Inter Europol Competition | HEINEMEIER-HANSSON David | Oreca 07 – Gibson | 248 | 12 laps | 2:19.780 |
| 21 | 41 | RUN | LM P2 | Realteam By Wrt | NATO Norman | Oreca 07 – Gibson | 247 | 1:27.321 | 1 lap |
| 22 | 45 | RUN | LM P2 P/A | Algarve Pro Racing | ALLEN James | Oreca 07 – Gibson | 247 | 1:47.523 | 20.202 |
| 23 | 83 | RUN | LM P2 P/A | AF Corse | ROVERA Alessio | Oreca 07 – Gibson | 247 | 13 laps | 1:13.532 |
| 24 | 3 | RUN | LM P2 P/A | DKR Engineering | HORR Laurents | Oreca 07 – Gibson | 246 | 1:23.831 | 1:23.831 |
| 25 | 24 | RUN | LM P2 P/A | Nielsen Racing | SALES Rodrigo | Oreca 07 – Gibson | 246 | 14 laps | 1:34.803 |
| 26 | 39 | RUN | LM P2 P/A | Graff Racing | PAGE Sébastien | Oreca 07 – Gibson | 245 | 2:55.822 | 2:55.822 |
| 27 | 10 | RUN | LM P2 | Vector Sport | BOURDAIS Sébastien | Oreca 07 – Gibson | 245 | 3:21.774 | 26.157 |
| 28 | 44 | RUN | LM P2 P/A | Arc Bratislava | KONOPKA Miroslav | Oreca 07 – Gibson | 245 | 15 laps | 23.143 |
| 29 | 47 | IN | LM P2 P/A | Algarve Pro Racing | AITKEN Jack | Oreca 07 – Gibson | 244 | 16 laps | 1 lap |
| 30 | 35 | RUN | LM P2 P/A | Ultimate | HERIAU François | Oreca 07 – Gibson | 243 | 17 laps | 3:16.550 |
| 31 | 64 | RUN | LM GTE Pro | Corvette Racing | SIMS Alexander | Chevrolet Corvette C8.R | 238 | 22 laps | 5 laps |
| 32 | 51 | RUN | LM GTE Pro | AF Corse | SERRA Daniel | Ferrari 488 GTE Evo | 238 | 21.002 | 21.002 |
| 33 | 91 | RUN | LM GTE Pro | Porsche Gt Team | LIETZ Richard | Porsche 911 RSR – 19 | 237 | 23 laps | 3:16.138 |
| 34 | 52 | RUN | LM GTE Pro | AF Corse | RIGON Davide | Ferrari 488 GTE Evo | 237 | 5.927 | 5.927 |
| 35 | 74 | RUN | LM GTE Pro | Riley Motorsports | VAN GISBERGEN Shane | Ferrari 488 GTE Evo | 236 | 24 laps | 1 lap |
| 36 | 92 | RUN | LM GTE Pro | Porsche Gt Team | VANTHOOR Laurens | Porsche 911 RSR – 19 | 235 | 25 laps | 3:02.666 |
| 37 | 99 | RUN | LM GTE Am | Hardpoint Motorsport | HARYANTO Andrew | Porsche 911 RSR – 19 | 233 | 27 laps | 57.489 |
| 38 | 33 | OUT | LM GTE Am | TF Sport | KEATING Ben | Aston Martin VANTAGE AMR | 233 | 26.263 | 26.263 |
| 39 | 98 | RUN | LM GTE Am | Northwest Amr | DALLA LANA Paul | Aston Martin VANTAGE AMR | 233 | 36.134 | 9.871 |
| 40 | 79 | RUN | LM GTE Am | Weathertech Racing | MACNEIL Cooper | Porsche 911 RSR – 19 | 233 | 1:25.453 | 49.908 |
| 41 | 56 | OUT | LM GTE Am | Team Project 1 | IRIBE Brendan | Porsche 911 RSR – 19 | 233 | 27 laps | 7.426 |
| 42 | 77 | OUT | LM GTE Am | Dempsey – Proton Racing | RIED Christian | Porsche 911 RSR – 19 | 233 | 2.520 | 2.520 |
| 43 | 86 | RUN | LM GTE Am | Gr Racing | PERA Riccardo | Porsche 911 RSR – 19 | 233 | 36.598 | 33.939 |
| 44 | 54 | OUT | LM GTE Am | AF Corse | CASTELLACCI Francesco | Ferrari 488 GTE Evo | 232 | 28 laps | 3:47.604 |
| 45 | 88 | RUN | LM GTE Am | Dempsey – Proton Racing | POORDAD Fred | Porsche 911 RSR – 19 | 231 | 2:43.558 | 2:43.558 |
| 46 | 21 | RUN | LM GTE Am | AF Corse | ULRICH Christoph | Ferrari 488 GTE Evo | 231 | 29 laps | 2:59.196 |
| 47 | 85 | RUN | LM GTE Am | Iron Dames | BOVY Sarah | Ferrari 488 GTE Evo | 230 | 1:04.617 | 1:04.617 |
| 48 | 55 | OUT | LM GTE Am | Spirit Of Race | CAMERON Duncan | Ferrari 488 GTE Evo | 230 | 2:38.587 | 1:33.271 |
| 49 | 61 | RUN | LM GTE Am | AF Corse | GRUNEWALD Conrad | Ferrari 488 GTE Evo | 229 | 31 laps | 4:47.216 |
| 50 | 57 | RUN | LM GTE Am | Kessel Racing | SCHANDORFF Frederik | Ferrari 488 GTE Evo | 228 | 32 laps | 1 lap |
| 51 | 60 | RUN | LM GTE Am | Iron Lynx | BALZAN Alessandro | Ferrari 488 GTE Evo | 228 | 16.809 | 16.809 |
| 52 | 80 | OUT | LM GTE Am | Iron Lynx | HEISTAND Richard | Ferrari 488 GTE Evo | 227 | 1:20.194 | 1:03.459 |
| 53 | 66 | RUN | LM GTE Am | JMW Motorsport | VAN DER ZANDE Renger | Ferrari 488 GTE Evo | 224 | 36 laps | 3 laps |
| 54 | 75 | RUN | LM GTE Am | Iron Lynx | EHRET Pierre | Ferrari 488 GTE Evo | 224 | 36 laps | 2:21.016 |
| 55 | 93 | OUT | LM GTE Am | Proton Competition | CAMPBELL Matt | Porsche 911 RSR – 19 | 222 | 38 laps | 2 laps |
| 56 | 27 | RUN | LM P2 P/A | Cd Sport | CRESP Christophe | Ligier JSP217 – Gibson | 222 | 38 laps | 1:28.038 |
| 57 | 63 | IN | LM GTE Pro | Corvette Racing | TAYLOR Jordan | Chevrolet Corvette C8.R | 214 | 46 laps | 8 laps |
| 58 | 30 | RUN | LM P2 | Duqueine Team | DE GERUS Reshad | Oreca 07 – Gibson | 209 | 51 laps | 5 laps |
| 59 | 777 | IN | LM GTE Am | D'station Racing | FAGG Charles | Aston Martin VANTAGE AMR | 112 | 148 laps | 97 laps |
| 60 | 59 | Ret | LM GTE Am | Inception Racing | WEST Alexander | Ferrari 488 GTE Evo | 190 | 70 laps | 3 laps |
| 61 | 71 | Ret | LM GTE Am | Spirit Of Race | AUBRY Gabriel | Ferrari 488 GTE Evo | 127 | 133 laps | 12 laps |
| 62 | 46 | Ret | LM GTE Am | Team Project 1 | CAIROLI Matteo | Porsche 911 RSR – 19 | 77 | 183 laps | 35 laps |