NASCAR: Saurez becomes first Mexican-born driver to win Cup race
Daniel Suárez roared to his first NASCAR Cup Series win Sunday, leading the most laps and prevailing at Sonoma Raceway.
Suárez was in front for 47 of the 110 laps in the Toyota/Save Mart 350, pushing the Trackhouse Racing No. 99 Chevrolet to a 3.849-second margin of victory as the end. His triumph on the 1.99-mile road course was the first in the Cup Series for a Mexican-born driver.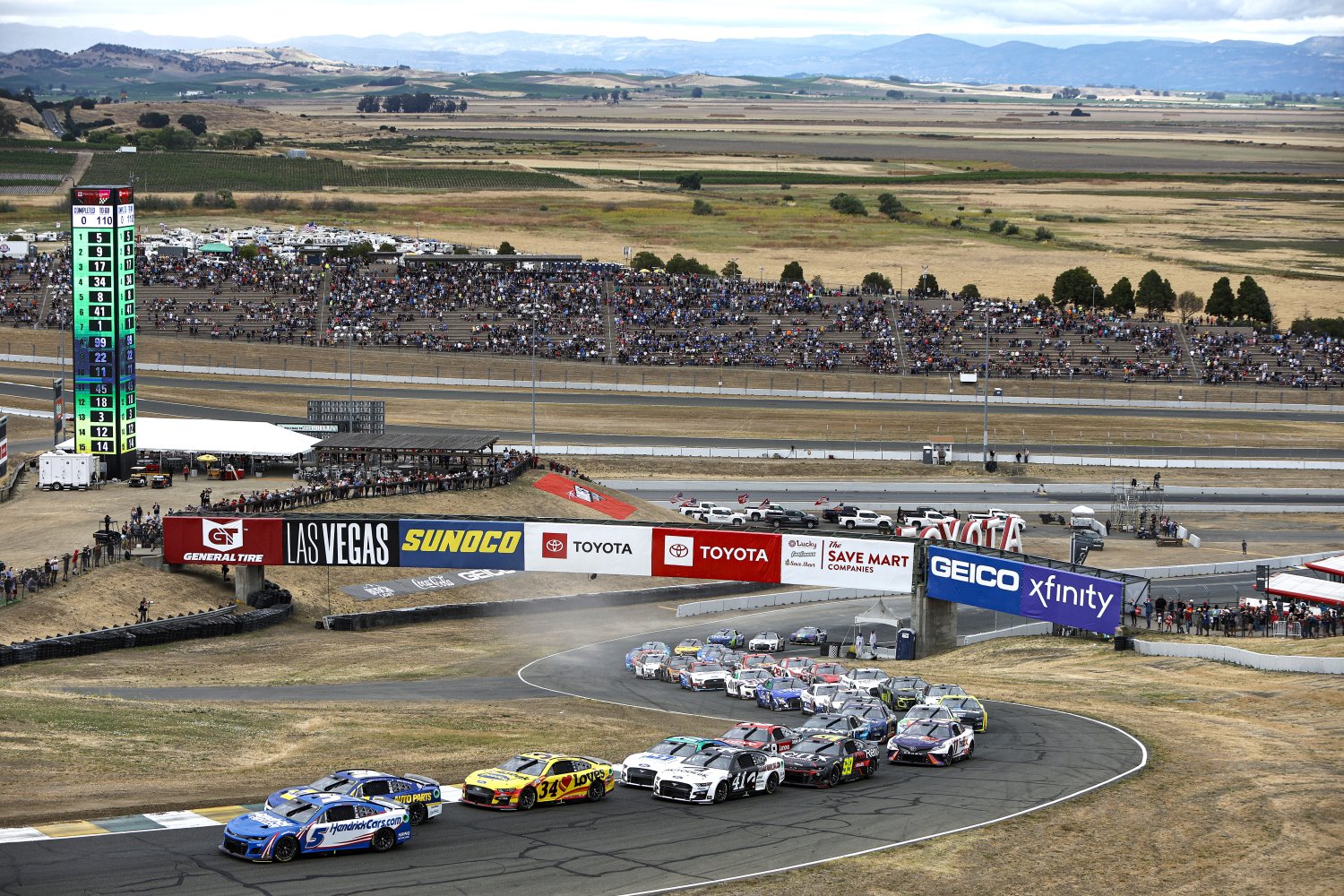 Chris Buescher, back after a one-week absence due to COVID-19, placed second in the No. 17 RFK Racing Ford. Michael McDowell finished third with Kevin Harvick fourth and Daytona 500 winner Austin Cindric completing the top five.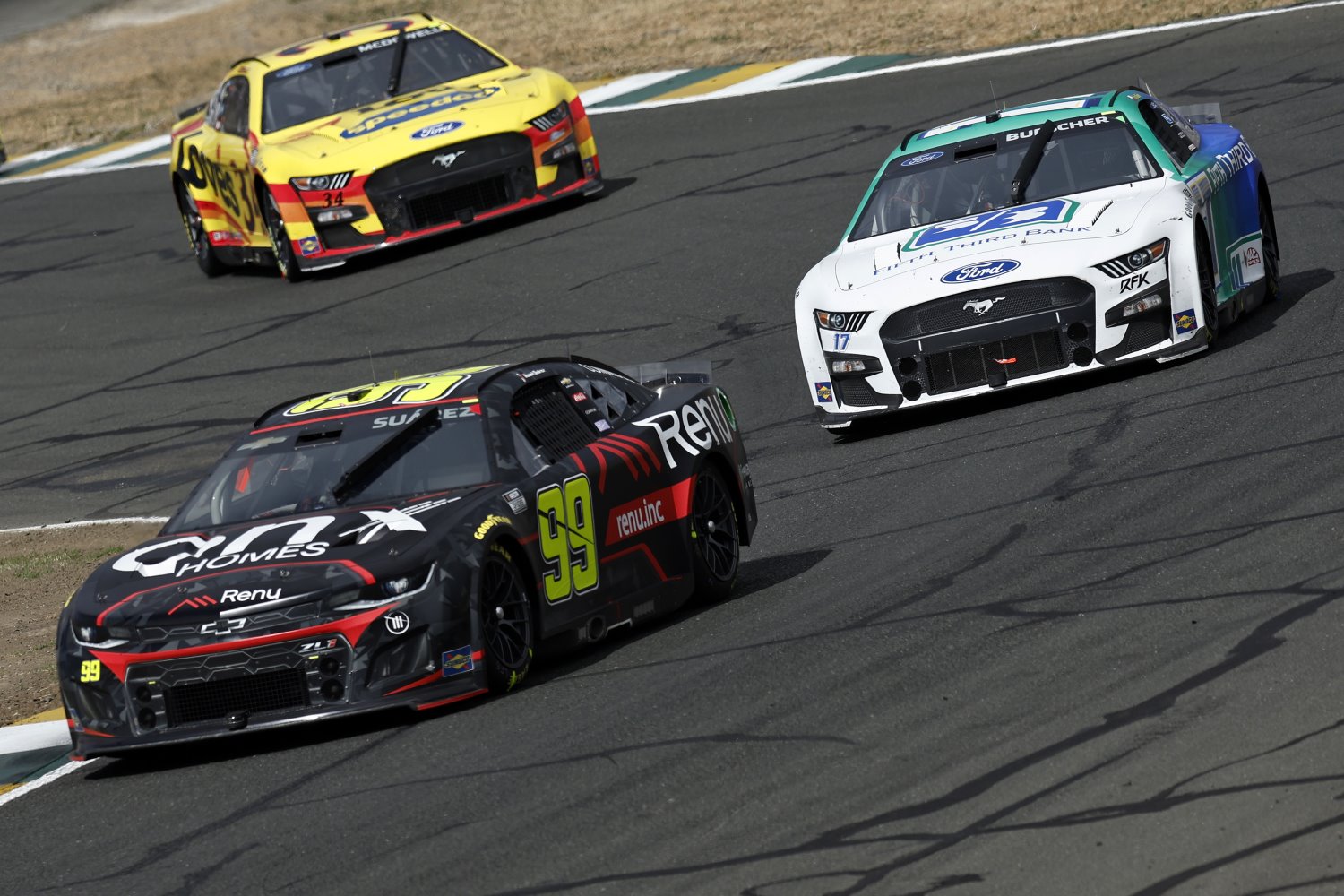 Points leader Chase Elliott led 26 laps, but was hampered by a penalty for service outside the pit box by his No. 9 team near the end of Stage 2. He started the final stage in 34th place and rallied to place eighth.
Teammate Kyle Larson, the pole-starter and last year's Sonoma winner, took Stage 1 and also led 26 laps, but his No. 5 Hendrick Motorsports Chevrolet lost the right-front wheel heading up the hill shortly after a final-stage pit stop. Rule book guidelines mean a four-race suspension for No. 5 crew chief Cliff Daniels when the midweek penalty report is released. He finished 15th.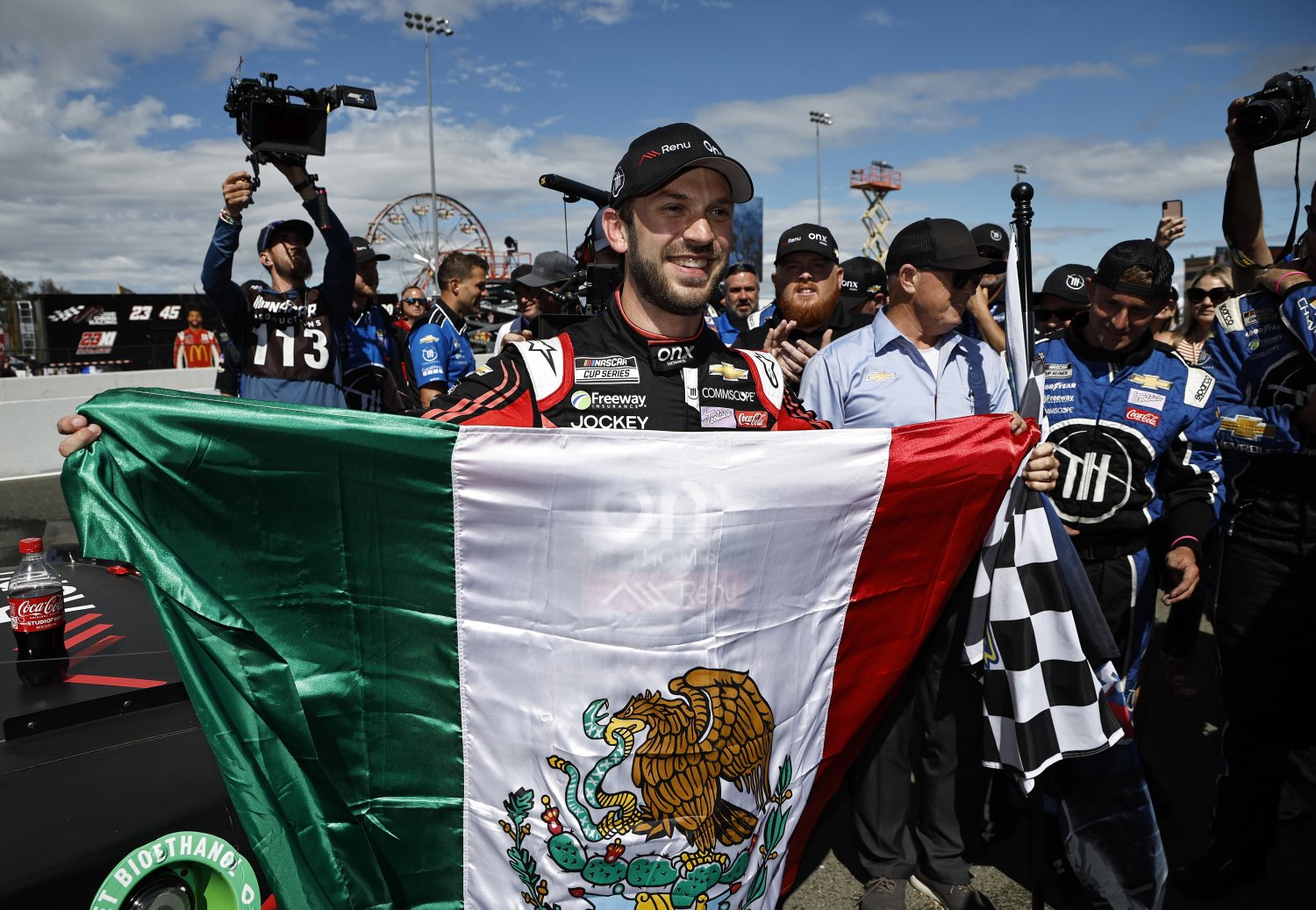 DANIEL SUAREZ, NO. 99 ONX HOMES/RENU CAMARO ZL1, Race Winner Quick Quote: 
This has already been quite the celebration. Daniel Suarez, since you won your Xfinity Series championship, it has been a long road here in the Cup Series, different teams, a lot of heartbreak. How do you put into words the race you had today?
DANIEL SUAREZ: It's a crazy day. I have so many thoughts in my head right now. I mean, it's been a rough road. It's been a rough journey in the Cup Series.
These guys believe in me – Trackhouse Racing, Justin Marks, Ty Norris. Everyone that helped me to get to this point. Alot of people in Mexico: Jay Morales, Carlos Slim. My family, they never give up on me. A lot of people did, but they didn't (tearing up).
Just very happy we were able to make it work.
I mentioned different teams. Trackhouse, seemed like magic from the moment you started together. What has been different about this team for you?
DANIEL SUAREZ: Their energy. They believed in me since day one. They believe in me. All the people, all the resources to make it happen.
We have Daniel's Amigos over there. (Expletive) yeah.
Talk to those Daniel's Amigos over there and all the Daniel's Amigos watching on TV. Tell them in Spanish what you're feeling just now.
DANIEL SUAREZ: (Answer in Spanish.) This is the first one of many.
Race Results
| | | | | | | | |
| --- | --- | --- | --- | --- | --- | --- | --- |
| Fin | Str | No. | Driver | Team | Laps | Status | Led |
| 1 | 8 | 99 | Daniel Suarez | Onx Homes/Renu Chevrolet | 110 | Running | 47 |
| 2 | 3 | 17 | Chris Buescher | Fifth Third Bank Ford | 110 | Running | 4 |
| 3 | 4 | 34 | Michael McDowell | Love's Travel Stops Ford | 110 | Running | 0 |
| 4 | 23 | 4 | Kevin Harvick | GEARWRENCH Ford | 110 | Running | 0 |
| 5 | 25 | 2 | Austin Cindric # | America's Tire Ford | 110 | Running | 0 |
| 6 | 14 | 12 | Ryan Blaney | Menards/Knauf Ford | 110 | Running | 0 |
| 7 | 7 | 1 | Ross Chastain | Worldwide Express Chevrolet | 110 | Running | 0 |
| 8 | 2 | 9 | Chase Elliott | NAPA Auto Parts Chevrolet | 110 | Running | 26 |
| 9 | 20 | 24 | William Byron | RaptorTough.com Chevrolet | 110 | Running | 0 |
| 10 | 22 | 6 | Brad Keselowski | Kohler Power Reserve Ford | 110 | Running | 3 |
| 11 | 13 | 3 | Austin Dillon | True Velocity Chevrolet | 110 | Running | 0 |
| 12 | 18 | 31 | Justin Haley | LeafFilter Gutter Protection Chevrolet | 110 | Running | 0 |
| 13 | 15 | 14 | Chase Briscoe | Ford Performance Racing School Ford | 110 | Running | 0 |
| 14 | 21 | 10 | Aric Almirola | Farmer John/FoodMaxx Ford | 110 | Running | 0 |
| 15 | 1 | 5 | Kyle Larson | HendrickCars.com Chevrolet | 110 | Running | 26 |
| 16 | 19 | 48 | Alex Bowman | Ally/Better Together Chevrolet | 110 | Running | 0 |
| 17 | 9 | 22 | Joey Logano | Autotrader Ford | 110 | Running | 4 |
| 18 | 11 | 45 | Kurt Busch | Monster Energy Toyota | 110 | Running | 0 |
| 19 | 16 | 16 | AJ Allmendinger(i) | Goldfish Casino Slots Chevrolet | 110 | Running | 0 |
| 20 | 17 | 15 | Joey Hand | Built Ford Proud Ford | 110 | Running | 0 |
| 21 | 6 | 41 | Cole Custer | Autodesk/HaasTooling.com Ford | 110 | Running | 0 |
| 22 | 33 | 43 | Erik Jones | FOCUSfactor Chevrolet | 110 | Running | 0 |
| 23 | 34 | 42 | Ty Dillon | Allegiant Chevrolet | 110 | Running | 0 |
| 24 | 24 | 38 | Todd Gilliland # | Chicago Pneumatic Compressors Ford | 110 | Running | 0 |
| 25 | 32 | 47 | Ricky Stenhouse Jr. | Kroger/Cottonelle Chevrolet | 110 | Running | 0 |
| 26 | 28 | 19 | Martin Truex Jr. | Bass Pro Shops Toyota | 110 | Running | 0 |
| 27 | 31 | 20 | Christopher Bell | DeWalt Toyota | 110 | Running | 0 |
| 28 | 26 | 21 | Harrison Burton # | DEX Imaging Ford | 110 | Running | 0 |
| 29 | 29 | 77 | Josh Bilicki(i) | Pacific Coast Termite Chevrolet | 110 | Running | 0 |
| 30 | 12 | 18 | Kyle Busch | M&M's Crunchy Cookie Toyota | 110 | Running | 0 |
| 31 | 10 | 11 | Denny Hamlin | FedEx Freight Toyota | 110 | Running | 0 |
| 32 | 36 | 51 | Cody Ware | Nurtec ODT Ford | 109 | Running | 0 |
| 33 | 35 | 78 | Scott Heckert | Pala Casino Ford | 109 | Running | 0 |
| 34 | 30 | 7 | Corey LaJoie | GNARLY Premium Cut Jerky Chevrolet | 101 | Running | 0 |
| 35 | 5 | 8 | Tyler Reddick | Lenovo Chevrolet | 97 | Running | 0 |
| 36 | 27 | 23 | Bubba Wallace | DoorDash Toyota | 9 | Engine | 0 |