F1: Verstappen tops opening practice for Canadian GP
The forecast rain held off and F1 points leader Max Verstappen turned the fastest lap in opening practice for the Canadian GP in Montreal, Canada on a very green track.
Verstappen's lap of 1m15.158s with his Red Bull mounted on the soft Pirellis was 0.246s faster than Carlos Sainz Jr.'s Ferrari on the same rubber.
Fernando Alonso was a surprise 3rd for Alpine, 0.373s off the pace, but on the medium tires. Alonso was consistently fast in a straight-line in Baku, so it was no surprise to see Alpine competitive in Canada given it is a low downforce track.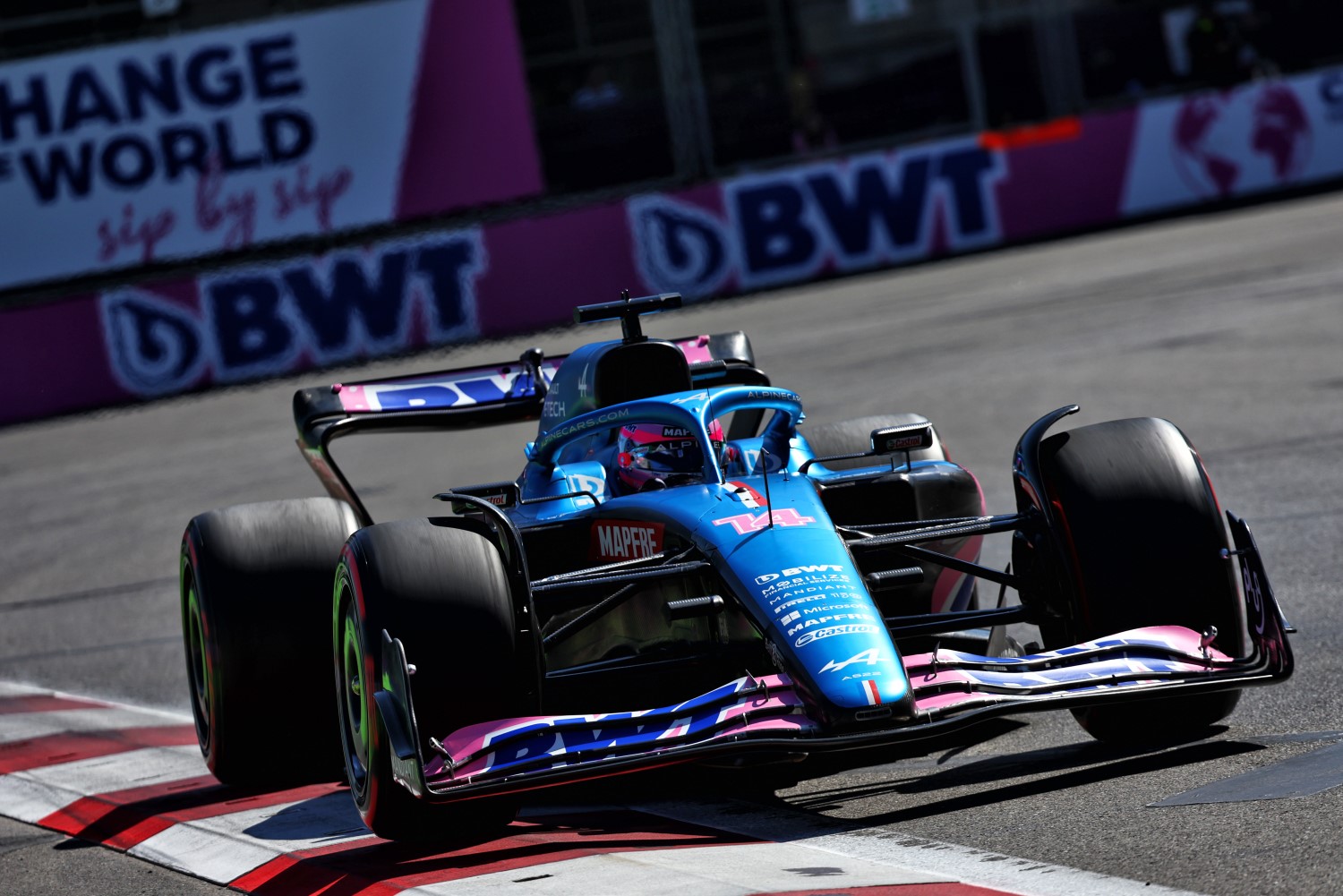 Sergio Perez Was 4th quick in the #11 Red Bull, 0.461s behind his teammate, while Charles Leclerc rounded out the top-5 in the #16 Ferrari.
Ferrari said Leclerc's Baku PU is "beyond repair". But while he will take a new ICE, MGU-H, MGU-K and CE (his third of each), none of those switches triggers a penalty in Canada.  However, he will eventually be hit with one or more 10-race grid positions penalties. There are plenty of rumors that the Ferrari man may well take on some new PU components this weekend. That would lead to a grid drop, so we'll keep a close eye on his program to see if he concentrates more on race pace than usual.
Yuki Tsunoda will have his work cut out in the pursuit of points in the Canadian Grand Prix after his AlphaTauri team fitted his car with a series of new engine components that triggers a grid penalty.
Tsunoda will take a completely new engine – with fresh internal combustion engine, turbocharger, MGU-K, MGU-H, control electronics and energy store – plus a fifth exhaust of the season.
As these will be his fourth ICE, turbocharger, MGU-H and MGU-K of the year, thus exceeding his allocation, he will be handed four penalties by the stewards, which means a back-of-the-grid start for Sunday's race.
Everyone got a decent amount of track time in there – the only ones to have a slightly compromised session were Ocon and Norris. The Frenchman still managed 26 laps despite getting some tissue stuck in his brakes, while Norris managed 17 before that unknown issue ended his participation in FP1 slightly early.
Practice 1 Results
| | | | | | | |
| --- | --- | --- | --- | --- | --- | --- |
| POS | NO | DRIVER | CAR | TIME | GAP | LAPS |
| 1 | 1 | Max Verstappen | RED BULL RACING RBPT | 1:15.158 | +0.000s | 26 |
| 2 | 55 | Carlos Sainz | FERRARI | 1:15.404 | +0.246s | 33 |
| 3 | 14 | Fernando Alonso | ALPINE RENAULT | 1:15.531 | +0.373s | 30 |
| 4 | 11 | Sergio Perez | RED BULL RACING RBPT | 1:15.619 | +0.461s | 31 |
| 5 | 16 | Charles Leclerc | FERRARI | 1:15.666 | +0.508s | 29 |
| 6 | 63 | George Russell | MERCEDES | 1:15.822 | +0.664s | 28 |
| 7 | 18 | Lance Stroll | ASTON MARTIN ARAMCO MERCEDES | 1:15.877 | +0.719s | 31 |
| 8 | 44 | Lewis Hamilton | MERCEDES | 1:15.877 | +0.719s | 26 |
| 9 | 5 | Sebastian Vettel | ASTON MARTIN ARAMCO MERCEDES | 1:16.041 | +0.883s | 32 |
| 10 | 3 | Daniel Ricciardo | MCLAREN MERCEDES | 1:16.083 | +0.925s | 28 |
| 11 | 10 | Pierre Gasly | ALPHATAURI RBPT | 1:16.165 | +1.007s | 28 |
| 12 | 4 | Lando Norris | MCLAREN MERCEDES | 1:16.211 | +1.053s | 17 |
| 13 | 23 | Alexander Albon | WILLIAMS MERCEDES | 1:16.308 | +1.150s | 28 |
| 14 | 22 | Yuki Tsunoda | ALPHATAURI RBPT | 1:16.322 | +1.164s | 32 |
| 15 | 31 | Esteban Ocon | ALPINE RENAULT | 1:16.421 | +1.263s | 25 |
| 16 | 77 | Valtteri Bottas | ALFA ROMEO FERRARI | 1:16.426 | +1.268s | 27 |
| 17 | 24 | Zhou Guanyu | ALFA ROMEO FERRARI | 1:17.152 | +1.994s | 29 |
| 18 | 47 | Mick Schumacher | HAAS FERRARI | 1:17.223 | +2.065s | 24 |
| 19 | 6 | Nicholas Latifi | WILLIAMS MERCEDES | 1:17.241 | +2.083s | 32 |
| 20 | 20 | Kevin Magnussen | HAAS FERRARI | 1:17.555 | +2.397s | 30 |