Supercars: Waters and Mostert win in Darwin Sunday
1st Sunday Race
Cam Waters has held off Will Davison in Race 17 at the Merlin Darwin Triple Crown.
Waters' run to victory was punctuated by an early-race stoppage following a lap 1 pile-up.
James Courtney suffered an accident at Turn 6, which also implicated Scott Pye and Thomas Randle.
The race ran time certain and was completed one lap shy of the scheduled 38-lap distance.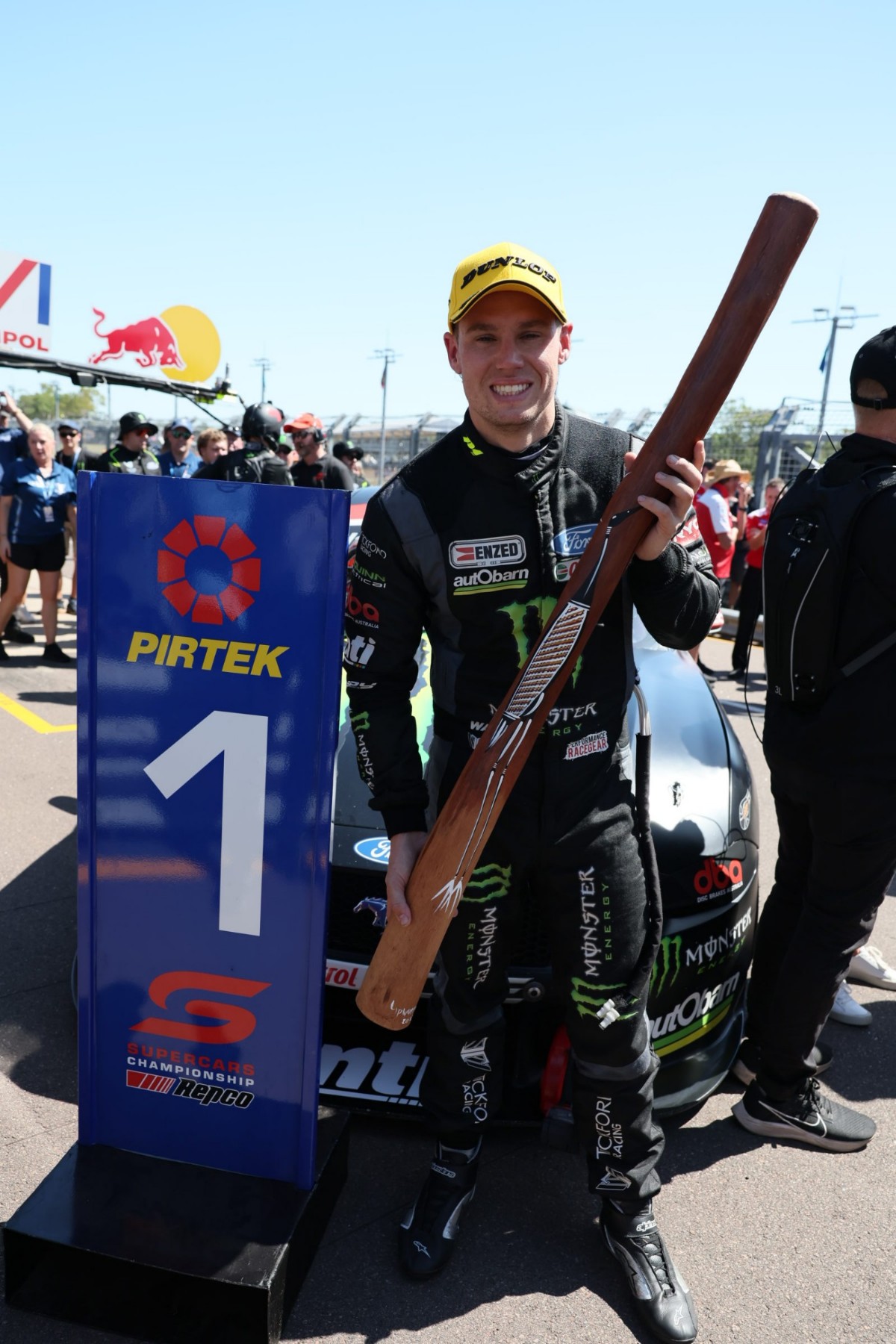 Davison finished second for the second time in as many days, and was 0.61s behind by the flag.
Series leader Shane van Gisbergen denied a Ford podium trifecta with Anton De Pasquale and David Reynolds behind.
Reynolds' four-tire pit stop gamble fell short, with the Penrite Racing driver 3.6s from the win.
"It means a lot," Waters said.
"Awesome to be able to bounce back with a pole and win.
"Wilbur had something in the tank; I had to manage it but i had enough
"My start was just as good as [Reynolds']… it's awesome to get it done."
The race was halted following the Courtney crash, with the Snowy Rivers Caravans Ford sent into the infield.
Courtney's car hit the retaining tire barrier before he clattered into Pye, Randle and Todd Hazelwood.
The race was neutralized by the BP Ultimate Safety Car before the red flags were flown.
It was the third race to be halted in 2022 following stoppages in Tasmania and Perth.
The race restarted after a brief stoppage, and Waters kept Davison and Reynolds at bay.
After 15 laps, the margin between the three was 1.8s.
Reynolds fell into the clutches of van Gisbergen, who stopped on lap 17.
Waters and Davison responded on the following lap; van Gisbergen dropped behind the undercutting Le Brocq.
Van Gisbergen cleared Le Brocq on lap 20 and took after the leading Fords.
Reynolds and De Pasquale pressed on and stopped together on lap 22.
De Pasquale took on two tires; Reynolds, meanwhile, gambled on a four-tire stop.
Reynolds emerged effective ninth, and quickly made his way through the pack.
The Penrite Racing ace picked off Mostert, Winterbottom and Le Brocq at Turn 1.
Waters and Davison skipped away from van Gisbergen, who fell into the clutches of De Pasquale.
De Pasquale caught van Gisbergen, who backed off from the lead duo.
It did little to deter Waters, who scored his third win of the season and first in Darwin.
Le Brocq came home sixth ahead of Winterbottom, Mostert, Heimgartner and Percat.
Reynolds scored fastest lap bonus points, having clocked his flyer on lap 25 following his stop.
2nd Sunday Race
Disqualified yesterday and a race winner today – Walkinshaw Andretti United's Chaz Mostert's rollercoaster weekend in Darwin has finished on a high after one of the best drives of his career this afternoon.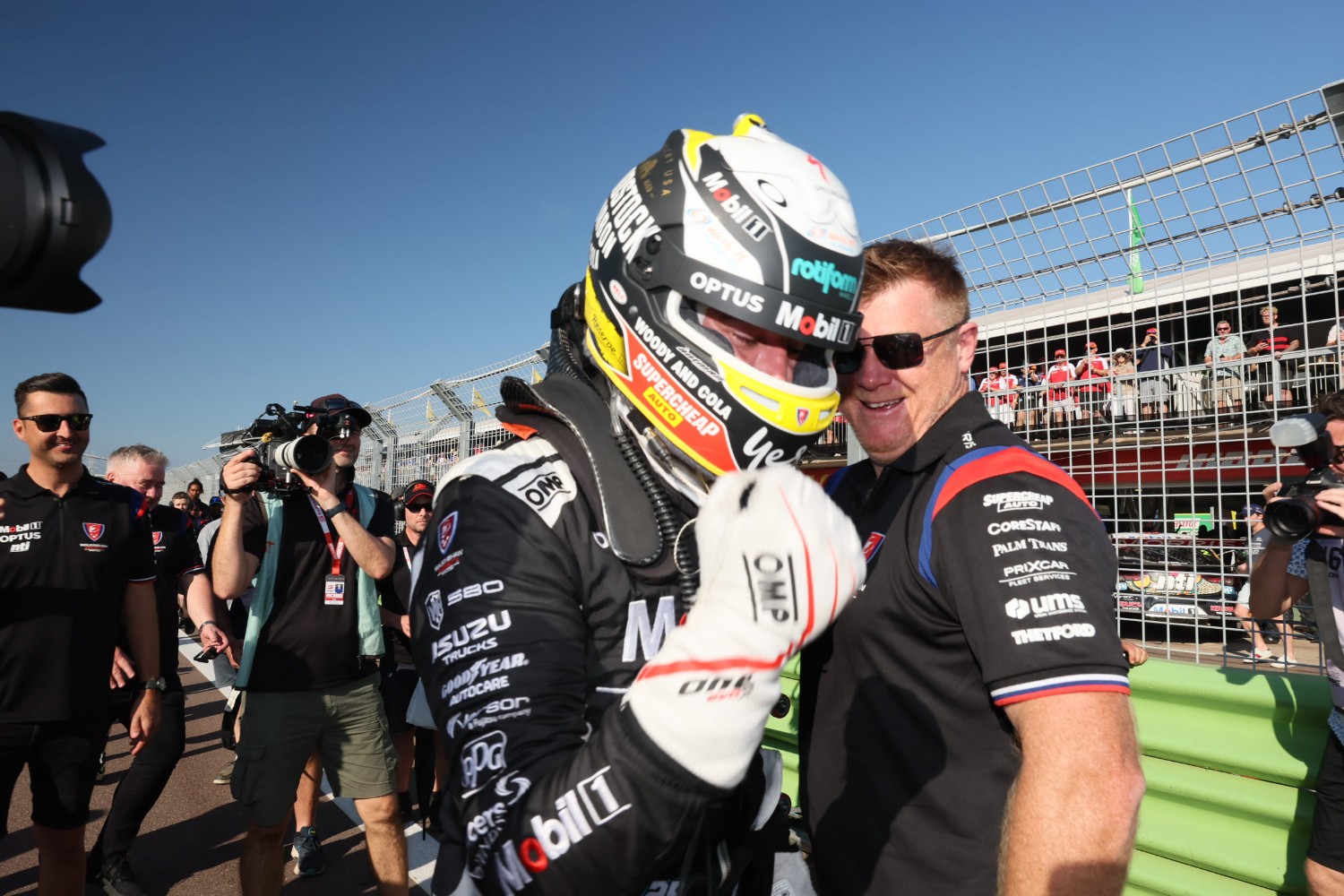 The defending Repco Bathurst 1000 Champion wasn't expected to hold off drivers with fresher tires, but somehow held on for a dramatic victory at Hidden Valley that this weekend drew its biggest crowd since 2017.
The result went down to the wire, with fans on the edge of their seat in the closing laps for what will go down as one of the best races in recent times.
Mostert claimed his 20th career victory and fourth of 2022, ahead of Shell Ford's Anton De Pasquale and Monster Energy Ford's Cam Waters, who won the earlier race today.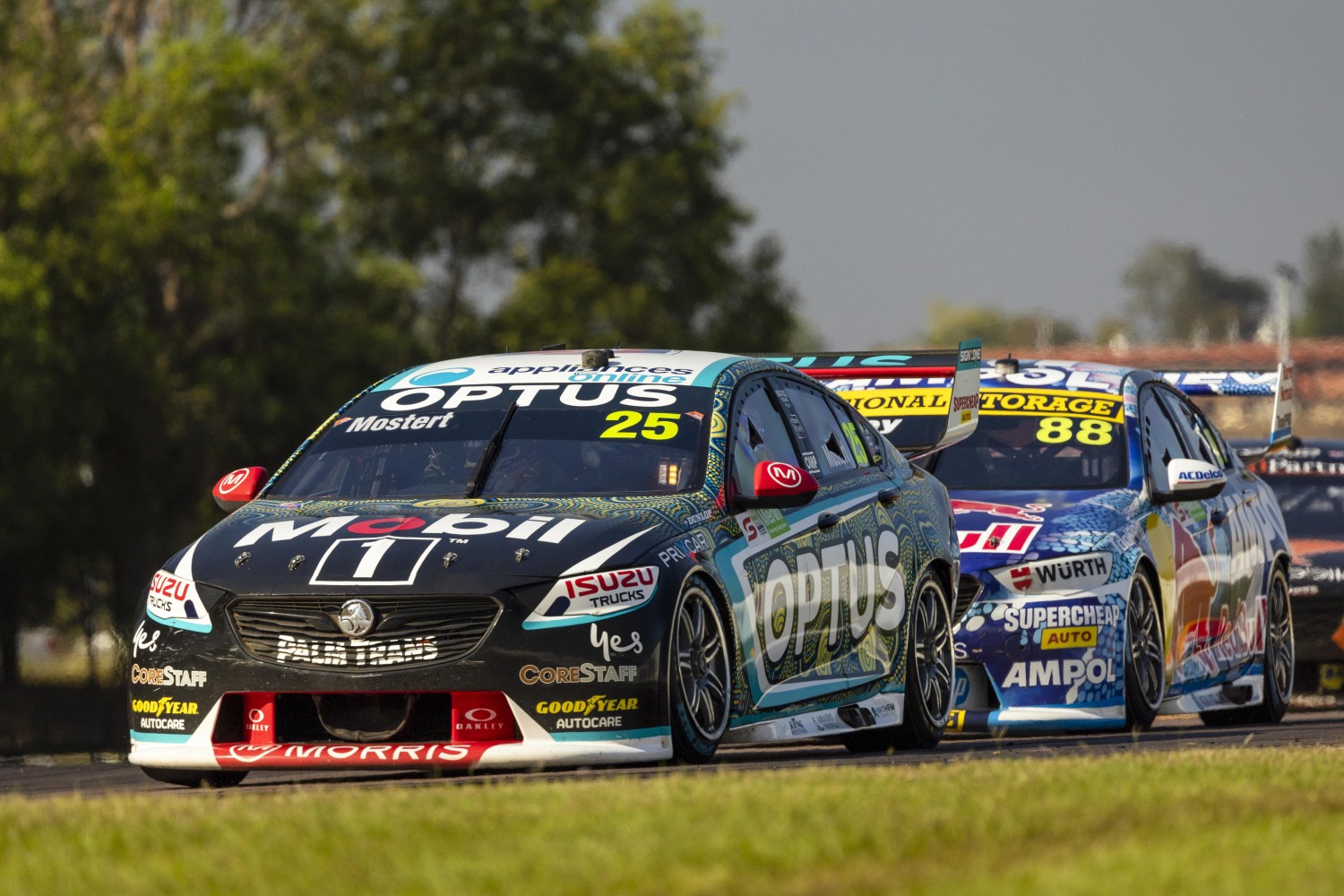 "To know that everyone's got fresh tires behind you… we went super aggressive," Mostert said.
"I kept Anton just at bay enough, I had nothing left.
"I don't know how we hung on."
Reigning Supercars' Champion and points leader Shane van Gisbergen finished 21st after being hit with a 15 second time penalty for an incident where he tried to hold off Shell Ford's Will Davison late in the race.
Sunday Race 1 Results
| | | | | | |
| --- | --- | --- | --- | --- | --- |
| POS | No. | DRIVER | TEAM | BEHIND | POINTS |
| 1 | 6 | C. Waters | Tickford Racing 1 | +0.000s | 100 |
| 2 | 17 | Davison | Shell V-Power Racing Team | +0.617 | 92 |
| 3 | 97 | Van Gisbergen | Red Bull Holden Racing Team | +1.850 | 86 |
| 4 | 11 | A. de Pasquale | Shell V-Power Racing Team | +2.748 | 80 |
| 5 | 26 | Reynolds | Penrite Racing | +3.653 | 79 |
| 6 | 34 | J. Le Brocq | Matt Stone Racing | +10.538 | 68 |
| 7 | 18 | Winterbottom | Team 18 | +11.066 | 64 |
| 8 | 25 | Mostert | WAU Racing Pty Ltd | +12.235 | 60 |
| 9 | 8 | Heimgartner | Brad Jones Racing | +12.621 | 56 |
| 10 | 2 | Percat | WAU Racing Pty Ltd | +17.374 | 52 |
| 11 | 56 | J. Kostecki | Tickford Racing 2 | +23.057 | 48 |
| 12 | 10 | Holdsworth | Penrite Racing | +26.968 | 46 |
| 13 | 88 | B. Feeney | Red Bull Holden Racing Team | +27.520 | 44 |
| 14 | 3 | Slade | CoolDrive Racing | +28.068 | 42 |
| 15 | 14 | B. Fullwood | Brad Jones Racing | +28.408 | 40 |
| 16 | 99 | B. Kostecki | Penrite Racing – Erebus | +29.210 | 38 |
| 17 | 96 | M. Jones | SCT Motor Sports | +31.050 | 36 |
| 18 | 76 | G. Jacobson | PremiAir Subway Racing | +31.919 | 34 |
| 19 | 4 | J. Smith | SCT Motor Sports | +32.323 | 32 |
| 20 | 9 | W. Brown | Penrite Racing – Erebus | +33.464 | 30 |
| 21 | 78 | Z. Best | Tickford Racing 3 | +35.287 | 28 |
| 22 | 22 | C. Pither | PremiAir Coca Cola Racing | +39.449 | 26 |
| 23 | 27 | J. Ojeda | NAPA Auto Parts Racing | +43.143 | 24 |
| 24 | 35 | T. Hazelwood | Matt Stone Racing | +8 Laps | 22 |
| NC | 55 | T. Randle | Tickford Racing 2 | +31 Laps | 0 |
| NC | 20 | S. Pye | Team 18 | +37 Laps | 0 |
| NC | 5 | Courtney | Tickford Racing 1 | +37 Laps | 0 |
Sunday Race 2 Results
| | | | | | |
| --- | --- | --- | --- | --- | --- |
| POS | No. | DRIVER | TEAM | BEHIND | POINTS |
| 1 | 25 | Mostert | WAU Racing Pty Ltd | +0.000 | 100 |
| 2 | 11 | A. de Pasquale | Shell V-Power Racing Team | +0.958 | 92 |
| 3 | 6 | C. Waters | Tickford Racing 1 | +1.104 | 86 |
| 4 | 17 | Davison | Shell V-Power Racing Team | +1.493 | 85 |
| 5 | 8 | Heimgartner | Brad Jones Racing | +3.306 | 74 |
| 6 | 88 | B. Feeney | Red Bull Holden Racing Team | +3.316 | 68 |
| 7 | 9 | W. Brown | Penrite Racing – Erebus | +8.869 | 64 |
| 8 | 56 | J. Kostecki | Tickford Racing 2 | +9.046 | 60 |
| 9 | 18 | Winterbottom | Team 18 | +9.251 | 56 |
| 10 | 2 | Percat | WAU Racing Pty Ltd | +9.388 | 52 |
| 11 | 3 | Slade | CoolDrive Racing | +9.618 | 48 |
| 12 | 26 | Reynolds | Penrite Racing | +11.305 | 46 |
| 13 | 34 | J. Le Brocq | Matt Stone Racing | +11.497 | 44 |
| 14 | 14 | B. Fullwood | Brad Jones Racing | +11.674 | 42 |
| 15 | 55 | T. Randle | Tickford Racing 2 | +12.121 | 40 |
| 16 | 10 | Holdsworth | Penrite Racing | +12.608 | 38 |
| 17 | 4 | J. Smith | SCT Motor Sports | +15.748 | 36 |
| 18 | 96 | M. Jones | SCT Motor Sports | +15.919 | 34 |
| 19 | 5 | Courtney | Tickford Racing 1 | +16.621 | 32 |
| 20 | 22 | C. Pither | PremiAir Coca Cola Racing | +19.048 | 30 |
| 21 | 97 | Van Gisbergen | Red Bull Holden Racing Team | +40.036 | 28 |
| 22 | 76 | G. Jacobson | PremiAir Subway Racing | +43.041 | 26 |
| 23 | 35 | T. Hazelwood | Matt Stone Racing | +1 Lap | 24 |
| 24 | 99 | B. Kostecki | Penrite Racing – Erebus | +1 Lap | 22 |
| NC | 27 | J. Ojeda | NAPA Auto Parts Racing | +13 Laps | 0 |
| NC | 78 | Z. Best | Tickford Racing 3 | +14 Laps | 0 |
| NC | 20 | S. Pye | Team 18 | +38 Laps | 0 |