NHRA: Brittany Force breaks both ends of Norwalk track record
Under the lights in Norwalk, Brittany Force, Ron Capps, Erica Enders, and Angelle Sampey lead pro fields after day one at the Summit Racing Equipment NHRA Nationals.
At the end of two fast, and furious rounds of Pro qualifying, Brittany Force, Ron Capps, Erica Enders, and Angelle Sampey ended Friday as the provisional leaders in Top Fuel, Funny Car, Pro Stock, and Pro Stock Motorcycle, respectively.
Top Fuel
Top Fuel points leader Brittany Force broke both ends of the Summit Racing Equipment Motorsports Park track record Friday night to open qualifying for the Summit Racing Equipment NHRA Nationals.
In the final pair of the second session, Force had a 3.666-second run at 333.08 mph, the quickest, and fastest run in the facility's history. She also was the fastest in the first session.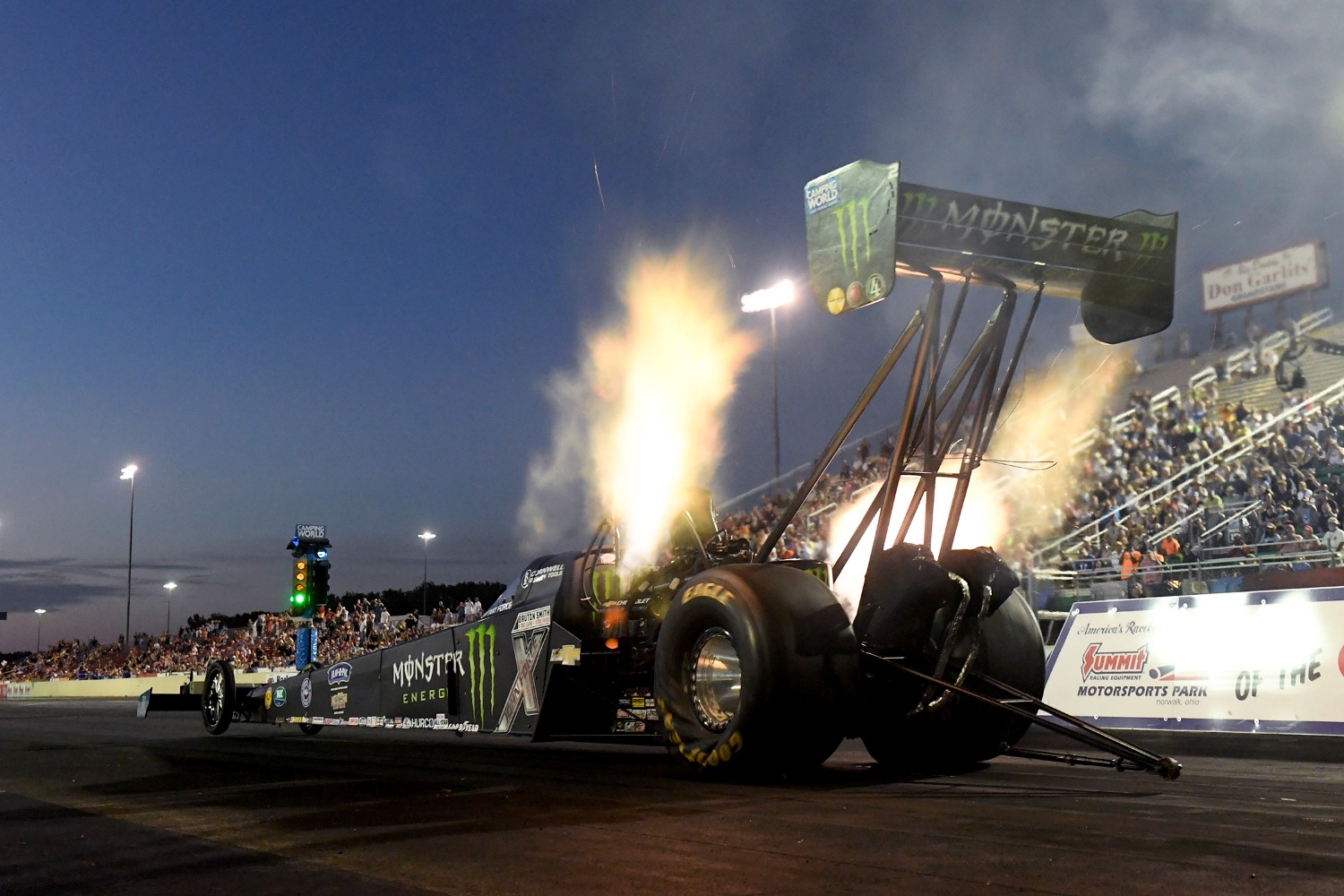 "After the run in the first session, we had a shot where we could really push it," Force said. "I wasn't expecting a [3.66], but it was an incredible, beautiful run. It was a great way to end the night. We're just way ahead of ourselves, and being in the points lead is a great position. We want to stay there all season, and we just keep chipping away weekend after weekend."
"[Crew chief David Grubnic], and I always chat before the run, and after Q1 we knew we had a shot at the pole if we pushed it," said Force. "We watched the other cars go out ahead of us, and based on that we did some fine tuning. We figured a high 60 was possible, but I didn't expect a 3.66. That was an incredible, beautiful run. A great wat to end the night with all the fireworks.
"I look at where we are this far into the season," Force said. "Last year we didn't win until Topeka, and this year we already have three wins, and we're way ahead of ourselves. We're in the lead, and that's a great position, and we want to stay there until the end. Everyone is so close right now that one bad weekend can set you back."
Funny Car
John Force was the only driver to run in the threes during the opening session with a 3.947 although a host of other drivers were close behind with 4.0s including Alexis DeJoria (4.011), and Cruz Pedregon (4.023), who each earned qualifying bonus points. That changed once the sun went down as most teams used the data they gained during Q1 to make dramatic improvements.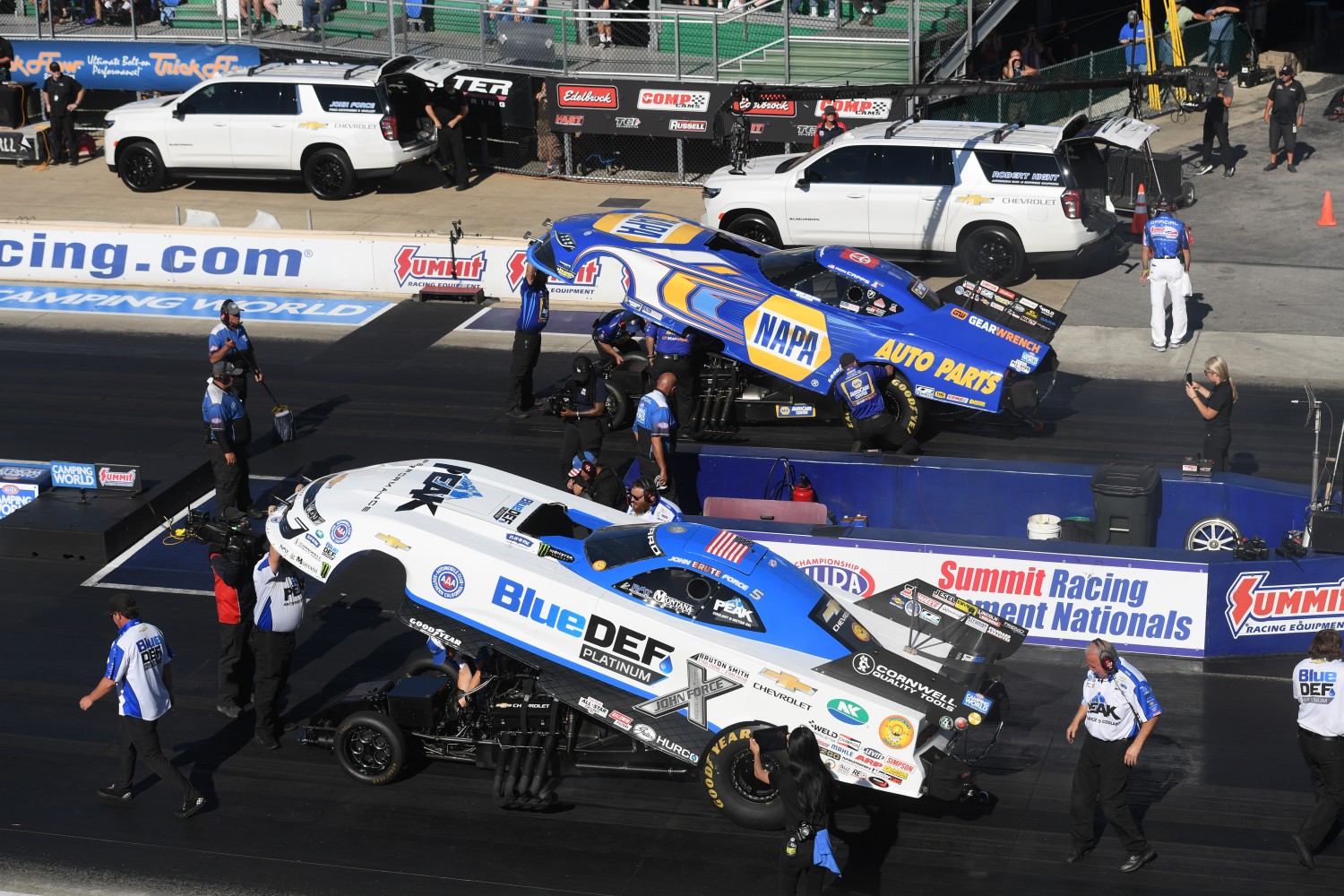 Under the lights there were a host of three-second runs, but none quicker than reigning champ Ron Capps, who drove this NAPA Toyota to a 3.901. Capps, fresh off his 70th career win in Bristol, is the leader, but just barely. He's got a lot of company at the top of the qualifying chart in John Force (3.903), Robert Hight (3.907), and Bob Tasca III (3.908). Matt Hagan, Alexis DeJoria, and J.R. Todd are also lurking close to the top with runs of 3.917, 3.932, and 3.933 respectively.
"On our first run, I let it get out further than it should have," Capps said. "I was pacing around, waiting for the 8 p.m. session because I knew we had a chance to go to the pole. It's taken a little time, but the last couple of races Guido, and Medlen have figured out this NAPA Toyota body. They've trimmed it out to see what it likes, and it's made a big difference.
We were the third pair out, and to run that well was awesome, but I thought we'd see some 3.80s later on. With [John] Force being the last car down I figured he'd run quicker, but it held, and I'm so happy for our Toyota people."
Pro Stock
A broken engine cost Erica Enders a shot at the Bristol win a week ago, but the untimely parts attrition apparently did little to slow the Elite team as Enders crushed the field on Friday with a stout 6.537 run that was more than three hundredths quicker than any of her opponents. That sort of gap rarely exists in modern Pro Stock racing.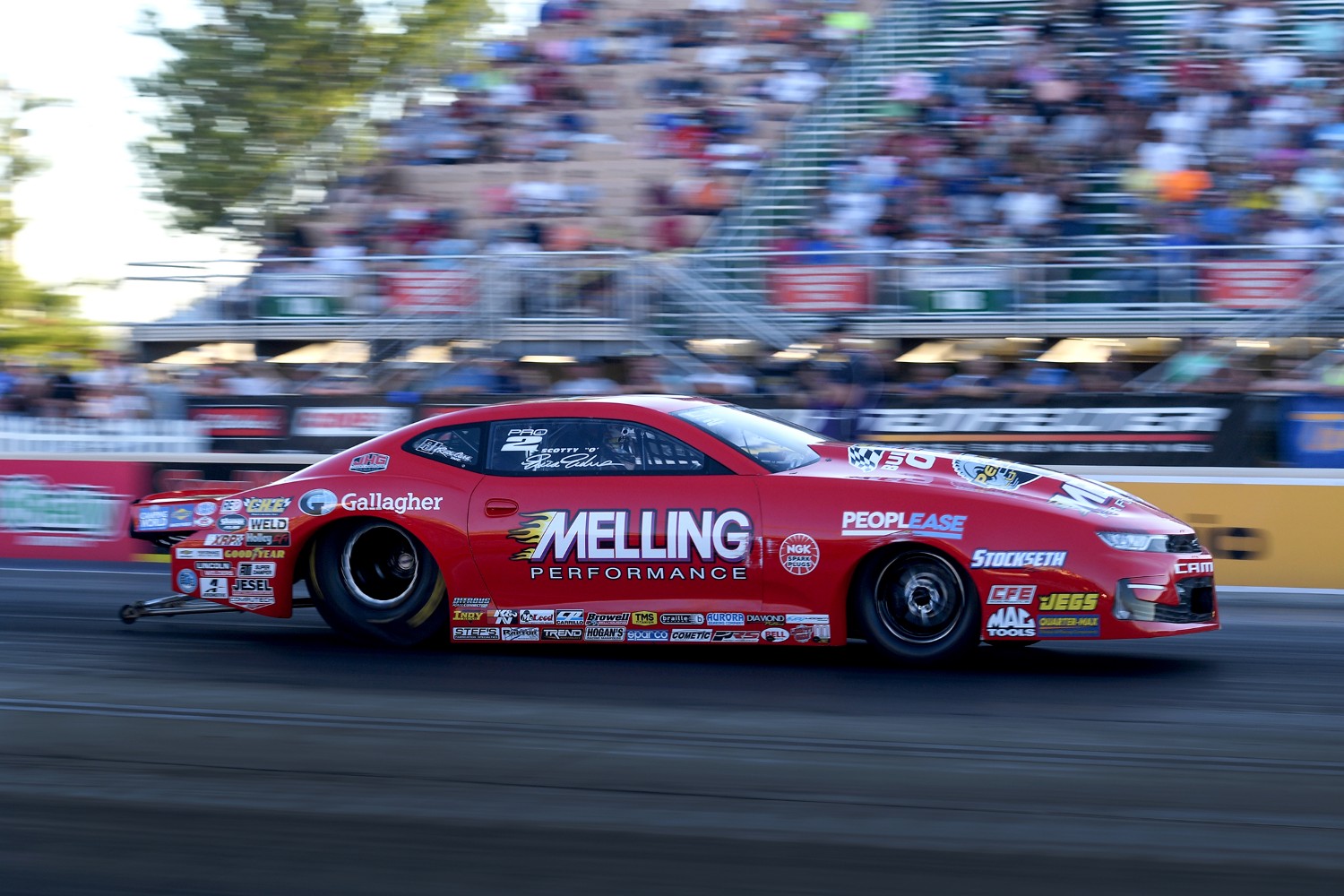 "As soon as I unclutched it, I knew it was on a good run," said Enders, who is seeking her fifth win this season. "I was hoping we'd make a clean run so my crew chief Mark Ingersoll wouldn't rip his hair our being the first pair out in the good session. We threw down after that huge explosion last week. Fortunately, I was running my teammate, Aaron Stanfield, and he got his first win on Father's Day. This team has a no-quit mentality. I'm lucky to be their driver, and I'm having fun."
"After the first session where I let clutch out, and it tried to blow the back window out of it, I knew we had to get that under control. I knew I had to get the car down the track," Enders said. "It was a lot cooler, and we were in the good lane which is the left. We made a great run in low gear. I thought it might go 6.55, and said we ran 6.53. That was impressive."
Kyle Koretsky's 6.570 pales in comparison to Enders' run, but it was good for the No. 2 spot in the field. Koretsky leads a tight group that also includes Bristol winner Stanfield, who backed up his earlier 6.616 with a 6.574. Greg, anderson, still looking for career win No. 100, is also solidly in the field with a 6.575 in his HendrickCars.com Camaro.