IMSA: Acura 1-2 in The Glen 6 Hour race
The #10 Wayne Taylor Racing Acura was victorious in Sunday's Sahlen's Six Hours of The Glen, in an Acura 1-2 finish on the 3.4 mile, 11-turn road course of Watkins Glen.
Filipe Albuquerque driving the #10 Acura passed the #60 Meyer Shank Racing Acura ARX-05 of Tom Blomqvist on a late restart with 21 minutes to go and held off the Englishman by 0.861 seconds.
The race was hit with hour-long red flag due to lightening in the area.
Sebastien Bourdais and Renger van der Zande completed the podium in the No. 01 Chip Ganassi Racing Cadillac DPi-V.R, ahead of the sister No. 02 entry driven by Alex Lynn and Earl Bamber in fourth.
The No. 31 Action Express Racing Cadillac of Pipo Derani, Olivier Pla and Mike Conway completed the top-five.
PR1/Mathiasen Motorsports claimed LMP2 class honors following a late-race pit stop and penalty for the No. 81 DragonSpeed entry.
The LMP3 class win went to the No. 74 Riley Motorsports Ligier JS P320 Nissan of Felipe Fraga, Gar Robinson and Kay van Berlo.
The Aston Martins of the Heart of Racing team swept both the GTD Pro and GTD classes after post-race infractions for both the No. 25 BMW M Team RLL and No. 57 Winward Racing entries.
The Risi Competizione Ferrari GT3 EVO claimed their second podium finish in GTD Pro with a P2 finish.
In a race that featured 13 GTD Pro class lead changes, seven yellow flags and an unfortunate, ill-timed red flag, the Risi Ferrari ran an exciting race which saw them running strongly in first place before the red flag was displayed and brought the race to a halt.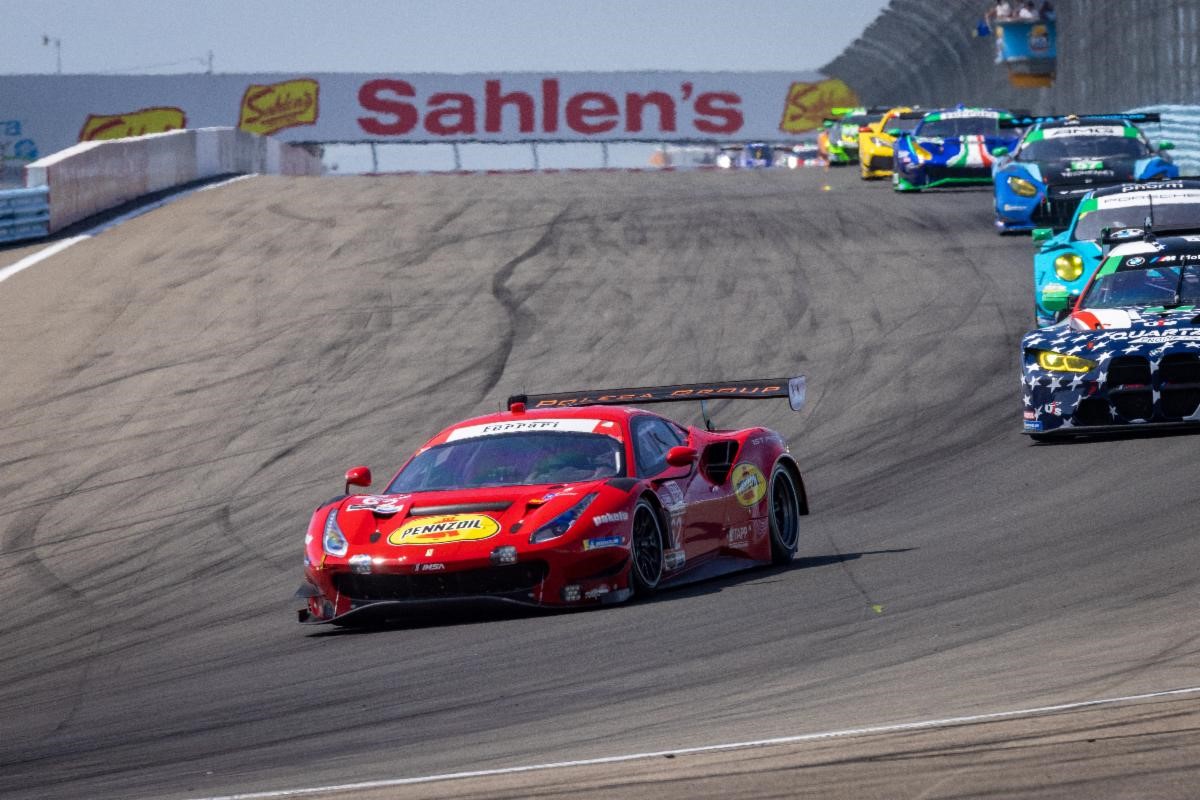 Race Results
| | | | | | |
| --- | --- | --- | --- | --- | --- |
| POS | PIC | DRIVER AT FINISH | NO./CAR | LAPS | BEHIND |
| 1 | 1 | Filipe Albuquerque | #10 Acura DPiM [DPi Winner] | 162 | –.— |
| 2 | 2 | Tom Blomqvist | #60 Acura DPiM | 162 | 0.861 |
| 3 | 3 | Sebastien Bourdais | #01 Cadillac DPiM | 162 | 2.267 |
| 4 | 4 | Alex Lynn | #02 Cadillac DPiM | 162 | 4.176 |
| 5 | 5 | Pipo Derani | #31 Cadillac DPiM | 162 | 4.211 |
| 6 | 6 | Mike Rockenfeller | #48 Cadillac DPiM | 161 | 1 lap |
| 7 | 7 | Loic Duval | #5 Cadillac DPiM | 160 | 2 laps |
| 8 | 1 | Scott Huffaker | #52 ORECA LMP2 07M [LMP2 Winner] | 160 | 2 laps |
| 9 | 2 | Louis Deletraz | #8 ORECA LMP2 07M | 160 | 2 laps |
| 10 | 3 | Giedo van der Garde | #29 ORECA LMP2 07M | 160 | 2 laps |
| 11 | 4 | Fabio Scherer | #20 ORECA LMP2 07M | 160 | 2 laps |
| 12 | 5 | Sebastian Montoya | #81 ORECA LMP2 07M | 159 | 3 laps |
| 13 | 6 | Josh Pierson | #11 ORECA LMP2 07M | 159 | 3 laps |
| 14 | 7 | Ryan Dalziel | #18 ORECA LMP2 07M | 158 | 4 laps |
| 15 | 1 | Felipe Fraga | #74 Ligier JS P320M [LMP3 winner] | 154 | 8 laps |
| 16 | 2 | Colin Braun | #54 Ligier JS P320M | 153 | 9 laps |
| 17 | 3 | Gabby Chaves | #36 Ligier JS P320M | 153 | 9 laps |
| 18 | 4 | Rasmus Lindh | #38 Ligier JS P320M | 153 | 9 laps |
| 19 | 5 | Nico Varrone | #40 Duqueine D08M | 151 | 11 laps |
| 20 | 1 | John Edwards | #25 BMW M4 GT3M | 148 | 14 laps |
| 21 | 1 | Philip Ellis | #57 Mercedes-AMG GT3M | 148 | 14 laps |
| 22 | 2 | Roman De Angelis | #27 Aston Martin Vantage GT3M [GTD Winner] | 148 | 14 laps |
| 23 | 3 | Ollie Millroy | #70 McLaren 720S GT3M | 147 | 15 laps |
| 24 | 4 | Robby Foley | #96 BMW M4 GT3M | 147 | 15 laps |
| 25 | 5 | Aaron Telitz | #12 Lexus RC F GT3M | 147 | 15 laps |
| 26 | 2 | Ross Gunn | #23 Aston Martin Vantage GT3M [GTD Pro Winner] | 147 | 15 laps |
| 27 | 6 | Antonio Fuoco | #47 Ferrari 488 GT3M | 147 | 15 laps |
| 28 | 3 | Daniel Serra | #62 Ferrari 488 GT3M | 147 | 15 laps |
| 29 | 7 | Andy Lally | #44 Aston Martin Vantage GT3M | 147 | 15 laps |
| 30 | 4 | Mathieu Jaminet | #9 Porsche 911 GT3RM | 147 | 15 laps |
| 31 | 5 | Kyle Kirkwood | #14 Lexus RC F GT3M | 147 | 15 laps |
| 32 | 6 | Maro Engel | #79 Mercedes-AMG GT3M | 147 | 15 laps |
| 33 | 8 | Marco Holzer | #42 Lamborghini Huracan GT3M | 147 | 15 laps |
| 34 | 7 | Antonio Garcia | #3 Chevrolet Corvette C8.R GTDM | 147 | 15 laps |
| 35 | 9 | Jan Heylen | #16 Porsche 911 GT3RM | 146 | 16 laps |
| 36 | 10 | Paul Holton | #59 McLaren 720S GT3M | 146 | 16 laps |
| 37 | 11 | Katherine Legge | #99 Porsche 911 GT3RM | 145 | 17 laps |
| 38 | 12 | Bryan Sellers | #1 BMW M4 GT3M | 144 | 18 laps |
| 39 | 13 | Mike Skeen | #32 Mercedes-AMG GT3M | 138 | 24 laps |
| 40 | 6 | Joao Barbosa | #33 Ligier JS P320M | 132 | 30 laps |
| 41 | 14 | Jeff Westphal | #39 Lamborghini Huracan GT3M | 129 | 33 laps |
| 42 | 7 | GarettGrist | #30 Ligier JS P320M | 126 | 36 laps |
| 43 | 8 | Tyler Maxson | #58 Ligier JS P320M | 108 | 54 laps |
| 44 | 15 | Toni Vilander | #21 Ferrari 488 GT3M | 76 | 86 laps |
| 45 | 9 | Matthew Bell | #7 Duqueine D08M | 67 | 95 laps |
| 46 | 16 | Till Bechtolsheimer | #66 Acura NSX GT3M | 44 | 118 laps |
| 47 | 10 | Lars Kern | #13 Duqueine D08M | 43 | 119 laps |
| 48 | 11 | Dillon Machavern | #6 Duqueine D08M | 35 | 127 laps |