F1: Crazy Brits tried to interrupt British GP
(2nd Update)
We used to have insane asylums for these people.
Not to be outdone by their actions at the Silverstone track on Sunday during the British GP, two more crazies from the same "Just Stop Oil" protest group stepped over a rope barrier for the famous John Constable painting hanging in Britain's National Gallery, the central London museum, on Monday and covered "The Hay Wain" with large sheets of paper depicting "an apocalyptic vision of the future" of the landscape.
They then crazy glued themselves to the frame.
There is a rumor that one museum visitor shouted, "get a chainsaw and cut off their hands at the wrist."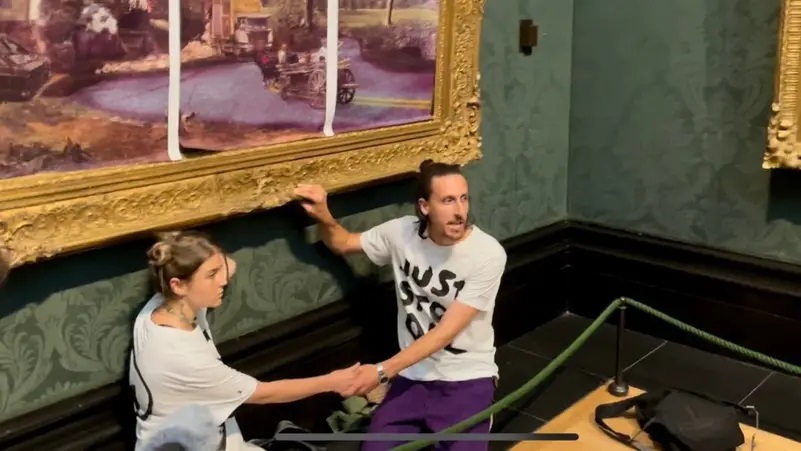 What the future holds for electric cars
In California, where they sell many electric cars, the video depicts what will happen everywhere when too many electric cars are on the road.
Eventually, there will be fights over chargers, and when two hot heads are in a hurry someone is going to pull out a knife or gun and kill someone.
Not only won't there be enough chargers, the electric infrastructure cannot handle the load.  We already see brownouts and blackouts during heavy summer peak loads.
A huge amount of energy in the world comes from oil.  These mental midget "just Stop Oil" protesters do not understand that cannot be replaced with solar and wind energy – only a small fraction.
---
July 3, 2022
Well, they did it.  Check out this video of the crazy British tree huggers out on the track while F1 cars are still circulating.
The race was going red for a first lap accident, or their actions would have caused officials to red flag the race.
In the 2nd video they were put in chains and hauled away by police like dogs to spend time behind bars with all the other crazy liberals.
Stop Oil protesters risk their lives and those of the drivers by walking onto the British Grand Prix circuit at Silverstone this afternoon.
(Contact for usage).#stopoil #BritishGP2022 #f1 #britishgrandprix pic.twitter.com/A8lE0Apcqh

— Story picture agency (@Storypicagency) July 3, 2022
Marshall's dragging protesters off the track🤦‍♂️ pic.twitter.com/77Uz7w0ez9

— The F1 Journal (@thef1journal_) July 3, 2022
---
July 1, 2022
Some crazy Brits are planning to storm the F1 Silverstone circuit this weekend during the British GP.
In a statement issued by the Northamptonshire police, Event Commander Chief Inspector Tom Thompson urged protestors not to invade the track on safety grounds.
"We have received credible intelligence that a group of protestors are planning to disrupt the event and possibly invade the track on race day," Chief Inspector Thompson said.
"First of all, I want to appeal directly to this group of people and strongly urge you to not put yourselves, the drivers, as well as the many marshals, volunteers and members of the public, at risk.
"Going onto a live racetrack is extremely dangerous – if you go ahead with this reckless plan you are jeopardizing lives.
"Protesting is of course everyone's human right in this country, and we are more than happy to speak with you to help you facilitate a peaceful protest at the circuit, we just please ask that you do not create a situation that puts lives in danger."
In 2020, four protestors from the environmental group Extinction Rebellion were arrested after illegally gaining access to the circuit and unfurling a banner prior to the start of the British GP.
In 2003, the British GP was interrupted when priest Father Cornelius Horan ran on track on the Hangar Straight on the 11th lap of the race waving religious banners.
These people are nuts!