IndyCar: Newgarden tops opening practice for Honda Indy 200
Penske Racing's Josef Newgarden turned the fastest lap in opening practice for the Honda Indy 200 IndyCar race at the Mid-Ohio Sports Car Circuit in Lexington, Ohio.
Newgarden's lap in his #2 Chevy of 1m07.0549s was 0.2061s faster than Alex Palou in his #10 Ganassi Honda.  By point of reference, the lap record, by Simon Pagenaud in 2016, is 1m03.8700s underscoring just how slow today's IndyCars are.
Newgarden's series-leading three race wins have come at Texas Motor Speedway (March 20), on the streets of Long Beach (April 10) and at Road America (June 12). The weekend before Road America he scored the NTT P1 Award for pole at The Raceway at Belle Isle Park.
Newgarden is also the defending winner at Mid-Ohio.
"The car feels really good," he said. "I think the (temperatures) definitely made the trap speed low, and it felt very difficult to drive the car today to bring it up to temperature.
"I'm relatively happy. I think our car was good off the truck."
Felix Rosenqvist was 3rd quick in his #7 McLaren Chevy ahead of the Hondas of Marcus Ericsson and Colton Herta who rounded out the top-5.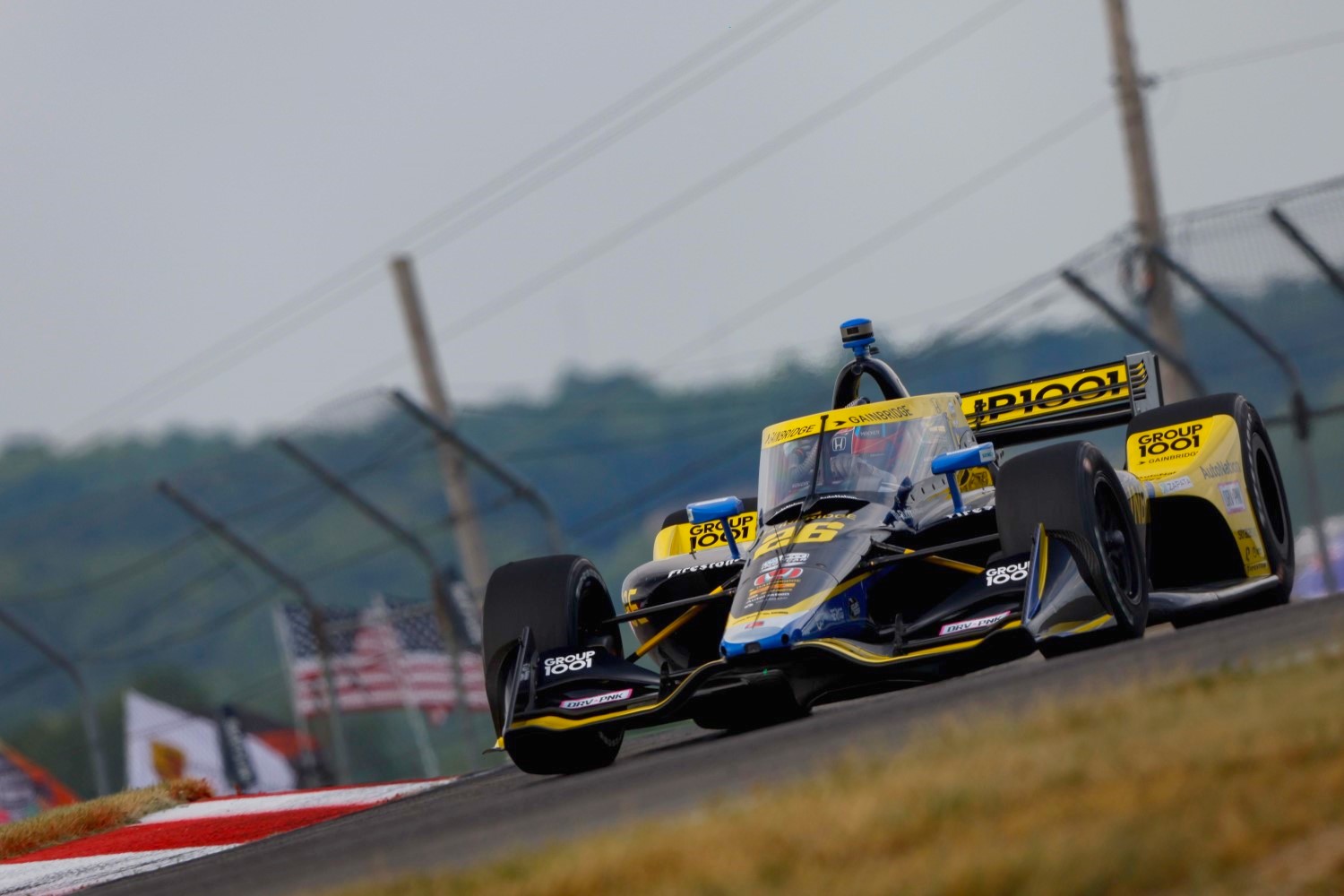 David Malukas was the fastest rookie of the session, clocking in eighth with a best lap of 1:07.5361 in the No. 18 HMD Honda for Dale Coyne Racing with HMD Motorsports. He completed 26 laps in his first NTT INDYCAR SERIES session at Mid-Ohio.
"Everything from our end, I think it was very good," Malukas said. "From start to end of that session it was good. Mid-Ohio is so special, because every time you go out on track, it feels completely different, and track conditions to start the session were very tough to say the least."
The biggest spin was by Takuma Sato who lost control of his #51 Dale Coyne Honda in the fast turn 1 and went for a wild ride through the pea gravel.
Practice 1 Times
| | | | | | | | | | | |
| --- | --- | --- | --- | --- | --- | --- | --- | --- | --- | --- |
| Pos | No | Name | Time | Behind | Gap | FL | Laps | Speed | Engine | Team |
| 1 | 2 | Josef Newgarden | 1:07.0549 | 0.000s | 0.00s0 | 20 | 25 | 121.226 | Chevy | Team Penske |
| 2 | 10 | Alex Palou | 1:07.2610 | 0.2061 | 0.2061 | 16 | 24 | 120.855 | Honda | Chip Ganassi Racing |
| 3 | 7 | Felix Rosenqvist | 1:07.3171 | 0.2622 | 0.0561 | 18 | 20 | 120.754 | Chevy | Arrow McLaren SP |
| 4 | 8 | Marcus Ericsson | 1:07.3720 | 0.3171 | 0.0549 | 18 | 21 | 120.655 | Honda | Chip Ganassi Racing |
| 5 | 26 | Colton Herta | 1:07.4998 | 0.4449 | 0.1278 | 19 | 23 | 120.427 | Honda | Andretti Autosport w/Curb-Agajanian |
| 6 | 5 | Pato O'Ward | 1:07.5263 | 0.4714 | 0.0265 | 13 | 16 | 120.380 | Chevy | Arrow McLaren SP |
| 7 | 27 | Alexander Rossi | 1:07.5355 | 0.4806 | 0.0092 | 17 | 22 | 120.363 | Honda | Andretti Autosport |
| 8 | 18 | David Malukas | 1:07.5361 | 0.4812 | 0.0006 | 18 | 26 | 120.362 | Honda | Dale Coyne Racing with HMD |
| 9 | 9 | Scott Dixon | 1:07.5609 | 0.5060 | 0.0248 | 19 | 22 | 120.318 | Honda | Chip Ganassi Racing |
| 10 | 3 | Scott McLaughlin | 1:07.5825 | 0.5276 | 0.0216 | 19 | 23 | 120.280 | Chevy | Team Penske |
| 11 | 14 | Kyle Kirkwood | 1:07.6241 | 0.5692 | 0.0416 | 29 | 30 | 120.206 | Chevy | AJ Foyt Enterprises |
| 12 | 28 | Romain Grosjean | 1:07.6498 | 0.5949 | 0.0257 | 24 | 24 | 120.160 | Honda | Andretti Autosport |
| 13 | 06 | Helio Castroneves | 1:07.7469 | 0.6920 | 0.0971 | 17 | 21 | 119.988 | Honda | Meyer Shank Racing |
| 14 | 12 | Will Power | 1:07.7623 | 0.7074 | 0.0154 | 23 | 28 | 119.961 | Chevy | Team Penske |
| 15 | 51 | Takuma Sato | 1:07.8270 | 0.7721 | 0.0647 | 15 | 16 | 119.846 | Honda | Dale Coyne Racing w/RWR |
| 16 | 21 | Rinus VeeKay | 1:07.8573 | 0.8024 | 0.0303 | 15 | 22 | 119.793 | Chevy | Ed Carpenter Racing |
| 17 | 20 | Conor Daly | 1:07.8870 | 0.8321 | 0.0297 | 20 | 25 | 119.740 | Chevy | Ed Carpenter Racing |
| 18 | 60 | Simon Pagenaud | 1:07.9860 | 0.9311 | 0.0990 | 18 | 22 | 119.566 | Honda | Meyer Shank Racing |
| 19 | 29 | Devlin DeFrancesco | 1:08.0138 | 0.9589 | 0.0278 | 29 | 34 | 119.517 | Honda | Andretti Steinbrenner Autosport |
| 20 | 15 | Graham Rahal | 1:08.2083 | 1.1534 | 0.1945 | 18 | 19 | 119.176 | Honda | Rahal Letterman Lanigan Racing |
| 21 | 77 | Callum Ilott | 1:08.3351 | 1.2802 | 0.1268 | 25 | 25 | 118.955 | Chevy | Juncos Hollinger Racing |
| 22 | 45 | Jack Harvey | 1:08.4985 | 1.4436 | 0.1634 | 24 | 25 | 118.671 | Honda | Rahal Letterman Lanigan Racing |
| 23 | 4 | Dalton Kellett | 1:08.6510 | 1.5961 | 0.1525 | 27 | 28 | 118.408 | Chevy | AJ Foyt Enterprises |
| 24 | 30 | Christian Lundgaard | 1:08.7706 | 1.7157 | 0.1196 | 26 | 30 | 118.202 | Honda | Rahal Letterman Lanigan Racing |
| 25 | 16 | Simona De Silvestro | 1:08.9286 | 1.8737 | 0.1580 | 28 | 33 | 117.931 | Chevy | Paretta Autosport |
| 26 | 11 | Tatiana Calderon | 1:09.6944 | 2.6395 | 0.7658 | 32 | 32 | 116.635 | Chevy | AJ Foyt Enterprises |
| 27 | 48 | Jimmie Johnson | 1:09.8167 | 2.7618 | 0.1223 | 23 | 37 | 116.431 | Honda | Chip Ganassi Racing |