F1: Sainz wins pole for British GP in treacherous conditions
In absolutely soaking conditions at Silverstone, Carlos Sainz Jr. won his first ever F1 pole in his 150th GP start just nipping Max Verstappen's Red Bull by 0.072s in a sensationally exciting qualifying session that saw the top spot switch back and forth numerous times.
Driver skill was at a premium, and Sainz and Verstappen were head and shoulders better than the rest.
"It was a good lap, but I was struggling a lot with the standing water," said Sainz. "It was very easy to get snaps and lose the temperature in the intermediate tires."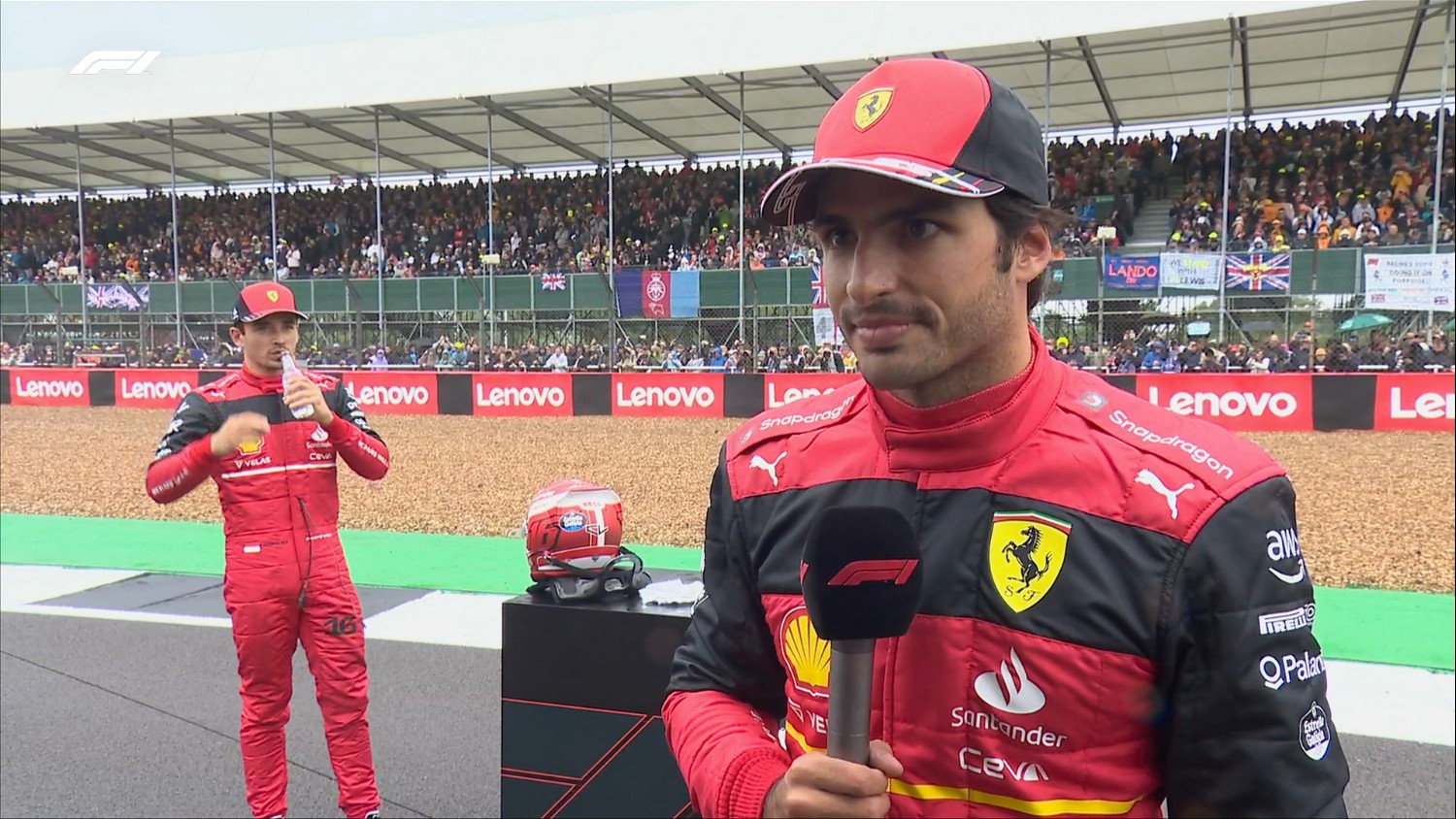 "It was quite a tricky qualifying with the rain, you had to be on the track at the right time," said Verstappen. "I think still to be on the front row is very good for us, and we have a good race car in the dry and the wet."
Verstappen even did a sensational 360 degree spin, kept on going and was still 4th fastest at the time.  Sensational stuff from the best driver in F1.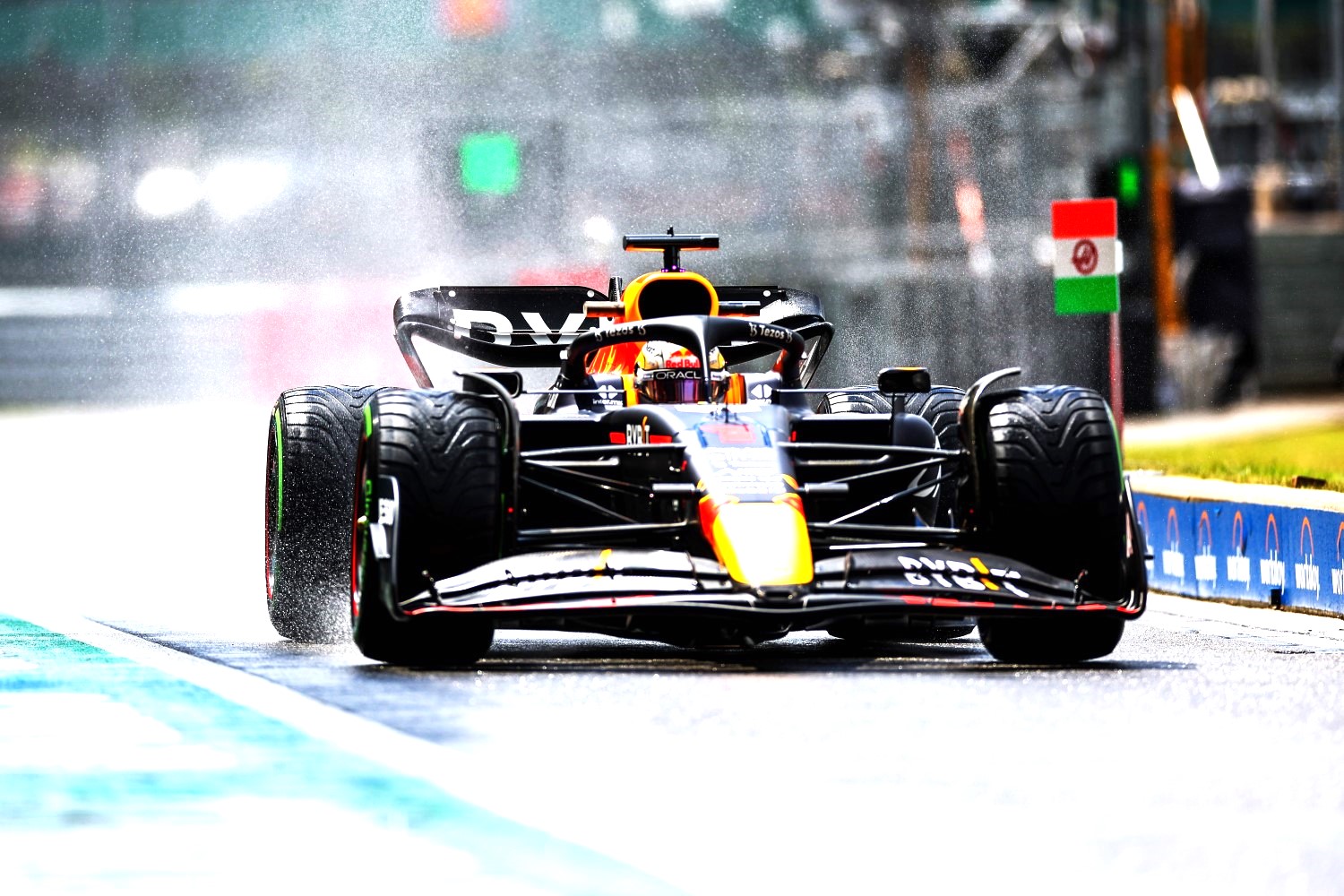 Charles Leclerc was third quick in the 2nd Ferrari, 0.315s back. "Yeah I am but happy for Carlos he did a great job today. I spun in that last lap and I knew that was the lap you had to put as a driver and I didn't today, so I didn't deserve it today. The pace is there, so if we have a good car everything should go well."
Sergio Perez was 4th in the 2nd Red Bull 0.633s behind the Spaniard.
Lewis Hamilton rounded out the top-5 for Mercedes, but he was 1.012s off the pace in the wet.
Lando Norris qualified sixth to join Hamilton on the third row, while the other Mercedes driver, Russell, was a close 8th behind Fernando Alonso .
Pierre Gasly was P11 for AlphaTauri, ahead of the second Alfa Romeo of Valtteri Bottas and Gasly's own team mate Yuki Tsunoda, with Daniel Ricciardo and Esteban Ocon having fallen foul of worsening conditions in Q2 and failing to make it out, taking P14 and P15.
Failing to make it out of Q1, meanwhile, Alex Albon was P16 – despite being equipped with Williams' extensive upgrade package, which Latifi didn't have – while both Haas and Aston Martins went out in the first segment too, the order Kevin Magnussen in P17, ahead of Sebastian Vettel, Mick Schumacher and Lance Stroll.
Qualifying Results
| | | | | | | | |
| --- | --- | --- | --- | --- | --- | --- | --- |
| POS | NO | DRIVER | CAR | Q1 | Q2 | Q3 | LAPS |
| 1 | 55 | Carlos Sainz | FERRARI | 1:40.190 | 1:41.602 | 1:40.983 | 25 |
| 2 | 1 | Max Verstappen | RED BULL RACING | 1:39.129 | 1:40.655 | 1:41.055 | 23 |
| 3 | 16 | Charles Leclerc | FERRARI | 1:39.846 | 1:41.247 | 1:41.298 | 25 |
| 4 | 11 | Sergio Perez | RED BULL RACING | 1:40.521 | 1:42.513 | 1:41.616 | 26 |
| 5 | 44 | Lewis Hamilton | MERCEDES | 1:40.428 | 1:41.062 | 1:41.995 | 23 |
| 6 | 4 | Lando Norris | MCLAREN MERCEDES | 1:41.515 | 1:41.821 | 1:42.084 | 26 |
| 7 | 14 | Fernando Alonso | ALPINE RENAULT | 1:41.598 | 1:42.209 | 1:42.116 | 23 |
| 8 | 63 | George Russell | MERCEDES | 1:40.028 | 1:41.725 | 1:42.161 | 23 |
| 9 | 24 | Zhou Guanyu | ALFA ROMEO FERRARI | 1:40.791 | 1:42.640 | 1:42.719 | 28 |
| 10 | 6 | Nicholas Latifi | WILLIAMS MERCEDES | 1:41.998 | 1:43.273 | 2:03.095 | 24 |
| 11 | 10 | Pierre Gasly | ALPHATAURI RBPT | 1:41.680 | 1:43.702 | – | 19 |
| 12 | 77 | Valtteri Bottas | ALFA ROMEO FERRARI | 1:41.396 | 1:44.232 | – | 20 |
| 13 | 22 | Yuki Tsunoda | ALPHATAURI RBPT | 1:41.893 | 1:44.311 | – | 19 |
| 14 | 3 | Daniel Ricciardo | MCLAREN MERCEDES | 1:41.933 | 1:44.355 | – | 18 |
| 15 | 31 | Esteban Ocon | ALPINE RENAULT | 1:41.730 | 1:45.190 | – | 17 |
| 16 | 23 | Alexander Albon | WILLIAMS MERCEDES | 1:42.078 | – | – | 11 |
| 17 | 20 | Kevin Magnussen | HAAS FERRARI | 1:42.159 | – | – | 11 |
| 18 | 5 | Sebastian Vettel | ASTON MARTIN ARAMCO | 1:42.666 | – | – | 9 |
| 19 | 47 | Mick Schumacher | HAAS FERRARI | 1:42.708 | – | – | 11 |
| 20 | 18 | Lance Stroll | ASTON MARTIN ARAMCO | 1:43.430 | – | – | 10 |