IndyCar: O'Ward wins pole at Mid-Ohio
Arrow McLaren's Pato O'Ward turned a lap of 1m06.7054s to beat Team Penske's Scott McLaughlin by 0.1328s in qualifying for the Honda Indy 200 at Mid-Ohio.
Chevy powered cars will start 1st and 2nd to spoil race sponsor's Honda day.
Colton Herta was 3rd quick for Andretti Autosport, 0.328s back and the fastest Honda qualifier.
Feix Rosenqvist, Scott Dixon and Simon Pagenaud rounded out the lineup in the Fast Six Q3 session.
O'Ward's fast lap on the 13-turn, 2.258-mile road course marked his fifth career NTT INDYCAR SERIES pole. What's more, by becoming the ninth different pole winner to start the season, he matched a number from 1961, when there were also nine different pole winners to start the year. The record for most different pole winners to start a season is 10 set in 1952.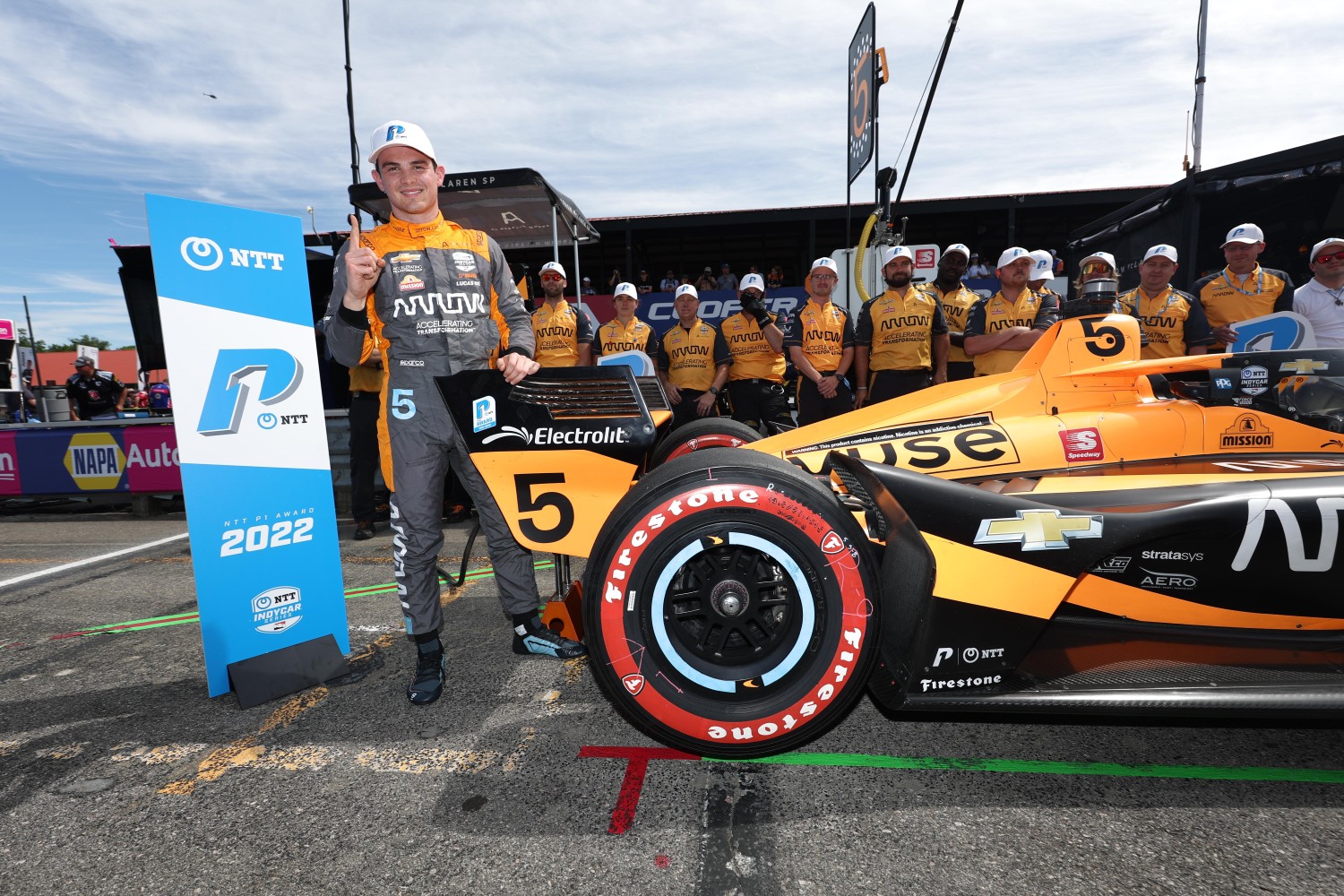 "It was a good session for us," O'Ward said. "I couldn't get the lap together in the first two sections, but I got it done the third time. The car's been great. We didn't roll off the truck the best, but we made some changes overnight, and we got her in the window."
Lining up alongside O'Ward will be Scott McLaughlin, who qualified second in the No. 3 Odyssey Battery Team Penske Chevrolet at 1:06.8382 for his best starting spot of the season since starting second in the second race of the year at Texas Motor Speedway.
Colton Herta will start third at 1:07.0262 in the No. 26 Gainbridge Honda, with Felix Rosenqvist fourth at 1:07.2163 in the No. 7 Vuse Arrow McLaren SP Chevrolet, Scott Dixon fifth at 1:07.4047 in the No. 9 PNC Bank Chip Ganassi Racing Honda and Simon Pagenaud rounding out the Firestone Fast Six at 1:07.4199 in the No. 60 AutoNation/SiriusXM Honda.
David Malukas held serve as the fastest rookie of the day and nearly qualified for his second Firestone Fast Six, posting a best lap of 1:06.8201 in Round 2, good enough for eighth in the No. 18 HMD Honda.
Malukas led a trio of rookies qualifying in the top 10. Kyle Kirkwood qualified ninth at 1:06.9506 in the No. 14 ROKiT/AJ Foyt Racing Chevrolet for his career-best qualifying effort, and Callum Ilott qualified 10th at 1:06.9534 in the No. 77 Juncos Hollinger Racing Chevrolet.
It was a challenging day for the three drivers leading the NTT INDYCAR SERIES championship.
Points leader Marcus Ericsson, who won the double-point Indianapolis 500 presented by Gainbridge, was the best of the rest in Group 1 of Round 1 of qualifying. Ericsson put down a best lap of 1:07.1475 and will start 13th Sunday in the No. 8 Ridgeline Lubricants Honda.
Will Power is second in the standings, 27 points back of Ericsson, and he'll be worse off on the starting grid. In Group 1 of Round 1 of qualifying, Power was swerving side-to-side to warm up his tires before a quick run. In doing so, he impeded the lap of Helio Castroneves in the No. 06 AutoNation/SiriusXM Honda. Power, who had the fastest lap of the group, was penalized for the incident and lost his two fastest qualifying laps from the session. Falling back on a best lap of 1:07.5559, Power will start 21st in the No. 12 Verizon Team Penske Chevrolet. It marks his third consecutive start outside the top 15 and his worst-ever start at Mid-Ohio.
Meanwhile, Josef Newgarden, who is 32 points behind Ericsson in third place and has a season-high three wins this season, qualified a frustrating 14th in the No. 2 PPG Team Penske Chevrolet with a best lap time of 1:07.3338.
Two-time series champion Newgarden struggled to find open track that would allow him to put down a quick lap without the impediment of slower cars, and he tied his worst qualifying effort of 2022. He also started 14th in the Indy 500.
O'Ward hopes to capitalize on a familiar trend for Mid-Ohio INDYCAR SERIES pole sitters: winning the race. Fifteen times, the INDYCAR SERIES pole winner at Mid-Ohio has gone on to win the race, including the last three Mid-Ohio pole sitters (Power, Herta and Newgarden).
O'Ward, who has one win this season at Barber Motorsports Park, feels confident he can continue that trend.
"It's huge, man," he said. "It's a track position race. The best position that we've had here starting is like 15th, so first is definitely a lot better than that."
Indy Lights
Hunter McElrea's dominant Indy Lights Presented by Cooper Tires weekend at the Mid-Ohio Sports Car Course continued Saturday as he scored the pole for Sunday's Indy Lights at Mid-Ohio event.
With a best lap of 1 minute, 12.1926 seconds in the No. 27 Andretti Autosport car, the rookie scored his second pole of the season. It rounds out what has been a strong weekend for McElrea, who was fastest in both practice sessions of the weekend.
McElrea put an exclamation point on his strong qualifying session by besting his own time, which was already good enough for first place as time expired in the 20-minute qualifying session around the 13-turn, 2.258-mile road course.
Official IndyLights Qualifying Results
"It was good," he said. "We were P1 almost the entire session. I started getting a little sloppy at the end. Even on my last lap, I completely blew through Turn 2, but I didn't think that was going to be a (1:12) lap.
"I can't tell you how fun it is when you drive a car this good around Mid-Ohio. I love this place. We're back where we belong."
Joining McElrea on the front row will be Indy Lights points leader Linus Lundqvist, who put down a best lap of 1:12.4218 late in the session to secure his seventh front-row start in eight races this season in the No. 26 HMD Motorsports with Dale Coyne Racing machine.
"I'm very happy and super proud of the team," said Lundqvist, who holds an 82-point lead over Sting Ray Robb in the championship. "We knew that this place is probably one of our weakest places, so good job. Thanks to my guys for giving me a car that could fight for the front row."
Lundqvist's teammate Benjamin Pedersen will start third at 1:12.4459 in the No. 24 Global Racing Group with HMD Motorsports car. St. Petersburg winner Matthew Brabham qualified fourth at 1:12.4911 in the No. 83 Andretti Autosport car, and the series' most recent winner Christian Rasmussen starts fifth with a best lap of 1:12.5129 in the No. 28 Road to Indy/Stellrecht car for Andretti Autosport.
This weekend's performance at Mid-Ohio for McElrea is mirroring the drive he had at the start of the season on the Streets of St. Petersburg, Florida. McElrea, 22, paced practice, started on the pole and led the first 11 laps of the race before a mistake put him in the wall and ended his chances for victory.
Since then, McElrea, a New Zealand driver who was born in Los Angeles and grew up in Australia, has worked on being less aggressive on track. He is currently seventh in the championship, 117 points back of leader Lundqvist.
In his young racing career, Mid-Ohio has proven to be strong for McElrea, who has five poles and two wins at this track prior to this weekend. Therefore, McElrea is confident about finally scoring that elusive first career win in Sunday's Indy Lights at Mid-Ohio (10:35 a.m. ET, live on Peacock Premium and INDYCAR Radio Network).
"It's pretty obvious what I'm going to plan on," McElrea said. "We're pretty dominant all weekend, so I don't see why we shouldn't keep that pace in the race."
Expect a tight 35-lap race as the top nine drivers in qualifying were separated by just over half a second.
QUOTES
PATO O'WARD, NO. 5 ARROW McLAREN CHEVROLET, ARROW McLAREN SP – POLE-WINNER: "The car has been great. We didn't really roll off the best, but we made some really good changes overnight. We got her in the window, and I've been able to extract what it has."
"I wouldn't change anything. It's a great qualifying position to start tomorrow so we'll see what we've got."
HOW CRITICAL IS POLE POSITION HERE? "It's huge, man. It's a track-position race. The best starting position we've ever had here is I think 18th. First is definitely a lot better than that!"
WHAT KIND OF RACECAR DO YOU HAVE FOR TOMORROW? "It's a long race. A lot can happen. We're in a great starting position and we have the best view into Turn One. We're going to be giving it hell tomorrow!"
WHAT'S THE OUTLOOK ON FOR THE NO. 5 CAR TOMORROW NOW? "This is a track-position race. You make your life a lot easier when you start up at the front. Let's just hope we stay there. I'm looking forward to tomorrow."
SCOTT McLAUGHLIN, NO. 3 ODYSSEY BATTERY CHEVROLET, TEAM PENSKE – QUALIFIED SECOND:"Fantastic! I'm really pumped with this. It's been a little bit hard. We've been on the edge of the Fast Six but then to break into the Fast Six and compete with those guys… Congrats to Pato. Fantastic job by them and their guys."
WHAT ARE YOU LOOKING AT FOR TOMORROW? "I think we're going to be OK on both (black and red Firestone tires). We've tried to be a bit 50-50 on the reds and the blacks. I feel good on old tires, which is a good thing. Obviously I didn't get pole on old tires, but at the end of the day we're right there. If we have decent tire degradation, we'll be OK. As always, it's big to qualify at the front here. That's a good first step. We just need to have a good first stint and get on with it."
Scott Dixon (#9 Chip Ganassi Racing Honda) will start fifth: "It was nice to make it to the Fast Six [final qualifying]. It was definitely pretty tight there in the Fast 12. I think there were four of us who left at the same time, so it was nice to be on the right side of that. The PNC Bank #9 was really nice to drive. Maybe we could have used reds in the Fast 6, but we're starting fifth, and we've won from further back at this place. We're looking forward to it and hopefully we can make it to the podium for a Honda event."
David Malukas (#18 Dale Coyne Racing with HMD Honda) fastest rookie qualifier, will start 8th: "It's a bit unfortunate [not to advance to final round qualifying].  The car was good and we had the pace.  We definitely should've been in there [but for traffic on his final lap]. But to be upset about qualifying eighth means we're going in the right direction."
FELIX ROSEQVIST, NO. 7 VUSE CHEVROLET, ARROW McLAREN SP – QUALIFIED FOURTH: "Solid day… In Q1 we had the best time and almost the best time in Q2. I don't know, I just felt we didn't really make anything happen in the Fast Six. It's a good day when you are disappointed with fourth. Congrats to Pato for piecing a good one together in the Fast Six. We have to look at our approach in the Fast Six. It seems like we are really good at getting to the Fast Six, but when we are in it, we never really go further than P4. It's a good starting position, and I think we have a very good shot tomorrow."
KYLE KIRKWOOD, NO. 14 ROKiT CHEVROLET, AJ FOYT RACING – QUALIFIED NINTH: "P9 today in qualifying… an awesome result! It's our best qualifying of the year, so we're super-stoked. We didn't really have the pace in either of the practices but we did now, which is all that matters. We feel like we have a good racecar going into tomorrow."
CALLUM ILOTT, NO. 77 DYNAMIC EDGE CHEVROLET, JUNCOS HOLLINGER RACING – QUALIFIED 10TH: "A bit of potential for a bit more, but to be fair I'm really happy with the progress we've made. In FP1, we had to improve a bit car-wise and on myself. In FP2, again had to improve  a bit car-wise and on myself. Coming into qualifying, we were immediately competitive. In the Fast 12, there was still a bit more time. We made a change to make it a bit more faster and a bit more on the edge. I didn't quite put it together which is a bit annoying but P10 isn't too bad. We beat some good names. I'm pretty happy with that. We have to think about what we want to do for the race, and we should have a good one. Thanks to the team and thanks to Chevy."
RINUS VEEKAY, NO. 21 BITCOIN WITH BITNILE CHEVROLET, ED CARPENTER RACING – QUALIFIED 11TH: "The balance of the car was really good in both rounds of qualifying. We had something that wasn't 100 percent right in the second round, which was unfortunate but we know we have the pace for tomorrow. There is bit of a window you can play with, but it's not going to be that much of a strategy race. I just have to be fast and pass people! The team has given me a great racecar here in the past and as long as I can attack, I am very happy!"
JOSEF NEWGARDEN, NO. 2 PPG CHEVROLET, TEAM PENSKE – QUALIFIED 14TH: "We're not searching for answers with our PPG Chevrolet. It's just traffic. Not searching for anything. The car is just fine, so it's just a shame. Good job by Team Penske and Team Chevy. It's just INDYCAR qualifying. Sometimes it is fine, and sometimes it is difficult to move through traffic."
WILL POWER, NO. 12 VERIZON 5G TEAM PENSKE CHEVROLET – QUALIFIED 21ST: "That was just giving away the championship right there. It is what it is. We will just have to make the best of it starting 21st. I'm just feeling sorry that happened. It's totally on us. I talked to the team and told them I have got to know if someone is on a (qualifying) lap. We don't normally have these kinds of penalties. That just was giving away a top-six and maybe a pole. The car has speed, but it is going to be difficult to go forward tomorrow. In this series, anything can happen but we can't have these kinds of penalties. It's on us."
CONOR DALY, NO. 20 BITNILE CHEVROLET, ED CARPENTER RACING – QUALIFIED 22ND: "Every little bit counts. Three-hundredths puts you three rows higher here. It's kind of crazy. Our teammate was fast and I think we could have been there as well, so this is tough. We were struggling with some rear insecurity, which is a shame because you have to be perfect. We always race well, so we will work towards tomorrow."
DALTON KELLETT, NO. 4 K-LINE CHEVROLET, AJ FOYT RACING – QUALIFIED 23RD: "Just a couple of mistakes in qualifying on my end. It was a bit of a scrappy run. It felt like our K-Line Team Chevy was relatively balanced and feeling pretty good. Just didn't put everything together and left some time on the table. I'm looking forward to we have for the race. We have a relatively solid car, so I'm pretty optimistic for tomorrow."
SIMONA de SILVESTRO, NO. 16 CHEVROLET, PARETTA AUTOSPORT – QUALIFIED 25TH: "I think we improved quite a lot. I did not maximize the red tire in qualifying. That's something I really need to put my head into and figure out for Nashville. We do have a good race car. I think we can definitely have consistent pace and move forward."
TATIANA CALDERON, NO. 11 ROKiT CHEVROLET, AJ FOYT RACING – QUALIFIED 26TH: "I'm really happy to be back in Mid-Ohio where my IndyCar story started. I think we've been improving every session. I'm a bit disappointed with qualifying because we had a little bit more in there. We just got a little bit of traffic and ran a little bit wide. I think we have a really good racecar. Hopefully we can tweak a few things in the warmup and go hard for raceday."
IndyCar Qualifying Results
1. (5) Pato O'Ward, Chevrolet, 01:06.7054 (121.861 mph)
2. (3) Scott McLaughlin, Chevrolet, 01:06.8382 (121.619)
3. (26) Colton Herta, Honda, 01:07.0262 (121.278)
4. (7) Felix Rosenqvist, Chevrolet, 01:07.2163 (120.935)
5. (9) Scott Dixon, Honda, 01:07.4047 (120.597)
6. (60) Simon Pagenaud, Honda, 01:07.4199 (120.570)
7. (10) Alex Palou, Honda, 01:06.7965 (121.695)
8. (18) David Malukas, Honda, 01:06.8201 (121.652)
9. (14) Kyle Kirkwood, Chevrolet, 01:06.9506 (121.415)
10. (77) Callum Ilott, Chevrolet, 01:06.9534 (121.410)
11. (21) Rinus VeeKay, Chevrolet, 01:06.9843 (121.354)
12. (27) Alexander Rossi, Honda, 01:07.0155 (121.297)
13. (8) Marcus Ericsson, Honda, 01:07.1475 (121.059)
14. (2) Josef Newgarden, Chevrolet, 01:07.3338 (120.724)
15. (06) Helio Castroneves, Honda, 01:07.1798 (121.001)
16. (30) Christian Lundgaard, Honda, 01:07.4207 (120.568)
17. (28) Romain Grosjean, Honda, 01:07.2573 (120.861)
18. (15) Graham Rahal, Honda, 01:07.5909 (120.265)
19. (51) Takuma Sato, Honda, 01:07.4645 (120.490)
20. (29) Devlin DeFrancesco, Honda, 01:07.6475 (120.164)
21. (12) Will Power, Chevrolet, 01:07.5559 (120.327)
22. (20) Conor Daly, Chevrolet, 01:07.6745 (120.116)
23. (4) Dalton Kellett, Chevrolet, 01:08.2444 (119.113)
24. (45) Jack Harvey, Honda, 01:07.9362 (119.653)
25. (16) Simona De Silvestro, Chevrolet, 01:08.4995 (118.669)
26. (11) Tatiana Calderon, Chevrolet, 01:08.4370 (118.778)
27. (48) Jimmie Johnson, Honda, 01:08.5318 (118.614)