Supercars: Van Gisbergen makes late move to claim win in Townsville
Shane van Gisbergen has returned to the winners' circle with a perfectly timed overtaking move, sealing victory in today's 250km race in Townsville.
The Red Bull ace recorded his ninth win in Townsville, 10th of the season of and 64th of his career after overhauling Will Davison late in what turned out to be a gripping NTI Townsville 500 opener.
Davison led Van Gisbergen by as much as 17 seconds late, until the defending Supercars Champion started to mow down the two-time Bathurst winner after his second pit stop.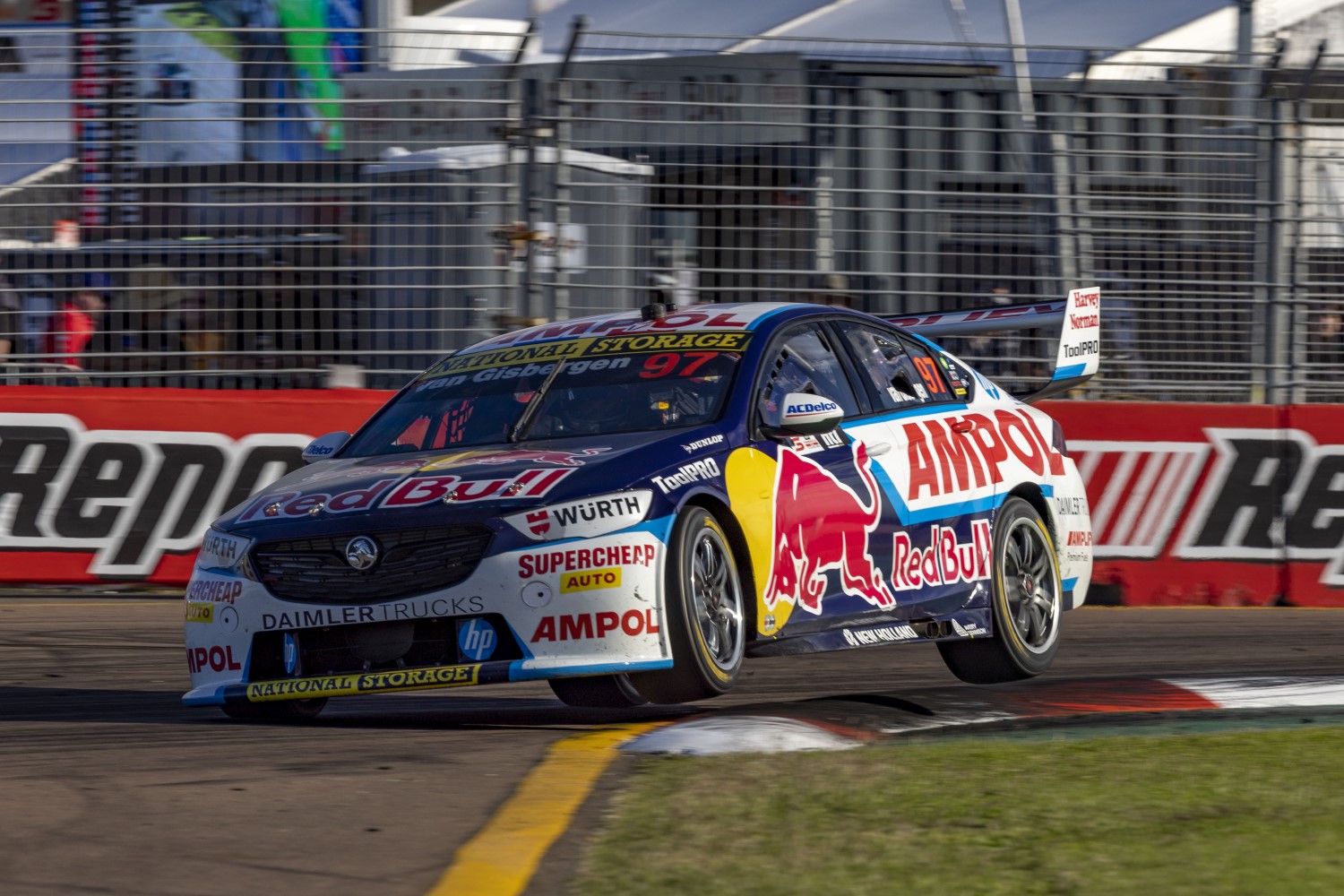 Davison's Shell Ford teammate Anton De Pasquale finished sixth, meaning van Gisbergen has opened up his series lead to 262 points ahead of tomorrow's second 250km race of the event.
"I thought we'd put ourselves too far back," van Gisbergen said.
"Came home strong in the eight, good battle with Will. His lines were awesome, he was driving really well. It's going to be tough tomorrow, for sure."
Davison added: "I didn't know if we could manage it, we just ran out of laps.
"Great job by the team. It was a really fun race."
Davison cleaned up van Gisbergen off the line and shot into an early lead in the 88-lap race, just the third race of the year where drivers have had to include refueling as part of the race strategy.
Van Gisbergen reeled in Davison and made the overtake at Turn 2 on lap 14.
The leaders' final compulsory stop round began when Davison stopped on lap 55. With 25 laps to go, van Gisbergen made his final stop.
Van Gisbergen closed on the rear of Davison on lap 84 of 88, and armed with better drive traction, took the lead out of the final corner.
Van Gisbergen crossed the line with a 5.1s margin over Davison, with Cam Waters third.
Andre Heimgartner finished fourth, Scott Pye finished fifth ahead of De Pasquale, Broc Feeney, Tim Slade, Chaz Mostert and Jack Le Brocq.
Race Results
| | | | | |
| --- | --- | --- | --- | --- |
| POS | NO. | DRIVER | TEAM | BEHIND |
| 1 | 97 | Van Gisbergen | Red Bull Holden Racing Team | +0.000s |
| 2 | 17 | Davison | Shell V-Power Racing Team | +5.197 |
| 3 | 6 | C. Waters | Tickford Racing 1 | +20.489 |
| 4 | 8 | Heimgartner | Brad Jones Racing | +21.086 |
| 5 | 20 | S. Pye | Team 18 | +29.910 |
| 6 | 11 | A. de Pasquale | Shell V-Power Racing Team | +31.788 |
| 7 | 88 | B. Feeney | Red Bull Holden Racing Team | +47.610 |
| 8 | 3 | Slade | CoolDrive Racing | +49.099 |
| 9 | 25 | Mostert | WAU Racing Pty Ltd | +53.328 |
| 10 | 34 | J. Le Brocq | Matt Stone Racing | +56.175 |
| 11 | 9 | W. Brown | Penrite Racing – Erebus | +58.950 |
| 12 | 99 | B. Kostecki | Penrite Racing – Erebus | +1:03.428 |
| 13 | 2 | Percat | WAU Racing Pty Ltd | +1:10.217 |
| 14 | 56 | J. Kostecki | Tickford Racing 2 | +1:14.012 |
| 15 | 14 | B. Fullwood | Brad Jones Racing | +1 Lap |
| 16 | 55 | T. Randle | Tickford Racing 2 | +1 Lap |
| 17 | 10 | Holdsworth | Penrite Racing | +1 Lap |
| 18 | 26 | Reynolds | Penrite Racing | +1 Lap |
| 19 | 22 | C. Pither | PremiAir Coca Cola Racing | +1 Lap |
| 20 | 5 | Courtney | Tickford Racing 1 | +1 Lap |
| 21 | 35 | T. Hazelwood | Matt Stone Racing | +1 Lap |
| 22 | 96 | M. Jones | SCT Motor Sports | +6 Laps |
| 23 | 31 | J. Golding | PremiAir Subway Racing | +6 Laps |
| 24 | 4 | J. Smith | SCT Motor Sports | +17 Laps |
| 25 | 18 | Winterbottom | Team 18 | +19 Laps |