F1: Verstappen outduels Ferraris in Austria GP Sprint Race
A brilliant drive from the Dutchman Max Verstappen in the Austrian GP Sprint Race Saturday to the cheers from a sea of Orange.
Verstappen led all the way and drove to a 1.675s victory over Charles Leclerc's Ferrari, with the 2nd Ferrari of Carlos Sainz Jr. 5.644s in arrears.
Verstappen starts from pole tomorrow, with the top four finishing in grid order.
Apart from the first few corners, Verstappen never looked troubled.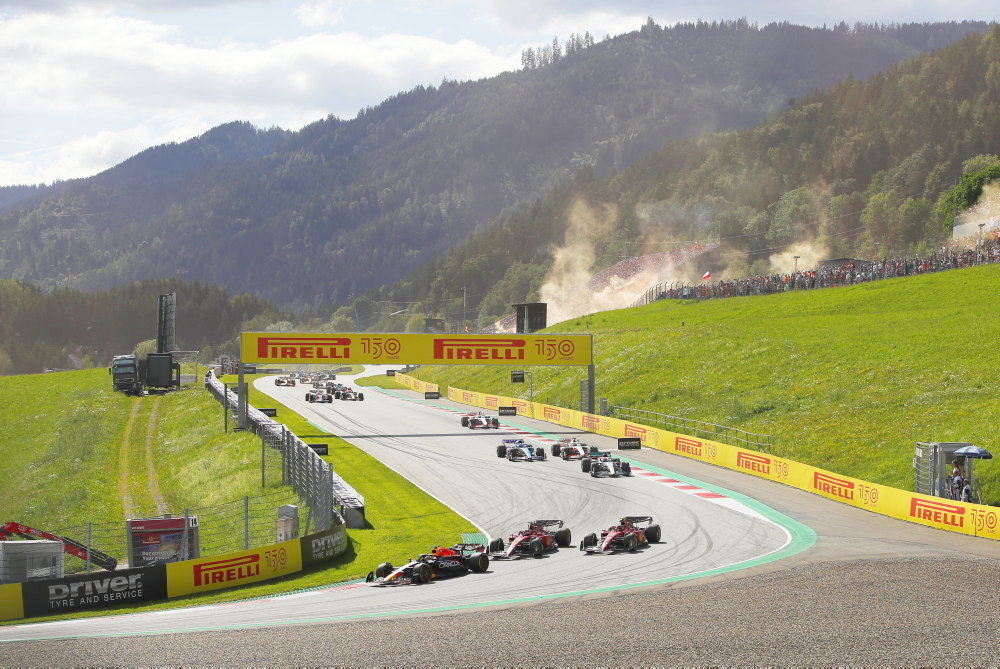 "It was great to see, got a lot of smoke at the end with all the orange," said Verstappen.
"It was a decent race, we had decent pace at the beginning, and after that it was closely matched. As a Sprint should go, it's quite flat-out… [the Ferraris] were fighting a bit so I was able to pull out a gap, but after that, we were closely matched.
"The car is good, just a few things to fine tune but overall, we've been really competitive again this weekend."
"It was tricky, obviously the first part of the race was really tricky," said Leclerc.
"I had a little fight with Carlos and then towards the end I was starting to push… hopefully we can have a good start tomorrow and put some pressure on Max."
Carlos Sainz Jr. said afterward, "I had a good start then a couple of fights there at the beginning, first with Max at Turn 3 then Charles at Turn 3, which was good, it was good racing, as it should be… We will need to improve the pace a little because [Max] looked to be very strong at the start of the race, so we need to match him… Tomorrow is a different race, but the most important thing is that we are in the fight and we will try our best to get him."
George Russell came home in fourth for Mercedes.
Russell says his Mercedes team's pace was not "where we hoped or expected it to be" after he couldn't hold on to the leading Red Bull and two Ferraris in the Austrian GP Sprint and crossed the line a lonely fourth…
The Silver Arrows had looked quicker than expected at the Red Bull Ring on Friday, but qualifying crashes for both Russell and team mate Lewis Hamilton caused significant damage and put them on the back foot heading into Saturday's Sprint event.
Hamilton had a frustrating day that yielded eighth place – a gain of one position from his starting spot – and a solitary point after he spent most of the time staring at the back of Mick Schumacher's Haas, having suffered contact with Pierre Gasly at the start – and then with a Red Bull and Williams further up the hill.
"Firstly, I didn't have a good start," he said. "Secondly, I don't understand these drivers. Moving across, I don't know if they know they are moving across, but it was just unnecessary, [Gasly] had so much space on his right.
"That is unfortunate, for sure. I have got some sort of damage there, I don't know exactly what, but it was a big hit to my front. I'm just grateful I could continue. And then I got another one further up, with the Williams and the Red Bull – they did the same thing. I managed to just survive."
Looking ahead to tomorrow, Hamilton added: "I hope it's not like today. We'll see. But fingers crossed."
Sergio Perez was 5th in the 2nd Red Bull with Esteban Ocon a distant 6th for Alpine.
Kevin Magnussen's Haas and Lewis Hamilton's Mercedes rounded out the final two points finishing positions.
Verstappen received 8 points for the win and now leads the drivers championship, 189 to 151 for his teammate Sergio Perez. Leclerc lurks in third with 145 points.
We cannot wait for more of this tomorrow.
Sprint Race Results
| | | | | | |
| --- | --- | --- | --- | --- | --- |
| POS | NO | DRIVER | CAR | LAPS | BEHIND |
| 1 | 1 | Max Verstappen | Red Bull Racing Honda | 23 | +0.000s |
| 2 | 16 | Charles Leclerc | Ferrari | 23 | +1.675s |
| 3 | 55 | Carlos Sainz | Ferrari | 23 | +5.644s |
| 4 | 63 | George Russell | Mercedes | 23 | +13.429s |
| 5 | 11 | Sergio Perez | Red Bull Racing Honda | 23 | +18.302s |
| 6 | 31 | Esteban Ocon | Alpine Renault | 23 | +31.032s |
| 7 | 20 | Kevin Magnussen | Haas Ferrari | 23 | +34.539s |
| 8 | 44 | Lewis Hamilton | Mercedes | 23 | +35.447s |
| 9 | 47 | Mick Schumacher | Haas Ferrari | 23 | +37.163s |
| 10 | 77 | Valtteri Bottas | Alfa Romeo Ferrari | 23 | +37.557s |
| 11 | 4 | Lando Norris | McLaren Mercedes | 23 | +38.580s |
| 12 | 3 | Daniel Ricciardo | McLaren Mercedes | 23 | +39.738s |
| 13 | 18 | Lance Stroll | Aston Martin Aramco Mercedes | 23 | +48.241s |
| 14 | 24 | Zhou Guanyu | Alfa Romeo Ferrari | 23 | +50.753s |
| 15 | 10 | Pierre Gasly | AlphaTauri Honda | 23 | +52.125s |
| 16 | 23 | Alexander Albon | Williams Mercedes | 23 | +52.412s |
| 17 | 22 | Yuki Tsunoda | AlphaTauri Honda | 23 | +54.556s |
| 18 | 6 | Nicholas Latifi | Williams Mercedes | 23 | +68.694s |
| 19 | 5 | Sebastian Vettel | Aston Martin Aramco Mercedes | 21 | DNF |
| NC | 14 | Fernando Alonso | Alpine Renault | 0 | DNF |