Supercars: Shane van Gisbergen claims second straight victory at Townsville 500
In one of the most dramatic finishes seen in recent years, Shane van Gisbergen has completed an NTI Townsville 500 sweep after a dramatic Race 20.
Van Gisbergen held closest title rival Anton De Pasquale, even after De Pasquale made up huge ground on the Red Bull Commodore in the closing laps – and came within a whisker of stealing a late win.
De Pasquale caught van Gisbergen on the final lap and sent the points leader into a spin at the final corner as he tried to push the Shell Ford Mustang into the lead in the dying moments of the race.
De Pasquale attempted a redress to the checkered flag, but van Gisbergen pushed him over the line. Officials quickly hit De Pasquale with a five-second time penalty, handing victory to van Gisbergen.
It helped van Gisbergen to his 11th win of 2022, his 10th in Townsville and 65th of his career.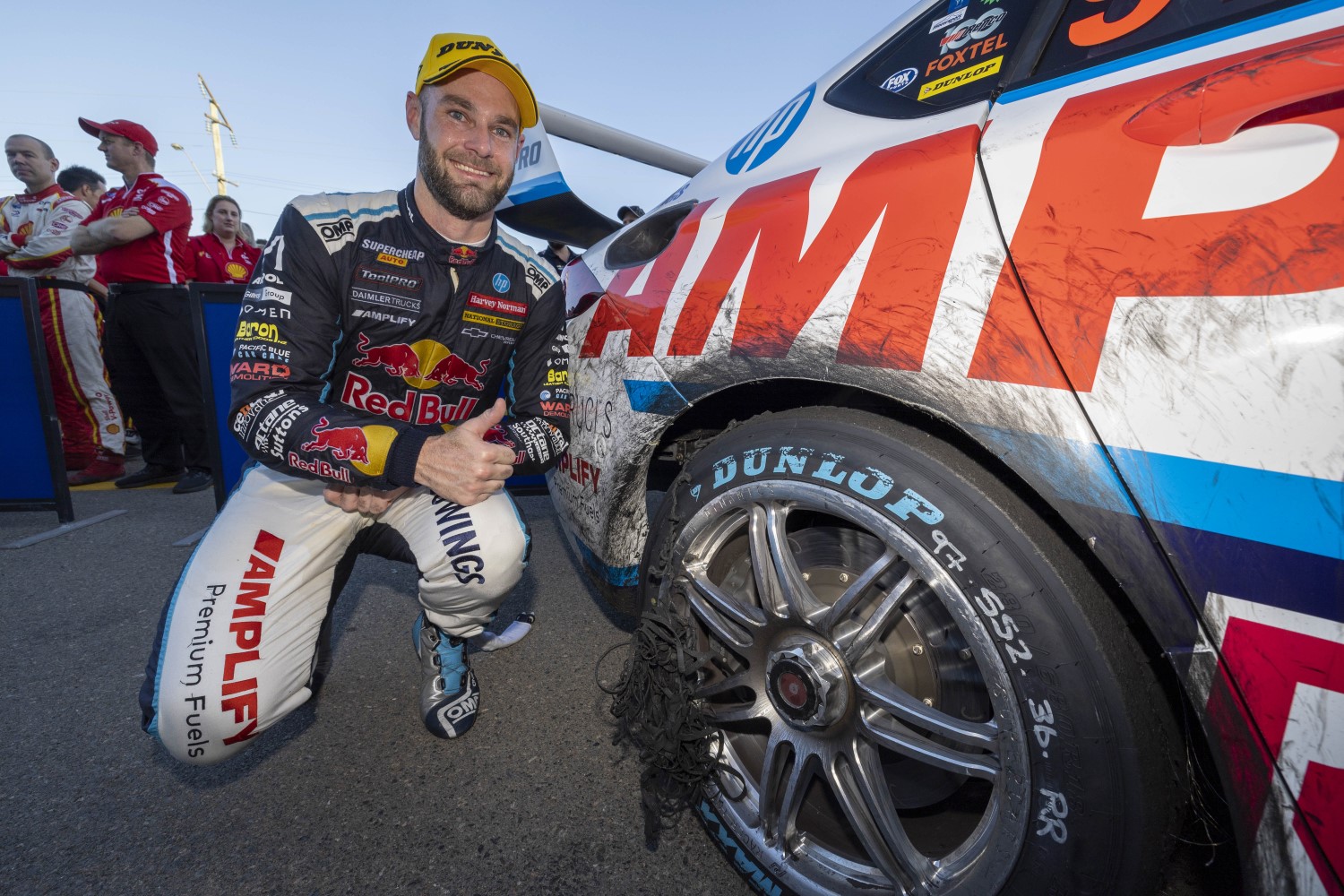 The Red Bull Ampol Racing driver extended his lead over De Pasquale to 274 points.
Triple Eight also regained the teams' championship points lead from Shell V-Power Racing Team.
Cam Waters completed the podium after a battle with former teammate Chaz Mostert.
"He had a go, you have to respect that," van Gisbergen said of the incident with De Pasquale on the final corner.
"Car was good, but his was better, he ran me down… we'll have a chat later, I'm angry at the moment."
De Pasquale added: "I was catching him, had a dip, locked the fronts, he spun around.
"I tried to give him the position, but he was trying to be a bit smarter than that."
In a race filled with incidents, Will Davison had one of the drives of the day.
He made a spirited comeback to seventh after falling to last after a first-lap clash with Scott Pye in which Pye sent the two-time Bathurst winner off track at high speed after a collision.
The duo tripped over each other; Pye fired into the wall at driver's left ending his day early.
At the front, it was neck and neck between the two Championship leaders. Van Gisbergen and De Pasquale both made their final pit stop on lap 61 and reverted to the speedy Super Soft Dunlop tyres.
The margin between the two remained at five seconds, but De Pasquale began to make inroads.
Behind the first two, Chaz Mostert pushed past Cam Waters with 21 laps remaining, but Waters regained the position on lap 84 and held on to claim third position and another podium.
Waters was 6.1s from victory, with James Courtney taking fourth away from Mostert.
Race Results
| | | | | | |
| --- | --- | --- | --- | --- | --- |
| POS | NO. | DRIVER | TEAM | BEHIND | POINTS |
| 1 | 97 | Van Gisbergen | Red Bull Holden Racing Team | +0.000s | 150 |
| 2 | 11 | A. de Pasquale | Shell V-Power Racing Team | +4.499 | 138 |
| 3 | 6 | C. Waters | Tickford Racing 1 | +6.140 | 129 |
| 4 | 5 | Courtney | Tickford Racing 1 | +12.741 | 120 |
| 5 | 25 | Mostert | WAU Racing Pty Ltd | +14.098 | 111 |
| 6 | 88 | B. Feeney | Red Bull Holden Racing Team | +18.136 | 102 |
| 7 | 17 | Davison | Shell V-Power Racing Team | +30.015 | 96 |
| 8 | 3 | Slade | CoolDrive Racing | +40.755 | 90 |
| 9 | 8 | Heimgartner | Brad Jones Racing | +43.447 | 84 |
| 10 | 18 | Winterbottom | Team 18 | +44.343 | 78 |
| 11 | 26 | Reynolds | Penrite Racing | +49.661 | 72 |
| 12 | 2 | Percat | WAU Racing Pty Ltd | +50.877 | 69 |
| 13 | 14 | B. Fullwood | Brad Jones Racing | +52.590 | 66 |
| 14 | 34 | J. Le Brocq | Matt Stone Racing | +56.368 | 63 |
| 15 | 35 | T. Hazelwood | Matt Stone Racing | +58.972 | 60 |
| 16 | 99 | B. Kostecki | Penrite Racing – Erebus | +1:12.314 | 57 |
| 17 | 55 | T. Randle | Tickford Racing 2 | +1:12.892 | 54 |
| 18 | 22 | C. Pither | PremiAir Coca Cola Racing | +1 Lap | 51 |
| 19 | 9 | W. Brown | Penrite Racing – Erebus | +1 Lap | 48 |
| 20 | 4 | J. Smith | SCT Motor Sports | +1 Lap | 45 |
| 21 | 31 | J. Golding | PremiAir Subway Racing | +1 Lap | 42 |
| 22 | 96 | M. Jones | SCT Motor Sports | +1 Lap | 39 |
| 23 | 10 | Holdsworth | Penrite Racing | +1 Lap | 36 |
| 24 | 56 | J. Kostecki | Tickford Racing 2 | +8 Laps | 33 |
| NC | 20 | S. Pye | Team 18 | +88 Laps | 0 |