F1: French GP at Paul Ricard Preview
Summer on the French Riviera is something that evokes images of harbor-side cafes, sun-kissed beaches and pine-lined roads: motor racing at its most spectacular is a fine addition to this picture.
Formula 1 will continue its 2022 FIA Formula 1 World Championship season with the French Grand Prix this coming weekend, held at Circuit Paul Ricard, which begins the second half of the season.
The back-to-back races in France and Hungary present a high-octane challenge to bring the first part of the season to an end. Two completely different tracks in similar, searing-hot weather mean teams and cars will be facing harsh conditions in their quest for points.
France has a rich history in motor-racing, with the first internationally recognized race taking place in 1894, before the term Grand Prix was formally conceived in 1906. It was part of the first Formula 1 World Championship season in 1950, with road circuits Reims, Rouen, Clermont Ferrand and Le Mans' Bugatti Circuit all holding events in the nascent decades.
In 1973 France's grand prix shifted to permanent circuits, alternating between Dijon-Prenois and Circuit Paul Ricard, until Magny-Cours took over the mantle in 1991. France dropped off the calendar after 2008, citing financial issues, but returned at a reprofiled Circuit Paul Ricard in 2018.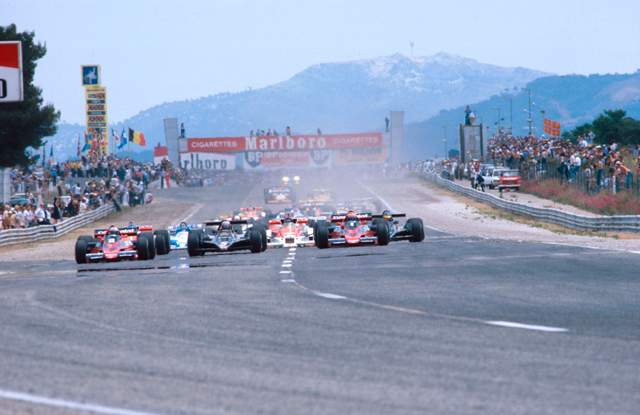 Located on a plateau above the vineyards and lavender fields of Provence, Circuit Paul Ricard was initially renovated as a high-speed test track. At the turn of the century it had innovative concepts, such as trackside sprinklers, and multi-layered run-off in the form of dazzling red and blue stripes designed to reduce car speed at the expense of tire degradation.
Circuit Paul Ricard's original function as a test facility means it has over 150 possible configurations and Formula 1 utilizes the 5.8km Grand Prix layout, which features the North Chicane along the Mistral Straight.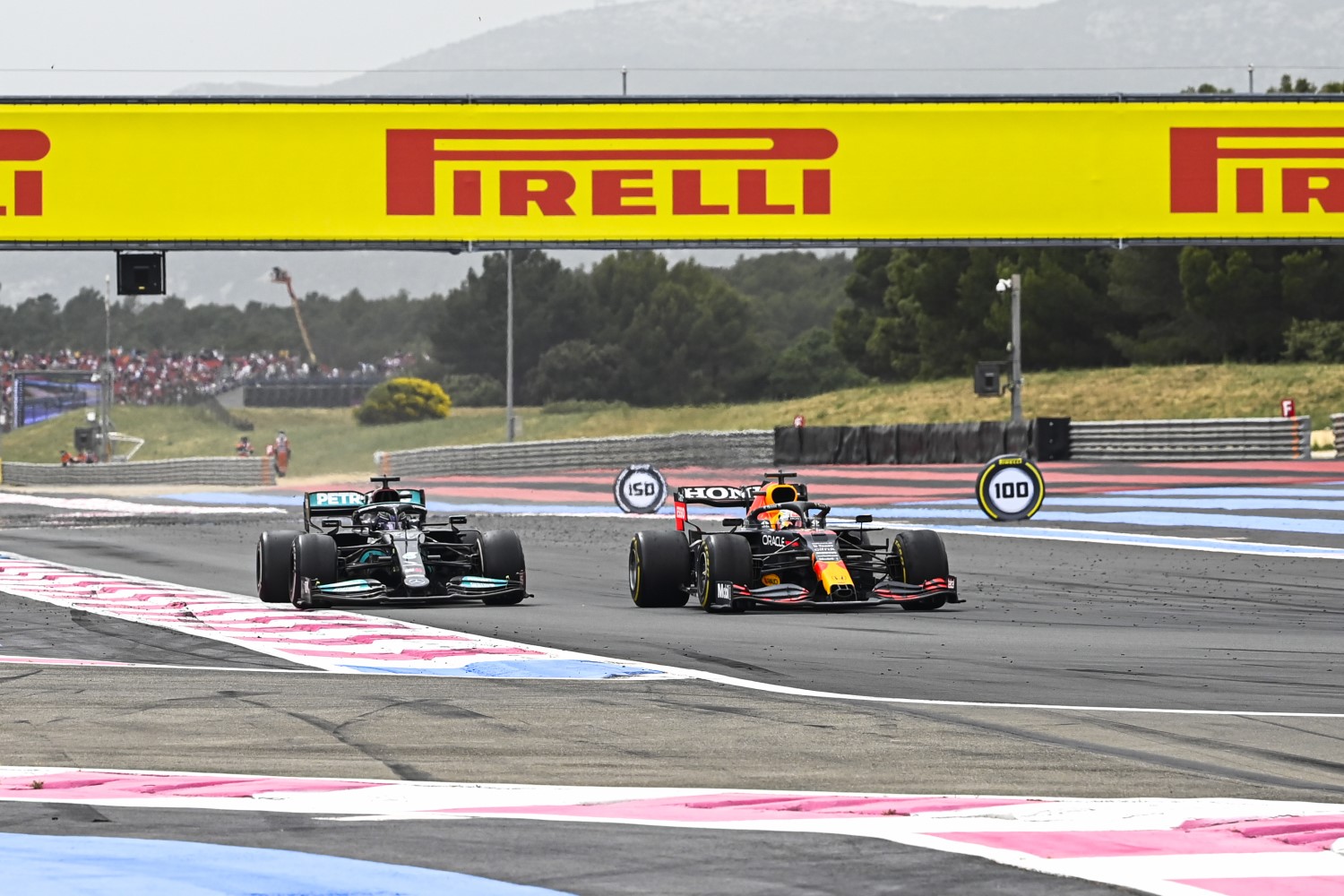 Weather Forecast: Extreme Heat
F1 heads straight into a heatwave for this weekend's French Grand Prix. The chance of rain this weekend is estimated not higher than five percent.
Friday
Sunshine all day for practice at Le Castellet with temperatures now expected to hit highs of 35 degrees Celsius (95-Degrees F)  during FP2. It is a searing, dry heat though, with humidity reaching an expected maximum of just 24 percent.
Winds will stay within four and nine miles per hour through the day but sporadic gusts of up to 24mph will provide drivers with a test on track.
Saturday
Almost the same conditions for qualifying on Saturday, with temperatures set to hit 34 degrees C (93-Degrees F), though wind will hit double figures for qualifying.
Gusts remain up at the mid-20mph mark, whilst humidity ramps up to around 30 percent.
Sunday
Back to 35 degrees Celsius (95-Degrees F) for the race at 3pm local time [9am EST] with wind speeds expected to hit eight miles per hour.
Gusts again are expected to hit 23mph with humidity at highs of 24 per cent once more.
Unlocking the Lap
The Paul Ricard track, named after the local businessman, whose determination and love of motorsport made this circuit possible, is a venue that offered a decent share of action in the past few years – even before the new generation of overtake-friendly cars made its appearance. With the 2022 machinery making its debut on the fast, technical French circuit, the hopes are high for a spectacular event.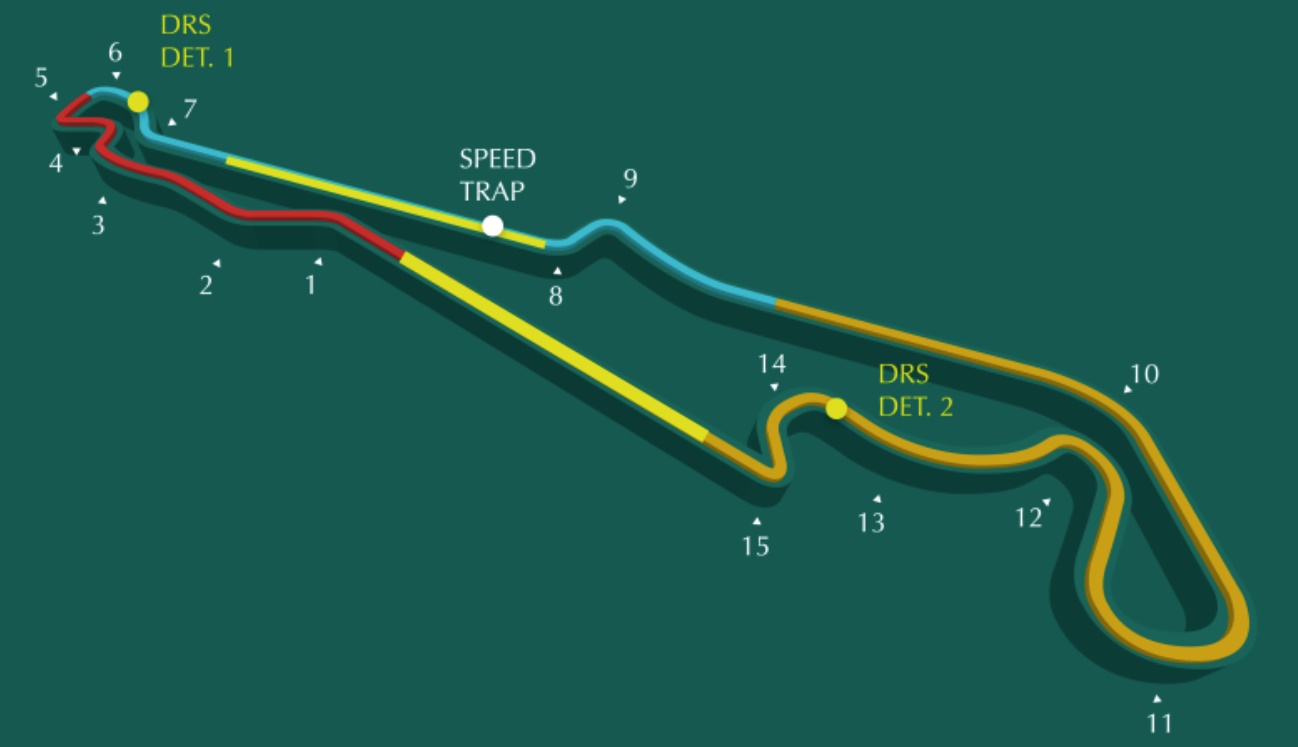 France is a pretty unique circuit because it's very flat, it's quite wide in places and you have a lot of run off. It feels different driving there compared to other tracks.
A lap begins with a tricky left-right chicane – the S de la Verrerie. Its slightly off-camber entry makes it tough to nail the apex; running wide can push drivers onto the exit curbs. With its wide entry, it is considerably faster than it appears on the track map.
The key overtaking point is at Turns Eight and Nine – the chicane at the halfway point of the famous Mistral Straight. Nailing the entry is crucial, but getting the exit right sets drivers up for the following straight. It is often better to compromise the entry to set up the exit onto the second part of the straight.
Following the famed Signes corner is the tricky double-apex Beausset, Turn 11. It is a very long, fast right-hander and carrying momentum is key to setting up the next sequence of corners. It is over 180-degrees in radius and the front-left tire suffers the most here on this clockwise circuit.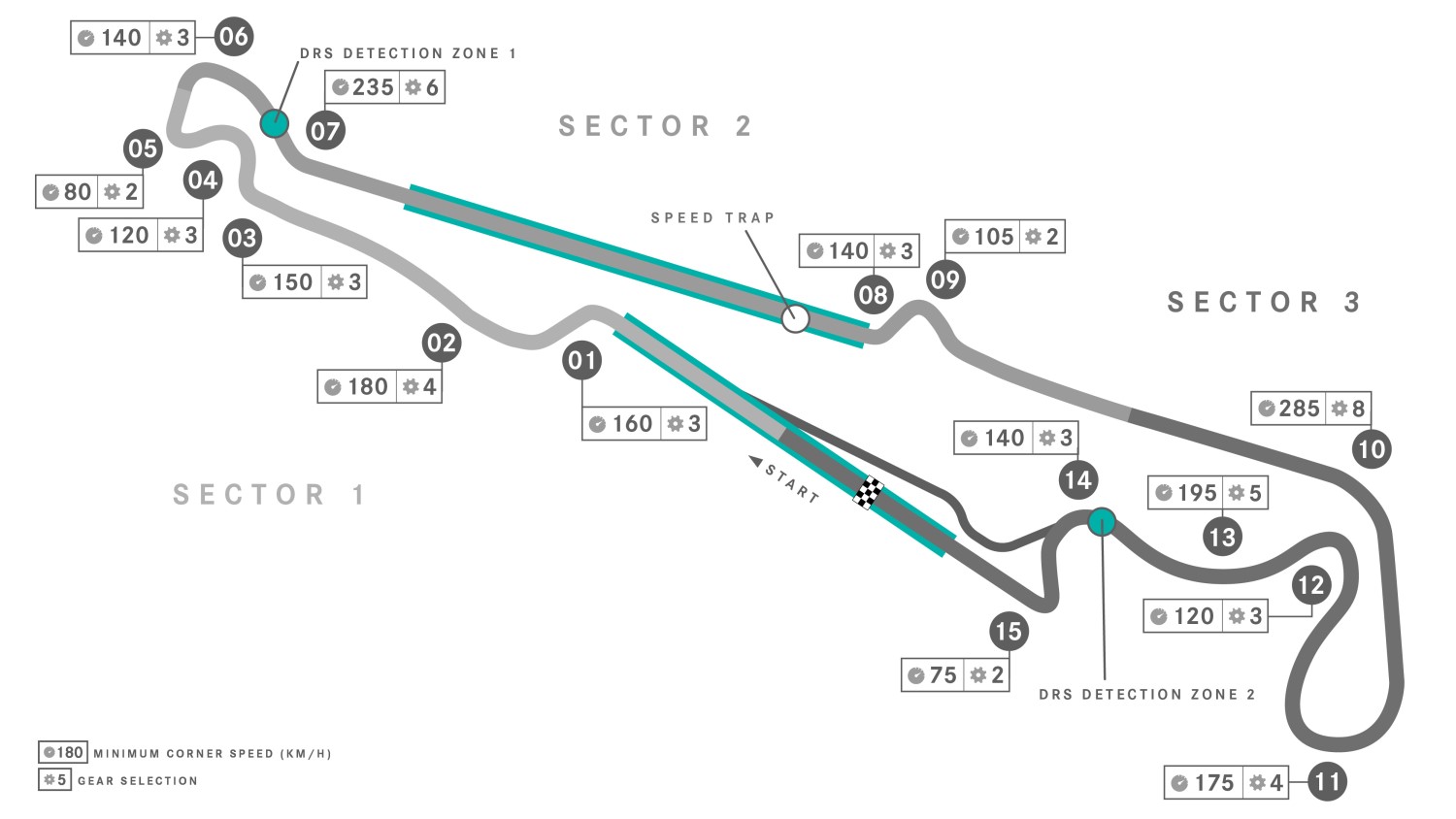 Overtaking: Expect to see a good number of overtakes during the race: Paul Ricard has (on average) 46 on-track passes outside of lap one. That's above the average for the season. There are two DRS zones, ahead of Turn One and Turn Eight. Expect most of the overtaking to be done into these two corners.
Safety Cars: They're uncommon. There has been just one Safety Car here in the past – the end of lap one in 2018. VSCs have also been used in recent years for debris and stopped cars despite the vast run-off areas, which can mitigate some of the loss in the relatively long time it takes to complete a pit-stop if positioned well.
Tires: The C2, C3 and C4 compounds will be used together for the first time since May's Miami Grand Prix. The selection is a step harder than the compounds used in Austria. Generally, this is a one-stop race, but expected hot temperatures could change things around slightly.
Mick Schumacher: "For sure it's a track where usually you have the opportunity to push quite hard just because you know that you can go over a certain limit sometimes. It's one of those tracks where you can push harder than other tracks just because you know you have the run-off and the chances of you getting near a wall is quite slim. Obviously, if you do a mistake, it's quite bad for the tires, so you obviously don't want to do it in an important session, but definitely it's a track that is quite interesting. It can be confusing at times due to all the different lines, so it's not just viewers that get confused, it can also be the drivers too."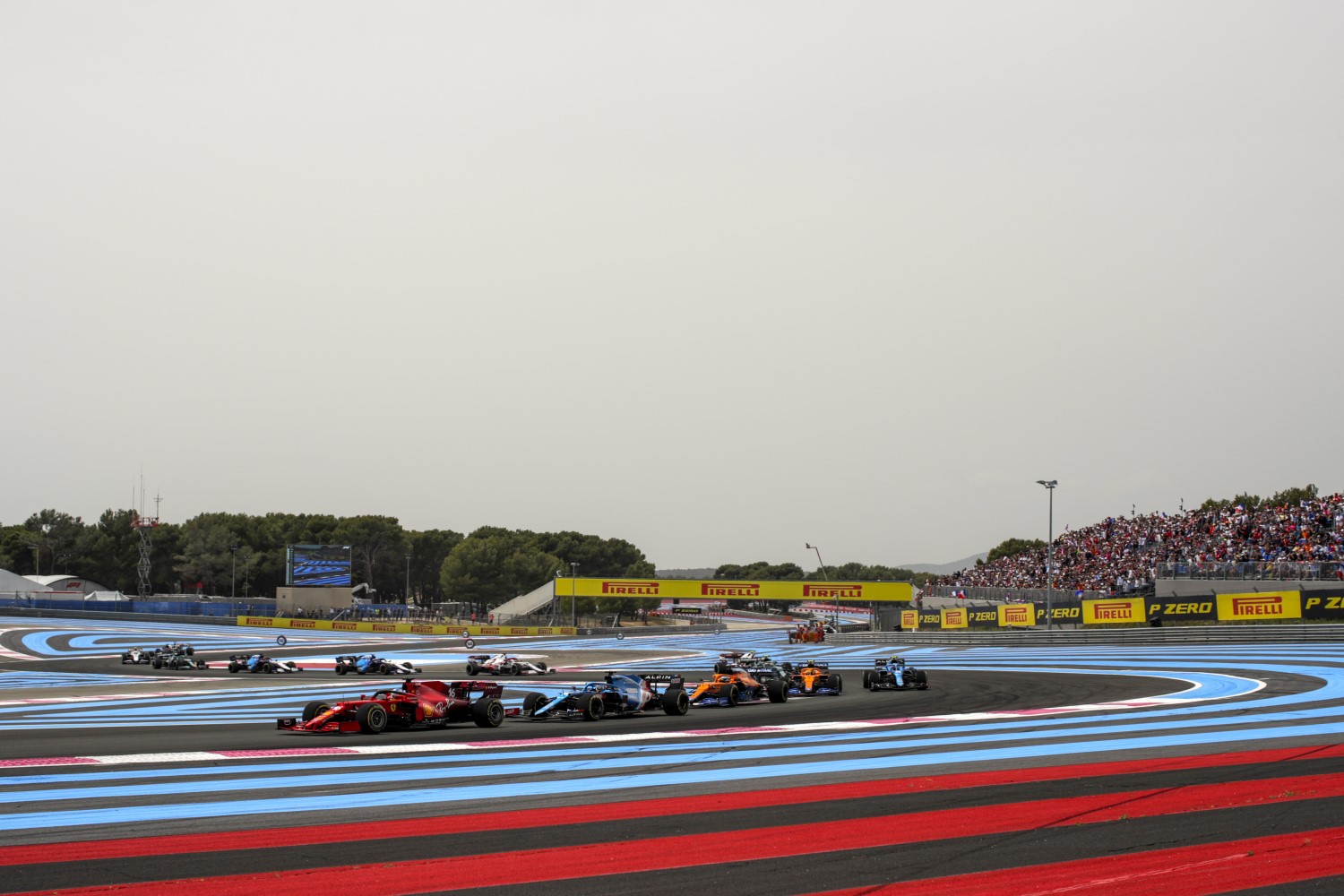 Local Hero: Piere Gasly: "It's a special weekend as it's my home race, particularly this year as there is some uncertainty over the future of the French Grand Prix. We are not sure if it stays on the calendar or not for next year, so I want to enjoy the moment and share it with all my fans, supporters and French F1 racing enthusiasts. In fact, we've organized a special Gasly grandstand at the chicane on the back straight for my fans. It's nice to be able to do something a bit more personal and to connect with them a bit more than usual. It's going to be a good atmosphere and I hope we can perform well enough to deliver a good result in front of the French crowd."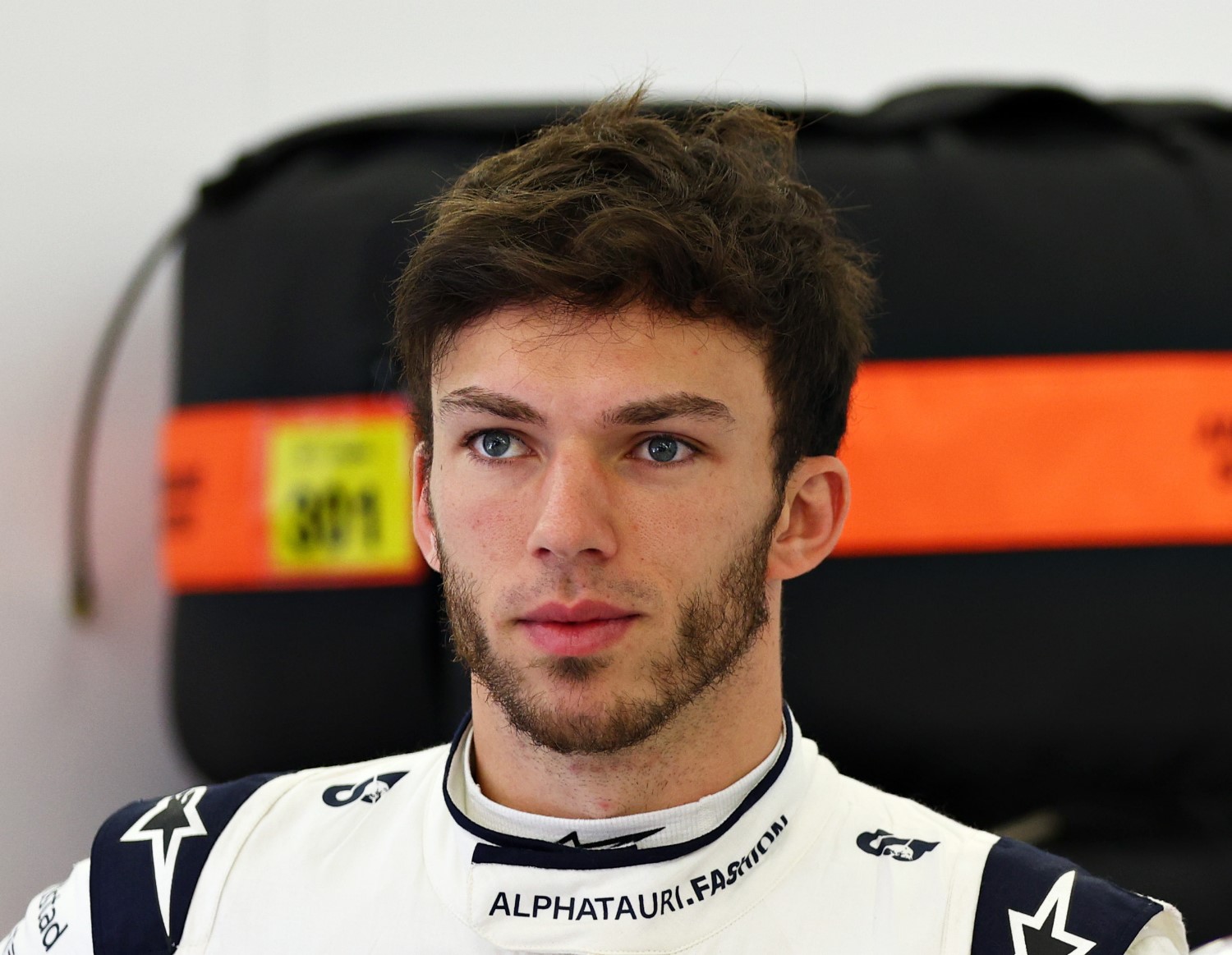 Fact File: French Grand Prix
Nyck de Vries will be driving in place of Lewis Hamilton in FP1. Over the course of the season, each driver is required to give up one of their first practice sessions for a young driver. Lewis has selected FP1 in France for his session, and George's will take place later in the season.
The French Grand Prix returned to the F1 calendar in 2018 at the Circuit Paul Ricard, a track that features 247 possible track configurations – ranging from 0.8 km to 5.86 km – and includes its own sprinkler system, making it possible to simulate wet weather driving on 64 of the different layouts. This variety of configurations makes Paul Ricard interesting as a test track because you can make it something akin to Monza or Monaco or a combination of both circuits.
F1 will be run at the Circuit Paul Ricard for the 18th time this season. Three different track variants have been used for hosting F1 races the years, including the 5.810 km layout (1971-1985), the 3.813 km (1986-1990) and the 5.842 km (since 2018). This year will see the circuit draw level with Magny-Cours as the venue to host the most French Grands Prix.
The Circuit Paul Ricard has been regularly resurfaced with fresh tarmac and provides a high grip level, compared to other tracks in F1. Plus, the tarmac is very dark, which is why it gets so hot in the sun and can reach temperatures approaching 55°C, one of the year's highest figures.
The Circuit Paul Ricard has an extremely smooth asphalt. However, smooth tarmac also means while tires don't wear out as quickly, they are much more difficult to warm up – although the normally high temperatures experienced at the track should help with getting heat into tires.
Although the track is generally very smooth, there is one heavy bump. Turn 5 was remodeled for the 2021 season with the intention to make it a slightly banked entry towards the apex, similar to Turn 4 in Austria, but in the end there is now a bump where the track drops away from the car between Turn 4 and Turn 5.
Of the 15 turns, 6 are left-hand and 9 are right-handers. Many of the right-hand corners are long sweeping turns, which puts a great deal of stress on front left tires. All in all, the Circuit Paul Ricard has a good mix of fast, medium and slow corners.
One of the circuit's special features are its brightly colored run off zones which offer plenty of grip and replace the more usual gravel traps. The blue zone is not especially abrasive and has only a small negative effect on cars going off track while the red zone close to the barriers has a much coarser texture and slows cars down. Both of these distinctive zones use tarmac combined with tungsten to create an abrasive surface that helps reduce car speeds when they exceed track limits.
At 424 meters in length, the pit lane is the third-longest on the current Formula One calendar – only Imola and Silverstone are longer.
Through the long and sweeping Turn 11, drivers are subjected to maximum lateral g-forces of around 4.6g.
Brake cooling at Paul Ricard is not as critical as at some other circuits because there is enough track between braking zones to allow pads and discs to cool down sufficiently, so overheating is not a particular problem.
Tires
For this event, Pirelli have brought the middle of their compound range, a combination that we used frequently at the start of the season, most recently in Miami. The next two races will also use these compounds.
The circuit was resurfaced ahead of last year's event and, in damp conditions, led to some tire graining. We will need to see exactly how the surface has aged in the last 12 months, but this process and the better weather forecast for this year should mean that graining is much less of an issue. Instead, the high track temperatures and high circuit energy is likely to lead to tire overheating, which will need to be managed during the race.
This year's French Grand Prix takes place nearly a month later than it did last year, when it rained on Sunday morning, so it's fair to expect warmer temperatures. This year's generation of tires and compounds is different and more resistant to overheating than the 13-inch versions used last year, so we'll have to see how that affects the strategy. A bit of history: Paul Ricard was actually where Pirelli 18-inch tires for the current era made their debut, at a test with Renault and Sergey Sirotkin back in 2019.