IndyCar: Power leads Chevy sweep of opening practice in Iowa
Penske veteran Will Power led a Chevy 1-2-3 sweep of the opening practice of the Hy-Vee INDYCAR doubleheader Weekend.
Power's lap of 18.5729s was just 0.0049s faster than Ed Carpenter Racing's Conor Daly.
"The car feels really good," Power said. "It felt good on a long run. We did make some changes, and at least we know what they do now. Whatever you run in quali, you've got to race. That's a bit of a compromise there. I feel like we've got a good car and hope we can have a good weekend."
Scott McLaughlin, Power's Penske Chevy teammate was 3rd quick while the only Honda-powered car in the top-5 was Ganassi Racing's Alex Palou in 4th.
Pato O'Ward rounded out the top-5 for Arrow McLaren Racing. "It was a hot day for us, but a good practice. We got everything we needed from our running plan and we have some good data to analyze for tomorrow. We'll be going into qualifying for both races and then straight to race one tomorrow, so everybody is in the same boat in terms of the challenge ahead, but I think we're in good shape."
Several drivers attempted qualifying simulations late, and Power jumped to the top, beating Daly.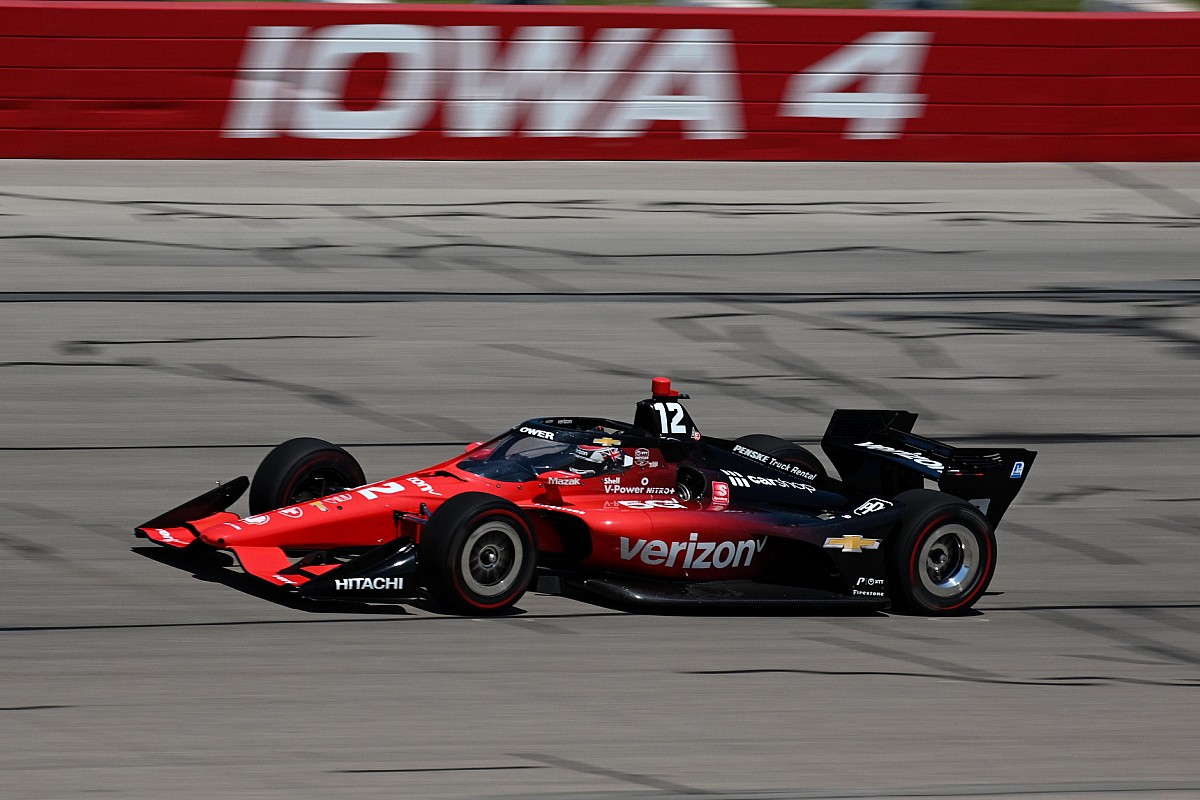 All 26 drivers in the field were forced to try to keep cool in scorching air temperatures in the mid-90s at the "Fastest Short Track on the Planet."
"It's fine," Power said. "Tire deg (degradation) is more (in the heat), and it's better for racing. It's a really cool track. I really, really enjoy it. It's a lot of fun."
IndyLights
Indy Lights Presented by Cooper Tires championship leader Linus Lundqvist found himself in a familiar spot after the first practice Friday for the race Saturday at Iowa Speedway – on top.
Lundqvist, from Sweden, led the field of 13 drivers with a fast lap of 20.3402 seconds, 158.229 mph on the .894-mile oval in the No. 26 HMD Motorsports with Dale Coyne Racing car.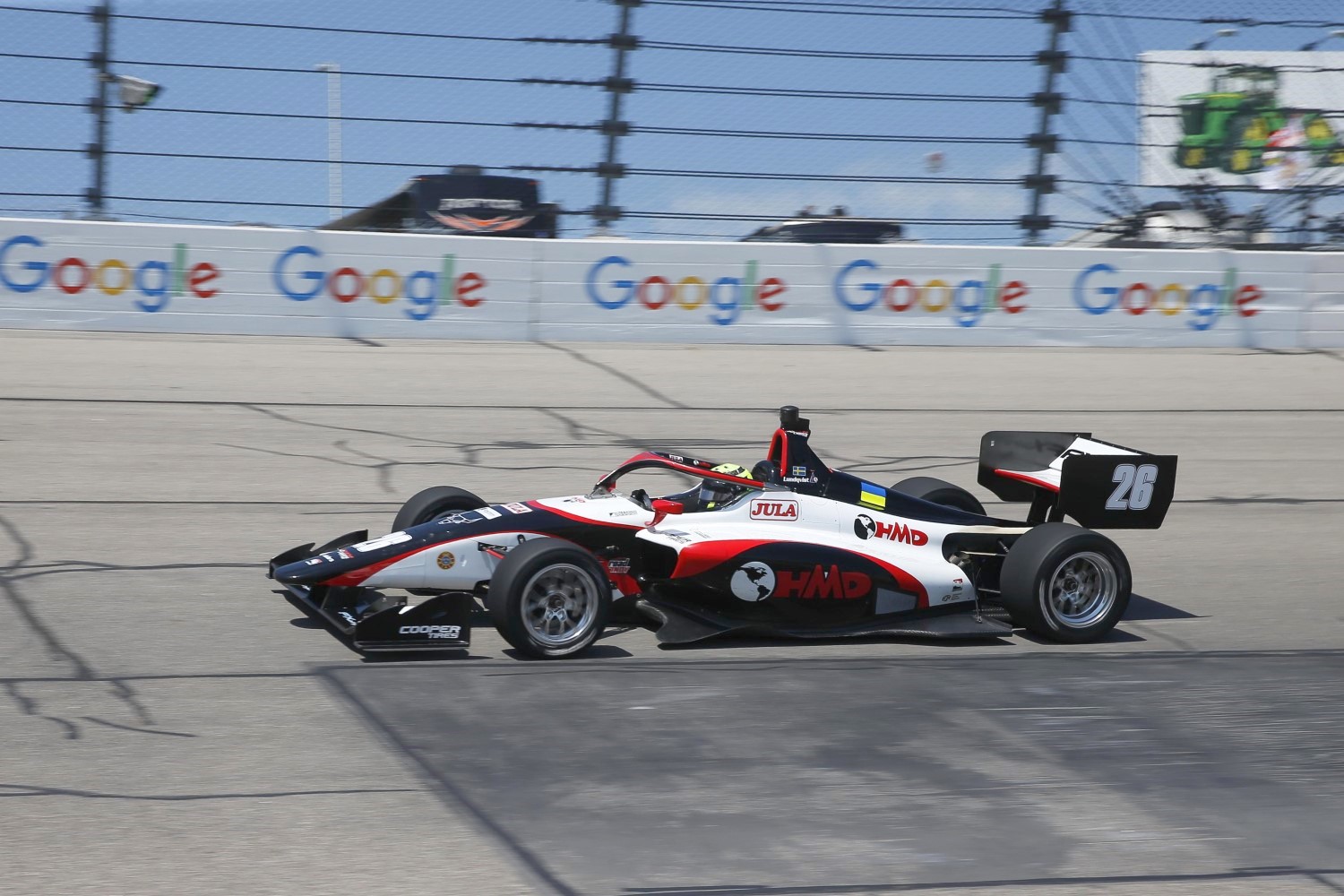 None of the drivers competing in the 75-lap race Saturday has previous racing experience at Iowa in an Indy Lights, Indy Pro 2000 Presented by Cooper Tires or Cooper Tires USF2000 Championship car. Lundqvist leads the championship by 87 points over Sting Ray Robb of Andretti Autosport with six races to go this season.
"We had the official test here a couple of weeks ago, so we came here knowing we had to do a few little tweaks," Lundqvist said. "Obviously, we're a little more comfortable running here a second time.
"It's a big difference from Gateway (World Wide Technology Raceway oval). Even though (Iowa) is a short oval, they have so many different characteristics. The high line is very big around here. You look at some past races here, and you see guys going side by side for four, five, six laps. I'm looking forward to the race. Good practice for us."
Andretti Autosport drivers took the next three spots on the speed chart. Matthew Brabham was second at 157.978 mph in the No. 83 Andretti Autosport car, followed by Hunter McElrea at 157.762 in the No. 27 Andretti car and Christian Rasmussen at 157.661 in the team's No. 28 Road to Indy/Stellrecht car.
Jacob Abel rounded out the top five at 157.619 in the No. 51 Abel Speedwagon entry.
The 50-minute session was clean, with one caution for a track inspection. The 13-driver field combined to turn 799 laps, with Brabham leading the individual laps turned list with 83 trips around the "Fastest Short Track on the Planet."
IndyCar Practice 1 Results
| | | | | | | | | | |
| --- | --- | --- | --- | --- | --- | --- | --- | --- | --- |
| Pos | No | Name | Time | Diff | Gap | Laps | Speed | Engine | Team |
| 1 | 12 | Will Power | 18.5729 | 0.000 | 0.000 | 90 | 173.285 | Chevy | Team Penske |
| 2 | 20 | Conor Daly | 18.5778 | 0.0049 | 0.0049 | 93 | 173.239 | Chevy | Ed Carpenter Racing |
| 3 | 3 | Scott McLaughlin | 18.5946 | 0.0217 | 0.0168 | 103 | 173.083 | Chevy | Team Penske |
| 4 | 10 | Alex Palou | 18.6289 | 0.0560 | 0.0343 | 119 | 172.764 | Honda | Chip Ganassi Racing |
| 5 | 5 | Pato O'Ward | 18.6372 | 0.0643 | 0.0083 | 106 | 172.687 | Chevy | Arrow McLaren SP |
| 6 | 8 | Marcus Ericsson | 18.7313 | 0.1584 | 0.0941 | 81 | 171.819 | Honda | Chip Ganassi Racing |
| 7 | 2 | Josef Newgarden | 18.7599 | 0.1870 | 0.0286 | 91 | 171.557 | Chevy | Team Penske |
| 8 | 15 | Graham Rahal | 18.8242 | 0.2513 | 0.0643 | 84 | 170.971 | Honda | Rahal Letterman Lanigan Racing |
| 9 | 48 | Jimmie Johnson | 18.8436 | 0.2707 | 0.0194 | 85 | 170.795 | Honda | Chip Ganassi Racing |
| 10 | 9 | Scott Dixon | 18.8476 | 0.2747 | 0.0040 | 90 | 170.759 | Honda | Chip Ganassi Racing |
| 11 | 21 | Rinus VeeKay | 18.8531 | 0.2802 | 0.0055 | 106 | 170.709 | Chevy | Ed Carpenter Racing |
| 12 | 7 | Felix Rosenqvist | 18.8606 | 0.2877 | 0.0075 | 102 | 170.641 | Chevy | Arrow McLaren SP |
| 13 | 45 | Jack Harvey | 18.8918 | 0.3189 | 0.0312 | 114 | 170.360 | Honda | Rahal Letterman Lanigan Racing |
| 14 | 26 | Colton Herta | 18.9071 | 0.3342 | 0.0153 | 81 | 170.222 | Honda | Andretti Autosport w/Curb-Agajanian |
| 15 | 51 | Takuma Sato | 18.9191 | 0.3462 | 0.0120 | 94 | 170.114 | Honda | Dale Coyne Racing w/RWR |
| 16 | 30 | Christian Lundgaard | 18.9276 | 0.3547 | 0.0085 | 89 | 170.037 | Honda | Rahal Letterman Lanigan Racing |
| 17 | 60 | Simon Pagenaud | 18.9301 | 0.3572 | 0.0025 | 93 | 170.015 | Honda | Meyer Shank Racing |
| 18 | 18 | David Malukas | 18.9416 | 0.3687 | 0.0115 | 95 | 169.912 | Honda | Dale Coyne Racing with HMD |
| 19 | 06 | Helio Castroneves | 18.9487 | 0.3758 | 0.0071 | 92 | 169.848 | Honda | Meyer Shank Racing |
| 20 | 27 | Alexander Rossi | 18.9906 | 0.4177 | 0.0419 | 77 | 169.473 | Honda | Andretti Autosport |
| 21 | 77 | Callum Ilott | 19.0681 | 0.4952 | 0.0775 | 91 | 168.785 | Chevy | Juncos Hollinger Racing |
| 22 | 33 | Ed Carpenter | 19.0904 | 0.5175 | 0.0223 | 77 | 168.587 | Chevy | Ed Carpenter Racing |
| 23 | 28 | Romain Grosjean | 19.1150 | 0.5421 | 0.0246 | 95 | 168.370 | Honda | Andretti Autosport |
| 24 | 29 | Devlin DeFrancesco | 19.1753 | 0.6024 | 0.0603 | 93 | 167.841 | Honda | Andretti Steinbrenner Autosport |
| 25 | 4 | Dalton Kellett | 19.2663 | 0.6934 | 0.0910 | 91 | 167.048 | Chevy | AJ Foyt Enterprises |
| 26 | 14 | Kyle Kirkwood | 19.2954 | 0.7225 | 0.0291 | 78 | 166.796 | Chevy | AJ Foyt Enterprises |