IndyCar: Newgarden Holds off O'Ward to Win Race 1 at Iowa Speedway
Josef Newgarden dominated the Hy-VeeDeals.com 250 presented by DoorDash leading 208 of 250 laps.
In front of a great crowd and with a temperature of 98 degrees, Newgarden and his Penske Chevy teammate Will Power led almost every lap of the race.   This is Newgarden's fourth win at the short oval track.
Arrow McLaren SP's Pato O'Ward battled Power to take second on lap 220.  The young Mexican
Will Power, Rinus VeeKay and Scott Dixon rounded out the top five.
The first yellow came at lap 16 when Ganassi Racing's Jimmie Johnson spun in turn four but kept it off the walls.   Using an alternate strategy, Johnson was the only other driver to lead any laps, from lap 61 to lap 80, when he came in for service.
The 2nd yellow came on lap 110 when Arrow McLaren SP's Felix Rosenqvist  backed his entry into turn 2.  The Swede was seen and released from the infield care center.
Then a yellow for debris on lap 126 lasted four laps.
The final yellow came out on lap 164 when Ed Carpenter Racing's number 33 entry driven by the team owner, Ed Carpenter, made contact with the SAFER barrier in turn 3.
The Ganassi Racing drivers did not qualify well for this race, but the three drivers in the points race for the championship, managed to have good finishes to keep themselves in the battle.
Marcus Ericsson, driver of the number 8 Huski Chocolate entry for Chip Ganassi Racing, has 375 points and is still leading Newgarden by 15 points.  Newgarden and Power are second and third respectively and are separated by only three points now.  Alex Palou, driver of the number 10 Ridgeline Lubricants for Chip Ganassi Racing, is fourth on the list just eleven points behind Power.  And Scott Dixon, driver of the number 9 PNC Bank entry for Chip Ganassi Racing, is now in fifth place, just five points behind Palou.
Josef Newgarden
"It's been a frustrating year in some regards. But it's been tempered with great results. I mean, to your point, we've had four wins. I feel like we've showed  up at most of these weekends capable of winning the race."
"Fortunately four of them have worked out pretty nicely. But, yeah, it's either working out like that or it's just going sideways to some degree. I don't know that I want to put that on any one specific thing. It's been kind of bad timing in a lot of respects this year. Mid-Ohio was bad timing, qualifying and the race. Toronto we had bad qualifying with P2 going out, hampered qualifying. Bad positions on the pit stop. Even the pit cycle before that was bad timing on when we pit."
"I don't really think it's anyone's fault. I don't think we have a problem in any part of the team. For whatever reason, we have odd timing on most of these weekends. The other weekends where there is no odd timing, we win the race. I think if we could find the middle ground there, we'd be handily in the points lead. We can't seem to find that
balance right now."
"It's always tough around here in Iowa. You've got to be really good in and out of traffic. Today was the same thing. I saw more dropoff today, though, than perhaps 2020. Being a day race makes that very different."
"But it's the name of the game. Keeping after the tires and your adjustments to keep after the tires, being able to get through traffic, those are the two ingredients you need to win here at Iowa."
"The race tomorrow will be the same. Even with cooler conditions, it will be the same deal."
Pato O'Ward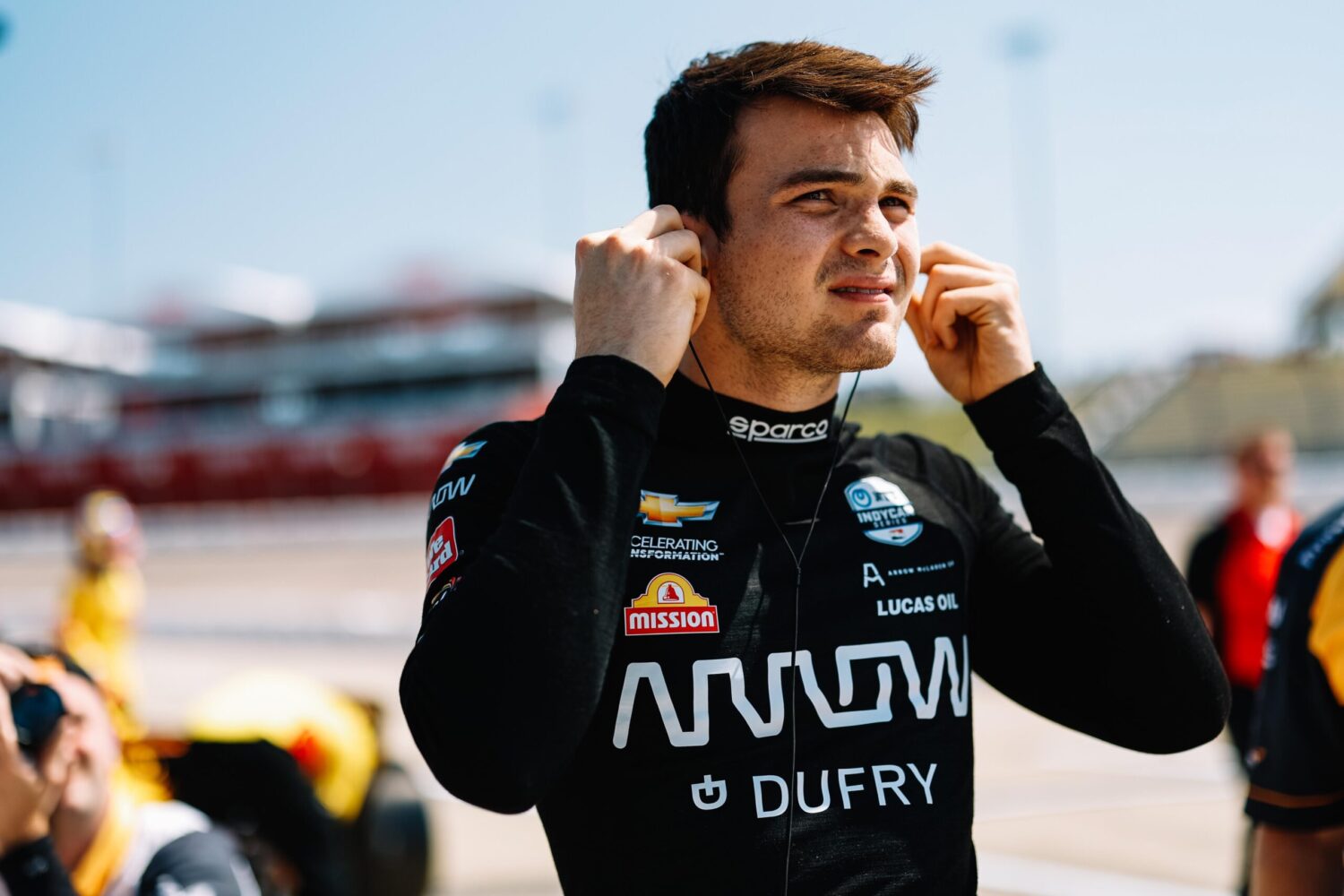 "It was a really solid points day for us today. I thought we had a little bit more for Josef in the end. He was really strong. All Penske cars were extremely strong."
"It was all about what can we do different to them to be able to just have a shot at getting by them. I had to use my tires a bit much. I think Will was on the same train battling with me and Palou, Marcus. So I think we used up our tires a little bit more than what Josef did. He had a little bit more to give in the end."
"I was happy with my car. Didn't really start off very good. We were just extremely, extremely loose. As we saw in the 7 car, unfortunate. Yeah, glad Felix is okay. We need to see what we can do better for tomorrow to not have that because it took a lot of pit stops to get it into a window where we could actually attack rather than just being a little bit of a passenger."
"Yeah, really happy with our day."
Will Power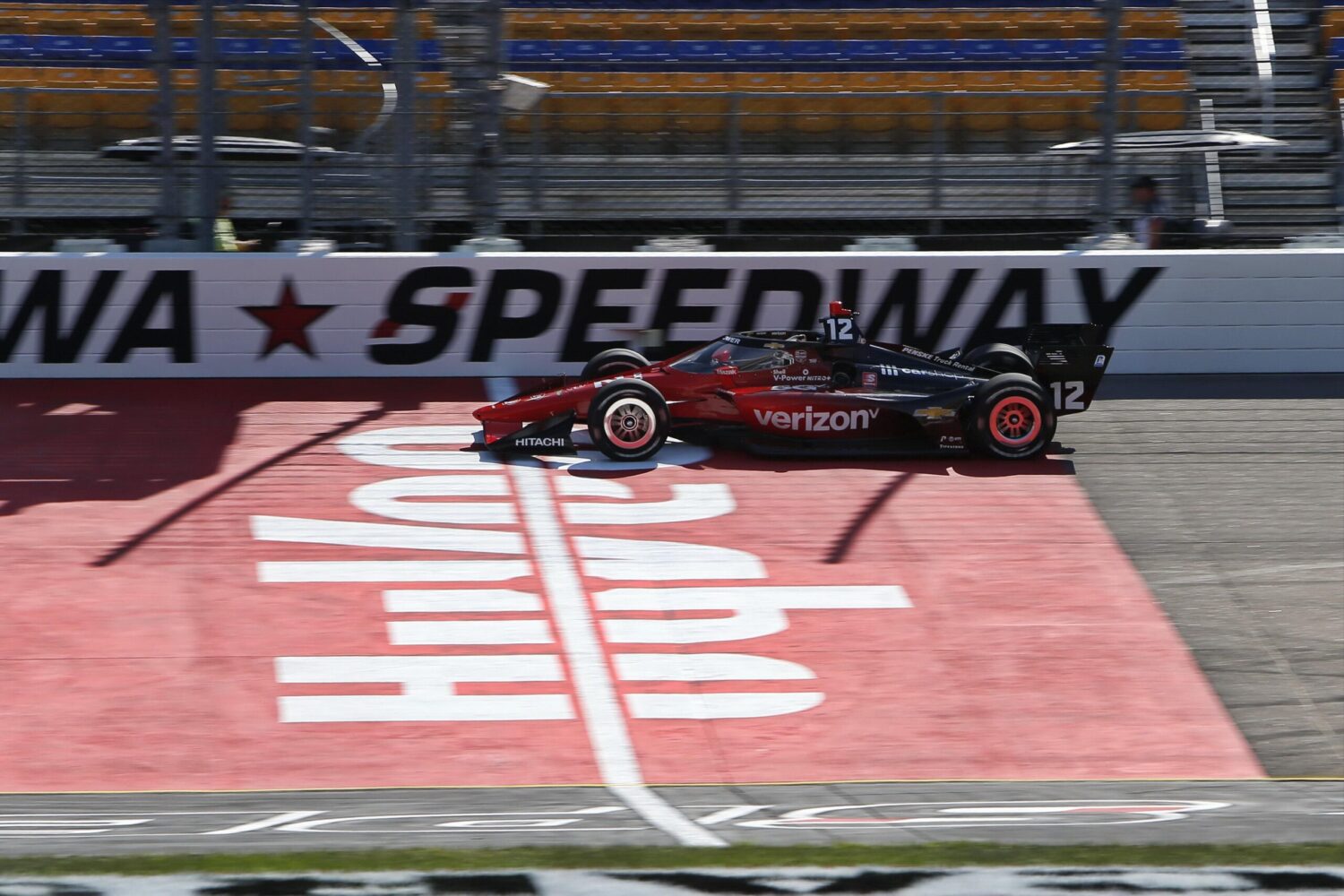 "It was a good battle. Last restart is what hurt me the most, trying to keep guys behind. Had a couple of big yaw moments on the rear tire early. Pounded on that rear too much to stay ahead. Then went loose, really loose. I had some big saves."
"I was happy to end up third actually. I was thinking we might fall back a bit further. Some good lessons in there for tomorrow. But it is difficult when you get attacked. You can't do much. You want to be the leader because you're in clean air, so much easier to conserve your tires up there."
"Yeah, kind of a second-gear restart, that was a mistake. That's what Josef got me. I should have been smarter on that."
" You never look back on a day when finishing third is a bad thing. There's a few things I could have done a little better, been a bit more aggressive with the tools in the car to make sure the rear wouldn't go off."
"I felt like we had a strong car. I was a bit conservative at the start, not attacking as much as Josef was. Then when we had the restart and I was starting to attack Josef, that's
when I started to be a bit more aggressive and felt a bit stronger."
"Yeah, good day. Third's good points every time."
Jimmie Johnson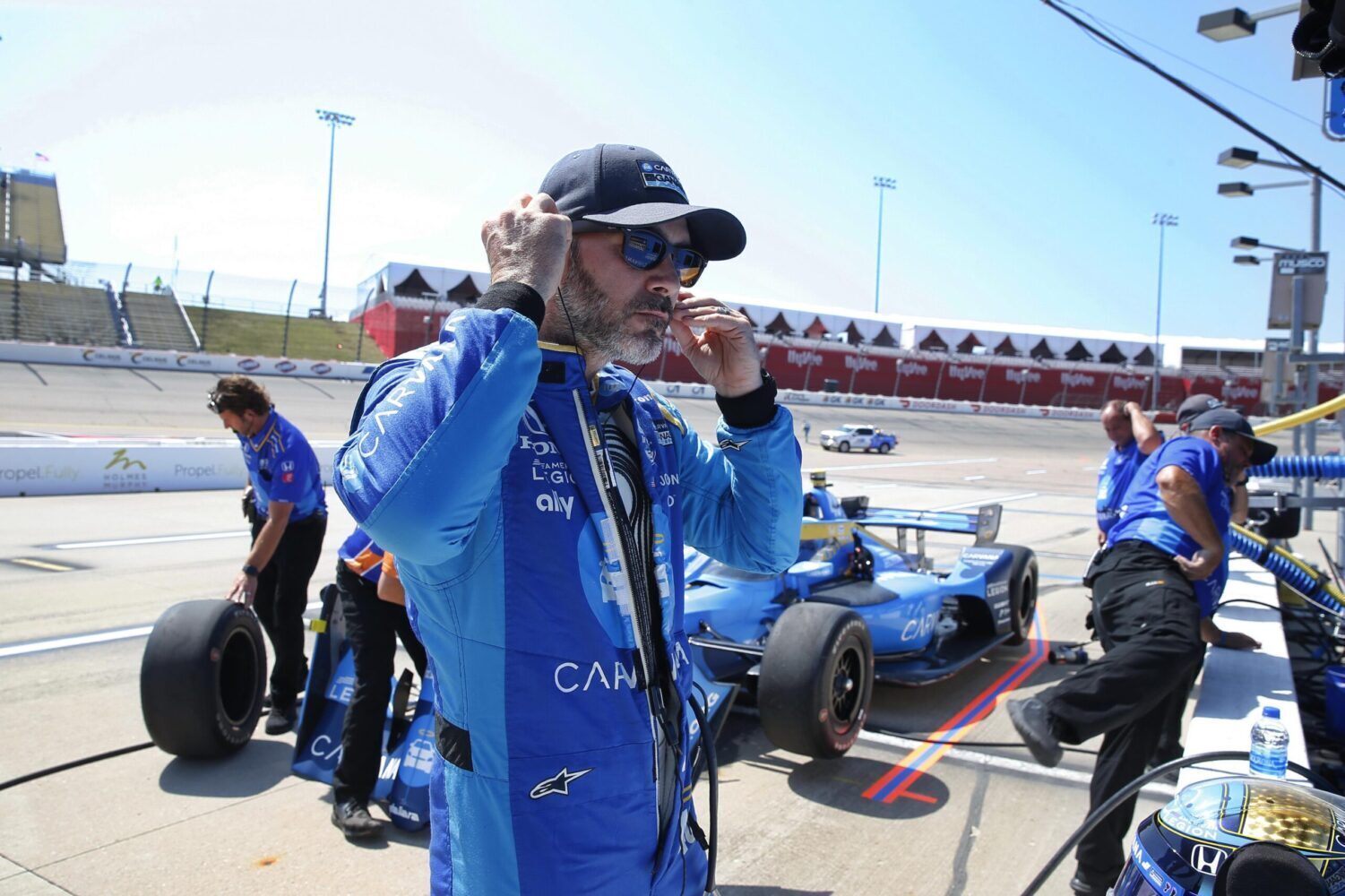 "I had so much fun out there today. Watched so many great races at this track. To be here in person, drive on it in an INDYCAR is such a rush. The first two-thirds of the race I really felt like we had a car competitive enough to win. Then there at the end it kind of slipped away from us. I think the longer run at the end also kind of exposed a weakness in our car, and I faded a bit more."
"We'll sleep on it tonight, work with our teammates and engineers, make some good changes for tomorrow and come back stronger."
" I mean, these cars really reward confidence. A Cup car, I think they reward patience and finesse. There's a different skill set that goes with it. You're going so damn fast in these things, the more downforce it creates, the confidence really rewards you."
"Certainly hoping so. I hope tomorrow I have an even sharper performance."
Race Results
| | | | | | | | | | | | |
| --- | --- | --- | --- | --- | --- | --- | --- | --- | --- | --- | --- |
| Pos | No | Name | Laps | Diff | Gap | FL | Led | ST | Engine | Points | Team |
| 1 | 2 | Josef Newgarden | 250 | 0.000s | 0.000s | 135 | 208 | 2 | Chevy | 360 | Team Penske |
| 2 | 5 | Pato O'Ward | 250 | 6.1784 | 6.1784 | 177 | 0 | 4 | Chevy | 316 | Arrow McLaren SP |
| 3 | 12 | Will Power | 250 | 20.2822 | 14.1038 | 2 | 23 | 1 | Chevy | 353 | Team Penske |
| 4 | 21 | Rinus VeeKay | 250 | 20.3748 | 0.0926 | 176 | 0 | 8 | Chevy | 243 | Ed Carpenter Racing |
| 5 | 9 | Scott Dixon | 250 | 21.9744 | 1.5996 | 178 | 0 | 13 | Honda | 337 | Chip Ganassi Racing |
| 6 | 10 | Alex Palou | 249 | 1 LAPS | 2.0989 | 176 | 0 | 14 | Honda | 342 | Chip Ganassi Racing |
| 7 | 28 | Romain Grosjean | 249 | In Pit | 3.4077 | 62 | 0 | 10 | Honda | 223 | Andretti Autosport |
| 8 | 8 | Marcus Ericsson | 249 | 1 LAPS | 0.1157 | 135 | 0 | 12 | Honda | 375 | Chip Ganassi Racing |
| 9 | 15 | Graham Rahal | 249 | 1 LAPS | 4.0197 | 178 | 0 | 16 | Honda | 232 | Rahal Letterman Lanigan Racing |
| 10 | 30 | Christian Lundgaard | 249 | 1 LAPS | 0.9214 | 79 | 0 | 20 | Honda | 203 | Rahal Letterman Lanigan Racing |
| 11 | 48 | Jimmie Johnson | 249 | 1 LAPS | 0.0481 | 176 | 19 | 15 | Honda | 128 | Chip Ganassi Racing |
| 12 | 77 | Callum Ilott | 249 | 1 LAPS | 1.0826 | 180 | 0 | 22 | Chevy | 131 | Juncos Hollinger Racing |
| 13 | 27 | Alexander Rossi | 249 | 1 LAPS | 0.7477 | 62 | 0 | 19 | Honda | 253 | Andretti Autosport |
| 14 | 18 | David Malukas | 249 | 1 LAPS | 1.8394 | 2 | 0 | 6 | Honda | 179 | Dale Coyne Racing with HMD |
| 15 | 14 | Kyle Kirkwood | 249 | 1 LAPS | 3.1741 | 68 | 0 | 24 | Chevy | 121 | AJ Foyt Enterprises |
| 16 | 06 | Helio Castroneves | 249 | 1 LAPS | 2.3873 | 178 | 0 | 25 | Honda | 187 | Meyer Shank Racing |
| 17 | 29 | Devlin DeFrancesco | 249 | 1 LAPS | 0.5247 | 185 | 0 | 18 | Honda | 124 | Andretti Steinbrenner Autosport |
| 18 | 45 | Jack Harvey | 249 | 1 LAPS | 0.3052 | 3 | 0 | 7 | Honda | 138 | Rahal Letterman Lanigan Racing |
| 19 | 20 | Conor Daly | 249 | 1 LAPS | 1.4755 | 2 | 0 | 3 | Chevy | 209 | Ed Carpenter Racing |
| 20 | 4 | Dalton Kellett | 247 | 3 LAPS | 1 LAPS | 134 | 0 | 26 | Chevy | 86 | AJ Foyt Enterprises |
| 21 | 51 | Takuma Sato | 245 | In Pit | 1 LAPS | 188 | 0 | 9 | Honda | 163 | Dale Coyne Racing w/RWR |
| 22 | 3 | Scott McLaughlin | 244 | 6 LAPS | 1 LAPS | 178 | 0 | 5 | Chevy | 282 | Team Penske |
| 23 | 60 | Simon Pagenaud | 244 | 6 LAPS | 9.4398 | 50 | 0 | 21 | Honda | 250 | Meyer Shank Racing |
| 24 | 26 | Colton Herta | 242 | 8 LAPS | 2 LAPS | 66 | 0 | 17 | Honda | 260 | Andretti Autosport w/Curb-Agajanian |
| 25 | 33 | Ed Carpenter | 160 | Contact | 1.4102 | 123 | 0 | 23 | Chevy | 54 | Ed Carpenter Racing |
| 26 | 7 | Felix Rosenqvist | 109 | Contact | 5 LAPS | 76 | 0 | 11 | Chevy | 249 | Arrow McLaren SP |
Race Statistics
Winner's average speed: 134.674 mph
Time of Race: 1:39:34.4218
Margin of victory: 6.1784 seconds
Cautions: 4 for 33 laps
Lead changes: 4 among 3 drivers
Lap Leaders:
Power 1-22
Newgarden 23-59
Power 60
Johnson 61-79
Newgarden 80-250
NTT INDYCAR SERIES Point Standings:
Ericsson 375, Newgarden 360, Power 353, Palou 342, Dixon 337, O'Ward 316, McLaughlin 282, Herta 260, Rossi 253, Pagenaud 250, Rosenqvist 249, VeeKay 243, Rahal 232, Grosjean 223, Daly 209, Lundgaard 203, Castroneves 187, Malukas 179, Sato 163, Harvey 138, Ilott 131, Johnson 128, DeFrancesco 124, Kirkwood 121, Kellett 86, Tony Kanaan 78, Santino Ferrucci 71, Tatiana Calderon 58, Carpenter 54, JR Hildebrand 53, Juan Pablo Montoya 44, Simona De Silvestro 21, Marco Andretti 17, Sage Karam 14, Stefan Wilson 10