IndyCar: Newgarden crashes from lead, O'Ward wins Iowa Sunday race
Like he did on Saturday, Team Penske's Josef Newgarden dominated the Salute to Farmers 300 presented by Google IndyCar race at Iowa Speedway Sunday, but it was not meant to be as Newgarden crashed on lap 231 of 300 when he ended up in the SAFER Barrier in turn 4  with a suspected issue with the right rear suspension.
When the green flag flew with 50 laps to go, Arrow McLaren's Pato O'Ward led from Newgarden's Penske teammate Will Power, Ganassi's Scott Dixon and Team Penske's Scott McLaughlin.
O'Ward and Power battled for 2nd much of the race and when Newgarden crashed they raced was for the lead.
With clean air out front, O'Ward slowly stretched his lead from Power all the way to the finish.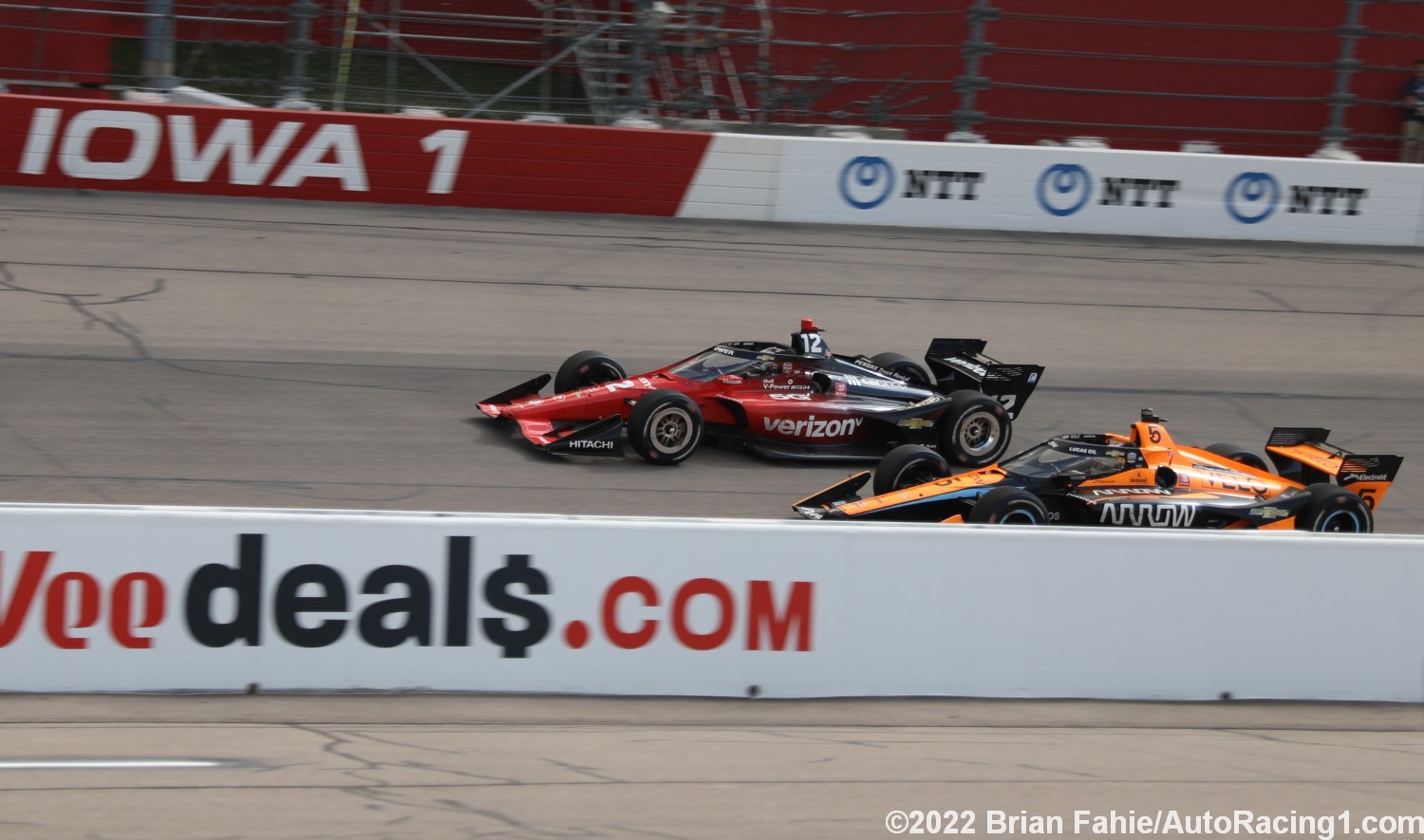 Scott McLaughlin brought his Penske Chevy home 3rd to give Chevy a 1-2-3 of the podium.
Ganassi  Racing Hondas of Scott Dixon, Jimmie Johnson and Marcus Ericsson were 4-5-6.   Great finish for these drivers who started 18th, 13th and 15th respectively.
Kyle Kirkwood was the other driver to crash on lap 120 when he made contact with the SAFER Barrier in turn 2 when he hit dirty air in traffic after running three wide in turn 1 and 2.
Pato O'Ward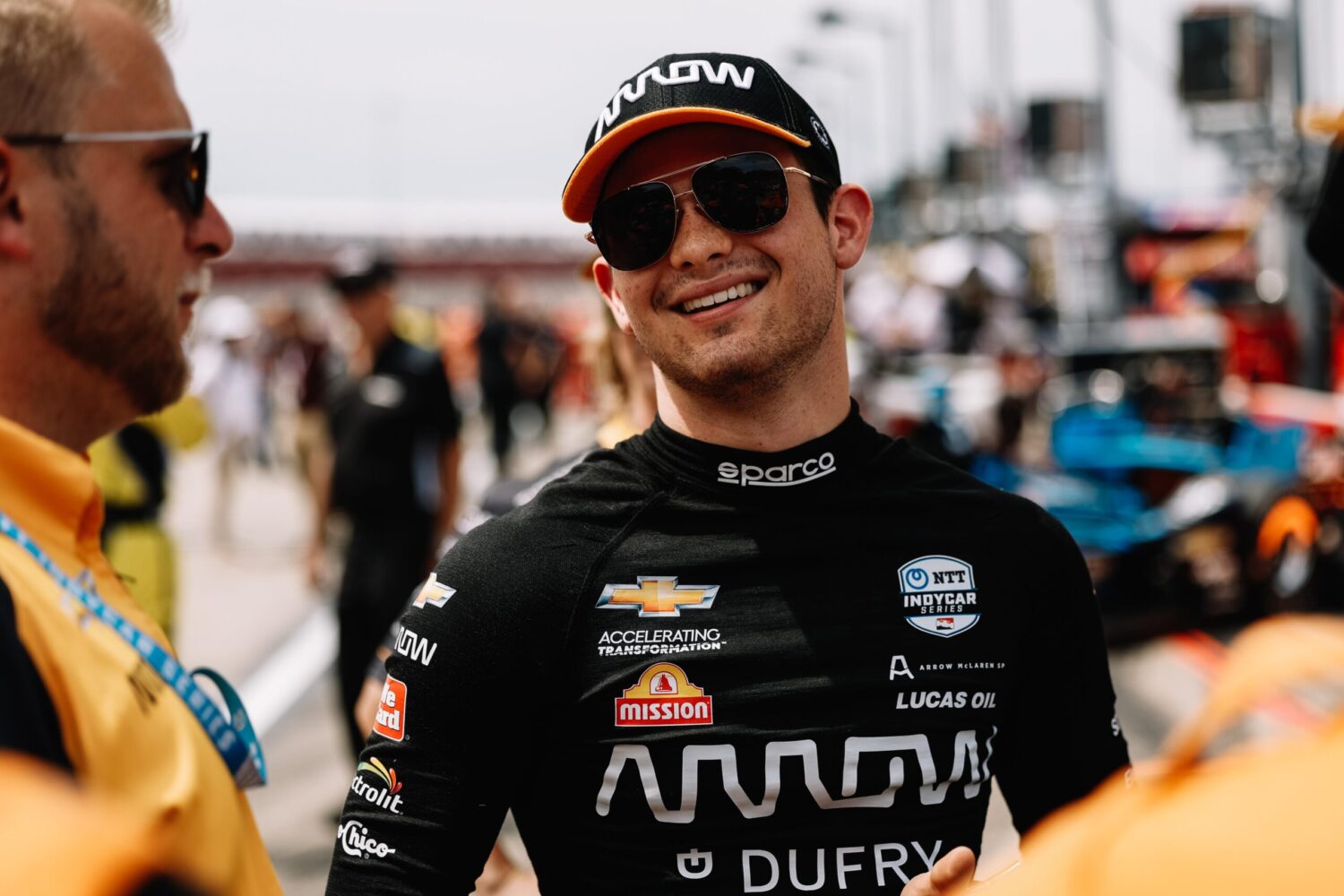 "We had a great weekend. Obviously we were there, we were there to take advantage of an opportunity that got presented to us. I think even with him (Newgarden) not finishing the race, I think we still would have given him a hard time. There was still one more pit stop to go."
"Yeah, I was positioning ourselves to do what we just did. Super proud of the boys in the pits. The car was fantastic. I knew it was just all about getting into the Penske sandwich because, yeah, Will was not making it any little easy on me. I knew Josef was going to do the same. It was one thing to get up there, but one thing to pass."
"It just explains how hard it is, how difficult it can be whenever you're going through the lap traffic, how you get some people, other people behind you are going to get them in a very different situation. That's how you can lose or gain time."
"I think the biggest thing is because everybody that's fighting for the championship is having good weekends. No one is having bad weekends."
"For us, we've thrown away and we've given away an easy hundred points just either whether it was a strategy or if it was I won't mention the other ones. We've just thrown
away a lot of points that would have put us in a way better position of where we are right now."
"I have no other choice but to try and claw back. We can just be more risky than others. I really don't care. Four, five and six for me doesn't really change anything. I don't care for sixth or fourth. We need to go for one and two because we've already got a four and a three."
"The only way to do that is to win because you're not going to get those points by being consistently in the top five. I think if you're in the lead, it would be a different story, but
we're not."
Will Power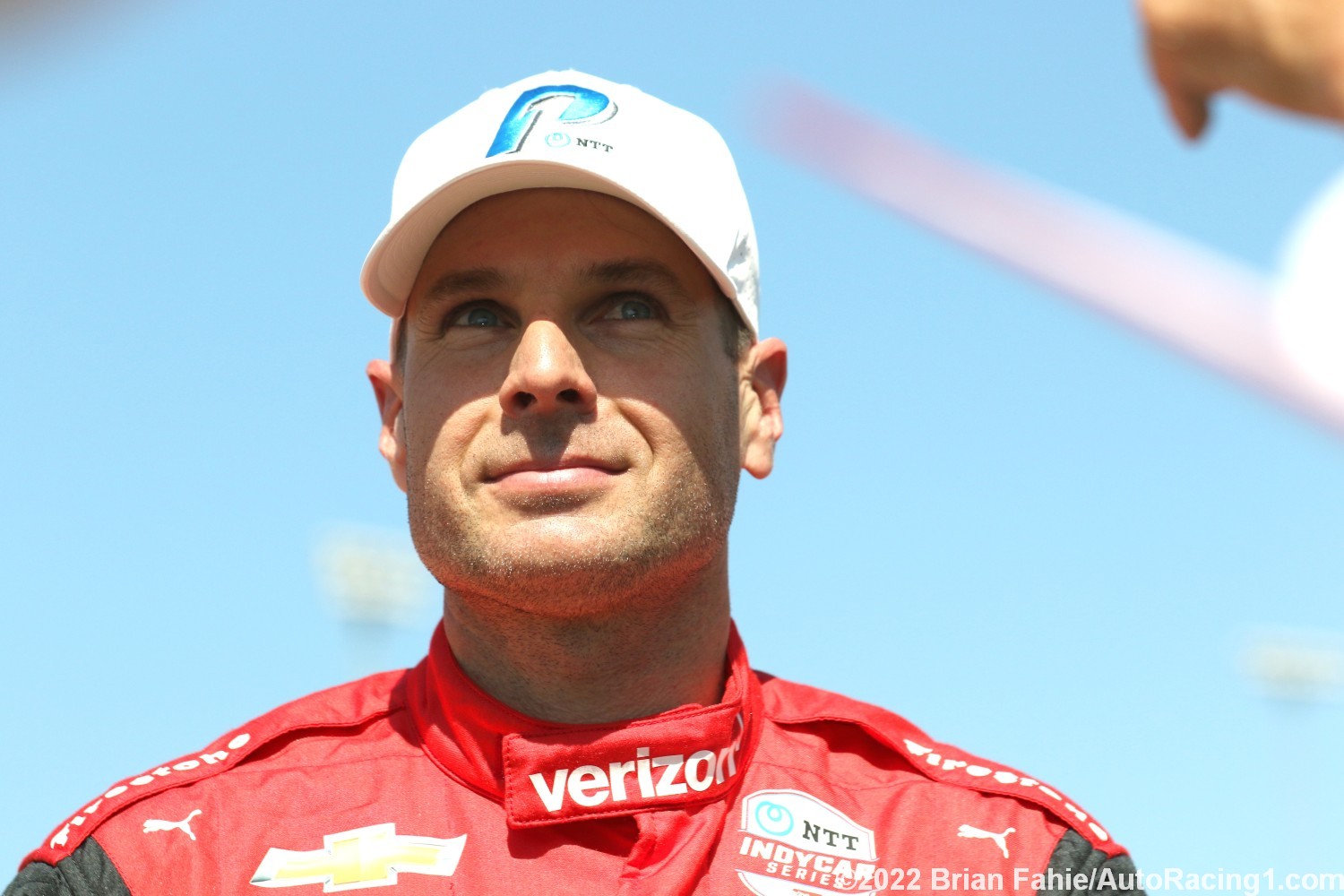 " I think Chevy's done a great job this year giving us drivability and horsepower. It definitely showed this weekend, all the Chevy cars were really strong."
"Yeah, just lucky to be involved with these guys. They're very, very good at their job."
"I have been running consistently this year really. I mean, had a lot of podiums a lot of top fours. I know we got good cars here, so it was a matter of just being mistake-free. I felt like we were going to finish in the top five. That's exactly what happened."
"I have been trying to win around here for a long time. Been really wanting to win at this place, but keep coming up short."
"Yeah, really happy with the weekend."
Scott McLaughlin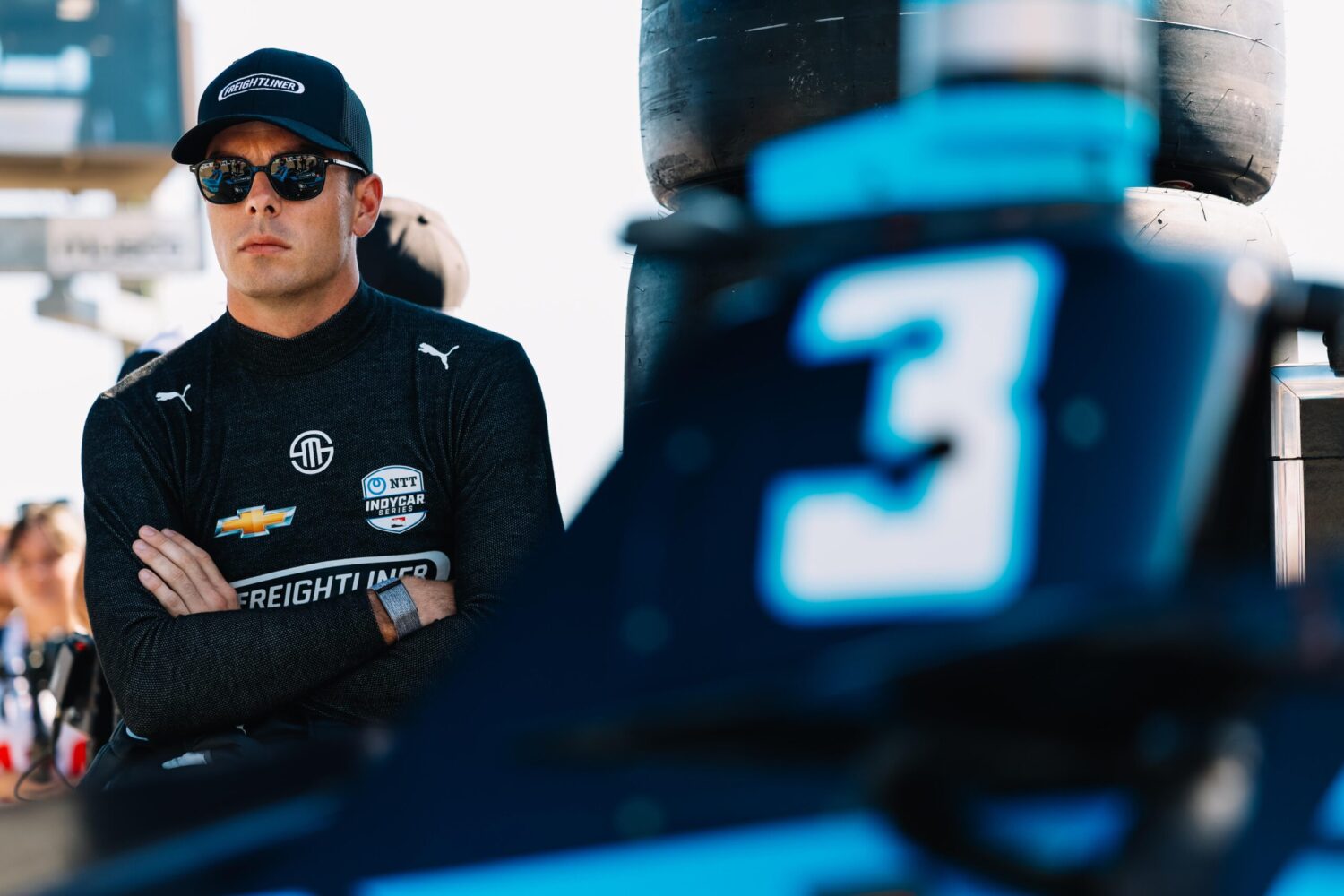 "Felt like we had a car to challenge for the podium yesterday. We managed to sort of pull it off today."
"Midway through the race today, the car was a bit of a handful and I wasn't too happy. My strategist got on the radio, calmed me down, as most of those guys on pit road do to us egomaniac drivers. Kind of brought us back to life."
"Managed to get my head down, did some really good pit exchanges, managed to get ourselves into P4 there before the last caution. Then P3 on Dixon, which was a fun pass.
I really enjoyed that. It was a really good exchange with him all race. Hope he enjoyed it. Probably didn't enjoy it as much as me, but it was definitely a lot of fun racing with him."
"I wish we could race here every weekend, to be honest. It's just bad ass. You can throw it on the outside, run two lanes. You can take air off the guy behind you, guy will go behind you. It's wicked, you know."
Marcus Ericsson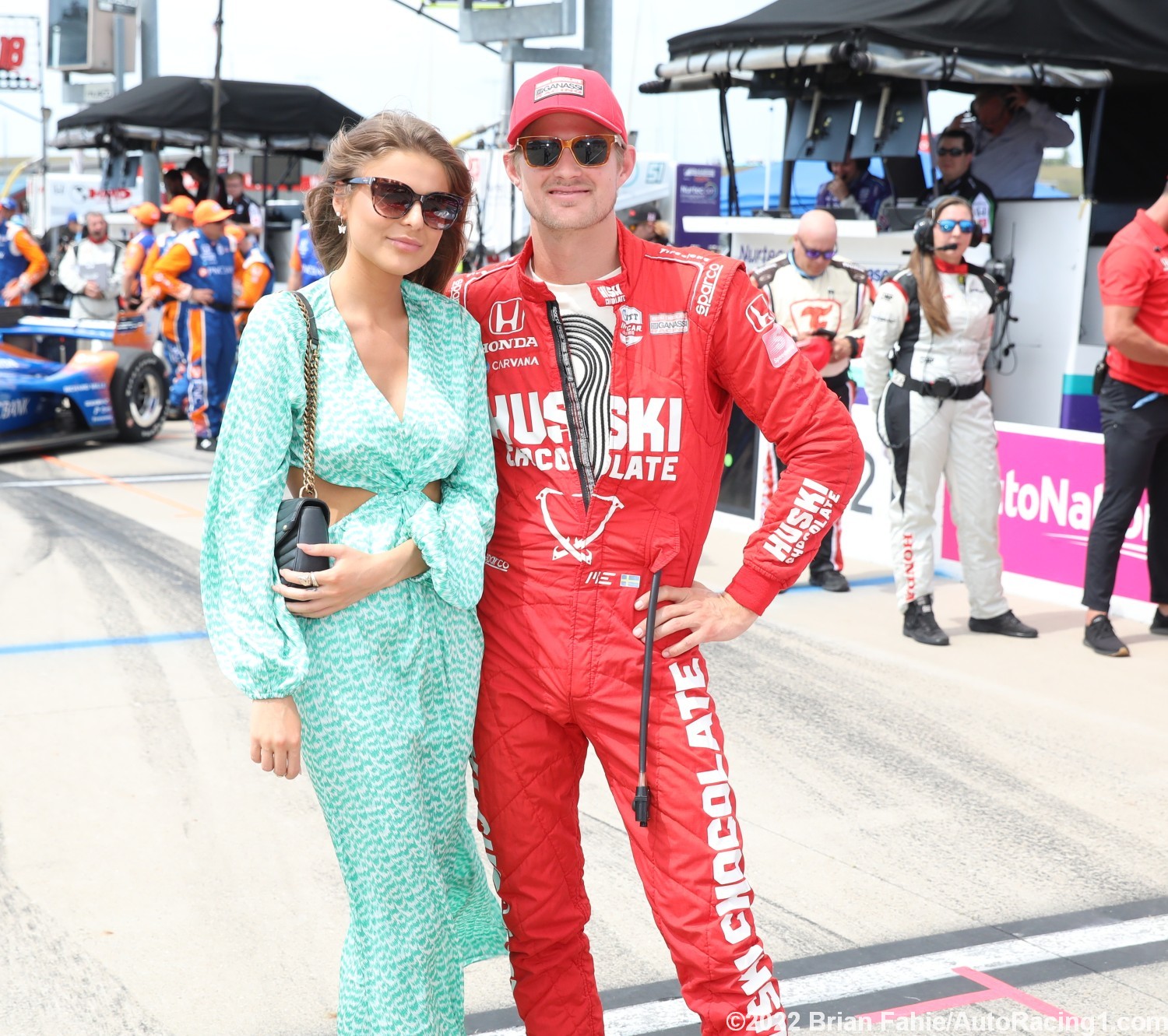 Marcus Ericsson almost lost the points lead this weekend.  Josef Newgarden's incident left the Swede with a 15 point lead over Newgarden with five races to go.
"I'm looking forward to the Indianapolis this coming weekend even though it's a road course now. Even on the road course we had the fourth-place finish there. That was what
kick-started our month of May."
"I'm really excited about it. Like I said, I think this was our worst track on the calendar. I think the rest of the year we should be really strong everywhere. If the worst track of the calendar means we're finishing four, five, six today, that's pretty good, shows how strong Chip Ganassi Racing is as an organization."
"Yeah, I'm excited about next week and the rest of the championship."
Jimmie Johnson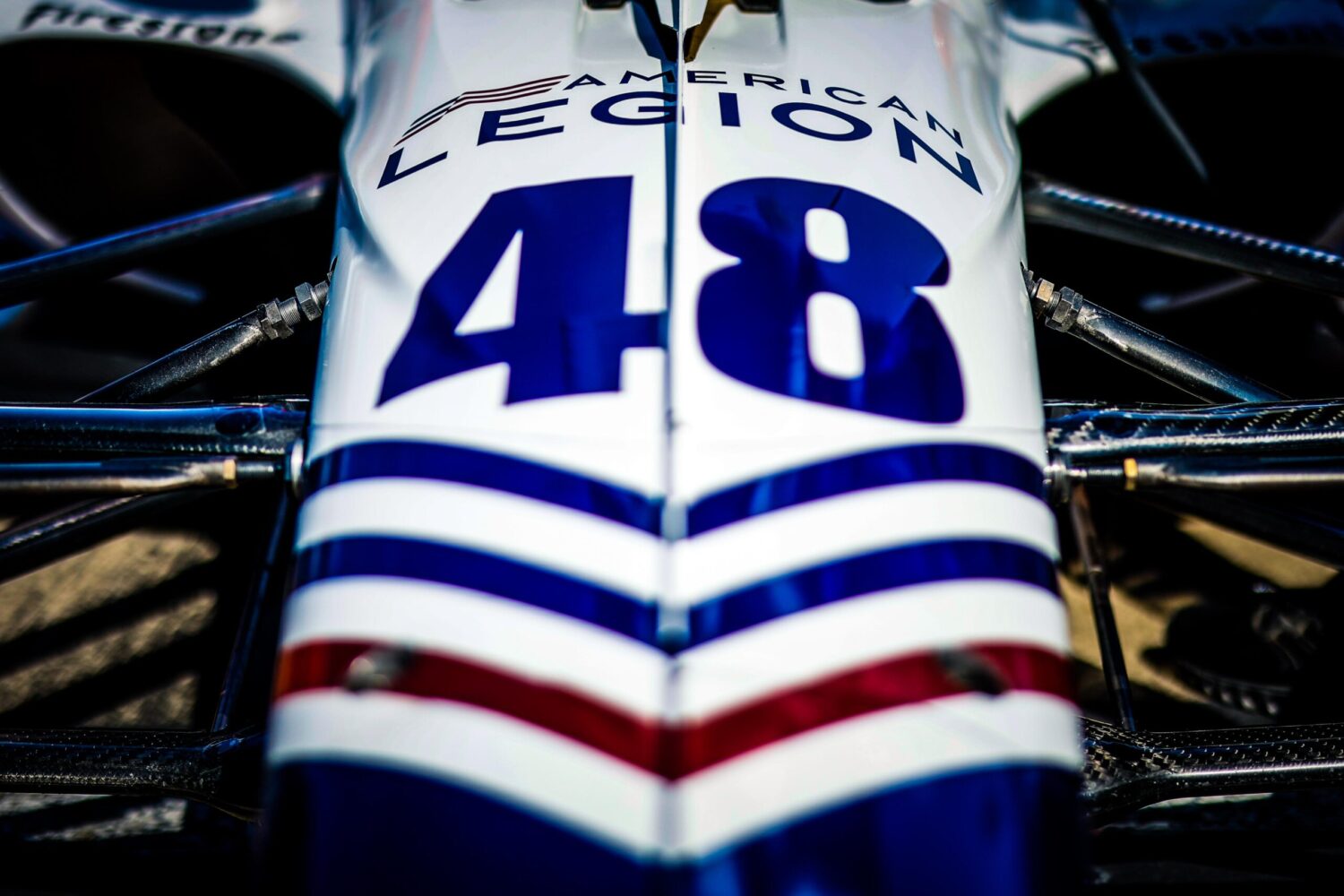 "I'm so happy to finally have some experience transfer from stockcars to INDYCARS. Just knowing where to run on the track at different times."
"Yesterday early in the race there was some clean spots on the track that people were afraid to get up there, tiptoe along the edge. That was just something I was comfortable with doing."
"It honestly reminded me a lot of running at Bristol, the way you just got to run right at the edge of the marbles, tip-toeing around that. And if you're willing to get up that extra six or eight inches, it would pay off."
"I think we had a little better handling car today. Made some adjustments overnight. Made us able to drive through the field."
Race Results
| | | | | | | | | | | |
| --- | --- | --- | --- | --- | --- | --- | --- | --- | --- | --- |
| Pos | No | Name | Laps | Behind | Gap | Led | ST | Engine | Points | Team |
| 1 | 5 | Pato O'Ward | 300 | 0.000s | 0.000s | 66 | 7 | Chevy | 367 | Arrow McLaren SP |
| 2 | 12 | Will Power | 300 | 4.2476 | 4.2476 | 80 | 1 | Chevy | 395 | Team Penske |
| 3 | 3 | Scott McLaughlin | 300 | 9.4464 | 5.1988 | 0 | 5 | Chevy | 317 | Team Penske |
| 4 | 9 | Scott Dixon | 300 | 11.1499 | 1.7035 | 0 | 18 | Honda | 369 | Chip Ganassi Racing |
| 5 | 48 | Jimmie Johnson | 300 | 12.3251 | 1.1752 | 0 | 13 | Honda | 158 | Chip Ganassi Racing |
| 6 | 8 | Marcus Ericsson | 300 | 14.2340 | 1.9089 | 0 | 15 | Honda | 403 | Chip Ganassi Racing |
| 7 | 7 | Felix Rosenqvist | 300 | 17.6887 | 3.4547 | 0 | 9 | Chevy | 275 | Arrow McLaren SP |
| 8 | 18 | David Malukas | 300 | 18.3725 | 0.6838 | 1 | 14 | Honda | 204 | Dale Coyne Racing with HMD |
| 9 | 28 | Romain Grosjean | 300 | 19.5576 | 1.1851 | 0 | 10 | Honda | 245 | Andretti Autosport |
| 10 | 51 | Takuma Sato | 300 | 20.7325 | 1.1749 | 5 | 4 | Honda | 184 | Dale Coyne Racing w/RWR |
| 11 | 77 | Callum Ilott | 300 | 21.4930 | 0.7605 | 0 | 22 | Chevy | 150 | Juncos Hollinger Racing |
| 12 | 26 | Colton Herta | 299 | 1 LAPS | 3.6618 | 0 | 12 | Honda | 278 | Andretti Autosport w/Curb-Agajanian |
| 13 | 10 | Alex Palou | 299 | 1 LAPS | 14.1338 | 0 | 11 | Honda | 359 | Chip Ganassi Racing |
| 14 | 15 | Graham Rahal | 299 | 1 LAPS | 0.8004 | 0 | 23 | Honda | 248 | Rahal Letterman Lanigan Racing |
| 15 | 29 | Devlin DeFrancesco | 298 | 2 LAPS | 12.5167 | 0 | 25 | Honda | 139 | Andretti Steinbrenner Autosport |
| 16 | 20 | Conor Daly | 298 | 2 LAPS | 1.6493 | 0 | 3 | Chevy | 223 | Ed Carpenter Racing |
| 17 | 33 | Ed Carpenter | 297 | 3 LAPS | 1 LAPS | 0 | 19 | Chevy | 67 | Ed Carpenter Racing |
| 18 | 27 | Alexander Rossi | 296 | 4 LAPS | 6.9314 | 0 | 21 | Honda | 265 | Andretti Autosport |
| 19 | 21 | Rinus VeeKay | 296 | 4 LAPS | 6.0317 | 0 | 8 | Chevy | 254 | Ed Carpenter Racing |
| 20 | 45 | Jack Harvey | 296 | 4 LAPS | 7.1377 | 0 | 6 | Honda | 148 | Rahal Letterman Lanigan Racing |
| 21 | 06 | Helio Castroneves | 295 | In Pit | 9.4610 | 0 | 24 | Honda | 196 | Meyer Shank Racing |
| 22 | 4 | Dalton Kellett | 294 | 6 LAPS | 1 LAPS | 0 | 26 | Chevy | 94 | AJ Foyt Enterprises |
| 23 | 60 | Simon Pagenaud | 281 | In Pit | 12 LAPS | 0 | 16 | Honda | 257 | Meyer Shank Racing |
| 24 | 2 | Josef Newgarden | 235 | Contact | 1 LAPS | 148 | 2 | Chevy | 369 | Team Penske |
| 25 | 14 | Kyle Kirkwood | 117 | Contact | 0.5931 | 0 | 20 | Chevy | 126 | AJ Foyt Enterprises |
| 26 | 30 | Christian Lundgaard | 112 | Mechanical | 4.8038 | 0 | 17 | Honda | 208 | Rahal Letterman Lanigan Racing |