NASCAR: JGR will not appeal Pocono disqualifications of Nos. 11, 18
NASCAR announced on Monday that Joe Gibbs Racing will not appeal the disqualifications of the Nos. 11 and 18 cars at Pocono Raceway. Therefore, the results from Sunday will stand with Chase Elliott as the winner of the M&M's Fan Appreciation 400.
Denny Hamlin and Kyle Busch initially finished first and second, respectively, in Sunday's race, but were both disqualified when NASCAR found issues with the cars in post-race inspection. The DQs bumped third-place finisher Chase Elliott up to first place, giving the Hendrick Motorsports driver his fourth victory of the 2022 season.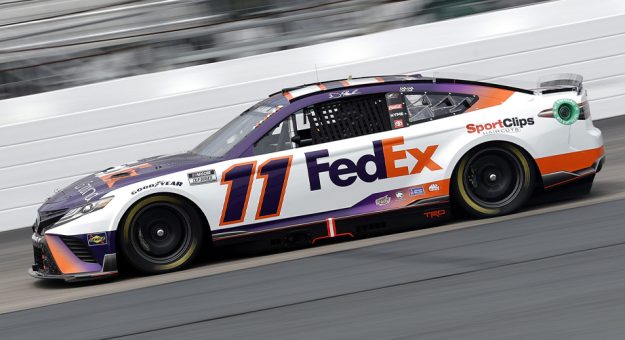 On Sunday night, NASCAR Cup Series Managing Director Brad Moran said the front fascia, or front nose, on both JGR entries was the source of the issues leading to the disqualifications. As a result, Hamlin and Busch were given credit for finishes of 35th and 36th, respectively.
Appearing on SiriusXM NASCAR Radio on Monday, NASCAR Senior VP of Competition Scott Miller followed up about the post-race inspection findings and said it was extra layers of vinyl that were found in the lower fascia, which he described as the bottom part of the nose that attaches to the splitter.
"It was on the lower fascia and it was extra layers of vinyl that in effect deviated the part from the approved CAD files," Miller said. "It's standard procedure for post-race inspection to peel vinyl off parts of the car that we feel are critical. We had no inclination prior that there was anything there and were very surprised at what we found."
Later on Monday, JGR competition director Wally Brown released the following statement:
"In our review of the post-race infractions on the 11 and 18 cars at Pocono, it was discovered that a single piece of clear tape was positioned over each of the lower corners of the front fascia ahead of the left-front and right-front wheel openings on both those cars. The added pieces were 2 inches wide and 5 ½ inches long with a thickness of 0.012 inches and installed under the wrap. This change in our build process was not properly vetted within our organization, and we recognize it is against NASCAR's rules. We apologize to everyone for this mistake, and we have made changes to our processes to ensure that it does not happen again."