F1: America's F2 star headed to F1: Who is Logan Sargeant?
This article was provided by the Williams F1 Media Dept.
If you've been following Williams Racing on social media during our recent Formula One weekends, you've probably seen the name Logan Sargeant pop up on your feed. Yet you might not know who Logan is and why we at Williams share his successes.
That's all about to change. We're going to let you join the inner circle to why we're so excited about the future of this American driver and whether the USA will have an F1 star to cheer on in the very near future.
The Williams Driver Academy and Logan Sargeant
To understand the relationship between Williams and Logan, we have to explain what the Williams Driver Academy is. As the 'academy' part of the name suggests, it's a program for select young drivers to receive training and support as we help them progress through their early careers.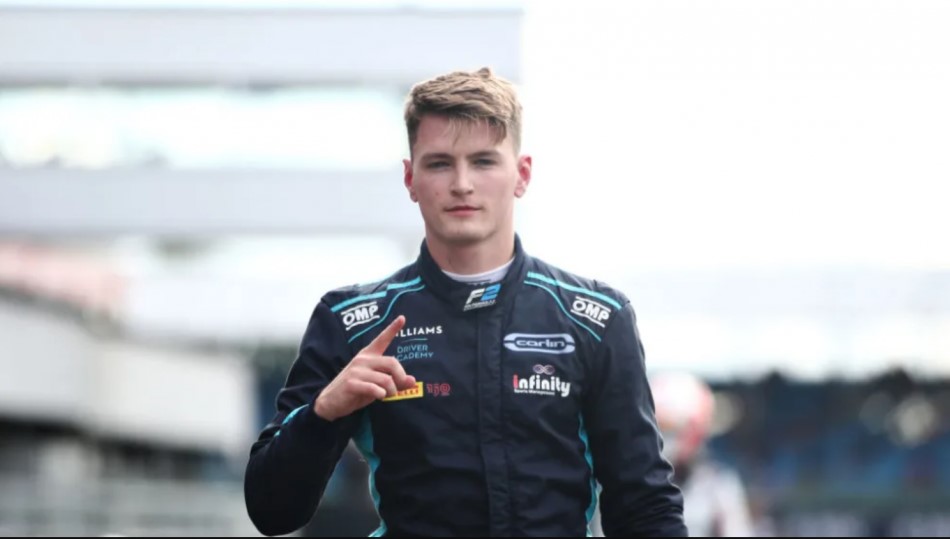 With over four decades of F1 success, we at Williams have learned a thing or two about the sport, and we share that expertise with some of the hottest prospects we identify in the junior racing series. For example, Nicholas Latifi was a member of our Academy before reaching F1, as was Lance Stroll.
Logan joined our ranks in 2021 after shining in the Formula 3 championship he was contesting that year. Since joining, we've let him drive the 2021 FW43B F1 car, spend time in our state-of-the-art simulator, and help him find his feet in Formula 2, alongside Carlin.
READ: 22 Questions with Logan
Logan's early journey
Formula One has many junior racing series filled with young athletes looking to reach the top – somewhat like college football and basketball.
The drivers that race in these aren't affiliated with schools and don't appear in any end-of-season drafts, though – they are there for themselves, looking to succeed in championships and gain experience.
Like all his peers, Logan's motorsport story began in karting when he was a young Floridian kid. Hailing from Fort Lauderdale, his early years saw kart racing close to home in-state and across the USA.
Logan soon went transatlantic and began contesting in Europe, culminating in a junior Karting World Championship win in 2015 to join the likes of Charles Leclerc, Fernando Alonso, and our very own Alex Albon, who all won the title on their routes to F1.
Jumping up to single-seaters
Understandably, there was already a buzz about Logan. He was the first American to win the FIA's highest junior karting prize since the 1970s, and a move to single-seater car racing to race in Formula 4 followed in late 2016.
F4 cars lack the same downforce levels their bigger brothers in F1 have, but are an excellent step to bridge the karting and car racing worlds. Logan took to single-seaters like a duck to water, with 15 podiums in 18 races during his first championship.
After excelling in British F4 with a third-place finish in his rookie campaign, Logan graduated through multiple European championships before reaching FIA Formula 3 in 2019 to join the F1 support billing.
Sargeant reaches the F1 weekend
Logan honed his craft in his first F3 season, taking the most top-ten finishes among his teammates. He also advanced through the field in the Macau Grand Prix – Formula 3's version of the Superbowl – to take a spectacular podium at the acclaimed event.
However, 2020 was when he showed his credentials as a hot prospect while racing in a car more akin to F1 than his previous Formula 4 exploits, thanks to F3's higher power and aerodynamic grip.
In a condensed season thanks to the pandemic, Logan dueled with the highly-rated Oscar Piastri in a season-long title fight where the two continuously took the championship lead from one another.
A first-lap incident in the season's final race heartbreakingly lost Logan the chance to score points and cost him what would likely have been the 2020 Formula 3 title.
With limited options for 2021, Logan remained in Formula 3, joining a team with fewer facilities at the last minute, and still took his car to the front. He took a win and podiums throughout the season to finish an impressive P7 in the standings – ahead of many drivers with front-running cars.
Logan x Williams Racing
The potential of this young American wasn't lost on Williams, especially after his 2020 and 2021 F3 seasons. Logan joined the Williams Driver Academy in October 2021 at the United States Grand Prix.
With the might of an F1 team now behind him, Logan even got a head start on 2022 by jumping into Formula 2 for one round at the Jeddah Corniche Street Circuit.
For a driver's first taste of an F2 car's speed, the close walls of the fastest street track on the Formula 1 calendar might not represent the simplest test, but Logan kept his cool to bring his car home in one piece.
One week later, we let him take the reins of our 2021 F1 car at the post-season test to give Logan his first taste of Formula One machinery as part of his preparation for the 2022 season and beyond.
2022: The standout rookie
Logan's 2022 season thus far has blown us all away.
Looking past the three trophies Logan has already taken in the first half of the season, the consistency of continually turning in top-ten finishes in all but one round is staggering for a rookie F2 driver. The only person to have more 2022 F2 top-tens is the championship leader, racing in his third Formula 2 season.
Logan took a Sprint Race P3 in Spain to start his podium-reaching ways before adding to his trophy cabinet with second place at his first-ever race weekend at the Baku City Circuit.
One round later at Silverstone – the site of his first Formula 3 win – he was the class of the field in Qualifying, topping the timesheets throughout to take a maiden F2 pole position.
That impressive performance followed through to the race as Logan didn't put a foot wrong to lead from start to finish.
More success was to follow just seven days later in Austria. After qualifying in P3 on Friday, Sunday brought damp conditions meaning he would start on wet tyres.
However, the track dried out quickly enough, allowing those further back who gambled by starting on slicks to surge through before our American, along with most of the initial front runners, could make their mandatory stop.
Dropping to P14 after pitting, the American stormed through the field to eventually finish where he had started, only for penalties to be applied to the two immediately ahead of him, giving Logan another Feature Race victory.
As a result, he has become a dark horse in the championship fight as Formula 2 heads into the second half of its season, with Logan sitting P2 in the standings.

Celebrating his first F2 win at Silverstone
America's next F1 star?
There's no denying that America is in a Formula One driver drought. The USA last had a full-time representative in the sport back in the mid-00s when the aptly-named Scott Speed raced for Toro Rosso.
2016 Indy 500 winner Alexander Rossi had fleeting time in F1 with five Grands Prix appearances in 2015. However, they were relative cameos compared to nations like the U.K., Germany, or Canada.
With F1 finally breaking into America and three races on U.S. soil scheduled for 2023, it would be fitting for there also to be an American driver for the home crowds to cheer on at Austin, Las Vegas, and Miami.
There is arguably no American driver closer to F1 than Logan Sargeant is. Impressive rookie seasons in F2 have seen the likes of George Russell, Lando Norris, and Charles Leclerc reach F1 not long after.
It's fair to say that Logan Sargeant's chances of reaching Formula One are in the 21-year-old American's highly-talented hands.