IndyCar: Rookie Lundgaard tops Practice 1 in Nashville
The Nashville street circuit is a washboard back-breaking experience and keeping the tires on the road over the bumps is most important.
The team that dials the car in best over the bumps, goes fast.
As a result, rookie Christian Lundgaard who has never seen this track before, topped opening practice for the Big Machine GP of Nashville in his Rahal Letterman Lanigan #30 Honda.  Lundgaard is hot off his first podium last weekend in the Gallagher GP at Indy.
Lundgaard's time of 1m15.9659s was0.2391s faster than the Arrow McLaren Chevy of Felix Rosenqvist, who is driving for his ride for 2023.  And Lundgaard schooled his two RLL teammates who were just 19th and 20th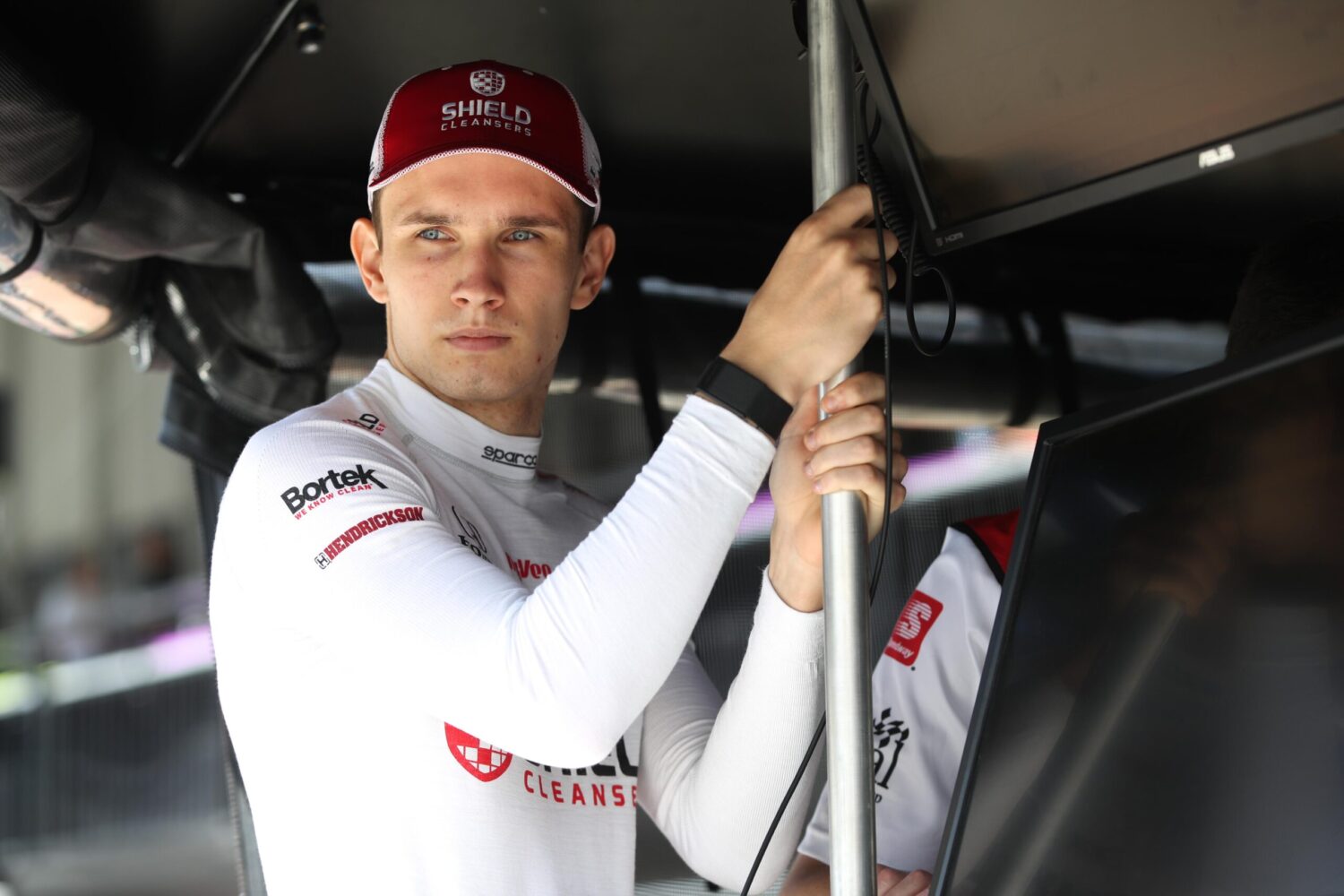 Rookie David Malukas was an impressive third fastest in his #18 Dale Coyne Racing Honda.
Scott McLaughlin and Josef Newgarden rounded out the top-5 for Team Penske while last weekend's winner, Alexander Rossi, was 5th for Andretti Autosport.
CHRISTIAN LUNDGAARD, No. 30 Shield Cleansers Dallara/Honda/Firestone: (On how much being P1 in practice after finishing second in Indy last week boosts his and the team:)
"Quite dramatically, honestly. I must say I wasn't really expecting to be this far up here (on the time sheets) today, having never been here before.
"We showed up and the pace was there. You see that Malukas was there in P3 as well. The rookie field this year is quite strong. In Toronto, the car was good, which was the last street circuit before coming here. We were expecting to have a better (racing) package and it seems like the package is there."
Lundgaard's teammate Graham Rahal – "It was a tough session for us. We got up there on the black tires – P7 or P8 –but really never had any pace that was worthwhile. The car was a real handful today. It was very low so there was a lot of bottoming, a lot of hitting. I just never felt like I had much.
"We tried to go to the green tires and I was just in a heap of traffic and those tires seemed to go off in about half of a lap. We'll focus on tomorrow and see what we can do. Christian is on a completely different setup so we'll have to study that and figure out how they make it work and go from there."
Practice 1 Results
| | | | | | | | | | |
| --- | --- | --- | --- | --- | --- | --- | --- | --- | --- |
| Pos | No | Name | Time | Behind | Gap | Laps | Speed | Engine | Team |
| 1 | 30 | Christian Lundgaard | 1:15.9659 | 0.000s | 0.000s | 29 | 99.518 | Honda | Rahal Letterman Lanigan Racing |
| 2 | 7 | Felix Rosenqvist | 1:16.2050 | 0.2391 | 0.2391 | 22 | 99.206 | Chevy | Arrow McLaren SP |
| 3 | 18 | David Malukas | 1:16.2366 | 0.2707 | 0.0316 | 25 | 99.165 | Honda | Dale Coyne Racing with HMD |
| 4 | 3 | Scott McLaughlin | 1:16.5755 | 0.6096 | 0.3389 | 23 | 98.726 | Chevy | Team Penske |
| 5 | 2 | Josef Newgarden | 1:16.6957 | 0.7298 | 0.1202 | 27 | 98.571 | Chevy | Team Penske |
| 6 | 27 | Alexander Rossi | 1:16.7041 | 0.7382 | 0.0084 | 16 | 98.561 | Honda | Andretti Autosport |
| 7 | 12 | Will Power | 1:16.8330 | 0.8671 | 0.1289 | 26 | 98.395 | Chevy | Team Penske |
| 8 | 26 | Colton Herta | 1:16.8435 | 0.8776 | 0.0105 | 20 | 98.382 | Honda | Andretti Autosport w/Curb-Agajanian |
| 9 | 10 | Alex Palou | 1:16.8505 | 0.8846 | 0.0070 | 24 | 98.373 | Honda | Chip Ganassi Racing |
| 10 | 28 | Romain Grosjean | 1:16.9479 | 0.9820 | 0.0974 | 28 | 98.248 | Honda | Andretti Autosport |
| 11 | 8 | Marcus Ericsson | 1:16.9763 | 1.0104 | 0.0284 | 25 | 98.212 | Honda | Chip Ganassi Racing |
| 12 | 60 | Simon Pagenaud | 1:17.0123 | 1.0464 | 0.0360 | 23 | 98.166 | Honda | Meyer Shank Racing |
| 13 | 77 | Callum Ilott | 1:17.1922 | 1.2263 | 0.1799 | 31 | 97.937 | Chevy | Juncos Hollinger Racing |
| 14 | 5 | Pato O'Ward | 1:17.3180 | 1.3521 | 0.1258 | 25 | 97.778 | Chevy | Arrow McLaren SP |
| 15 | 51 | Takuma Sato | 1:17.4097 | 1.4438 | 0.0917 | 26 | 97.662 | Honda | Dale Coyne Racing w/RWR |
| 16 | 9 | Scott Dixon | 1:17.4430 | 1.4771 | 0.0333 | 21 | 97.620 | Honda | Chip Ganassi Racing |
| 17 | 14 | Kyle Kirkwood | 1:17.5373 | 1.5714 | 0.0943 | 21 | 97.501 | Chevy | AJ Foyt Enterprises |
| 18 | 29 | Devlin DeFrancesco | 1:17.5815 | 1.6156 | 0.0442 | 29 | 97.446 | Honda | Andretti Steinbrenner Autosport |
| 19 | 45 | Jack Harvey | 1:17.6736 | 1.7077 | 0.0921 | 23 | 97.330 | Honda | Rahal Letterman Lanigan Racing |
| 20 | 15 | Graham Rahal | 1:17.7000 | 1.7341 | 0.0264 | 22 | 97.297 | Honda | Rahal Letterman Lanigan Racing |
| 21 | 20 | Conor Daly | 1:17.7633 | 1.7974 | 0.0633 | 27 | 97.218 | Chevy | Ed Carpenter Racing |
| 22 | 21 | Rinus VeeKay | 1:17.8434 | 1.8775 | 0.0801 | 28 | 97.118 | Chevy | Ed Carpenter Racing |
| 23 | 06 | Helio Castroneves | 1:18.1575 | 2.1916 | 0.3141 | 21 | 96.728 | Honda | Meyer Shank Racing |
| 24 | 48 | Jimmie Johnson | 1:18.7645 | 2.7986 | 0.6070 | 25 | 95.982 | Honda | Chip Ganassi Racing |
| 25 | 16 | Simona De Silvestro | 1:18.9245 | 2.9586 | 0.1600 | 28 | 95.788 | Chevy | Paretta Autosport |
| 26 | 4 | Dalton Kellett | 1:19.3271 | 3.3612 | 0.4026 | 24 | 95.302 | Chevy | AJ Foyt Enterprises |