IndyCar: Sunday Morning Update from the Big Machine Music City Grand Prix
Sunday Weather Forecast
It may not be the perfect race day today for the NTT INDYCAR Series in Nashville, TN.  Times of clouds and sun, with a 33% chance of a heavy thunderstorm this afternoon; and a 55% chance of some rain.
The high is forecast for it to be 90 degrees which will feel like 101 degrees with the high humidity, making it very uncomfortable for the fans.
There will be some cloud cover that will provide some relief.
 Hopefully, this year's race will not be another caution fest
The drivers are hoping that the race today is better than last year's when there were 9 caution flags for 33 laps of yellow and one red flag.  The track designer and promoter have made changes to lessen the bumps and allow more room for passing for a better show.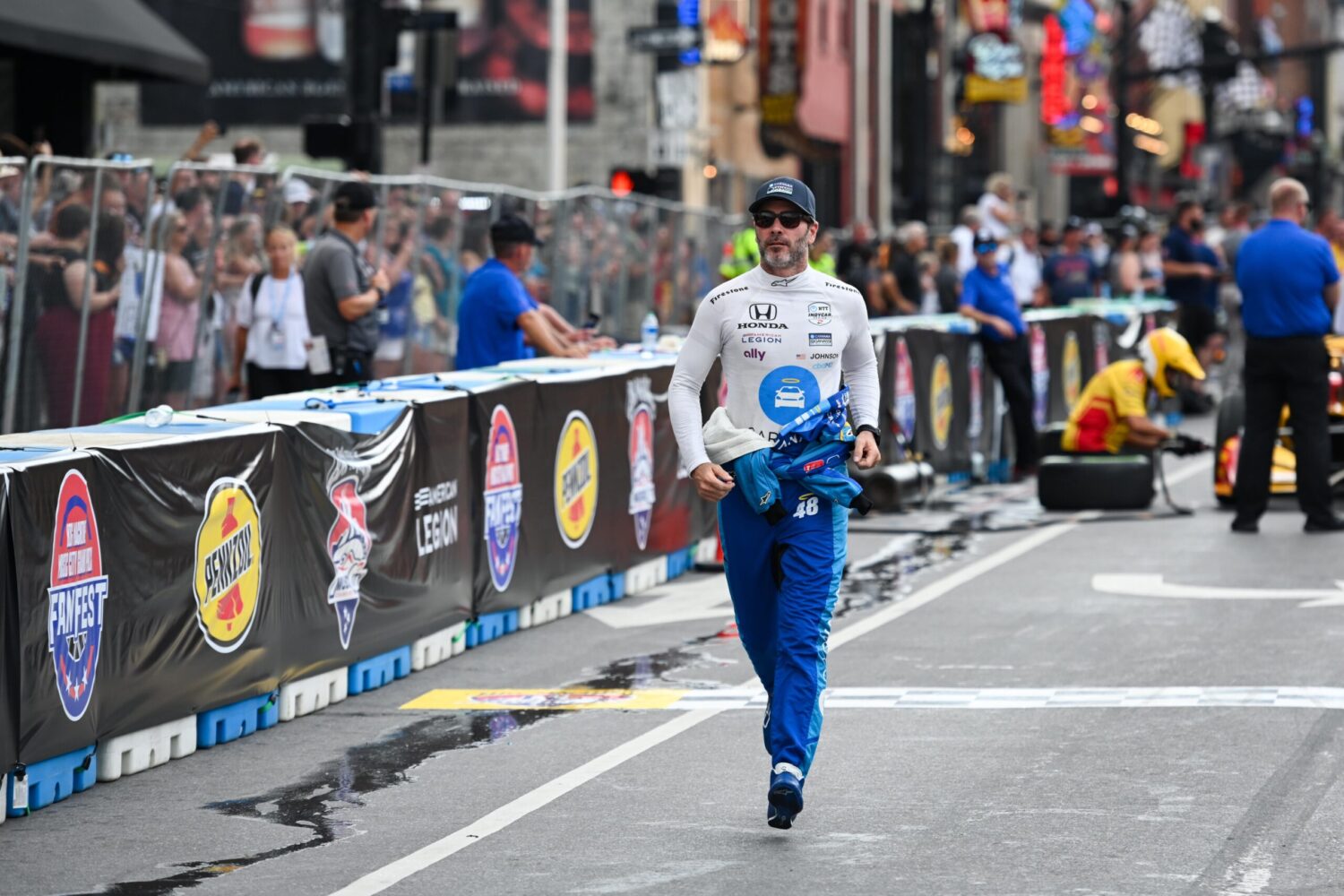 AR1 asked Jimmie Johnson, driver of the number 48 Carvana Chip Ganassi Racing entry, if thought the changes made to the track would improve the 80-lap race.  Johnson replied, "I think the second time back will be better as a group.  But this track has no margin for error.  So it could be a highly yellow race again."
"I found it interesting that 41% of last's year race was yellow.  That is not including the red flag."
"This track drives a lot like Belle Isle in Detroit, it's just a crazy, rough lap.  So many places to mess up."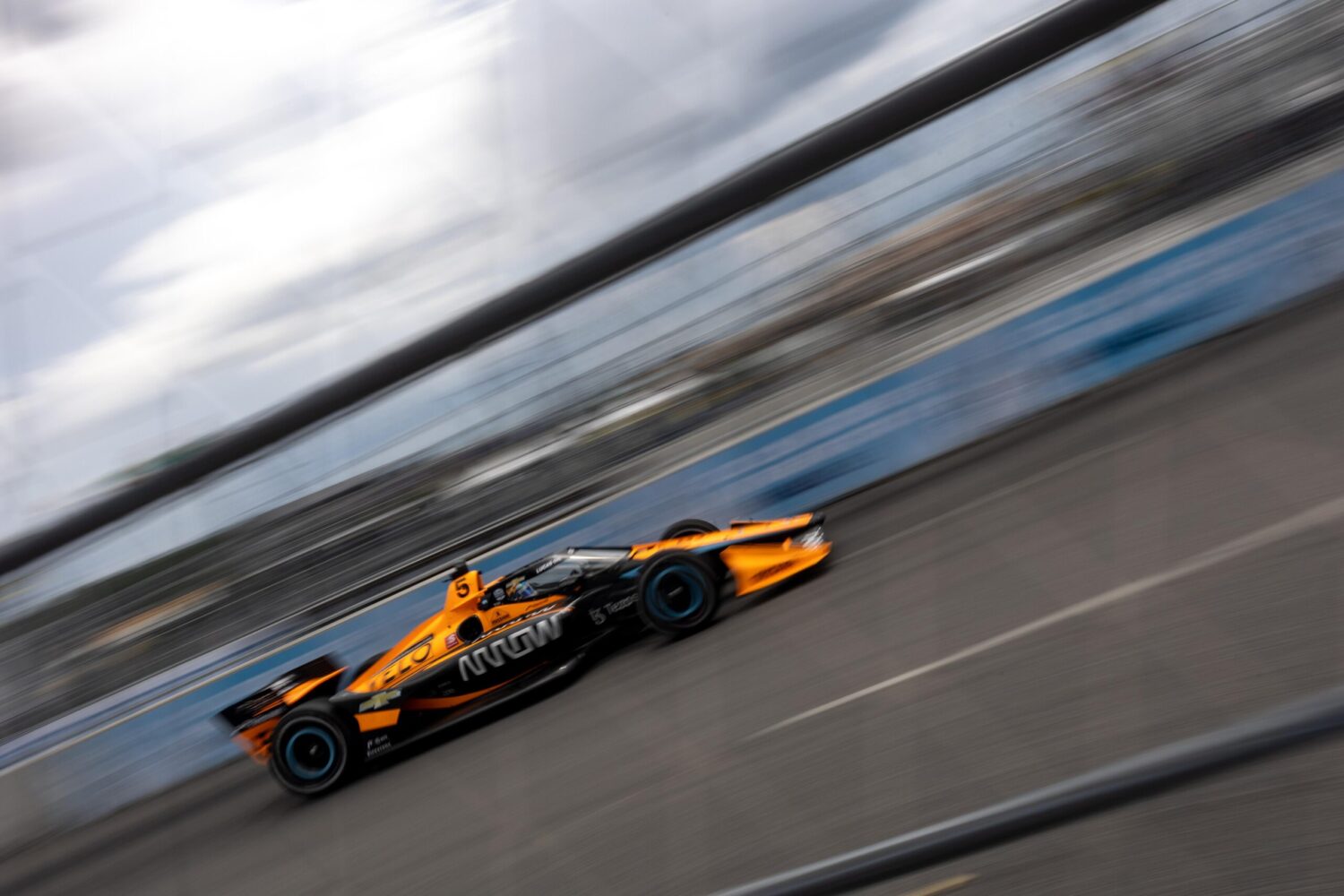 Pato O'Ward, driver of the number 5 Arrow McLaren SP entry, also talked about what the race conditions will be.  "I feel like this year, whether you start — I mean, the worst crash last year won last year. I guess it doesn't really matter where you start, thinking of what the history has been here."
"It's a good place to start fifth. There's just going to be I think a lot of yellows. Maybe I'll be proven wrong. I don't think we're going to go full green. I just don't see that happening with how hot it's getting inside the cars, with how long the races are, with how hot it's going to be. People are going to get tired, touch a wall here or there. There's going to be mishaps for sure."
"You can be pole, you can be second or third. We're starting in the first three rows. A yellow falls not in your favor, you're going straight to the back."
"I think tomorrow it's going to be all about nailing and having some Lady Luck with the strategy because I don't think it's going to matter where you start. I think someone with a
good car in the back, they nail on a good yellow, they're going to go straight to the front and they're going to stay there."
Heat in the cockpit
Drivers talked about the excessive heat inside the car and how that will affect their ability to race for 80 laps.   Some teams have some kind of cooling device but this also adds to the weight of the car.
Scott McLaughlin, the three-time champion in the Australian Supercars series, does not like wearing a cooling device.  The Team Penske driver commented, "The biggest problem is the humidity, I think. When you slow down and come into the pits, the heat soak just builds so quickly."
"But I'm sort of like ever since my Super Car days, I have always been a guy that doesn't wear a cool suit because I think it's worse if you have one fail. It's just boiling water rolling around your body."
"I'm actually okay with running the top duct and the helmet fan, or the helmet air. But it's going to be a hot race. It's going to be the hottest race that we've had. Hopefully, with all the training all season is going to set us up well for that and we'll be all right."
Pato O'Ward is another driver who does not wear something to cool himself.  " It's horrible in the car.  It's unbearable. Like, I think this is probably going to be the worst race for the heat."
"Yeah, I cannot explain how horrendous it is inside of the car. Like tomorrow they'll probably mandate the roof scoops. But, yeah, I mean, every braking zone, I'm having to clear my sweat because there's no ventilation in the car. Every braking zone, even with me trying to clear it out, I'm still like splatting sweat all over my visor. It's horrible."
New Alternative Tire
The option for today's race will be the choice of alternate or primary tires as a preference. The new alternative tires were better on Friday according to some drivers, but then yesterday, we heard drivers complain that the alternative (green) tire was falling off quickly.
This might not be relevant if it rains during the race.
Looking forward to a smoother race today.
Stay tuned for updates.
Lucille Dust reporting live from Nashville