NASCAR: Harvick breaks 65-race win drought
Kevin Harvick was in desperate need of a victory. A 65-race winless streak was broken Sunday at Michigan International Speedway, his first victory of 2022 and first since Sept. 19, 2020 at Bristol Motor Speedway.
A caution at Lap 160 altered the outcome of Sunday's 400-miler, with the yellow flag flying after Ross Chastain and Christopher Bell collided on the frontstretch in the middle of green-flag pit stops. Chastain had just rejoined the track from pitting, and the duo was entrenched in a four-car battle for the lead prior to stops.
Under the caution period, Harvick stayed out to assume the lead, while Denny Hamlin won the race off pit road. But Hamlin incurred a penalty as a pit crew member stepped onto pit road, allowing polesitter Wallace to restart alongside Harvick on the front row. Harvick got the edge and hurried to his 59th career victory.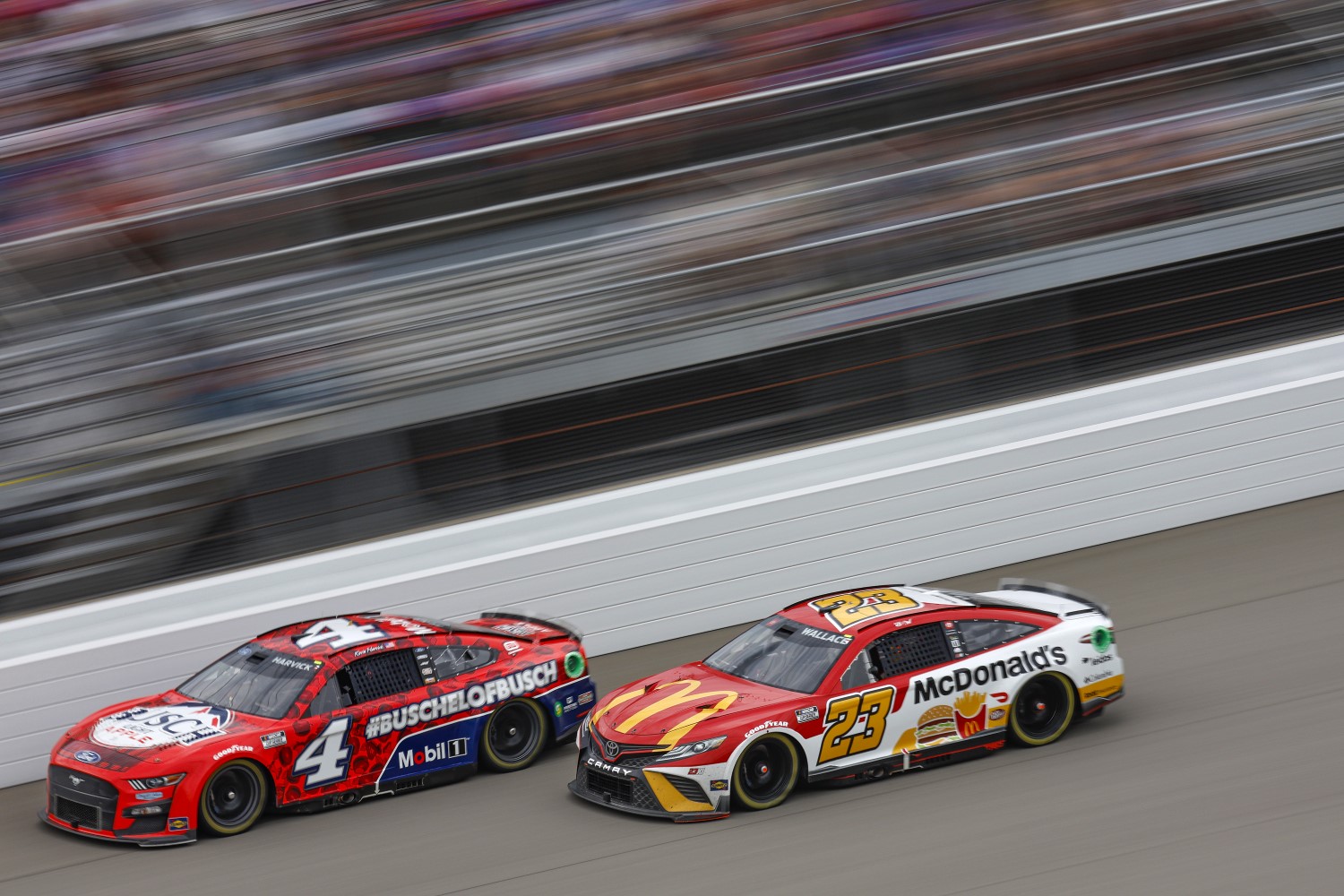 Wallace finished second ahead of Hamlin, Joey Logano and Ryan Blaney. Martin Truex Jr., Kyle Larson, Erik Jones, Alex Bowman and Ty Gibbs completed the top 10. Gibbs scored his first career top 10 in his third career start.
The biggest melee of the day occurred at Lap 25, when Austin Cindric went nose-first into the Turn 2 wall in an eight-car wreck following the restart from a competition caution. JJ Yeley lost control of his No. 15 Ford after contact in Turn 1 and spun sideways in the middle of the pack, triggering an accident that took out Yeley, Cindric, Kyle Busch, Aric Almirola, Ricky Stenhouse Jr., Harrison Burton.
Noah Gragson had a strong run early and was running inside the top five midway through the race. But the part-timer for Kaulig Racing lost control at Lap 108 exiting Turn 2, sliding into the outside wall and suffering irreparable damage to the No. 16 Chevrolet.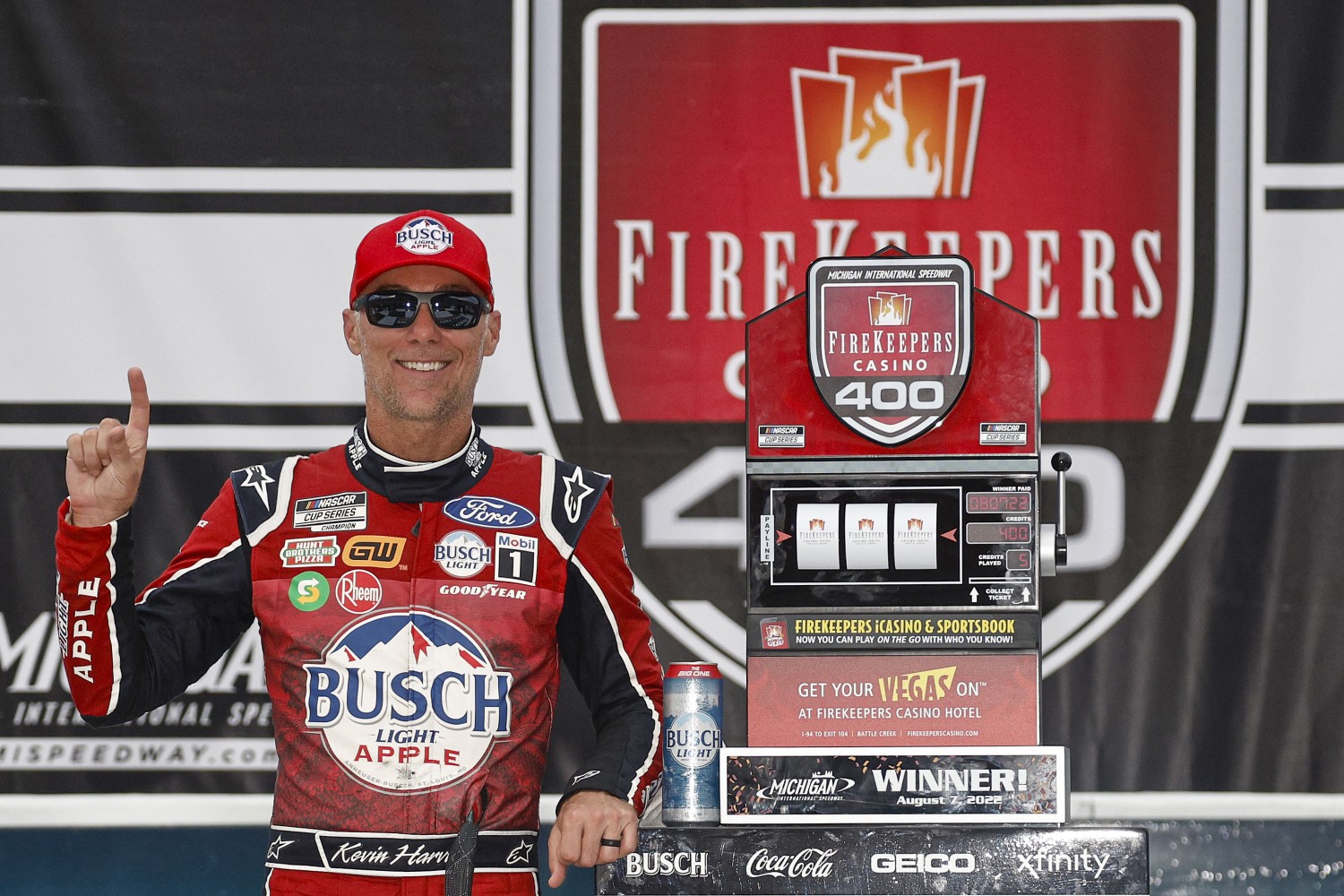 Race Results
| | | | | | | | |
| --- | --- | --- | --- | --- | --- | --- | --- |
| Fin | Str | No. | Driver | Team | Laps | Status | Led |
| 1 | 16 | 4 | Kevin Harvick | Busch Light Ford | 200 | Running | 38 |
| 2 | 1 | 23 | Bubba Wallace | McDonald's Toyota | 200 | Running | 22 |
| 3 | 9 | 11 | Denny Hamlin | FedEx Freight Toyota | 200 | Running | 38 |
| 4 | 4 | 22 | Joey Logano | Shell Pennzoil Ford | 200 | Running | 0 |
| 5 | 24 | 12 | Ryan Blaney | Menards/Cardell Caninetry Ford | 200 | Running | 0 |
| 6 | 7 | 19 | Martin Truex Jr. | Auto-Owners Insurance Toyota | 200 | Running | 0 |
| 7 | 8 | 5 | Kyle Larson | HendrickCars.com Chevrolet | 200 | Running | 0 |
| 8 | 10 | 43 | Erik Jones | FOCUSfactor Chevrolet | 200 | Running | 5 |
| 9 | 30 | 48 | Alex Bowman | Ally Chevrolet | 200 | Running | 0 |
| 10 | 11 | 45 | Ty Gibbs(i) | Monster Energy Toyota | 200 | Running | 2 |
| 11 | 13 | 9 | Chase Elliott | UniFirst Chevrolet | 200 | Running | 0 |
| 12 | 20 | 24 | William Byron | Liberty University Chevrolet | 200 | Running | 0 |
| 13 | 26 | 3 | Austin Dillon | Dow MobilityScience Chevrolet | 200 | Running | 0 |
| 14 | 25 | 42 | Ty Dillon | Ferris Chevrolet | 200 | Running | 0 |
| 15 | 33 | 6 | Brad Keselowski | Castrol Ford | 200 | Running | 0 |
| 16 | 19 | 17 | Chris Buescher | LeBron James Family Foundation Ford | 200 | Running | 1 |
| 17 | 21 | 31 | Justin Haley | LeafFilter Gutter Protection Chevrolet | 200 | Running | 0 |
| 18 | 31 | 33 | * Austin Hill(i) | Bennett Transportation Chevrolet | 200 | Running | 0 |
| 19 | 32 | 7 | Corey LaJoie | Schluter Systems Chevrolet | 200 | Running | 0 |
| 20 | 23 | 14 | Chase Briscoe | Rush Truck Centers/Cummins Ford | 200 | Running | 0 |
| 21 | 35 | 77 | Josh Bilicki(i) | Michigan State/Zeigler Auto Chevrolet | 200 | Running | 0 |
| 22 | 34 | 51 | Cody Ware | Nurtec ODT Ford | 200 | Running | 0 |
| 23 | 36 | 78 | BJ McLeod(i) | Blaster Ford | 199 | Running | 1 |
| 24 | 22 | 1 | Ross Chastain | Advent Health Chevrolet | 199 | Running | 29 |
| 25 | 15 | 99 | Daniel Suarez | Worldwide Express Chevrolet | 198 | Running | 33 |
| 26 | 2 | 20 | Christopher Bell | Sirius XM Toyota | 193 | Accident | 31 |
| 27 | 37 | 38 | Todd Gilliland # | First Phase Ford | 188 | Running | 0 |
| 28 | 14 | 34 | Michael McDowell | Martin Transportation Systems Ford | 187 | Running | 0 |
| 29 | 6 | 8 | Tyler Reddick | Guaranteed Rate Chevrolet | 110 | Engine | 0 |
| 30 | 12 | 16 | Noah Gragson(i) | Chevy Accessories Chevrolet | 109 | Accident | 0 |
| 31 | 17 | 41 | Cole Custer | HaasTooling.com Ford | 94 | Accident | 0 |
| 32 | 27 | 21 | Harrison Burton # | Ford 20 Year Sr Master Techs Ford | 29 | Accident | 0 |
| 33 | 28 | 47 | Ricky Stenhouse Jr. | Kroger Health/SweetLeaf Chevrolet | 25 | Accident | 0 |
| 34 | 18 | 10 | Aric Almirola | Smithfield Ford | 25 | Accident | 0 |
| 35 | 29 | 15 | JJ Yeley(i) | RWR Ford | 24 | Accident | 0 |
| 36 | 3 | 18 | Kyle Busch | Interstate Batteries Toyota | 24 | Accident | 0 |
| 37 | 5 | 2 | Austin Cindric # | Discount Tire Ford | 24 | Accident | 0 |