NHRA: Salinas, Tasca III, Anderson and Gladstone top qualifying fields in Topeka
Topeka's House of Speed hosted all four NHRA Pro Classes for the first time in 25 years and Salinas, Tasca, Anderson, and Gladstone took the No. 1 qualifying spots in their respective classes on a hot afternoon at the Menards NHRA Nationals Presented By PetArmors at Heartland Motorsports Park.
Friday evening's qualifying got better by the second as the conditions improved and the speeds increased at the 2022  Menards NHRA Nationals Presented By PetArmor. NHRA Camping World Drag Racing Series fans on hand witnessed all four professional classes make their qualifying runs under a beautiful setting Topeka sun. Friday night's benchmark speeds may be impossible to compete with in Saturday afternoon's two sessions with the forecasted heat expected.
Top Fuel
Mike Salinas was the number one qualifier in Top Fuel on Friday at the 2022 Menards NHRA Nationals Presented By PetArmor
Mike Salinas said the key to their team's success is that they've found chemistry where the team has more fun and less struggle with every race. That could be the common thread between the top five qualifiers after Friday night's session where newer names replace the old guard. It seems the pressure of performance becomes the biggest obstacle to low e.t.'s at this point in the season. Salinas's self-described approach of "one round at a time" can't be disputed this season. He said, "by the time we are at Indy, lookout, it's probably going to be the best racing in Top Fuel we have ever seen. "
After Friday night's session, he said, "Brittany and I got lucky with the oil downs and the sunset on that last run. We looked at our computer, and we had just enough horsepower to run that number [3.754 at 323.19 mph]. Salinas went on to predict, "I think you're going to see some of the slower guys pick up the speed tomorrow. But I think our position will hold, and I never predict that."
Salinas goes into the Saturday session looking forward to the heat and said, "We have found a spot that's working for us, the car is asking for more, we're not hurting parts, and we're having fun. "
Funny Car
Bob Tasca III was the number one qualifier in Funny Car on Friday at the 2022 Menards NHRA Nationals Presented By PetArmor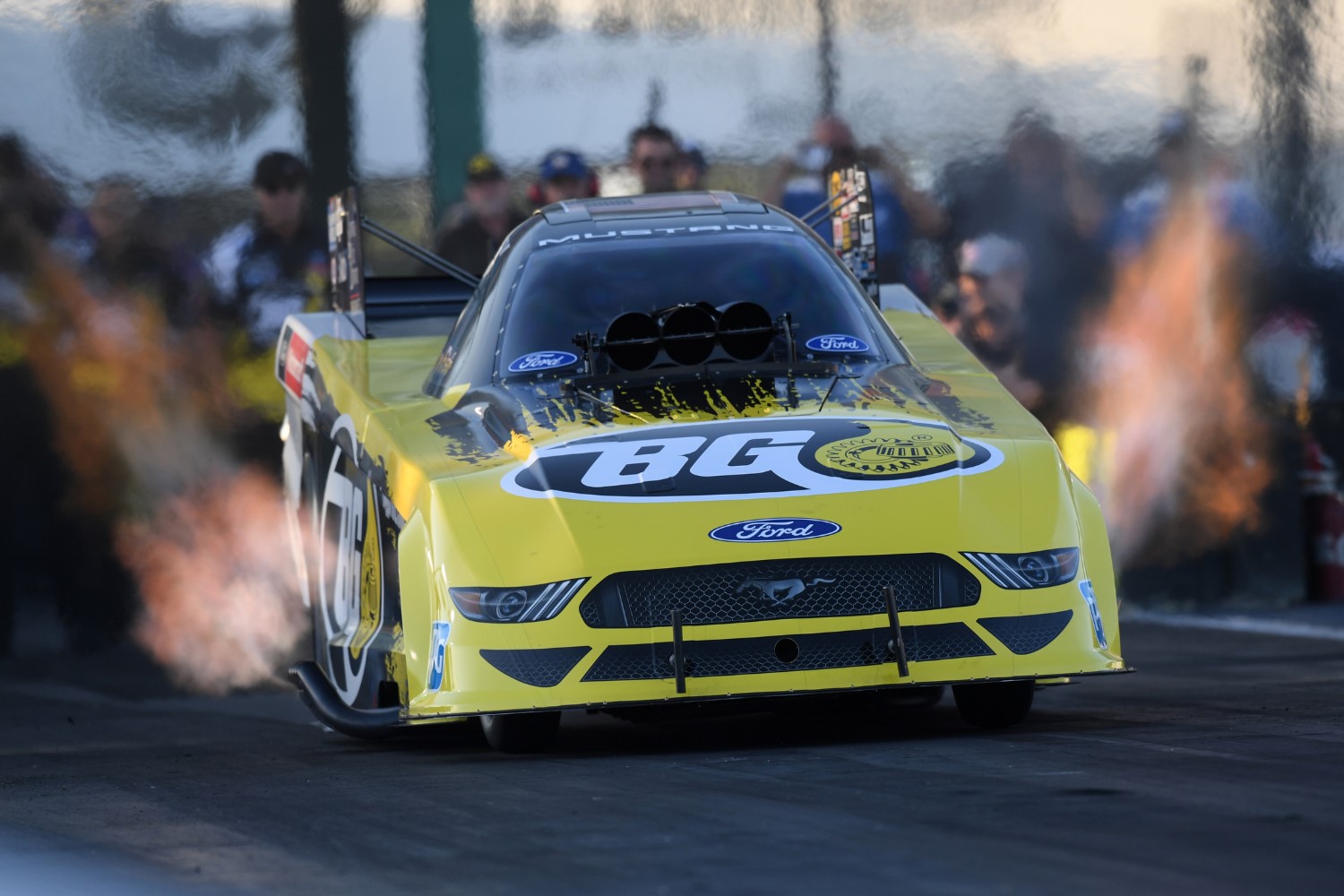 The funny car stack up coming into Topeka has become a gang of usual suspects. Tasca clearly turned the page with his Funny Car effort after his Sonoma qualifying success in the heat. He is now running up with the best that Robert Hight's and Matt Hagan's teams can do, and he's battling with his role model/rival John Force. Blake Alexander has been running an incredibly successful, albeit limited, schedule in 2022, and Jim Head giving his a car capable of running a 3.949 while telling the NHRA on FOX crew, "We were actually trying to run a little better than that. It's pretty good out there. "
Greg Anderson was the number one qualifier in Pro Stock on Friday at the 2022 Menards NHRA Nationals Presented By PetArmor
Pro Stock
In Pro Stock,  Greg Anderson's KB Racing horsepower is still an undisputed advantage on qualifying days. Trap speeds on the KB Racing-powered cars indicate they are running lower gears and are willing to bang up against the rev-limiter to make the cars run their quickest. How close to the rev limiter are they running? Anderson popped a motor in the semi-finals at Sonoma and made a last-minute engine swap before the final against Enders. There was no need to destroy a DRCE in Friday night's session in Topeka, but it was up against the rev limiter once again.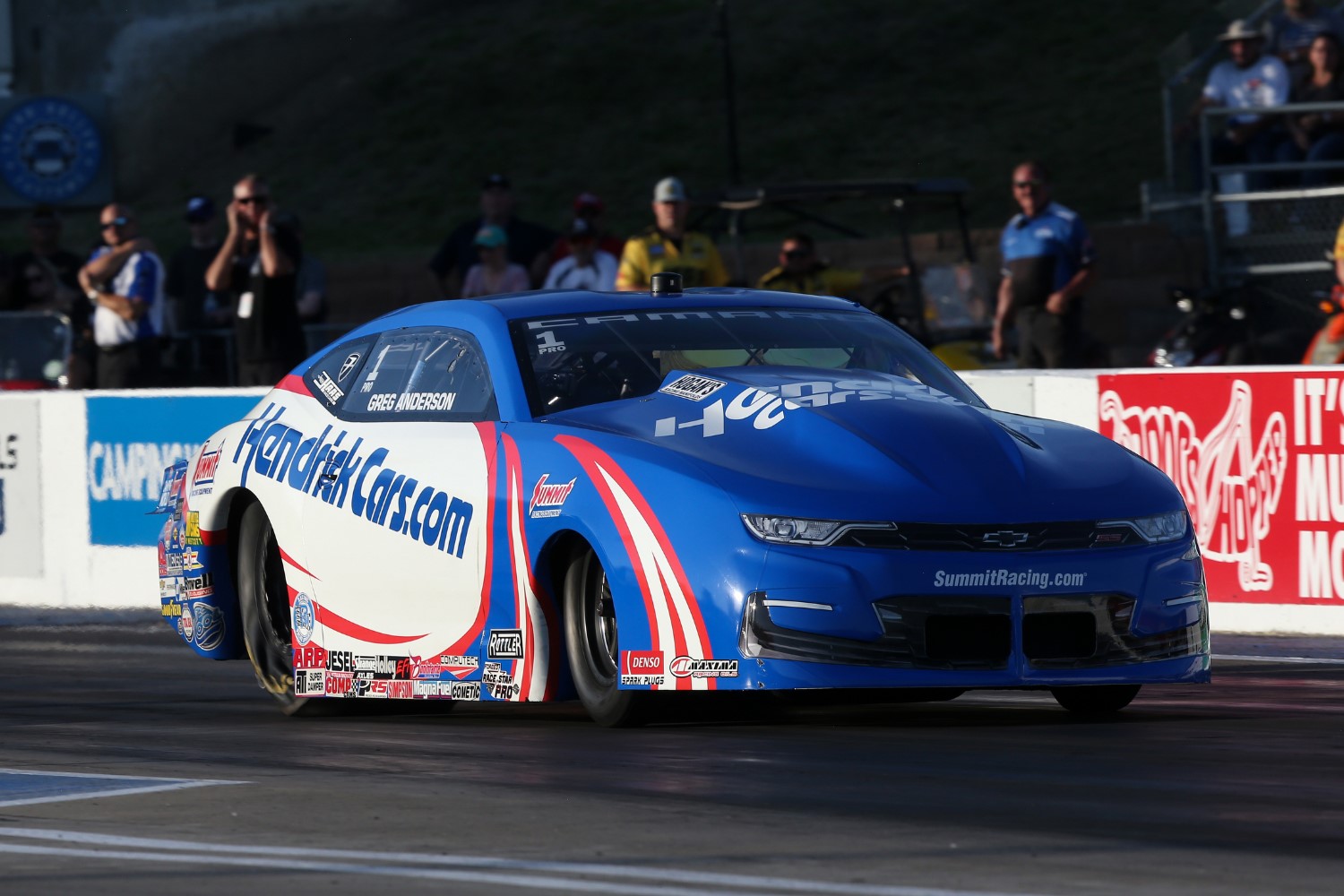 Anderson said he was surprised at how good the numbers on that run were. "The run was a little bumpy on the way down the track, said Anderson, "the timer didn't go off and the shocks and they were rougher than they should've been. I was shocked when they told me it was a fast run. We haven't won a race since the Pomona Finals last year, but we are getting there now, and we are a threat to win."
Pro Stock Motorcycle
Joey Gladstone was the number one qualifier in Pro Stock Motorcycle on Friday at the 2022 Menards NHRA Nationals Presented By PetArmor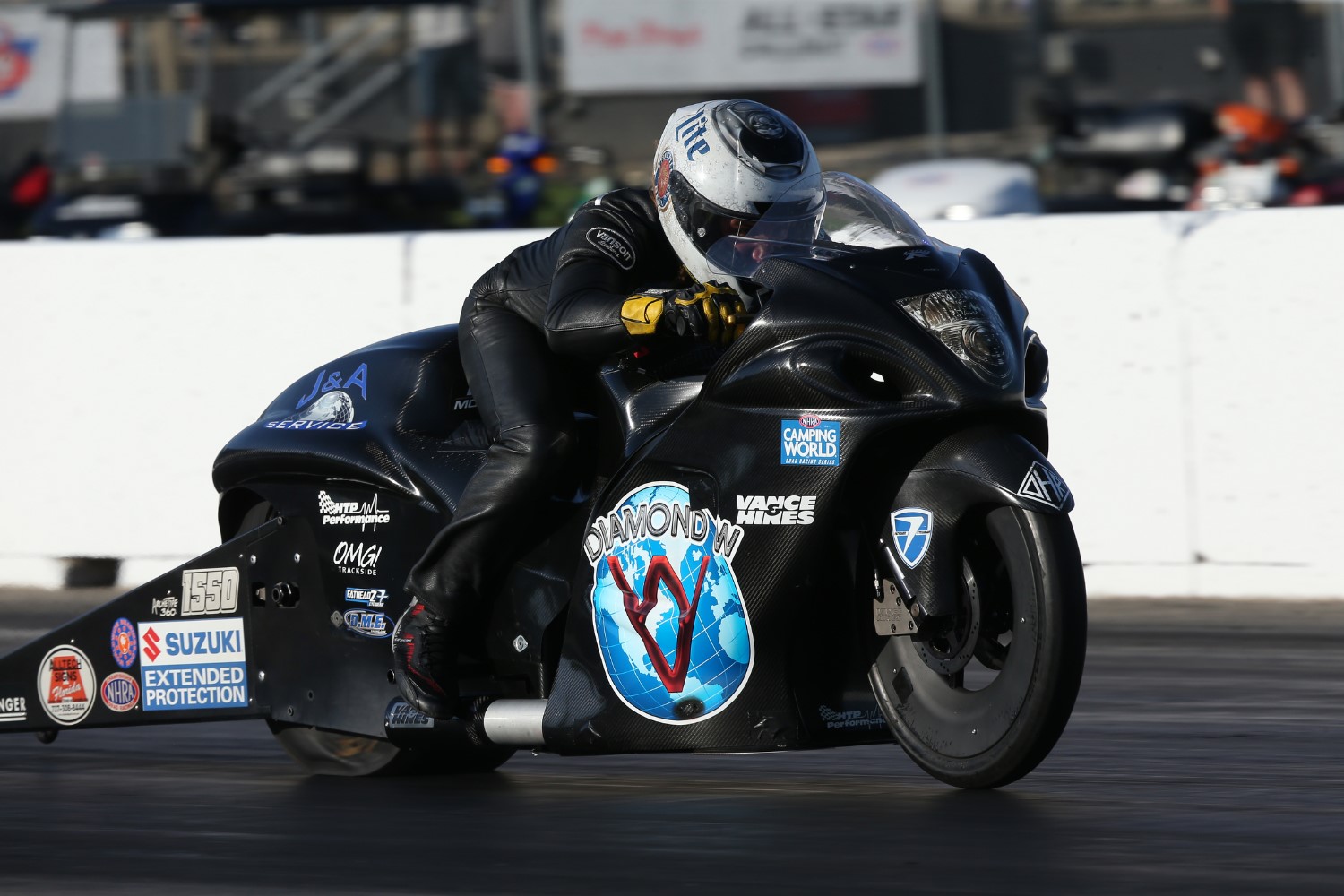 Pro Stock Motorcycle's  Joey Gladstone's rise in the point standing means two things: he now has the confidence that he can win, but he also feels the pressure of running as the leader of the pack. He said watching the rest of the Pro Stock bike field make passes tonight was a strain on him, but clearly, his ability to put down the Vance & Hines power showed with a 6.831 at 195 miles an hour, but the next closest e.t. was Sampey's at 6.882 at 195.14 miles an hour
This is a new track for most people in the class and most didn't know what to expect. "The run felt really good," said Gladstone, "well, the first half. After about half track, it pulled me to the right, but it felt good. This place is awesome, this facility is so cool. You kind of have to road course it to the starting line. It's not a cookie-cutter track, and today it treated me very well. f we just stick to our guns and don't change our strategy I think we can be a force to be reckoned with."