F1: FIA finalizes 2026 Formula 1 power unit regulations
FIA World Motor Sport Council approves power unit regulations for 2026
The FIA World Motor Sport Council has today approved power unit regulations set to come into effect for the 2026 season – with increased electrical power and 100% sustainable fuels two of the key aspects of the newly-approved rules.
The 2026 Formula 1 power units will maintain the current V6 internal combustion engine architecture, with the FIA setting out four key pillars of the new regulations:
Maintaining the spectacle – the 2026 power unit will have similar performance to the current designs, utilizing high-power, high-revving V6 internal combustion engines and avoiding excessive performance differentiation to allow for improved raceability
Environmental sustainability – the 2026 power unit will include an increase in the deployment of electrical power to up to 50% and utilize a 100% sustainable fuel
Financial sustainability – financial regulations regarding the power units will reduce the overall costs for competitors whilst retaining the cutting-edge technological showcase that is at the core of Formula 1
Attractive to new power unit manufacturers – the regulations are intended to make it possible and attractive for newcomers to join the sport at a competitive level
The 2026 regulations will see the current Motor Generator Unit Heat, or MGU-H, element removed – while the power output on the power units' Energy Recovery Systems will be increased to 350 kilowatts.
Incredible power, with an eye on the future 👀

All the details about the latest power unit changes that will be introduced from the 2026 season 👇📺#F1 https://t.co/HFrUFUsRl2

— Formula 1 (@F1) August 16, 2022
The regulations, said the FIA, were arrived at via "collaborative consultation between the FIA and both incumbent and potential new PU manufacturers".
Speaking about the agreement on the regulations, FIA President Mohammed Ben Sulayem said: "The FIA continues to push forward on innovation and sustainability – across our entire motor sport portfolio – the 2026 Formula 1 Power Unit Regulations are the most high-profile example of that mission.
"The introduction of advanced PU technology along with synthetic sustainable fuels aligns with our objective of delivering benefits for road car users and meeting our objective of net-zero carbon by 2030. Formula 1 is currently enjoying immense growth, and we are confident these regulations will build on the excitement our 2022 changes have produced.
"I want to thank all the FIA management and technical staff involved in this process for their diligence and commitment in working together with all of our Formula 1 stakeholders to deliver this. I also would like to thank our WMSC members for their consideration and approval of these regulations."
7 things you need to know about the 2026 F1 engine regulations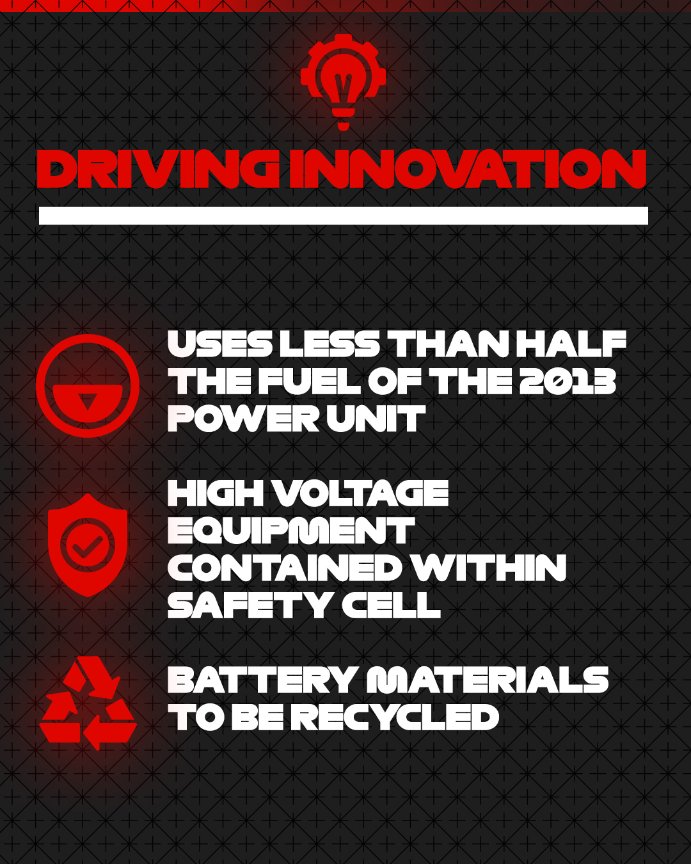 Formula 1's next generation of cars will be just as powerful as ever when they hit the track in 2026 – but will use significantly less energy and produce net-zero exhaust CO2 emissions, thanks to all-new engine regulations agreed this week. Here are seven things you need to know about the next generation of Formula 1 power units…
1. No new fossil carbon will be burned
The new F1 power units will run on fully sustainable fuels thanks to intense research and testing from Formula 1 and partner ARAMCO. This means that no new fossil carbon will be burned, with carbon instead to be derived from non-food sources, genuine municipal waste, or even out of the atmosphere.
"It's been a fascinating challenge," says Pat Symonds. "At the time I was first talking to people about this, no one knew what I was talking about, and to be honest, I'm not sure I did really, so I've done an awful lot of research into it. We've worked closely with the FIA, who have got a couple of very good fuels specialists, and we've had a lot of help from our partner ARAMCO."
The fuel that F1 will run-in just over three years' time, will be unique and lab-created. "E fuels offer such a wonderful opportunity," says Ross Brawn – F1's Managing Director, Motorsports. "We're working on an E fuel where the carbon circle is completely neutral so the carbon utilized to produce that fuel is the same quantity as the carbon emitted from the internal combustion engine. It means that the engines do not add anything to the carbon dioxide in the atmosphere.
"The great appeal is when we find this solution, you can use it in your road car, without making any changes to the engine. We will have close to two billion internal combustion engines on the planet and whatever electric solution we find, whatever hydrogen solution we find, there's still going to be two billion cars. There are parts of the world where those cars won't change to electric.
"If we drop a fuel which has much less impact on the environment into those cars, it's a positive change, and we will be sending a strong message that that is a feasible way to go. All the oil companies that work in F1 are all committed to that. It will be a fantastic achievement and a fantastic message to the world that there are other solutions as well."
"We've been working with ARAMCO and have now tested 39 surrogate blends of fuels," says Symonds. "This has helped us understand the effects of the different types of blends that you can use in a sustainable fuel. We've been testing those in a single cylinder Formula 1 power unit so it's representative testing – and I think that's helped accelerate our progress."
He adds: "ARAMCO will be producing fuel from two plants, one in Saudi Arabia and one in Spain. There's going to be a lot of people wanting the product out of them, but they, as well as the many other energy suppliers involved in Formula 1, are more than capable of producing what we need."
2. Three times the electrical power
The current 1.6-litre, V6 turbocharged internal combustion engine will evolve to include a far more powerful electrical component. The MGU-K (or Kinetic Motor Generator Unit) will almost triple the amount of electrical power produced by the current hybrid components.
More braking energy – that would otherwise be wasted – will be collected and as a result, the aim is for the MGH-K to produce around 350kW in 2026 – a massive increase on the 120kW of energy currently deployed by the MGU-K and MGU-H.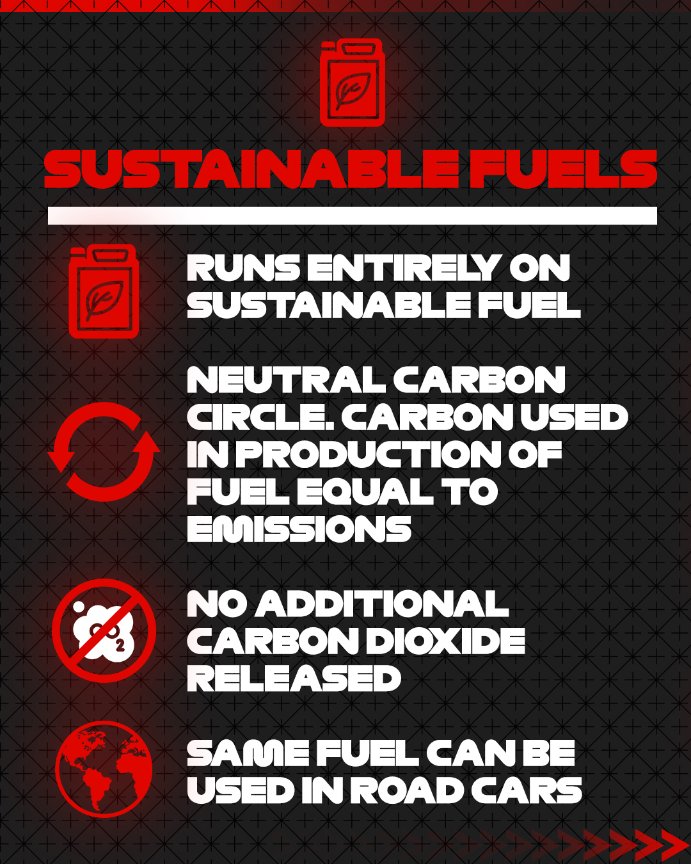 3. 1,000+ horsepower – with less fuel used
And with that higher proportion of electrical power, less fuel will flow to the engines, and less fuel will be used overall – but the power units will still provide over 1,000 horsepower, and they could even be louder too.
In 2013, 160kg of fuel was used in a race; in 2020, that stood at 100kg; and in 2026 F1 is aiming for each car to use just 70kg of fuel during a Grand Prix.
Moreover, F1 is shifting from controlling the fuel flow through a maximum mass flow rate, to a maximum energy flow rate.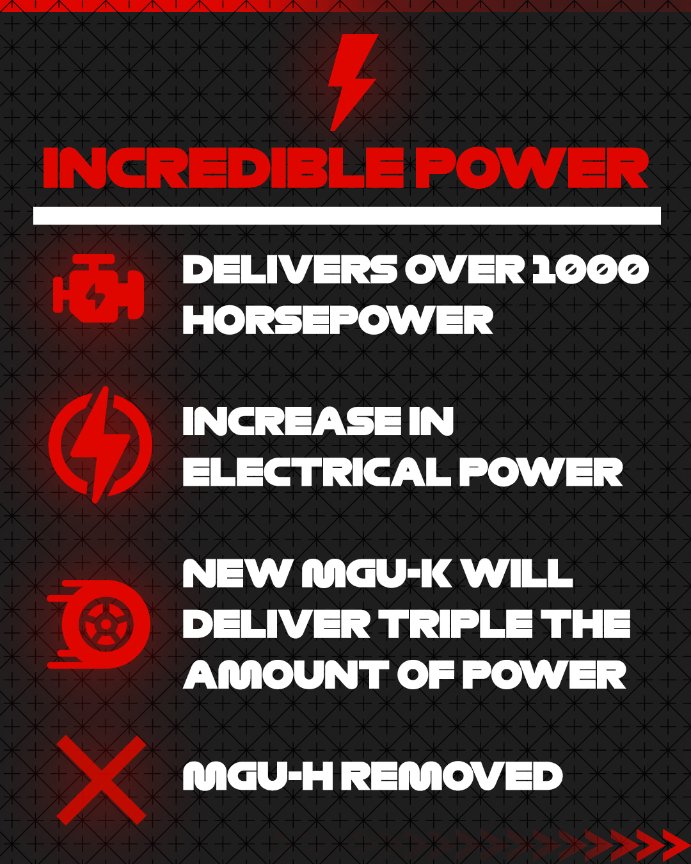 4. Better safety
With the MGU-K set to be enclosed within the chassis, next to the battery and control electronics, all high-voltage equipment will now be contained within the safety cell – making for a safer car.
5. Lower costs – but continued innovation
An engine-specific cost cap, plus banning of expensive manufacturing materials and systems such as the MGU-H (Motor Generator Unit – Heat) – plus the use of standardized components – will help to bring costs down.
Dyno hours will also be constrained – but creativity won't. Engineers will continue to be able to innovate around the electrical systems to power their teams to wins and championships, and develop a more sustainable future in the process.
Constructors will remain limited to using three power units per car, per season.
6. A tougher challenge for drivers
With the removal of complexities such as the MGU-H, turbo lag might return and that could make the cars harder to control on corner exit.
It could also provide more of a challenge for the drivers and strategists too, as they will need to decide when the driver should sit back, and when they should attack using the power unit's electrical potential.
7. More environmentally responsible
Formula 1 is committed to keeping more materials above ground as it targets environmental responsibility. Recycling options will be mandated for batteries while, at the end of the MGU-K's life, materials such as cobalt will be recycled.
With these new power units the future of F1 will be just as fast and exciting as ever, but more sustainable, relevant and responsible than ever before.