IndyCar: Power tops opening practice at Gateway
Will Power drove his Penske Chevy to a lap of 24.925s to top opening practice for the Bommarito Automotive Group 500 IndyCar race on the 1.25-mile World Wide Technology Raceway (Gateway) oval Friday afternoon.
"We just worked on qualifying, I think, like everyone else," Power said of the team's strategy in the hour-long session. "Obviously it's ridiculously close. I think a lot of people have good cars, but mine feels really good right now, so looking forward to qualifying."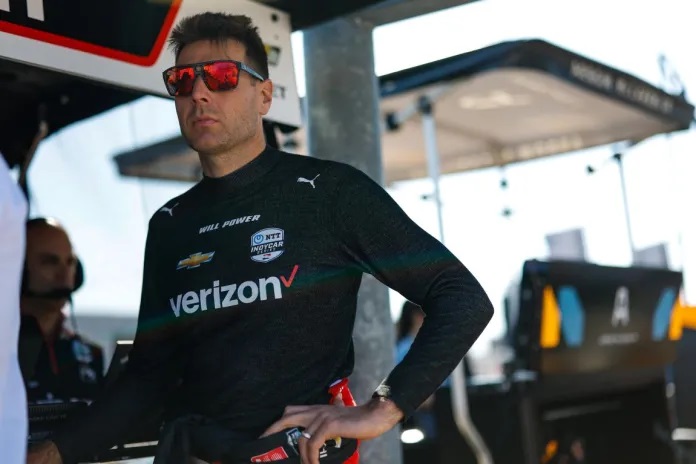 Power comes into the weekend as the points leader, holding a slim six-point advantage over Dixon, but acknowledged that things can change on a dime over the course of the next three races, including Saturday at Gateway.
"It's at the point where everything matters," Power said of the championship battle. "That's how I'm racing. It flips so quickly, you race accordingly.
"In a great position. Haven't been in this position for quite a while, so happy to be there, looking to finish this thing off real strong."
Ganassi Honda driver Alex Palou was 2nd in his #10 car, just 0.046s behind.
Felix Rosenqvist was 3rd for Arrow McLaren ahead of Scott McLaughlin, Marcus Ericsson and Pato O'Ward in 6th.
They were the only drivers to top 180 mph.
The 59-point separation from first to seventh makes this year's title fight the closest in the past 20 years.
"I think it just shows how competitive the championship is. No one is dominating," Power said.
"It's just a super tight championship. I think the consistency thing, the points really reward top four finishes, and after that, it really drops off. It's important to continually finish up there.
"There's no series like it in the world. I mean, you just got to look at qualifying every week, you got to look at the time gap from first to last every week. There's not a series as tight as this, as tough as this. It's showing with six guys still in the game with three to go."
Power will look to keep up the speed with qualifying  at 4:15 pm ET, where he will be gunning for his 67th career pole. Following qualifying, a 30-minute practice session will take place at 7:00 pm ET in an effort to rubber in the high lane, followed by final practice at 7:45 pm ET.
Practice 1 Results
| | | | | | | | | | |
| --- | --- | --- | --- | --- | --- | --- | --- | --- | --- |
| Pos | No | Name | Time | Diff | Gap | Laps | Speed | Engine | Team |
| 1 | 12 | Will Power | 24.9254 | 0.000s | 0.000s | 47 | 180.539 | Chevy | Team Penske |
| 2 | 10 | Alex Palou | 24.9712 | 0.0458 | 0.0458 | 51 | 180.208 | Honda | Chip Ganassi Racing |
| 3 | 7 | Felix Rosenqvist | 24.9910 | 0.0656 | 0.0198 | 43 | 180.065 | Chevy | Arrow McLaren SP |
| 4 | 3 | Scott McLaughlin | 24.9935 | 0.0681 | 0.0025 | 42 | 180.047 | Chevy | Team Penske |
| 5 | 8 | Marcus Ericsson | 24.9942 | 0.0688 | 0.0007 | 42 | 180.042 | Honda | Chip Ganassi Racing |
| 6 | 5 | Pato O'Ward | 24.9984 | 0.0730 | 0.0042 | 36 | 180.012 | Chevy | Arrow McLaren SP |
| 7 | 15 | Graham Rahal | 25.0399 | 0.1145 | 0.0415 | 42 | 179.713 | Honda | Rahal Letterman Lanigan Racing |
| 8 | 2 | Josef Newgarden | 25.0473 | 0.1219 | 0.0074 | 42 | 179.660 | Chevy | Team Penske |
| 9 | 51 | Takuma Sato | 25.0657 | 0.1403 | 0.0184 | 46 | 179.528 | Honda | Dale Coyne Racing w/RWR |
| 10 | 9 | Scott Dixon | 25.0744 | 0.1490 | 0.0087 | 41 | 179.466 | Honda | Chip Ganassi Racing |
| 11 | 29 | Devlin DeFrancesco | 25.1274 | 0.2020 | 0.0530 | 30 | 179.087 | Honda | Andretti Steinbrenner Autosport |
| 12 | 26 | Colton Herta | 25.2212 | 0.2958 | 0.0938 | 38 | 178.421 | Honda | Andretti Autosport w/Curb-Agajanian |
| 13 | 18 | David Malukas | 25.2227 | 0.2973 | 0.0015 | 57 | 178.411 | Honda | Dale Coyne Racing with HMD |
| 14 | 27 | Alexander Rossi | 25.2385 | 0.3131 | 0.0158 | 40 | 178.299 | Honda | Andretti Autosport |
| 15 | 45 | Jack Harvey | 25.2439 | 0.3185 | 0.0054 | 48 | 178.261 | Honda | Rahal Letterman Lanigan Racing |
| 16 | 14 | Kyle Kirkwood | 25.2957 | 0.3703 | 0.0518 | 47 | 177.896 | Chevy | AJ Foyt Enterprises |
| 17 | 20 | Conor Daly | 25.3217 | 0.3963 | 0.0260 | 41 | 177.713 | Chevy | Ed Carpenter Racing |
| 18 | 28 | Romain Grosjean | 25.3661 | 0.4407 | 0.0444 | 46 | 177.402 | Honda | Andretti Autosport |
| 19 | 30 | Christian Lundgaard | 25.4416 | 0.5162 | 0.0755 | 54 | 176.876 | Honda | Rahal Letterman Lanigan Racing |
| 20 | 06 | Helio Castroneves | 25.5199 | 0.5945 | 0.0783 | 47 | 176.333 | Honda | Meyer Shank Racing |
| 21 | 60 | Simon Pagenaud | 25.5204 | 0.5950 | 0.0005 | 47 | 176.330 | Honda | Meyer Shank Racing |
| 22 | 77 | Callum Ilott | 25.5603 | 0.6349 | 0.0399 | 51 | 176.054 | Chevy | Juncos Hollinger Racing |
| 23 | 21 | Rinus VeeKay | 25.7175 | 0.7921 | 0.1572 | 47 | 174.978 | Chevy | Ed Carpenter Racing |
| 24 | 33 | Ed Carpenter | 25.8343 | 0.9089 | 0.1168 | 35 | 174.187 | Chevy | Ed Carpenter Racing |
| 25 | 4 | Dalton Kellett | 25.8780 | 0.9526 | 0.0437 | 52 | 173.893 | Chevy | AJ Foyt Enterprises |
| 26 | 48 | Jimmie Johnson | 25.9753 | 1.0499 | 0.0973 | 53 | 173.242 | Honda | Chip Ganassi Racing |